At first glance it appears to be an average family Christening, but a closer look reveals a ghostly face hovering in the background.
The apparition was not noticed until the image was posted on Facebook - leaving the family involved in shock.
And according to Heather Sewell, the ghost is that of her late husband Terry.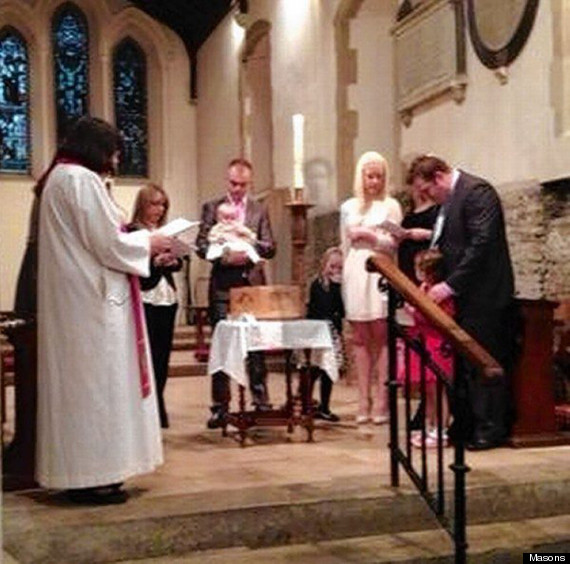 Grandmother Heather Sewell says the ghostly face in this Christening picture is that of her late husband Terry
The face, which can be seen hovering over granddaughter Mia-Bella Kennett, was caught on a mobile phone camera.
It wasn't until Heather was looking through the photos online later that evening she spotted her late husband in the scene at St Martin's Church, Canterbury, Kent.
The 50-year-old said: "I was so shocked when I saw it, as we all were. "It looks very much like Terry. I know there has been no photo trickery so it is all very spooky and perhaps not what you want to see at a Christening.
"I was in the pub afterwards when I first saw the Facebook page and everyone was stunned because it's so clear."
Terry Sewell hanged himself 17 years ago.
St Martin's is the oldest church still in use for religious services in the country but there has never before been any previous ghostly sightings.
SEE ALSO:
Heather added: "It was actually a bit upsetting to see his face. I tried to convince myself that it was not Terry - but it is so convincing that I believe it is.
"Terry had a long face and so does the ghost and it has the same hair style as Terry had.
"The ghost is also the same height as Terry was - about 5ft 8in. I am quite a superstitious person, but I am not over-the-top.
"I do believe there is something out there - there are too many things in the world we cannot explain."
The 14 Scariest Ghost Stories
Unlike many of his contemporaries in the pulp writing community, Paul (Frederick) Ernst (1900-1983) relied on his skill as a plotter and careful wordsmith, rather than producing scenes of shocking violence to maintain interest in his stories. Like them, however, he created works in a wide variety of genres, including mystery, horror and, most famously, his pseudonymous hero character, The Avenger, written as Kenneth Robeson. While pulp stories tended to focus on action and larger-than-life figures, this story, with its delightful surprise ending, is a masterpiece of tenderness and poignancy. "Death's Warm Fireside" was originally published in the March 1936 issue of Dime Mystery Magazine.

As the writer of some of the most inventive horror stories of all time, William Fryer Harvey was a devotee of Edgar Allan Poe, who clearly influenced his prose with his similar overtones of dread. Oddly, since he wrote such horrific stories, Fryer had the reputation of being an exceptionally kind, gentle and jovial man. He never enjoyed great success until he was "discovered" when The Beast with Five Fingers was filmed in 1946 with Peter Lorre starring, inducing publishers to collect the best of his horror fiction. Is "August Heat" really a ghost story? I could argue either way. It was first published in Midnight House and Other Tales (London, J.M. Dent, 1910). Read it here.

In 1890, Patricio Lafcadio Tessima Carlos Hearn (1850-1904) journeyed to Japan, where he married a twenty-two-year-old woman of high Samurai rank, and spent the rest of his life there. His best works are his transcriptions and retellings of Japanese and Chinese folk tales, frequently of a ghostly or macabre nature. His spare, terse prose antedates that of Hemingway, though the similarities are not immediately apparent because of the large differences in tone. This story is similar to many other of the short stories that he fashioned from the legends and fairy tales of his adopted land and its neighbor. "The Story of Ming-Y" was first published in Some Chinese Ghosts (Boston, Roberts Brothers, 1887).

"The Monkey's Paw," one of the most bone-chilling and frequently anthologized stories of all time. Readers will find it difficult to believe that W(illiam) W(ymark) Jacobs (1863-1943) gained his fame as a writer of humorous tales, as there is no hilarity to be found here. It has been adapted relentlessly: for radio, as a 1907 play, motion pictures (several silent films as well as a 1933 talkie and a 1948 remake), for television as episodes of Suspense, Great Ghost Tales, The Alfred Hitchcock Hour, and Great Mysteries, and for three operas. "The Monkey's Paw" was first published in the September 1902 issue of Harper's Monthly; it was collected in The Lady of the Barge (London, Harper, 1902). Read it here.

A thorough reading of ghost story literature quickly reveals that there has been no greater influence on the genre than Montague Rhodes James (1862-1936), arguably the greatest writer of ghost stories who ever lived. While he was a don and provost at King's College, Cambridge University, it became his custom every year to write a new ghost story, then gather a group of friends and colleagues to a room on Christmas Eve, where he would provide a dramatic reading of it, taking great pleasure in acting out all the roles. "Oh, Whistle and I'll Come to You, My Lad" was first published in Ghost Stories of an Antiquary (London, Edward Arnold, 1904). Read it here.

Andrew Klavan (1954- ) has enjoyed popular and critical success as a mystery writer with numerous Edgar Allan Poe nominations, with two winners: Mrs. White (1987) and The Rain (1988). His novel Don't Say a Word was filmed starring Michael Douglas; True Crime featured Clint Eastwood as director and star. "The Advent Reunion" began as a video when the author decided to recapture the tradition of telling ghost stories at Christmas. Using a webcam, he filmed it in front of his fireplace, offering it as if it were a true story, and then posted it online. It was rewritten as a short story and published in the January 2011 issue of Ellery Queen's Mystery Magazine.

Although his major work was writing about the virtually unknown regions of Tibet and Nepal in the early years of the nineteenth century, Perceval Landon (1868-1927) is the author of this masterpiece, which has been called one of the three most terrifying stories in the English language. Due to its fame and brilliant portrayal of dread and the sense of waking nightmare, it has been frequently anthologized. Landon was born into a prominent family (a relation was Spencer Perceval, the only British Prime Minister ever to have been assassinated). "Thurnley Abbey" was first published in Raw Edges: Studies and Stories of These Days (London, William Heinemann, 1908), which contains all his supernatural fiction. Read it here.

Several contemporary critics called this story, probably the darkest O. Henry ever wrote, the best of all his work, even though the book in which it appeared, The Four Million, also contained such masterworks as "The Gift of the Magi" and "After Twenty Years." More than two hundred motion pictures and television programs were based on O. Henry's work, so it is no surprise that "The Furnished Room" was frequently adapted for radio broadcasts, a short silent film from Vitagraph in 1917, and an episode of television's Great Mysteries that starred Orson Welles. "The Furnished Room" was first published in the August 14, 1904 issue of the New York Sunday World. Read it here.

While anyone is liable to have a supernatural encounter at any time, lost travelers are ideal victims of supernatural events and horrific entities, whether vampires, monsters, or ghosts, and even those who escape unscathed have a scary story to tell, like the late night perambulator in this excellent little story. Of his friend Vincent O'Sullivan (1868-1940), Oscar Wilde once wrote that he is "really very pleasant, for one who treats life from the standpoint of the tomb." "The Burned House" was first published in the October 1916 issue of The Century Magazine; it appears to have remained uncollected until the publication of Master of Fallen Years: The Complete Supernatural Stories of Vincent O'Sullivan (London, Ghost Story Press, 1995). Read it here.

Written by the prolific pulp writer Victor Rousseau (Emanuel) (1879-1960), "The Angel of the Marne" is a surprisingly charming and sentimental story by an author who worked in a wide range of genres, including mysteries, historical fiction and westerns. Several of the latter served as the source for silent films, including Prince of the Plains (1927) and A Wanderer of the West (1927), which featured the great silent star Tex Maynard. Rousseau also wrote an excellent series about Dr. Martinus, Occultist, a psychic detective in the style of William Hope Hodgson's Carnacki. "The Angel of the Marne" was originally published in the July 1929 issue of Ghost Stories.

It would be quite natural to find some psychological similarities between the inventive teenage narrator of this little tale and its creator. A troubled childhood of persecution and abuse can mold the sweetest boy into something of a monster, and H(ector) H(ugh) Munro (1870-1916), who wrote using the pseudonym Saki, was all of that—even if he (fortunately) confined his malevolence to his stories, which are some of the cruelest and most cynical in the English language, made no less beastly by their humorous tone. "The Open Window" was first published in the November 18, 1911, issue of The Westminster Gazette and was first collected in Beasts and Super Beasts (London, John Lane, The Bodley Head, 1914). Read it here.

Mark Twain is justly famous as a great, perhaps the great, American novelist, with such masterpieces to his credit as The Adventures of Tom Sawyer (1876), The Prince and the Pauper (1882), Life on the Mississippi (1883), and The Adventures of Huckleberry Finn (1884, but he also savored the notion of taking genre fiction and skewing it until it became uniquely his. Whether writing about crime, romance, religion, or ghosts, Samuel Langhorne Clemens (1835-1910) thought it was all just hilarious and his satiric wit often elevated the most ordinary tales into minor masterpieces. "A Ghost Story" (sometimes published as "A Ghost's Tale") was first published in Werner's Readings and Recitations (New York, Edgar S. Werner Company, 1888). Read it here.

Ghost stories don't always have to be terrifying. Humor can have a place in the genre, too, and who better to prove it than the funniest mystery writer who ever lived, Donald E(dwin) Westlake (1933-2008)? It is for his complex and hilarious caper novels, mainly about the unlucky criminal genius John Dortmunder, for whom every perfectly planned burglary goes woefully wrong, that Westlake has been most honored, notably by the Mystery Writers of America, which awarded his three Edgars and named him a Grand Master for lifetime achievement in 1993. "In at the Death" was originally published in The 13th Ghost Book, edited by James Hale (London, Barrie & Jenkins, 1977).

Oscar (Fingal O'Flahertie Wills) Wilde (1854-1900), in spite of his frequently rococo style, remains wonderfully readable today. His writing career and life were cut short when the author of the classic The Picture of Dorian Gray was sent to jail for two years because of his homosexuality, dying three years later. "The Canterville Ghost" was originally published in The Court and Society Review in 1887; it was first collected in Lord Arthur Savile's Crime and Other Stories (London, Osgood, McIlvaine, 1891). It has been adapted for motion pictures several times, most significantly in 1944 starring Charles Laughton, in a 1985 made-for-television film with Richard Kiley, and in a more elaborate made-for-TV film in 1986 starring John Gielgud. Read it here.