The Huffington Post pictures of the day brings you the very best images from around the world chosen by our own photo editors, Elliot Wagland, Matthew Tucker and Tahira Mirza.
We would love to hear your thoughts on the stories of the day - leave a comment at the bottom of the blog.
Follow The Huffington Post picture desk on twitter.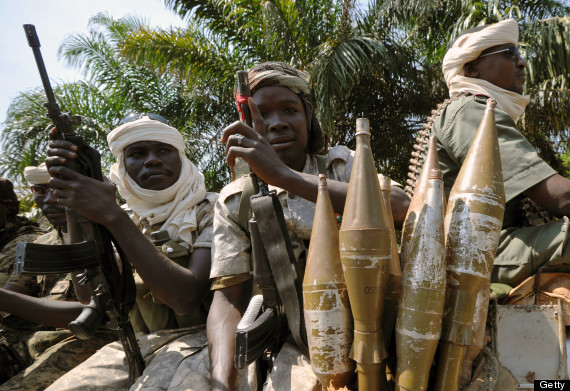 Chadian soldiers, part of a convoy of the FOMAC multinational force of central African states, man a position near Damara on January 2, 2013. The commander of the multinational African force FOMAC warned rebels in the Central African Republic against trying to take the key town of Damara, saying it would 'amount to a declaration of war'.
Loading Slideshow
Chadian soldiers who are fighting in support of Central African Republic president Francois Bozize, ride on their trucks in a convoy on the road leading to Damara, about 70km (44 miles) north of the capital Bangui, Central African Republic Wednesday, Jan. 2, 2013. More than 30 truckloads of troops from Chad line the two-lane highway just outside of Damara, supporting government forces who want to block a new rebel coalition from reaching the capital, and Gen. Jean Felix Akaga, who heads a 10-nation regional force, says the town is a "red line that the rebels cannot cross" or his forces will attack. (AP Photo/Ben Curtis)

Chadian soldiers who are fighting in support of Central African Republic president Francois Bozize, sit in a truck full of rocket-propelled grenades on the road leading to Damara, about 70km (44 miles) north of the capital Bangui, Central African Republic Wednesday, Jan. 2, 2013. More than 30 truckloads of troops from Chad line the two-lane highway just outside of Damara, supporting government forces who want to block a new rebel coalition from reaching the capital, and Gen. Jean Felix Akaga, who heads a 10-nation regional force, says the town is a "red line that the rebels cannot cross" or his forces will attack. (AP Photo/Ben Curtis)

A convoy of Chadian soldiers who are fighting in support of Central African Republic president Francois Bozize, moves along the road in Damara, about 70km (44 miles) north of the capital Bangui, Central African Republic Wednesday, Jan. 2, 2013. More than 30 truckloads of troops from Chad line the two-lane highway just outside of Damara, supporting government forces who want to block a new rebel coalition from reaching the capital, and Gen. Jean Felix Akaga, who heads a 10-nation regional force, says the town is a "red line that the rebels cannot cross" or his forces will attack. (AP Photo/Ben Curtis)

Chadian soldiers who are fighting in support of Central African Republic President Francois Bozize, gesture as they ride in a truck loaded with weapons on the road leading to Damara, about 70km (44 miles) north of the capital Bangui, Central African Republic, Wednesday, Jan. 2, 2013. More than 30 truckloads of troops from Chad line the two-lane highway just outside of Damara, supporting government forces who want to block a new rebel coalition from reaching the capital, and Gen. Jean Felix Akaga, who heads a 10-nation regional force, says the town is a "red line that the rebels cannot cross" or his forces will attack. (AP Photo/Ben Curtis)

A driver looks out from a convoy of Chadian soldiers who are fighting in support of Central African Republic president Francois Bozize, on the road leading to Damara, about 70km (44 miles) north of the capital Bangui, Central African Republic Wednesday, Jan. 2, 2013. More than 30 truckloads of troops from Chad line the two-lane highway just outside of Damara, supporting government forces who want to block a new rebel coalition from reaching the capital, and Gen. Jean Felix Akaga, who heads a 10-nation regional force, says the town is a "red line that the rebels cannot cross" or his forces will attack. (AP Photo/Ben Curtis)

Chadian soldiers ride on a truck in a large convoy of other Chadian soldiers who are fighting in support of Central African Republic president Francois Bozize, near Damara, about 70km (44 miles) north of the capital Bangui, Central African Republic Wednesday, Jan. 2, 2013. After troops under Bozize seized the capital in 2003 amid volleys of machine-gun and mortar fire, he dissolved the constitution and parliament, and now a decade later it is Bozize himself who could be ousted from power with rebels having seized more than half the country and made their way to the doorstep of the capital in less than a month. (AP Photo/Ben Curtis)

A convoy of Chadian soldiers who are fighting in support of Central African Republic president Francois Bozize, travels on the road leading to Damara, about 70km (44 miles) north of the capital Bangui, Central African Republic Wednesday, Jan. 2, 2013. After troops under Bozize seized the capital in 2003 amid volleys of machine-gun and mortar fire, he dissolved the constitution and parliament, and now a decade later it is Bozize himself who could be ousted from power with rebels having seized more than half the country and made their way to the doorstep of the capital in less than a month. (AP Photo/Ben Curtis)

Chadian soldiers ride on a truck in a large convoy of other Chadian soldiers who are fighting in support of Central African Republic president Francois Bozize, near Damara, about 70km (44 miles) north of the capital Bangui, Central African Republic Wednesday, Jan. 2, 2013. After troops under Bozize seized the capital in 2003 amid volleys of machine-gun and mortar fire, he dissolved the constitution and parliament, and now a decade later it is Bozize himself who could be ousted from power with rebels having seized more than half the country and made their way to the doorstep of the capital in less than a month. (AP Photo/Ben Curtis)

A Chadian soldier fighting in support of Central African Republic president Francois Bozize, sits on a truck in a convoy of other Chadian soldiers near Damara, about 70km (44 miles) north of the capital Bangui, Central African Republic Wednesday, Jan. 2, 2013. After troops under Bozize seized the capital in 2003 amid volleys of machine-gun and mortar fire, he dissolved the constitution and parliament, and now a decade later it is Bozize himself who could be ousted from power with rebels having seized more than half the country and made their way to the doorstep of the capital in less than a month. (AP Photo/Ben Curtis)

A soldier runs to jump on a moving truck carrying Chadian soldiers who are fighting to support Central African Republic president Francois Bozize, in Damara, about 70km (44 miles) north of the capital Bangui, Central African Republic Wednesday, Jan. 2, 2013. After troops under Bozize seized the capital in 2003 amid volleys of machine-gun and mortar fire, he dissolved the constitution and parliament, and now a decade later it is Bozize himself who could be ousted from power with rebels having seized more than half the country and made their way to the doorstep of the capital in less than a month. (AP Photo/Ben Curtis)

CENTRAFRICA-UNREST

A convoy of Chadian soldiers part of the multinational African force FOMAC mans a position near Damara on January 2, 2013. The commander of multinational African force FOMAC on Wednesday warned rebels in the Central African Republic against trying to take the key town of Damara, saying it would 'amount to a declaration of war'. Damara is the last strategic town between the Seleka rebel coalition and the capital Bangui, after the rebels seized much of the country in a three-week advance that began in the north and has brought them to within 160 kilometres (100 miles) of the capital, in the south. AFP PHOTO/ SIA KAMBOU (Photo credit should read SIA KAMBOU/AFP/Getty Images)

CENTRAFRICA-CHAD-UNREST-FOMAC

A convoy of Chadian soldiers part of the multinational African force FOMAC mans a position near Damara on January 2, 2013. The commander of multinational African force FOMAC on Wednesday warned rebels in the Central African Republic against trying to take the key town of Damara, saying it would 'amount to a declaration of war'. Damara is the last strategic town between the Seleka rebel coalition and the capital Bangui, after the rebels seized much of the country in a three-week advance that began in the north and has brought them to within 160 kilometres (100 miles) of the capital, in the south. AFP PHOTO/ SIA KAMBOU (Photo credit should read SIA KAMBOU/AFP/Getty Images)

CENTRAFRICA-CHAD-UNREST-FOMAC

A convoy of Chadian soldiers part of the multinational African force FOMAC mans a position near Damara on January 2, 2013. The commander of multinational African force FOMAC on Wednesday warned rebels in the Central African Republic against trying to take the key town of Damara, saying it would 'amount to a declaration of war'. Damara is the last strategic town between the Seleka rebel coalition and the capital Bangui, after the rebels seized much of the country in a three-week advance that began in the north and has brought them to within 160 kilometres (100 miles) of the capital, in the south. AFP PHOTO/ SIA KAMBOU (Photo credit should read SIA KAMBOU/AFP/Getty Images)

CENTRAFRICA-UNREST

A convoy of Chadian soldiers part of the multinational African force FOMAC mans a position near Damara on January 2, 2013. The commander of multinational African force FOMAC on Wednesday warned rebels in the Central African Republic against trying to take the key town of Damara, saying it would 'amount to a declaration of war'. Damara is the last strategic town between the Seleka rebel coalition and the capital Bangui, after the rebels seized much of the country in a three-week advance that began in the north and has brought them to within 160 kilometres (100 miles) of the capital, in the south. AFP PHOTO/ SIA KAMBOU (Photo credit should read SIA KAMBOU/AFP/Getty Images)

CENTRAFRICA-UNREST

A convoy of Chadian soldiers part of the multinational African force FOMAC mans a position near Damara on January 2, 2013. The commander of multinational African force FOMAC on Wednesday warned rebels in the Central African Republic against trying to take the key town of Damara, saying it would 'amount to a declaration of war'. Damara is the last strategic town between the Seleka rebel coalition and the capital Bangui, after the rebels seized much of the country in a three-week advance that began in the north and has brought them to within 160 kilometres (100 miles) of the capital, in the south. AFP PHOTO/ SIA KAMBOU (Photo credit should read SIA KAMBOU/AFP/Getty Images)

CENTRAFRICA-UNREST

A convoy of Chadian soldiers, part of the multinational African force FOMAC, mans a position near Damara on January 2, 2013. The commander of multinational African force FOMAC on Wednesday warned rebels in the Central African Republic against trying to take the key town of Damara, saying it would 'amount to a declaration of war'. Damara is the last strategic town between the Seleka rebel coalition and the capital Bangui, after the rebels seized much of the country in a three-week advance that began in the north and has brought them to within 160 kilometres (100 miles) of the capital, in the south. AFP PHOTO/ SIA KAMBOU (Photo credit should read SIA KAMBOU/AFP/Getty Images)

CENTRAFRICA-CHAD-UNREST-FOMAC

A convoy of Chadian soldiers part of the multinational African force FOMAC mans a position near Damara on January 2, 2013. The commander of multinational African force FOMAC on Wednesday warned rebels in the Central African Republic against trying to take the key town of Damara, saying it would 'amount to a declaration of war'. Damara is the last strategic town between the Seleka rebel coalition and the capital Bangui, after the rebels seized much of the country in a three-week advance that began in the north and has brought them to within 160 kilometres (100 miles) of the capital, in the south. AFP PHOTO/ SIA KAMBOU (Photo credit should read SIA KAMBOU/AFP/Getty Images)

CENTRAFRICA-UNREST

A convoy of Chadian soldiers, part of the multinational African force FOMAC, mans a position near Damara on January 2, 2013. The commander of multinational African force FOMAC on Wednesday warned rebels in the Central African Republic against trying to take the key town of Damara, saying it would 'amount to a declaration of war'. Damara is the last strategic town between the Seleka rebel coalition and the capital Bangui, after the rebels seized much of the country in a three-week advance that began in the north and has brought them to within 160 kilometres (100 miles) of the capital, in the south. AFP PHOTO/ SIA KAMBOU (Photo credit should read SIA KAMBOU/AFP/Getty Images)

CENTRAFRICA-UNREST

A convoy of Chadian soldiers, part of the multinational African force FOMAC, mans a position near Damara on January 2, 2013. The commander of multinational African force FOMAC on Wednesday warned rebels in the Central African Republic against trying to take the key town of Damara, saying it would 'amount to a declaration of war'. Damara is the last strategic town between the Seleka rebel coalition and the capital Bangui, after the rebels seized much of the country in a three-week advance that began in the north and has brought them to within 160 kilometres (100 miles) of the capital, in the south. AFP PHOTO/ SIA KAMBOU (Photo credit should read SIA KAMBOU/AFP/Getty Images)

CENTRAFRICA-CHAD-UNREST-FOMAC

Chadian soldiers, part of a convoy of the FOMAC multinational force of central African states, man a position near Damara on January 2, 2013. The commander of the multinational African force FOMAC warned rebels in the Central African Republic against trying to take the key town of Damara, saying it would 'amount to a declaration of war'. Damara is the last strategic town between the Seleka rebel coalition and the capital Bangui, after the rebels seized much of the country in a three-week advance that began in the north and has brought them to within 160 kilometres (100 miles) of the capital, in the south. AFP PHOTO / SIA KAMBOU (Photo credit should read SIA KAMBOU/AFP/Getty Images)

CENTRAFRICA-CHAD-UNREST-FOMAC

Chadian soldiers, part of a convoy of the FOMAC multinational force of central African states, man a position near Damara on January 2, 2013. The commander of the multinational African force FOMAC warned rebels in the Central African Republic against trying to take the key town of Damara, saying it would 'amount to a declaration of war'. Damara is the last strategic town between the Seleka rebel coalition and the capital Bangui, after the rebels seized much of the country in a three-week advance that began in the north and has brought them to within 160 kilometres (100 miles) of the capital, in the south. AFP PHOTO / SIA KAMBOU (Photo credit should read SIA KAMBOU/AFP/Getty Images)

CENTRAFRICA-CHAD-UNREST-FOMAC

Chadian soldiers, part of a convoy of the FOMAC multinational force of central African states, man a position near Damara on January 2, 2013. The commander of the multinational African force FOMAC warned rebels in the Central African Republic against trying to take the key town of Damara, saying it would 'amount to a declaration of war'. Damara is the last strategic town between the Seleka rebel coalition and the capital Bangui, after the rebels seized much of the country in a three-week advance that began in the north and has brought them to within 160 kilometres (100 miles) of the capital, in the south. AFP PHOTO / SIA KAMBOU (Photo credit should read SIA KAMBOU/AFP/Getty Images)

CENTRAFRICA-CHAD-UNREST-FOMAC

Chadian soldiers, part of a convoy of the FOMAC multinational force of central African states, man a position near Damara on January 2, 2013. The commander of the multinational African force FOMAC warned rebels in the Central African Republic against trying to take the key town of Damara, saying it would 'amount to a declaration of war'. Damara is the last strategic town between the Seleka rebel coalition and the capital Bangui, after the rebels seized much of the country in a three-week advance that began in the north and has brought them to within 160 kilometres (100 miles) of the capital, in the south. AFP PHOTO / SIA KAMBOU (Photo credit should read SIA KAMBOU/AFP/Getty Images)

CENTRAFRICA-CHAD-UNREST-FOMAC

Chadian soldiers, part of a convoy of the FOMAC multinational force of central African states, man a position near Damara on January 2, 2013. The commander of the multinational African force FOMAC warned rebels in the Central African Republic against trying to take the key town of Damara, saying it would 'amount to a declaration of war'. Damara is the last strategic town between the Seleka rebel coalition and the capital Bangui, after the rebels seized much of the country in a three-week advance that began in the north and has brought them to within 160 kilometres (100 miles) of the capital, in the south. AFP PHOTO / SIA KAMBOU (Photo credit should read SIA KAMBOU/AFP/Getty Images)

CENTRAFRICA-CHAD-UNREST-FOMAC

Chadian soldiers, part of a convoy of the FOMAC multinational force of central African states, man a position near Damara on January 2, 2013. The commander of the multinational African force FOMAC warned rebels in the Central African Republic against trying to take the key town of Damara, saying it would 'amount to a declaration of war'. Damara is the last strategic town between the Seleka rebel coalition and the capital Bangui, after the rebels seized much of the country in a three-week advance that began in the north and has brought them to within 160 kilometres (100 miles) of the capital, in the south. AFP PHOTO / SIA KAMBOU (Photo credit should read SIA KAMBOU/AFP/Getty Images)

CENTRAFRICA-CHAD-UNREST-FOMAC

Chadian soldiers, part of a convoy of the FOMAC multinational force of central African states, man a position near Damara on January 2, 2013. The commander of the multinational African force FOMAC warned rebels in the Central African Republic against trying to take the key town of Damara, saying it would 'amount to a declaration of war'. Damara is the last strategic town between the Seleka rebel coalition and the capital Bangui, after the rebels seized much of the country in a three-week advance that began in the north and has brought them to within 160 kilometres (100 miles) of the capital, in the south. AFP PHOTO / SIA KAMBOU (Photo credit should read SIA KAMBOU/AFP/Getty Images)

CENTRAFRICA-CHAD-UNREST-FOMAC

Chadian soldiers, part of a convoy of the FOMAC multinational force of central African states, man a position near Damara on January 2, 2013. The commander of the multinational African force FOMAC warned rebels in the Central African Republic against trying to take the key town of Damara, saying it would 'amount to a declaration of war'. Damara is the last strategic town between the Seleka rebel coalition and the capital Bangui, after the rebels seized much of the country in a three-week advance that began in the north and has brought them to within 160 kilometres (100 miles) of the capital, in the south. AFP PHOTO / SIA KAMBOU (Photo credit should read SIA KAMBOU/AFP/Getty Images)

CENTRAFRICA-CHAD-UNREST-FOMAC

Chadian soldiers, part of a convoy of the FOMAC multinational force of central African states, man a position near Damara on January 2, 2013. The commander of the multinational African force FOMAC warned rebels in the Central African Republic against trying to take the key town of Damara, saying it would 'amount to a declaration of war'. Damara is the last strategic town between the Seleka rebel coalition and the capital Bangui, after the rebels seized much of the country in a three-week advance that began in the north and has brought them to within 160 kilometres (100 miles) of the capital, in the south. AFP PHOTO / SIA KAMBOU (Photo credit should read SIA KAMBOU/AFP/Getty Images)

CENTRAFRICA-UNREST

A convoy of Chadian soldiers part of the multinational African force FOMAC arrives at Damara on January 2, 2013. The commander of multinational African force FOMAC on Wednesday warned rebels in the Central African Republic against trying to take the key town of Damara, saying it would 'amount to a declaration of war'. Damara is the last strategic town between the Seleka rebel coalition and the capital Bangui, after the rebels seized much of the country in a three-week advance that began in the north and has brought them to within 160 kilometres (100 miles) of the capital, in the south. AFP PHOTO/ SIA KAMBOU (Photo credit should read SIA KAMBOU/AFP/Getty Images)

CENTRAFRICA-CHAD-UNREST-FOMAC

Chadian soldiers, part of a convoy of the FOMAC multinational force of central African states, man a position near Damara on January 2, 2013. The commander of the multinational African force FOMAC warned rebels in the Central African Republic against trying to take the key town of Damara, saying it would 'amount to a declaration of war'. Damara is the last strategic town between the Seleka rebel coalition and the capital Bangui, after the rebels seized much of the country in a three-week advance that began in the north and has brought them to within 160 kilometres (100 miles) of the capital, in the south. AFP PHOTO / SIA KAMBOU (Photo credit should read SIA KAMBOU/AFP/Getty Images)

CENTRAFRICA-CHAD-UNREST-FOMAC

A convoy of Chadian soldiers part of the multinational African force FOMAC mans a position near Damara on January 2, 2013. The commander of multinational African force FOMAC on Wednesday warned rebels in the Central African Republic against trying to take the key town of Damara, saying it would 'amount to a declaration of war'. Damara is the last strategic town between the Seleka rebel coalition and the capital Bangui, after the rebels seized much of the country in a three-week advance that began in the north and has brought them to within 160 kilometres (100 miles) of the capital, in the south. AFP PHOTO/ SIA KAMBOU (Photo credit should read SIA KAMBOU/AFP/Getty Images)

CENTRAFRICA-CHAD-UNREST-FOMAC

Chadian soldiers, part of a convoy of the FOMAC multinational force of central African states, man a position near Damara on January 2, 2013. The commander of the multinational African force FOMAC warned rebels in the Central African Republic against trying to take the key town of Damara, saying it would 'amount to a declaration of war'. Damara is the last strategic town between the Seleka rebel coalition and the capital Bangui, after the rebels seized much of the country in a three-week advance that began in the north and has brought them to within 160 kilometres (100 miles) of the capital, in the south. AFP PHOTO / SIA KAMBOU (Photo credit should read SIA KAMBOU/AFP/Getty Images)

CENTRAFRICA-CHAD-UNREST-FOMAC

Chadian soldiers, part of a convoy of the FOMAC multinational force of central African states, man a position near Damara on January 2, 2013. The commander of the multinational African force FOMAC warned rebels in the Central African Republic against trying to take the key town of Damara, saying it would 'amount to a declaration of war'. Damara is the last strategic town between the Seleka rebel coalition and the capital Bangui, after the rebels seized much of the country in a three-week advance that began in the north and has brought them to within 160 kilometres (100 miles) of the capital, in the south. AFP PHOTO / SIA KAMBOU (Photo credit should read SIA KAMBOU/AFP/Getty Images)

CENTRAFRICA-CHAD-UNREST-FOMAC

Chadian soldiers, part of a convoy of the FOMAC multinational force of central African states, man a position near Damara on January 2, 2013. The commander of the multinational African force FOMAC warned rebels in the Central African Republic against trying to take the key town of Damara, saying it would 'amount to a declaration of war'. Damara is the last strategic town between the Seleka rebel coalition and the capital Bangui, after the rebels seized much of the country in a three-week advance that began in the north and has brought them to within 160 kilometres (100 miles) of the capital, in the south. AFP PHOTO / SIA KAMBOU (Photo credit should read SIA KAMBOU/AFP/Getty Images)

CENTRAFRICA-CHAD-UNREST-FOMAC

Chadian soldiers, part of a convoy of the FOMAC multinational force of central African states, man a position near Damara on January 2, 2013. The commander of the multinational African force FOMAC warned rebels in the Central African Republic against trying to take the key town of Damara, saying it would 'amount to a declaration of war'. Damara is the last strategic town between the Seleka rebel coalition and the capital Bangui, after the rebels seized much of the country in a three-week advance that began in the north and has brought them to within 160 kilometres (100 miles) of the capital, in the south. AFP PHOTO / SIA KAMBOU (Photo credit should read SIA KAMBOU/AFP/Getty Images)

CENTRAFRICA-CHAD-UNREST-FOMAC

Chadian soldiers, part of a convoy of the FOMAC multinational force of central African states, man a position near Damara on January 2, 2013. The commander of the multinational African force FOMAC warned rebels in the Central African Republic against trying to take the key town of Damara, saying it would 'amount to a declaration of war'. Damara is the last strategic town between the Seleka rebel coalition and the capital Bangui, after the rebels seized much of the country in a three-week advance that began in the north and has brought them to within 160 kilometres (100 miles) of the capital, in the south. AFP PHOTO / SIA KAMBOU (Photo credit should read SIA KAMBOU/AFP/Getty Images)

CENTRAFRICA-CHAD-UNREST-FOMAC

Chadian soldiers, part of a convoy of the FOMAC multinational force of central African states, man a position near Damara on January 2, 2013. The commander of the multinational African force FOMAC warned rebels in the Central African Republic against trying to take the key town of Damara, saying it would 'amount to a declaration of war'. Damara is the last strategic town between the Seleka rebel coalition and the capital Bangui, after the rebels seized much of the country in a three-week advance that began in the north and has brought them to within 160 kilometres (100 miles) of the capital, in the south. AFP PHOTO / SIA KAMBOU (Photo credit should read SIA KAMBOU/AFP/Getty Images)

CENTRAFRICA-CHAD-UNREST-FOMAC

Chadian soldiers, part of a convoy of the FOMAC multinational force of central African states, man a position near Damara on January 2, 2013. The commander of the multinational African force FOMAC warned rebels in the Central African Republic against trying to take the key town of Damara, saying it would 'amount to a declaration of war'. Damara is the last strategic town between the Seleka rebel coalition and the capital Bangui, after the rebels seized much of the country in a three-week advance that began in the north and has brought them to within 160 kilometres (100 miles) of the capital, in the south. AFP PHOTO / SIA KAMBOU (Photo credit should read SIA KAMBOU/AFP/Getty Images)

CENTRAFRICA-CHAD-UNREST-FOMAC

Chadian soldiers, part of a convoy of the FOMAC multinational force of central African states, man a position near Damara on January 2, 2013. The commander of the multinational African force FOMAC warned rebels in the Central African Republic against trying to take the key town of Damara, saying it would 'amount to a declaration of war'. Damara is the last strategic town between the Seleka rebel coalition and the capital Bangui, after the rebels seized much of the country in a three-week advance that began in the north and has brought them to within 160 kilometres (100 miles) of the capital, in the south. AFP PHOTO / SIA KAMBOU (Photo credit should read SIA KAMBOU/AFP/Getty Images)

CENTRAFRICA-CHAD-UNREST-FOMAC

Chadian soldiers, part of a convoy of the FOMAC multinational force of central African states, man a position near Damara on January 2, 2013. The commander of the multinational African force FOMAC warned rebels in the Central African Republic against trying to take the key town of Damara, saying it would 'amount to a declaration of war'. Damara is the last strategic town between the Seleka rebel coalition and the capital Bangui, after the rebels seized much of the country in a three-week advance that began in the north and has brought them to within 160 kilometres (100 miles) of the capital, in the south. AFP PHOTO / SIA KAMBOU (Photo credit should read SIA KAMBOU/AFP/Getty Images)

CENTRAFRICA-CHAD-UNREST-FOMAC

A Chadian soldier smokes as he sits on an armoured vehcile of a convoy of Chadian soldiers part of the multinational African force FOMAC manning a position near Damara on January 2, 2013. The commander of multinational African force FOMAC on Wednesday warned rebels in the Central African Republic against trying to take the key town of Damara, saying it would 'amount to a declaration of war'. Damara is the last strategic town between the Seleka rebel coalition and the capital Bangui, after the rebels seized much of the country in a three-week advance that began in the north and has brought them to within 160 kilometres (100 miles) of the capital, in the south. AFP PHOTO/ SIA KAMBOU (Photo credit should read SIA KAMBOU/AFP/Getty Images)

CENTRAFRICA-CHAD-UNREST-FOMAC

Chadian soldiers, part of a convoy of the FOMAC multinational force of central African states, man a position near Damara on January 2, 2013. The commander of the multinational African force FOMAC warned rebels in the Central African Republic against trying to take the key town of Damara, saying it would 'amount to a declaration of war'. Damara is the last strategic town between the Seleka rebel coalition and the capital Bangui, after the rebels seized much of the country in a three-week advance that began in the north and has brought them to within 160 kilometres (100 miles) of the capital, in the south. AFP PHOTO / SIA KAMBOU (Photo credit should read SIA KAMBOU/AFP/Getty Images)

CENTRAFRICA-CHAD-UNREST-FOMAC

A convoy of Chadian soldiers, part of the multinational African force FOMAC, man a position near Damara on January 2, 2013. The commander of the multinational African force FOMAC warned rebels in the Central African Republic against trying to take the key town of Damara, saying it would 'amount to a declaration of war'. Damara is the last strategic town between the Seleka rebel coalition and the capital Bangui, after the rebels seized much of the country in a three-week advance that began in the north and has brought them to within 160 kilometres (100 miles) of the capital, in the south. AFP PHOTO / SIA KAMBOU (Photo credit should read SIA KAMBOU/AFP/Getty Images)

CENTRAFRICA-CHAD-UNREST-FOMAC

A convoy of Chadian soldiers part of the multinational African force FOMAC mans a position near Damara on January 2, 2013. The commander of multinational African force FOMAC on Wednesday warned rebels in the Central African Republic against trying to take the key town of Damara, saying it would 'amount to a declaration of war'. Damara is the last strategic town between the Seleka rebel coalition and the capital Bangui, after the rebels seized much of the country in a three-week advance that began in the north and has brought them to within 160 kilometres (100 miles) of the capital, in the south. AFP PHOTO/ SIA KAMBOU (Photo credit should read SIA KAMBOU/AFP/Getty Images)

CENTRAFRICA-CHAD-UNREST-FOMAC

A convoy of Chadian soldiers part of the multinational African force FOMAC mans a position near Damara on January 2, 2013. The commander of multinational African force FOMAC on Wednesday warned rebels in the Central African Republic against trying to take the key town of Damara, saying it would 'amount to a declaration of war'. Damara is the last strategic town between the Seleka rebel coalition and the capital Bangui, after the rebels seized much of the country in a three-week advance that began in the north and has brought them to within 160 kilometres (100 miles) of the capital, in the south. AFP PHOTO/ SIA KAMBOU (Photo credit should read SIA KAMBOU/AFP/Getty Images)

CENTRAFRICA-CHAD-UNREST-FOMAC

Chadian soldiers, part of a convoy of the FOMAC multinational force of central African states, man a position near Damara on January 2, 2013. The commander of the multinational African force FOMAC warned rebels in the Central African Republic against trying to take the key town of Damara, saying it would 'amount to a declaration of war'. Damara is the last strategic town between the Seleka rebel coalition and the capital Bangui, after the rebels seized much of the country in a three-week advance that began in the north and has brought them to within 160 kilometres (100 miles) of the capital, in the south. AFP PHOTO / SIA KAMBOU (Photo credit should read SIA KAMBOU/AFP/Getty Images)

CENTRAFRICA-CHAD-UNREST-FOMAC

Chadian soldiers, part of a convoy of the FOMAC multinational force of central African states, man a position near Damara on January 2, 2013. The commander of the multinational African force FOMAC warned rebels in the Central African Republic against trying to take the key town of Damara, saying it would 'amount to a declaration of war'. Damara is the last strategic town between the Seleka rebel coalition and the capital Bangui, after the rebels seized much of the country in a three-week advance that began in the north and has brought them to within 160 kilometres (100 miles) of the capital, in the south. AFP PHOTO / SIA KAMBOU (Photo credit should read SIA KAMBOU/AFP/Getty Images)