So it's no surprise that the National Geographic 2012 Photo Contest attracted stiff competition: 22,000 entries from over 150 countries battled for the grand prize of $10,000 (£6,200) across three categories: people, places and nature.
First prize went to Ashley Vincent for his photograph of an Indochinese tigress enjoying her morning bath at Khao Kheow Open Zoo, Thailand called The Explosion!. Vincent's image captures the raw beauty of a majestic animal enjoying a splash, framed by the countless water droplets frozen in time.
The modest photographer was ecstatic to scoop the top prize, saying: "In all humility I have to say that Mother Nature smiled favourably on me that day!"
Take a look at our favourite pictures below, along with quotes from the photographers themselves:
Grand-Prize: The Explosion! by Ashley Vincent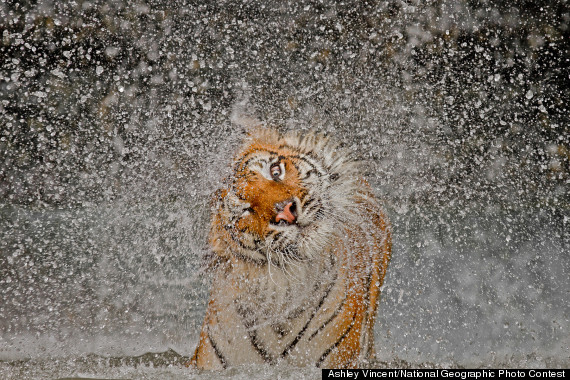 "The subject's name is Busaba, a well cared for Indochinese Tigress whose home is at Khao Kheow Open Zoo, Thailand. I had taken many portraits of Busaba previously and it was becoming more and more difficult to come up with an image that appeared any different to the others. Which is why I took to observing her more carefully during my visits in the hope of capturing something of a behavioural shot. The opportunity finally presented itself while watching Busaba enjoying her private pool then shaking herself dry. In all humility I have to say that Mother Nature smiled favourably on me that day!" - Ashley Vincent.
First Place for Places: The Matterhorn by Nenad Saljic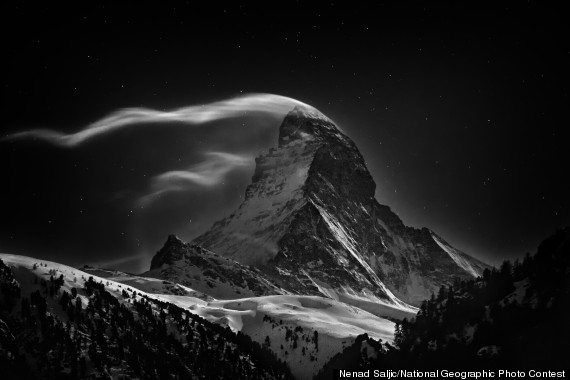 "The Matterhorn 4478 m at full moon." - Nenad Saljic
Honorable Mention: Red Fox catching mouse under snow by Micheal Eastman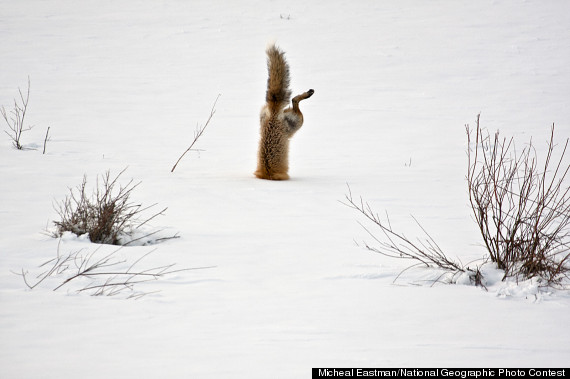 "With his exceptional hearing a red fox has targeted a mouse hidden under 2 feet of crusted snow. Springing high in the air he breaks through the crusted spring snow with his nose and his body is completely vertical as he grabs the mouse under the snow." - Micheal Eastman
Honorable Mention: Ursus arctos horribilis by Jason Ching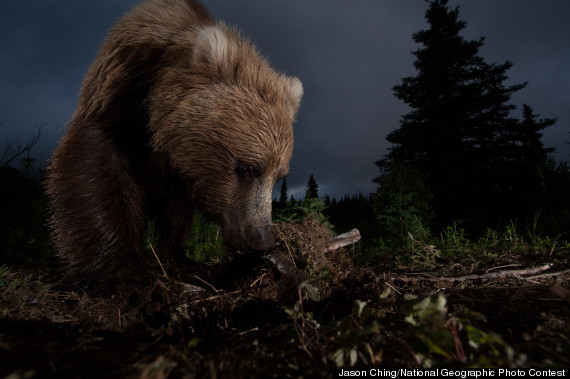 "This photo of a wild, Alaskan, brown bear digging on a game trail was taken with a home made motion controlled triggering device hooked up to my DSLR. " - Jason Ching
Honorable Mention: Stilt Fishing by ulrich lambert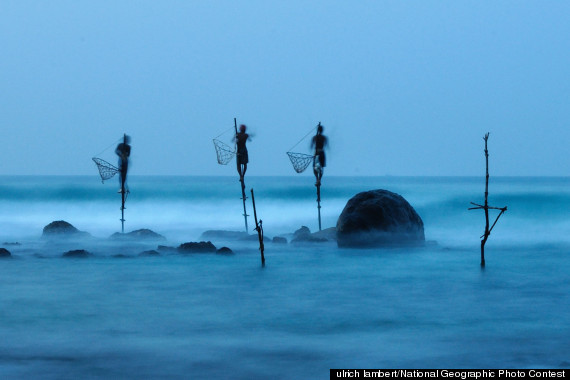 "Stilt fishing is a typical fishing technique only seen in Sri Lanka. The fishermen sit on a cross bar called a petta tied to a vertical pole planted into the coral reef. This long exposure shot shows how unstable their position is." - ulrich lambert
The National Geographic Photo Contest 2012 - Winners
SUBSCRIBE AND FOLLOW
Get top stories and blog posts emailed to me each day. Newsletters may offer personalized content or advertisements.
Learn more