A Cameroon court of appeal has overturned the conviction of two men jailed for "looking gay", declaring them "innocent" of homosexuality.
Jonas Kimie and Franky Ndome were wearing women's clothes and had been seen drinking Bailey's Irish Cream when they were arrested outside a nightclub in the capital Yaounde in July 2011.
The pair had already served a year of their five year sentences when the news of their acquittal and release was announced, the Associated Press reports.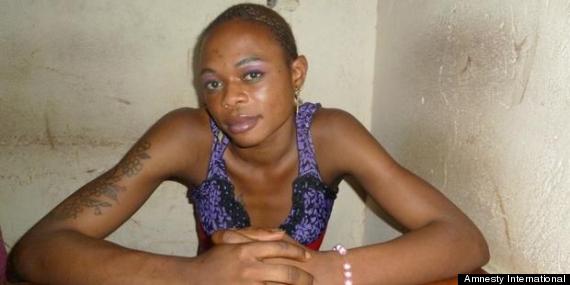 Jonas Kimie told Amnesty International he feels more comfortable wearing women's clothes
On Monday, lawyer Alice Nkom told Pink News she was pleased with the decision to release the men because the judge who convicted them was influenced by "stereotypes".
He had stated "the way the men dressed...spoke and the fact that they drank Bailey's Irish Cream proved they were gay", Ms Nkom said.
SEE ALSO:
Godfrey Byaruhanga, central Africa researcher at Amnesty International, said: "The appeal court's ruling is a positive step, but the Cameroon authorities must do more to end discrimination of people accused of same-sex relations."
Last month, Ndome and Kimie told Amnesty International they had been subjected to violence and prejudice from prison authorities and other inmates while in jail.
Ndome claims he was beaten by guards in June 2012 for refusing to plait a female guard's hair.
On December 17, a Cameroonian court upheld the five-year-sentence of another man, Roger Jean-Claude Mbede, who was convicted of sending a text message that said "I love you" to another man.
Amnesty International's upcoming report on human rights concerns in Cameroon, due to be published later this month, documents cases of harassment of perceived Lesbian, Gay, Bisexual, Transgender and Intersexual (LGBTI) people in the country.
Homosexuality is illegal in Cameroon and sentences for homosexual acts vary between six months to five years.
Loading Slideshow
Frank Ocean

No mainstream black male hip-hop artist had ever come out as identifying with the LGBT community until <a href="http://www.nytimes.com/2012/07/07/arts/music/frank-ocean-draws-praise-for-declaring-his-homosexuality.html?pagewanted=all&_r=0">Frank Ocean did in July</a>, just before he debuted his acclaimed solo album, "Channel Orange." The singer-songwriter posted a Tumblr post which read, in part, "4 summers ago, I met somebody. I was 19. He was too. We spent that summer, and the summer after, together. Everyday almost. And on the days we were together, time would glide." After that, Ocean received support from fellow hip-hop artists Jay-Z (and wife, Beyoncé), 50 Cent, Busta Rhymes and more. Daryl Hannah, director of media and community partnerships for the Gay and Lesbian Alliance Against Defamation said, "[The support for Frank is] an extension of the overall kind of support we're seeing across the country for LGBT people, and not just in a broad sense, but specifically from iconic members of the black community." Ocean also <a href="http://www.huffingtonpost.com/2012/11/21/frank-ocean-gq-magazine-interview-coming-out-bisexuality-_n_2171321.html">spoke with <em>GQ</em></a> for its December issue and further discussed his sexuality.

Tammy Baldwin

The general election on Nov. 6 was a historic one for LGBT people. Tammy Baldwin (D-Wis.) was a part of that history when she became the <a href="http://www.huffingtonpost.com/2012/11/07/tammy-baldwin-election-results-2012_n_2049837.html">first openly gay senator</a> in the nation to win a seat in the U.S. Senate. "I am honored and humbled and grateful, and I am ready to get to work -- ready to stand with Barack Obama, and ready to fight for Wisconsin's middle class," Baldwin said at <a href="http://www.huffingtonpost.com/2012/11/14/tammy-baldwin-victory-party-photos_n_2130358.html">her victory party</a>.

Lana Wachowski

The co-director of "The Matrix" and the hit film "Cloud Atlas" became the first major Hollywood director to publicly come out as transgender in July. Lana Wachowski <a href="http://www.huffingtonpost.com/2012/07/30/matrix-director-sex-change-larry-wachowski_n_1720944.html">revealed she transitioned</a> while promoting her new film this fall. Later in October, the transgender pioneer <a href="http://www.huffingtonpost.com/2012/10/24/lana-wachowski-transgender-cloud-atlas-director-reveals-pain-suicide-attempt_n_2009112.html">received the Human Rights Campaign's Visibility Award</a>, where she delivered a revealing and heartfelt speech.

Shane Bitney Crone

In May, Shane Bitney Crone got everyone's attention with his tragic, alarming and thought-provoking YouTube video, "It Could Happen To You," which went viral and has garnered over 3 million views to date. The video highlights the many inequalities LGBT people face in the U.S., using his relationship with and loss of his longtime boyfriend as an example, and urges people to take a stand for marriage equality. Since the video's debut, Crone has become a fervent LGBT-rights activist, making another video in a plea for full equality called <a href="http://www.huffingtonpost.com/shane-bitney-crone/no-freedom-until-we-are-equal_b_2047751.html">"No Freedom Until We Are Equal"</a> in November.

Ellen DeGeneres

Ellen DeGeneres took several hits this year from right-wing conservative group One Million Moms (<a href="http://www.huffingtonpost.com/2012/12/06/ellen-degeneres-ad-one-million-moms-jc-penney-christmas_n_2251014.html">the most recent in December</a>) which was upset that retail chain JCPenney appointed the lesbian talk show host as its national spokeswoman. Despite that controversy, DeGeneres was honored with the prestigious <a href="http://www.kennedy-center.org/programs/specialevents/marktwain/">Mark Twain Prize for American Humor</a> in October and was <a href="http://www.queerty.com/watch-ellen-snl-impression-20121115/">spoofed on "Saturday Night Live"</a> in November. (You know you made it when "SNL" targets you.)

Anderson Cooper

Anderson Cooper finally addressed the long-standing rumors about this sexuality when he <a href="http://andrewsullivan.thedailybeast.com/2012/07/anderson-cooper-the-fact-is-im-gay.html">came out in an email </a> to his friend and fellow journalist, Andrew Sullivan, in July. In Cooper's message, which was posted on Sullivan's blog, "The Dish," on <em>The Daily Beast</em>, the CNN anchor stated, "The fact is, I'm gay, always have been, always will be, and I couldn't be any more happy, comfortable with myself, and proud."

Allyson Robinson

In October, Allyson Robinson, <a href="http://www.hrc.org/staff/profile/allyson-robinson">the Human Rights Campaign's first deputy director for employee programs</a>, became the leader of the Servicemembers Legal Defense Network and OutServe</a>, LGBT armed services support groups that recently merged into one entity. The transgender activist is an army veteran and graduate of the United States Military Academy at West Point.

Edie Windsor

Edie Windsor and her late wife Thea Spyer spent more than 40 years together and were married in 2007 in Canada. Spyer was diagnosed with multiple sclerosis and passed away from the disease in 2009. Because the U.S. doesn't recognize their marriage, Windsor, now 83, was <a href="http://www.huffingtonpost.com/2012/07/16/edie-windsor-doma_n_1675983.html">forced to pay more than $363,000 in federal estate tax</a> on her partner's estate and this inequality, courtesy of the Defense Of Marriage Act, caused her to sue the federal government in 2010. In July, Windsor <a href="http://www.huffingtonpost.com/2012/07/16/edie-windsor-doma_n_1675983.html">petitioned the U.S. Supreme Court to hear her case</a> and now, after historic news in December that <a href="http://www.huffingtonpost.com/2012/12/07/supreme-court-gay-marriage_n_2218441.html">Proposition 8 and DOMA would be addressed by the high court</a>, Windsor's <a href="http://www.huffingtonpost.com/2012/12/07/edie-windsor-doma-supreme-court_n_2259916.html">petition will be granted</a> with a decision due in June 2013.

Dan Savage

Journalist, activist and sex columnist Dan Savage, who is perhaps best known as the man behind the "It Gets Better" Project, had an exciting year. Beyond the usual shots toward GOP candidates we've grown to love from him (Remember <a href="http://www.huffingtonpost.com/2011/10/21/dan-savage-herman-cain-oral-sex-gay_n_1024315.html">"Suck my dick, Herman"?</a>), the 48-year-old debuted "Savage U" on MTV, launched "Straight Up Thanks," a <a href="http://www.huffingtonpost.com/2012/11/16/dan-savage-thanks-straight-supporters-for-marriage-equality_n_2145629.html">website thanking straight allies</a> for supporting marriage quality, and got married himself to his husband, Terry Miller, in his home state of Washington in December. Savage said, "It's gotten better for us because straight people have gotten better about us."

RuPaul

No one can doubt that RuPaul has <em>werked</em> it out this year. His award-winning, addicting and endearing show "RuPaul's Drag Race" has brought drag back and into the mainstream. The show's fourth season has been its most successful season yet and an all-stars edition, which brought back the top drag queens from all four seasons, also drew millions of viewers. After marking the 20th anniversary of RuPaul's famous single "Supermodel" in 2012, the momentum will keep going into the new year for <a href="http://www.huffingtonpost.com/2012/10/22/lgbt-icon-of-the-day-rupaul_n_1922676.html">the icon</a>, with an <a href="http://www.huffingtonpost.com/2012/12/10/rupaul-happy-endings_n_2271228.html?utm_hp_ref=gay-voices&ir=Gay%20Voices">appearance on ABC's "Happy Endings"</a> and of course, <a href="http://www.huffingtonpost.com/2012/11/21/rupauls-drag-race-season-five_n_2170964.html">"RuPaul's Drag Race" season five</a>, which premieres on Logo on January 28. You better work, Ru!

Orlando Cruz

In October, Puerto Rican featherweight boxer <a href="http://www.huffingtonpost.com/2012/10/04/orlando-cruz-comes-out-gay_n_1939204.html">Orlando Cruz made history</a> when he announced that he is a "proud gay man," which made him one of the first active professional athletes -- not just boxer -- to do so. The 31-year-old told <em>USA Today</em>: "I've been fighting for more than 24 years and as I continue my ascendant career, I want to be true to myself. I want to try to be the best role model I can be for kids who might look into boxing as a sport and a professional career." Cruz <a href="http://aol.sportingnews.com/sport/story/2012-10-20/orlando-cruz-gay-boxer-fight-out">won his first fight after coming out</a> about two weeks later. "I was very happy that they [the fans] respect me. That's what I want — them to see me as a boxer, as an athlete and as a man in every sense of the word," he said.

Katy Butler

In March, Katy Butler -- who came out as a lesbian in middle school and was bullied for it -- <a href="http://www.huffingtonpost.com/2012/03/12/bully-petition-20-members_n_1339520.html">created a petition on change.org</a>, calling for the Motion Picture Association of America to change the R rating of the movie "Bully" to PG-13 so that youth can watch the informative documentary. The petition garnered more than 275,000 signatures and national attention, earning Katy a <a href="http://www.glaad.org/blog/harvey-weinstein-present-special-recognition-award-katy-butler-glaad-media-awards-new-york">Special Recognition Award</a> from GLAAD (VIDEO).

Andy Marra

In November, Andy Marra <a href="http://www.huffingtonpost.com/andy-marra/the-beautiful-daughter-how-my-korean-mother-gave-me-the-courage-to-transition_b_2139956.html">shared her touching story</a> of self-exploration which involved a trip to Korea and the search for her birth mother. Marra, public relations manager for <a href="http://www.glsen.org/cgi-bin/iowa/all/home/index.html">GLSEN</a>, detailed what happened when she met her that first time and how she eventually came out to her birth mother as transgender. The piece was republished on Jezebel and became the topic of a NPR segment.

Chad Griffin

This year the nation's largest LGBT civil rights organization, the Human Rights Campaign, named a <a href="http://www.huffingtonpost.com/2012/03/02/chad-griffin-hrc-president-appointment_n_1316462.html">new president, Chad Griffin</a>. Griffin, 39, who was appointed in March, is a founding board member of the American Foundation for Equal Rights and played a crucial role in trying to overturn California's Proposition 8. At 19, the Arkansas native worked on President Bill Clinton's communications office and since then he has built an impressive career fighting for equality as well as other social policies.

George Takei

Beloved "Star Trek" star <a href="http://www.huffingtonpost.com/2012/09/27/lgbt-icon-of-the-day-george-takei_n_1922780.html">George Takei</a> had a pretty good year -- to say the least. Now 75 years old, he continued his fierce advocacy for LGBT rights during a crucial election year, urging both the LGBT and Asian communities to vote for President Obama. Takei's accomplishments this year included competing on "The Celebrity Apprentice" (and he <a href="http://www.huffingtonpost.com/2012/12/05/george-takei-donald-trump-lunch-gay-marriage-same-sex-wedding_n_2244635.html">met with The Don in December</a> to talk about marriage equality) and appearing as himself in an <a href="http://www.huffingtonpost.com/2012/12/04/george-takei-archie-comics-kevin-keller_n_2238525.html">issue of Archie Comics' "Kevin Keller" series.</a> Takei, who has an influential and large following on Facebook and Twitter, also world premiered his musical, <a href="http://www.allegiancemusical.com">"Allegiance,"</a> about Japanese internment camps, another issue close to his heart, which will make its Broadway debut in the 2013-14 season.

Sharon Needles

Aaron Coady, better known as Sharon Needles, shot to fame this year when he took the crown as America's Next Drag Superstar on "RuPaul's Drag Race" season four. Not only did Coady's unconventional looks capture everyone's attention, but his story of being an outcast and getting bullied while growing up resonated with the show's fans. After winning, the self-proclaimed future of drag has gone on to other endeavors, which include starring in a <a href="http://www.huffingtonpost.com/2012/10/15/sharon-needles-halloween-flesh-eating-peta-ad-cannibals-cannibalism-_n_1967323.html">Halloween PETA ad</a>, hosting a <a href="http://www.queerty.com/sharon-needles-is-gonna-be-fearce-on-logo-this-halloween-20120830/">weekly Logo horror movie series in November</a> (every day is Halloween for Sharon Needles. Elvira, eat your heart out!) and being named to Out magazine's prestigious <a href="http://www.out.com/out-exclusives/out100-2012/2012/11/15/out100-sharon-needles">2012 "OUT100" list</a>.

Adam Lambert

The glam rocker and former "American Idol" finalist released his sophomore album, "Trespassing," in May, which made the <a href="http://www.huffingtonpost.com/2012/05/23/adam-lambert-trespassing-chart-debut_n_1539564.html">top of the Billboard album charts</a> and made Lambert the first openly gay artist to achieve that honor. Lambert took to Twitter to acknowledge his accomplishment saying, "Thank you to the Glamily for helping me make HISTORY!" Since officially coming out in 2009, Lambert has been vocal about LGBT rights, appearing at different marriage equality benefits this year and <a href="http://www.huffingtonpost.com/2012/12/10/adam-lambert-cyndi-lauper-mad-world_n_2271518.html">performing with Cyndi Lauper</a> in her "Cyndi Lauper & Friends: Home for the Holidays," which raised awareness on lesbian, gay, bisexual and transgender youth homelessness and supports the True Colors Fund's Forty to None Project.

Nate Silver

The <a href="http://www.out.com/entertainment/popnography/2012/10/29/nate-silver-too-effeminate-analyze-polls">self-proclaimed "gay geek" Nate Silver</a> has been in the spotlight for his brilliant statistical analysis featured on his blog <a href="http://fivethirtyeight.blogs.nytimes.com">FiveThirtyEight</a>, which is now published on <em>The New York Times</em>. But in this year's general election, similar to what he did in 2008, Silver's analysis <a href="http://www.huffingtonpost.com/2012/11/09/nate-silver-celebrity_n_2103761.html">correctly predicted the presidential winner</a> in all 50 states, and almost all the Senate races as well. In September, Silver released his book, "The Signal and the Noise: Why Most Predictions Fail but Some Don't," and was named <a href="http://www.out.com/news-opinion/2012/12/18/nate-silver-person-year?page=0,1">"Person of the Year" by Out magazine</a> in December.

Jenna Talackova

Jenna Talackova <a href="http://www.thehollywoodgossip.com/2012/04/jenna-talackova-i-was-born-in-the-wrong-body/">made headlines in April</a> when she was booted from the Miss Universe Canada pageant. Talackova <a href="http://www.huffingtonpost.com/2012/03/26/jenna-talackova-transgender-miss-universe-finalist-twitter-support_n_1380243.html">fought back and ultimately was allowed back into the competition</a>. She spoke with Barbara Walters and said, "I feel like the universe, the creator, just put me in this position as an advocate," she continues. "If it's helping anybody else by sharing my story and with my actions, then I feel great about it."

Barney Frank

What a year it's been for Democratic Rep. Barney Frank. <a href="http://www.huffingtonpost.com/2012/10/30/lgbt-history-month-icon-barney-frank_n_1932108.html">Frank</a>, 72 and the first congressman to publicly come out, married his longtime boyfriend Jim Ready in July and became the first man in Congress to be in a same-sex marriage. Frank, who <a href="http://www.huffingtonpost.com/2011/11/28/barney-frank-reelection-2012_n_1116220.html">announced last November that he would not seek reelection</a> in 2012, stirred the pot by calling gay GOP group Log Cabin Republicans <a href="http://www.huffingtonpost.com/rep-barney-frank/why-i-called-the-log-cabi_b_1875245.html">"Uncle Toms"</a> in the weeks leading up to the general election.

Buck Angel

<a href="http://www.huffingtonpost.com/2012/10/18/lgbt-history-month-icon-buck-angel_n_1939788.html">Buck Angel</a> is a transgender filmmaker, advocate, adult film star, educator, and motivational speaker. In January, when a girl scout infamously called for a boycott of Girl Scouts of the USA for admitting a transgender girl into one of its troupes, <a href="http://www.huffingtonpost.com/2012/01/12/girl-scouts-cookie-boycott-transgender-rebuttal_n_1202828.html">Angel spoke out</a> and said, "When I was growing up, I was a Girl Scout. I was born as a girl, but I always knew I was a guy...they accepted me into the Girl Scout troop and everyone was loving and giving and it was never an issue." (VIDEO) Angle, who's been a longtime, outspoken voice for the female-to-male transgender community, also launched <a href="http://buckangeldating.com">buckangeldating.com</a> this year as a place for trans men and their admirers to meet.

Chad Michaels

Veteran drag queen Chad Michaels had a year full of ups and downs. After losing the crown and title of "America's Next Drag Superstar" to Sharon Needles in season four of "RuPaul's Drag Race," the San Diego native returned for RuPaul's all-star edition of the hit show and beat the top queens from seasons past to become the <a href="http://www.advocate.com/arts-entertainment/television/2012/11/27/last-words-chad-michaels-winner-rupauls-all-stars-drag-race">first queen to enter the drag hall of fame</a> in November.

Chris Colfer

Although it's been a relatively tough year for Kurt Hummel on "Glee," (leaving Ohio for NYC and breaking up with beau Blaine Anderson) the actor who plays the lovable character, Chris Colfer, had a breakthrough year, diving into projects outside the popular hit series for which he's best known. Those projects included <a href="http://www.cbsnews.com/8301-31749_162-57474177-10391698/glees-chris-colfer-releases-a-childrens-book/">releasing a children's book</a>, "The Land of Stories" this summer and debuting his dark comedy film, <a href="http://www.huffingtonpost.com/2012/10/30/struck-by-lightning-trailer_n_2045901.html">"Struck By Lightning,"</a> at the Tribeca Film Festival in April.

Janet Mock

After publicly coming out as transgender last May and <a href="http://www.huffingtonpost.com/janet-mock/transgender-coming-out_b_1146414.html">sharing a moving essay on Gay Voices</a> and other outlets, Janet Mock became one the community's most prominent activists for trans rights and equality. She was <a href="http://elixher.com/janet-mock-receives-sylvia-rivera-activist-award/">honored in November with the Sylvia Rivera Activist Award for her activism by the Sylvia Rivera Law Project</a>, a New York City-based non-profit organization run collectively by and for low income trans communities and trans communities of color. "Every time there's a trans woman of color [in the media], she's getting killed. It wrecks at our souls. It chips away," Mock said in an interview with the project. In February, Mock was named to TheGrio's 100 list and is currently working on her memoir, "Fish Food."

Mary Gonzalez

Mary Gonzalez first grabbed attention when she was running for Texas State Representative as the state's first ever LGBT lawmaker. She initially identified as bisexual but after being dubbed "Latina lesbian lawmaker" by news outlets, Gonzalez proclaimed she's <a href="http://www.huffingtonpost.com/2012/08/10/mary-gonzalez-texas-state-representative-pansexual-_n_1764824.html">she's pansexual</a>. The trailblazer stated, "During the campaign if I had identified as pansexual, I would have overwhelmed everyone," she said. "Now that I'm out of the campaign, I'm completely much more able to define it."

Rachel Maddow

With this year being an election year, Rachel Maddow had plenty to talk about. Aside from her usual brilliant political commentary , the 39-year-old anchor had the chance to discuss major achievements in the LGBT community including calling Obama's support for marriage equality, <a href="http://www.huffingtonpost.com/2012/05/10/rachel-maddow-obama-gay-marriage-endorsement_n_1505560.html">"political bravery."</a> In December, Maddow was <a href="http://www.huffingtonpost.com/2012/12/06/rachel-maddow-grammy-nomination-best-spoken-word-album_n_2249568.html?utm_hp_ref=rachel-maddow">nominated for a Grammy</a> for Best Spoken Word Album with her book, "Drift: The Unmooring of American Military Power."

Matthew Vines

"Being gay is not a sin," said <a href="http://www.matthewvines.com/about">Matthew Vines</a>, a 22-year-old LGBT rights activist who took a leave of absence from his undergraduate studies at Harvard University <a href="http://www.huffingtonpost.com/matthew-vines/bible-homosexuality_b_1378368.html">to study the Bible and homosexuality</a> in an effort to see the inclusion of LGBT people in Christian communities. The Kansas native spoke to a church in his hometown about the bible and homosexuality in March. The resulting video of the speech went viral and has been seen over 400,000 times on YouTube.

Stacy Lambe and Adam Smith

The year saw the debut of some hilarious internet memes. From the "shit so-and-so says" videos (watch <a href="http://bit.ly/UEmr9B">"Shit Girls Say To Gay Guys"</a>) to the recent trend started by CollegeHumor's "Gay Men Will Marry Your Girlfriends" series, we can't forget the laugh-out-loud <a href="http://textsfromhillaryclinton.tumblr.com">"Texts from Hillary,"</a> which was launched In April by two gay men, Stacy Lambe and Adam Smith. The two friends were at a gay sports bar, Nellie's in Washington D.C., when the idea hit them. Lambe and Smith posted on their viral Tumblr page: "As far as memes go -- it has gone as far as it can go. Is it really possible to top a submission from the Secretary herself? No. But then when you get to text with her in real life -- it's just over. At least for us. But we have no doubt it will live on with all of you on the Internet."

Chris Tina Bruce

<a href="http://www.huffingtonpost.com/2012/10/24/lgbt-history-month-icon-chris-tina-bruce_n_1932941.html">Chris Tina Bruce</a> became the first transgender bodybuilding contestant to participate in a competition in San Diego in 2011. Bruce doesn't necessarily identify as male or female, and instead prefers to sit in the middle of the gender spectrum. As a motivational speaker, fitness trainer and LGBT-rights activist, Bruce works to increase awareness of gender fluidity and was featured on National Geographic Channel's "Taboo: Changing Genders" in September, where the bodybuilder spoke about gender identity and fluidity.