'Les Miserables' star Anne Hathaway looks set for her first chart hit after her version of 'I Dreamed A Dream' from the film climbed into the Top 40.
Midweek sales figures released by the Official Charts Company show the actress is at number 21 in the single charts, with her co-star Samantha Barks, who plays Eponine in the film, at number 38 with her performance of 'On My Own'. Anne Hathaway who has already won a Golden Globe for her performance in Les Misérables
The film's soundtrack is also topping the midweek album charts ahead of Emeli Sande's 'Our Version of Events'.
'I Dreamed A Dream' last had a resurgence in popularity in 2009 when Scottish singer Susan Boyle performed it in her audition for the third series of 'Britain's Got Talent'. Her version made it to number 37 when it was released in the charts.
The famous song first appeared in the original Paris production of 'Les Miserables' from 1980 and was then called 'J'Avais Rêvé D'une Autre Vie' ('I had dreamed of another life').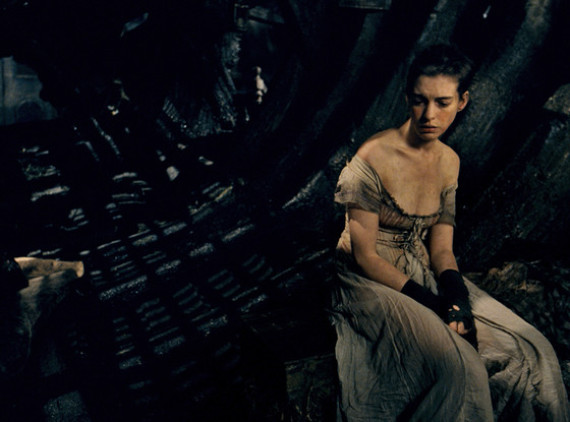 Anne Hathaway who plays 'Fantine' in the film version of Les Misérables is set for chart success
Meanwhile, the film has been a massive critical and commercial success, garnering an Oscar nomination for Best Picture.
Hathaway, who plays Fantine, has just scooped a Best Supporting Actress Golden Globe and is now preparing for the Oscars, where she's nominated again for her emotional role.
On Wednesday, we asked "is 'Les Miserables' cinema's biggest ever weepie?" After cinema-goers took to Facebook and Twitter to boast about how much the Tom Hooper directed film made them cry.
Here are 10 films that would rival it for snivels...
HuffPost UK's Tearjerker Films
Lifestyle Editorial Assistant, Brogan Driscoll said: "I always cry at films, so this list could get pretty long. But just recently the last half of Amour made me cry."

Students Editor, Lucy Sheriff, said: "Artificial Intelligence is literally the only film to have ever made me cry. "I have no idea why."

Traffic and Trends Editor, Sara Nelson, said 1997 tragicomedy Italian film Life Is Beautiful made her weep.

Business Reporter, Charlie Thomas said Love Story made her cry. As well as Legends of the Fall and Untamed Heart

Tech Editor, Michael Rundle, shed a tear over Eternal Sunshine, My Life Without Me and Star Wars IV and VI

Culture Editor, Sam Parker, said he "cried liked a baby" during Braveheart.

Lifestyle Editor, Sarah O'Meara said Schindler's List made her weep.

Assistant Entertainment Editor, Sarah Dean, said the only film she has ever properly cried over is Philadelphia.

Sports Editor, Samuel Luckhurst said he cried over Up. And we bet he wasn't the only one.

Entertainment Editor, Caroline Frost, said: "Steven Spielberg used an alien to express every child's biggest fear of being abandoned... it's so special."