The Huffington Post pictures of the day brings you the very best images from around the world chosen by our own photo editors, Elliot Wagland, Matthew Tucker and Tahira Mirza.
We would love to hear your thoughts on the stories of the day - leave a comment at the bottom of the blog.
Follow The Huffington Post picture desk on twitter.
18/01/2013 14:19 GMT
You Looking At Me?? A lioness got so fed up with the wildlife PAW-PARAZZI she picked up a nearby camera taking pictures of her - and took off with it. The incredible series of shots capture the peeved predator eyes focused and stalking closer and closer towards the carefully set up expensive equipment. The camera was placed next to a dead buffalo by photographer Ed Hetherington, from Roswell in Atlanta, USA, who was hoping to capture the lioness devouring its prey. But she had other ideas and instead of tucking into the fresh kill she lifted the camera off its tripod and walked off through Mana Pools National Park in Zimbabwe with his kit.
18/01/2013 13:45 GMT
Animals Romp In The Snow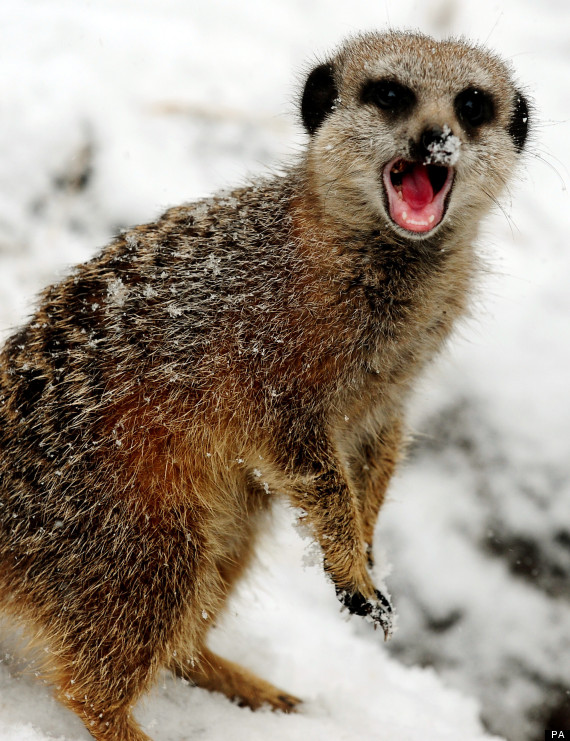 A meerkat in the snow at Twycross Zoo, Leicestershire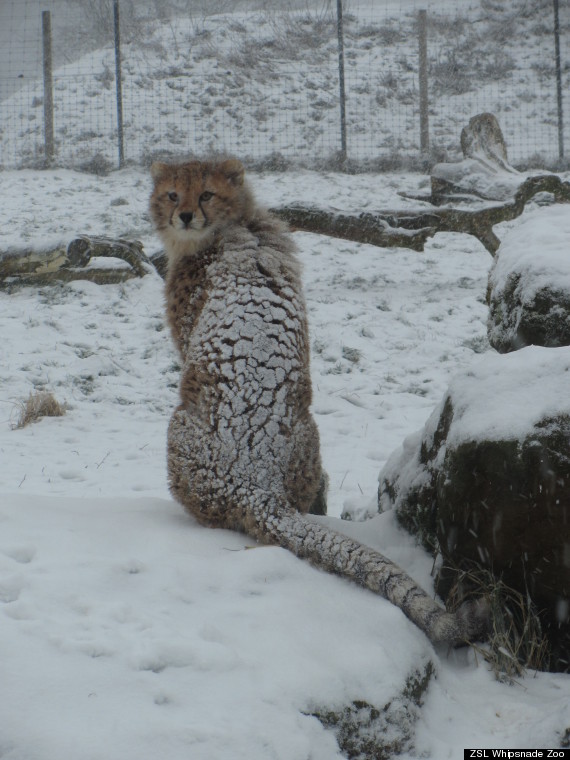 A cheetah cub's coat gets a snow covering at ZSL Whipsnade Zoo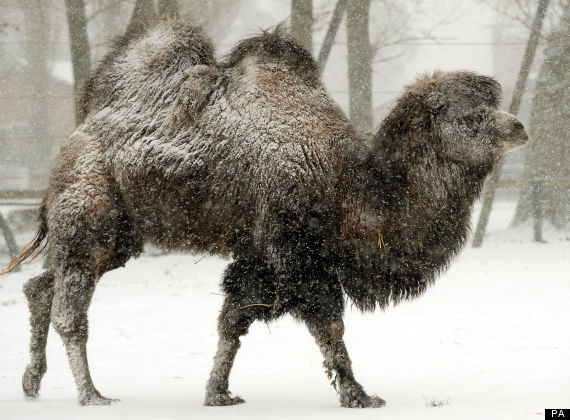 A bactrian camel in the snow at Twycross Zoo, Leicestershire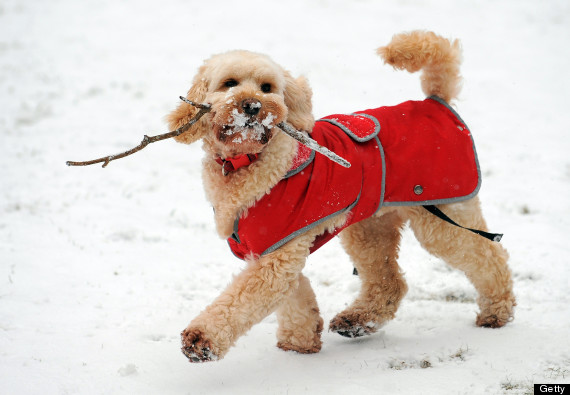 Tess the dog plays in snow in Bramhall Park in Stockport
Cheetah cubs, wolves, wolverine, mara, oryx, camels, meerkats and our faithful pet hounds have been photographed exploring their new surroundings following the latest fresh flurry.
Do you have heart-warming pictures of your pets enjoying the snow? We would love to publish with a credit to you - email: ukpicturedesk@huffingtonpost.com
18/01/2013 13:02 GMT
What A Difference FOUR Years Makes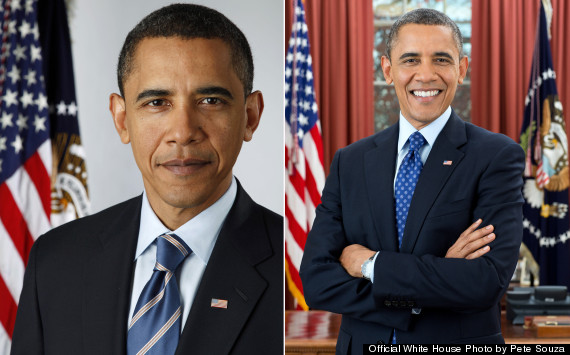 (Right) President Barack Obama is photographed during a presidential portrait sitting for an official photo in the Oval Office, Dec. 6, 2012. (Official White House Photo by Pete Souza) and (Left) Barack Obama's first official portrait in 2009
18/01/2013 11:22 GMT
Fight!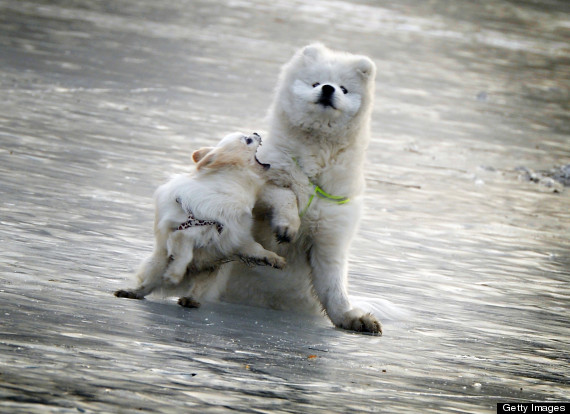 Dogs slip as they play fight on the frozen Houhai Lake in BeijingThe lake attracts scores of tourists and locals who use its frozen surface for skating, ice swimming and even exercising their dogs despite winter temperatures of up to minus 18 Celsius (0 F).
18/01/2013 10:40 GMT
Maria Sharapova Beats Venus Williams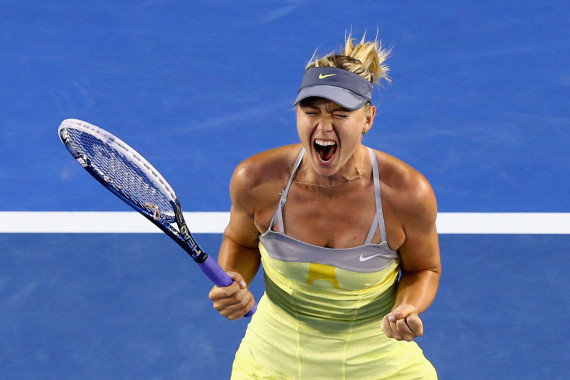 Russia's Maria Sharapova celebrates after defeating Venus Williams of the US in their third round match at the Australian Open tennis championship in Melbourne, Australia, Friday, Jan. 18, 2013.
18/01/2013 10:28 GMT
Sydney Records Hottest Day Ever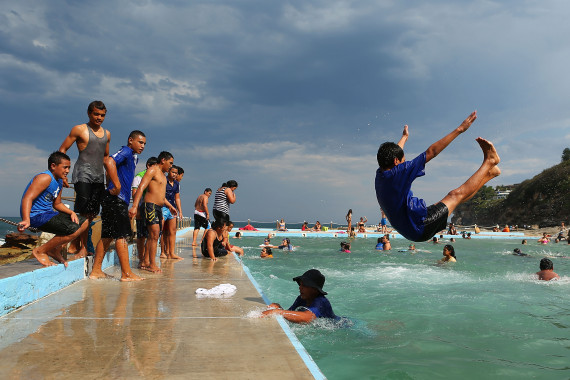 People dive into Dee Why rock pool to beat the heat on January 18, 2013 in Sydney, Australia. Sydney temperatures reached 45.8 celcius degrees today, breaking the previous record of 45.3 set in 1939.
18/01/2013 10:25 GMT
What Snow?? 77-year-old retired teacher Gao Yinyu exercising in his underwear at a snow-covered bathing spot in Jilin, in northeastern China's Jilin province, in a temperature of minus 25 degrees Celsius. Gao has been exercising in only his underwear every morning for more than the past decade and has rarely caught cold ever since retirement
18/01/2013 10:03 GMT
Just One More Piece German Chancellor Angela Merkel (C) and governing mayor of Berlin Klaus Wowereit taste cheese from a hostess during the opening tour of the International Green Week in Berlin, Germany, 18 January 2013. Holland is this year's partner country at the International Green Week, which opens to the public from 18 until 27 January
18/01/2013 09:43 GMT
She Bangs, She Bangs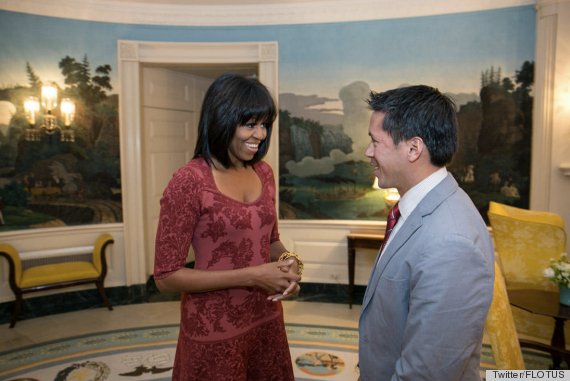 Michelle Obama dons new hair cut on her 49th Birthday whilst tweeting from her new account @FLOTUS ‏'The First Lady just met with Inaugural citizen co-chair David Hall ahead of #MLKDay of Service: http://www.2013pic.org/service'
Happy Birthday Michelle Obama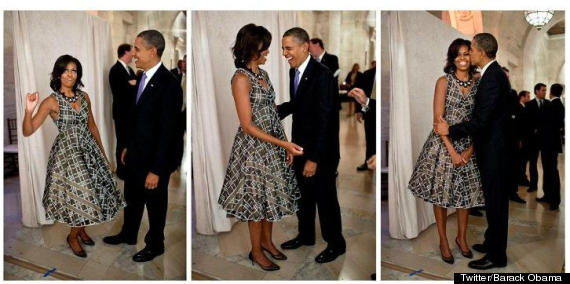 @BarackObama Happy birthday, @MichelleObama! pic.twitter.com/brzSPUQK
18/01/2013 09:27 GMT
READERS PICTURES - Snow Hits The UK
SUBSCRIBE TO & FOLLOW UK DAILY BRIEF