The Huffington Post pictures of the day brings you the very best images from around the world chosen by our own photo editors, Elliot Wagland, Matthew Tucker and Tahira Mirza.
We would love to hear your thoughts on the stories of the day - leave a comment at the bottom of the blog.
Follow The Huffington Post picture desk on twitter.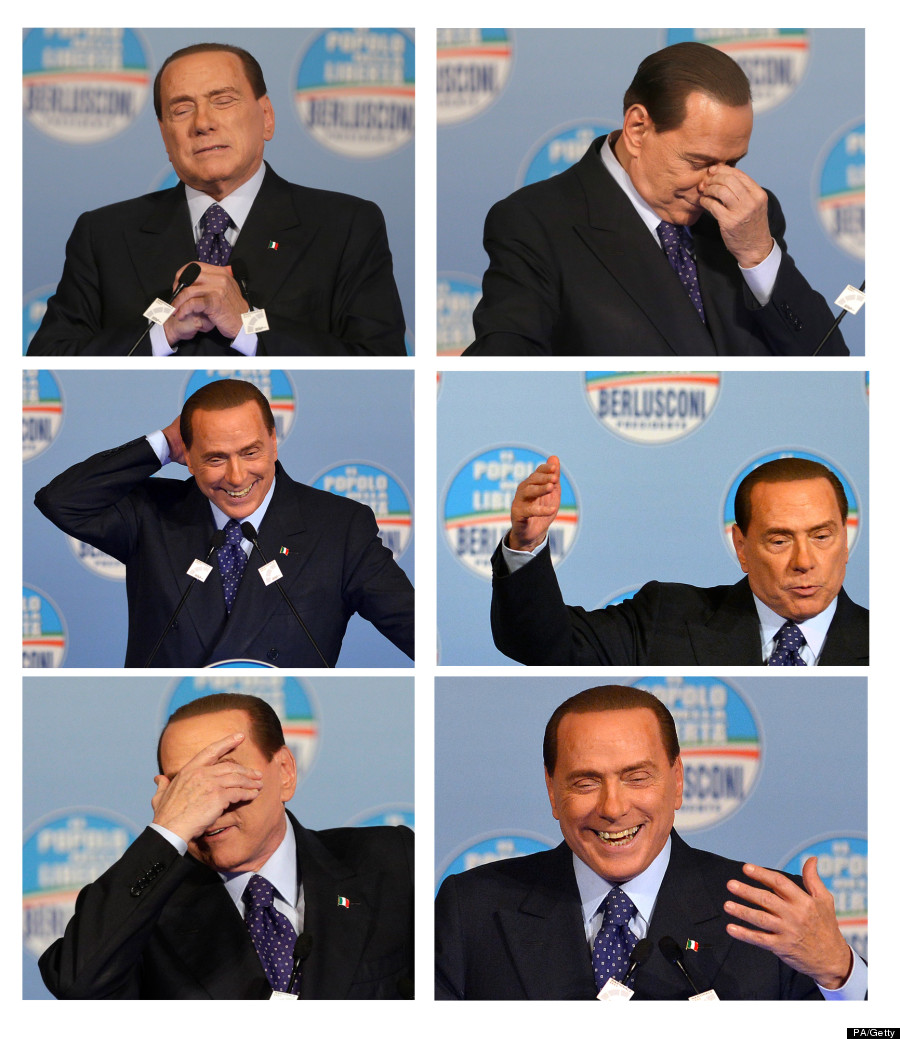 Former Italian premier Silvio Berlusconi, touches his face at the end of a long meeting with candidates to the upcoming elections in Rome Friday, Jan. 25, 2013. Berlusconi outlined his latest "contract" with Italians on Friday as he pressed his latest comeback bid, promising a host of reforms and measures to give relief to Italians suffering through a deep recession and youth unemployment at a record 37 percent.
Loading Slideshow
ITALY-POLITICS-ELECTION-BERLUSCONI

Former Italian Prime Minister Silvio Berlusconi delivers a speech during a campaign rally to present the list of the PDL candidates for the upcoming elections, in Rome on January 25, 2013. AFP PHOTO / VINCENZO PINTO (Photo credit should read VINCENZO PINTO/AFP/Getty Images)

ITALY-POLITICS-ELECTION-BERLUSCONI

Italy's former Prime Minister Silvio Berlusconi delivers a speech during a campaign rally to present the list of the PDL right-wing party candidates for the upcoming general elections, in Rome on January 25, 2013. AFP PHOTO / VINCENZO PINTO (Photo credit should read VINCENZO PINTO/AFP/Getty Images)

ITALY-POLITICS-ELECTION-BERLUSCONI

Italy's former Prime Minister Silvio Berlusconi (L) and PDL secretary Angelino Alfano acknowledge the audience during a campaign rally to present the list of the PDL right-wing party candidates for the upcoming general elections, in Rome on January 25, 2013. AFP PHOTO / VINCENZO PINTO (Photo credit should read VINCENZO PINTO/AFP/Getty Images)

ITALY-POLITICS-ELECTION-BERLUSCONI

Italy's former Prime Minister Silvio Berlusconi delivers a speech during a campaign rally to present the list of the PDL candidates for the upcoming elections, in Rome on January 25, 2013. AFP PHOTO / VINCENZO PINTO (Photo credit should read VINCENZO PINTO/AFP/Getty Images)

ITALY-POLITICS-ELECTION-BERLUSCONI

(LtoR) Italy's former Prime Minister Silvio Berlusconi and PDL secretary Angelino Alfano wave at the audience following a speech during a campaign rally to present the list of the PDL candidates for the upcoming elections, in Rome on January 25, 2013. AFP PHOTO / VINCENZO PINTO (Photo credit should read VINCENZO PINTO/AFP/Getty Images)

Former Italian premier Silvio Berlusconi, left, and PDL secretary Angelino Alfano share a light moment during a campaign rally for the upcoming elections, in Rome Friday, Jan. 25, 2013. Berlusconi outlined his latest "contract" with Italians on Friday as he pressed his latest comeback bid, promising a host of reforms and measures to give relief to Italians suffering through a deep recession and youth unemployment at a record 37 percent. (AP Photo/Alessandra Tarantino)

ITALY-POLITICS-ELECTION-BERLUSCONI

Italy's former Prime Minister Silvio Berlusconi delivers a speech during a campaign rally to present the list of the PDL candidates for the upcoming elections, in Rome on January 25, 2013. AFP PHOTO / VINCENZO PINTO (Photo credit should read VINCENZO PINTO/AFP/Getty Images)

Former Italian premier Silvio Berlusconi, left, and PDL secretary Angelino Alfano share a light moment during a campaign rally for the upcoming elections, in Rome Friday, Jan. 25, 2013. Berlusconi outlined his latest "contract" with Italians on Friday as he pressed his latest comeback bid, promising a host of reforms and measures to give relief to Italians suffering through a deep recession and youth unemployment at a record 37 percent. (AP Photo/Alessandra Tarantino)

Former Italian premier Silvio Berlusconi smiles during a rally for the upcoming elections in Rome Friday, Jan. 25, 2013. Berlusconi outlined his latest "contract" with Italians on Friday as he pressed his latest comeback bid, promising a host of reforms and measures to give relief to Italians suffering through a deep recession and youth unemployment at a record 37 percent. (AP Photo/Alessandra Tarantino)

Former Italian premier Silvio Berlusconi, left, and PDL secretary Angelino Alfano sing the national anthem prior to the start of a meeting with candidates at upcoming elections in Rome Friday, Jan 25, 2013. Berlusconi outlined his latest "contract" with Italians on Friday as he pressed his latest comeback bid, promising a host of reforms and measures to give relief to Italians suffering through a deep recession and youth unemployment at a record 37 percent. (AP Photo/Alessandra Tarantino)

Former Italian premier Silvio Berlusconi, left, and PDL secretary Angelino Alfano share a light moment during a campaign rally for the upcoming elections, in Rome Friday, Jan. 25, 2013. Berlusconi outlined his latest "contract" with Italians on Friday as he pressed his latest comeback bid, promising a host of reforms and measures to give relief to Italians suffering through a deep recession and youth unemployment at a record 37 percent. (AP Photo/Alessandra Tarantino)

Former Italian premier Silvio Berlusconi, left, and PDL secretary Angelino Alfano share a light moment during a campaign rally for the upcoming elections, in Rome Friday, Jan. 25, 2013. Berlusconi outlined his latest "contract" with Italians on Friday as he pressed his latest comeback bid, promising a host of reforms and measures to give relief to Italians suffering through a deep recession and youth unemployment at a record 37 percent. (AP Photo/Alessandra Tarantino)

Former Italian premier Silvio Berlusconi, left, and PDL secretary Angelino Alfano share a light moment during a campaign rally for the upcoming elections, in Rome Friday, Jan. 25, 2013. Berlusconi outlined his latest "contract" with Italians on Friday as he pressed his latest comeback bid, promising a host of reforms and measures to give relief to Italians suffering through a deep recession and youth unemployment at a record 37 percent. (AP Photo/Alessandra Tarantino)

Former Italian premier Silvio Berlusconi, touches his face at the end of a long meeting with candidates to the upcoming elections in Rome Friday, Jan. 25, 2013. Berlusconi outlined his latest "contract" with Italians on Friday as he pressed his latest comeback bid, promising a host of reforms and measures to give relief to Italians suffering through a deep recession and youth unemployment at a record 37 percent. (AP Photo/Alessandra Tarantino)

Former Italian premier Silvio Berlusconi, gestures during a meeting with candidates at upcoming elections in Rome Friday, Jan. 25, 2013. Berlusconi outlined his latest "contract" with Italians on Friday as he pressed his latest comeback bid, promising a host of reforms and measures to give relief to Italians suffering through a deep recession and youth unemployment at a record 37 percent. (AP Photo/Alessandra Tarantino)

Former Italian premier Silvio Berlusconi smiles during a rally for the upcoming elections in Rome Friday, Jan. 25, 2013. Berlusconi outlined his latest "contract" with Italians on Friday as he pressed his latest comeback bid, promising a host of reforms and measures to give relief to Italians suffering through a deep recession and youth unemployment at a record 37 percent. (AP Photo/Alessandra Tarantino)

ITALY-POLITICS-ELECTION-BERLUSCONI

Italy's former Prime Minister Silvio Berlusconi delivers a speech during a campaign rally to present the list of the PDL right-wing party candidates for the upcoming general elections, in Rome on January 25, 2013. AFP PHOTO / VINCENZO PINTO (Photo credit should read VINCENZO PINTO/AFP/Getty Images)

ITALY-POLITICS-ELECTION-BERLUSCONI

Italy's former Prime Minister Silvio Berlusconi delivers a speech during a campaign rally to present the list of the PDL candidates for the upcoming elections, in Rome on January 25, 2013. AFP PHOTO / VINCENZO PINTO (Photo credit should read VINCENZO PINTO/AFP/Getty Images)

Former Italian premier Silvio Berlusconi, touches his face at the end of a long meeting with candidates to the upcoming elections in Rome Friday, Jan. 25, 2013. Berlusconi outlined his latest "contract" with Italians on Friday as he pressed his latest comeback bid, promising a host of reforms and measures to give relief to Italians suffering through a deep recession and youth unemployment at a record 37 percent. (AP Photo/Alessandra Tarantino)

ITALY-POLITICS-ELECTION-BERLUSCONI

Italy's former Prime Minister Silvio Berlusconi (L) reacts as PDL secretary Angelino Alfano delivers a speech during a campaign rally to present the list of the PDL candidates for the upcoming elections on January 25, 2013 in Rome. AFP PHOTO / VINCENZO PINTO (Photo credit should read VINCENZO PINTO/AFP/Getty Images)

ITALY-POLITICS-ELECTION-BERLUSCONI

Italy's former Prime Minister Silvio Berlusconi delivers a speech during a campaign rally to present the list of the PDL candidates for the upcoming elections, in Rome on January 25, 2013. AFP PHOTO / VINCENZO PINTO (Photo credit should read VINCENZO PINTO/AFP/Getty Images)