Divorce looms for one of EastEnders' best-loved couples, Kat (Jessie Wallace) and Alfie Moon (Shane Richie).
After Kat cheated on pub landlord Alfie with (the now deceased) tough-man Derek Branning, she had hoped to reconcile with Alfie. However, The Sun reports Alfie will now give Kat her marching orders for good when he demands a divorce.
The storyline, which is said to play out next month, will reportedly echoe the soap's most dramatic divorce scenes in 1986, when Queen Vic landlord Dirty Den told Angie they were finished.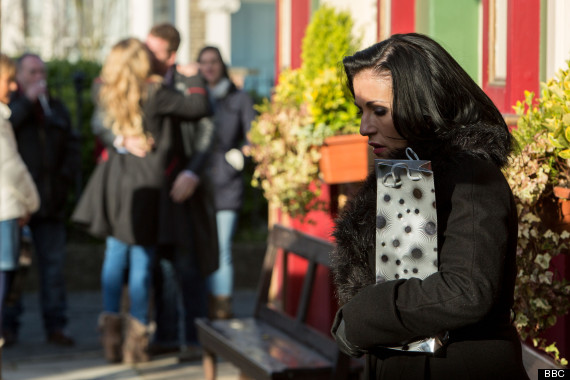 Alfie and Roxy kiss as Kat walks away from the Queen Vic
Supporting Alfie all the way will be his new girlfriend Roxy Mitchell (Rita Simons), who has finally got her man after months of pining.
Before Christmas, viewers of the BBC One soap were left in as much confusion as Alfie about who Kat was sleeping with for months.
The mystery unravelled as Alfie followed his wife to a secret bedsit, where he demanded to know everything. A showdown in the Queen Vic followed, as Alfie confronted the Branning brothers, bringing the storyline which began in August to a head.
Kat has had numerous affairs before, the most hurtful so far arguably being the time she fell pregnant with Alfie's cousin, Michael's, baby.
Are you glad Alfie is finally saying goodbye to Kat? Or had you hoped they would kiss and make up?
Loading Slideshow
Loading Slideshow
Shane Richie and Charlie Brooks British Soap Awards

Actor Shane Richie - who won Best Actor, kisses co-star Charlie Brooks - who won Best Villian during the Britsh Soap Awards at BBC TV Centre in west London. Hosted by Paul O'Grady, the show will be broadcast on ITV1.

Disney on Ice presents Princess Wishes- VIP launch

Shane Richie, wife Christie and children Mackenzie and Lolita-Belle at the VIP launch of Disney On Ice presents Princess Wishes', at the O2 arena in East London.

TV Choice Awards - London

Shane Richie arrives at the TV Choice Awards at the Dorchester hotel in London.

Celebrity Soccer Six 2012

LONDON, UNITED KINGDOM - MAY 20: Jake Wood and Shane Ritchie attend the Celebrity Soccer Six 2012 Tournament at Upton Park on May 20, 2012 in London, England. (Photo by Stuart Wilson/Getty Images)

Eastenders cast at 'Shrek The Musical' 1 Year Anniversary - London

Shane Richie meets Neil Mcdermott who plays Lord Farquaad on stage after Shrek The Musical's One Year Anniversary performance, at the Drury Lane Theatre on Drury lane, London.

The British Soap Awards - London

Shane Richie arriving for the 2012 British Soap Awards at ITV London Studios, South Bank, London.

National Television Awards 2012 - Show - London

From EastEnders Jessie Wallace, Shane Richie, Tony Discipline and Jake Wood during the 2012 NTA Awards at the O2, Greenwich, London

Minder photocall - London

Shane Richie, who plays Archie, at a photocall for the new Channel 5 series of iconic 80s drama, Minder, at Tower Bridge in London.

SHOWBIZ TV Awards

Jessie Wallace and Shane Richie from Eastenders during the annual National Television Awards at the Royal Albert Hall in central London. 17/11/03: Nearly 16 milion viewers saw Kat Slater ditch her fiancee for Alfie Moon on her Eastenders wedding day, unofficial figures showed.

Ritchie & Wallace Soap Awards

Shane Richie and Jessie Wallace arrive for the British Soap Awards 2003 at BBC Television Centre in west London. The awards ceremony, hosted by Des O'Connor and Melanie Sykes, honours television's most popular performers.

Wallace & Richie TV Quick awards

Eastenders Jessie Wallace with her Best Soap Actress Award and Shane Richie with his Best Newcomer Award at the TV Quick awards at the Dorchester Hotel, in London.

National Television Awards 2011 - Arrivals - London

Jessie Wallace and Shane Richie arriving for the 2011 National Television Awards at the O2 Arena, London.

Met Police Bobby Bear

EastEnders star Shane Richie, at the launch today of a new Bobby Bear soft toy, to raise funds in support of Child Victims of Crime (CVOC) at Hamleys on Regent St, in Central London.

The Brit Awards 2007 - Arrivals

Christie Goddard and Shane Richie arrive for the Brit Awards 2007 at Earls Court Exhibition Centre in central London.