The Huffington Post pictures of the day brings you the very best images from around the world chosen by our own photo editors, Elliot Wagland, Matthew Tucker and Tahira Mirza.
We would love to hear your thoughts on the stories of the day - leave a comment at the bottom of the blog.
Follow The Huffington Post picture desk on twitter.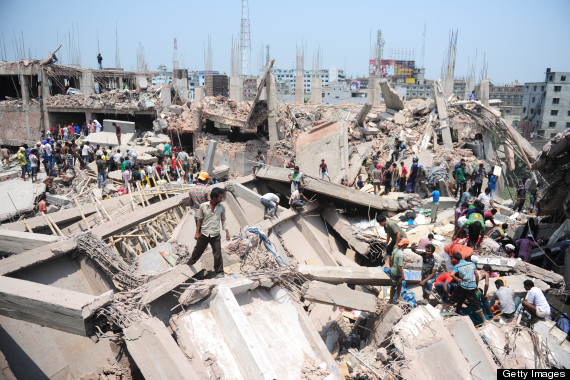 Bangladeshi civilian volunteers assist in rescue operations after an eight-storey building collapsed in Savar, on the outskirts of Dhaka, on April 24, 2013. At least 15 people were killed and many more feared dead when an eight-storey building housing a market and garment factory collapsed in Bangladesh on Wednesday, officials said.
Loading Slideshow
BANGLADESH-BUILDING-DISASTER-TEXTILE

Bangladeshi firefighters rescue a garment worker (C) found alive in the collapse of an eight-storey building in Savar, on the outskirts of Dhaka, on April 25, 2013. The death toll in the Bangladesh's worst industrial disaster reached 200 people after rescue workers pulled out scores more corpses from the rubble of a collapsed garment factory building. AFP PHOTO/ STR (Photo credit should read STR/AFP/Getty Images)

BANGLADESH-BUILDING-DISASTER-TEXTILE

A Bangladeshi volunteer comes out from the rubble 48 hours after an eight-storey building collapsed in Savar, on the outskirts of Dhaka, on April 26, 2013. At the disaster scene, where nearly 300 have been found dead, exhausted teams of soldiers, firemen and volunteers continued to work through the mountain of mangled concrete and steel for a third day after staying on the job for a second straight night. Amid frustration about the slow pace of the efforts, thousands of anxious relatives burst onto the disaster site, prompting police to fire tear gas to disperse the crowd. AFP PHOTO/ MUNIR UZ ZAMAN (Photo credit should read MUNIR UZ ZAMAN/AFP/Getty Images)

A Bangladeshi rescuer looks out from a hole cut in the concrete as he looks for survivors at the site of a building that collapsed Wednesday in Savar, near Dhaka, Bangladesh, Thursday, April 25, 2013. By Thursday, the death toll reached at least 194 people as rescuers continued to search for injured and missing, after a huge section of an eight-story building that housed several garment factories splintered into a pile of concrete.(AP Photo/Kevin Frayer)

A Bangladeshi army soldier walks in the rubble at the site of a building that collapsed Wednesday in Savar, near Dhaka, Bangladesh, Thursday, April 25, 2013. By Thursday, the death toll reached at least 194 people as rescuers continued to search for injured and missing, after a huge section of an eight-story building that housed several garment factories splintered into a pile of concrete. (AP Photo/Kevin Frayer)

Bangladeshi rescue workers watch from a damaged section of a wall at the site of a building that collapsed Wednesday in Savar, near Dhaka, Bangladesh, Thursday, April 25, 2013. By Thursday, the death toll reached at least 194 people as rescuers continued to search for injured and missing, after a huge section of an eight-story building that housed several garment factories splintered into a pile of concrete. (AP Photo/Kevin Frayer)

Bangladeshi rescue workers carry a garment worker who was pulled alive from the rubble at the site of a building that collapsed Wednesday in Savar, near Dhaka, Bangladesh, Friday, April 26, 2013. Crews bored deeper Friday into the wreckage of a garment-factory building that collapsed two days earlier, hoping for miracle rescues that would prevent the death toll from rising much higher, as angry relatives of the missing clashed with police.(AP Photo/Kevin Frayer)

A Bangladeshi rescue worker who was injured during a stampede caused by crowd panic over the rumor a section of the building might collapse, is carried at the site of a building that collapsed Wednesday in Savar, near Dhaka, Bangladesh, Friday, April 26, 2013. Crews bored deeper Friday into the wreckage of a garment-factory building that collapsed two days earlier, hoping for miracle rescues that would prevent the death toll from rising much higher, as angry relatives of the missing clashed with police. (AP Photo/Kevin Frayer)

A Bangladeshi garment worker who was pulled alive from the rubble is wheeled on a stretcher at the site of a building that collapsed Wednesday in Savar, near Dhaka, Bangladesh, Friday, April 26, 2013. The death toll reached hundreds of people as rescuers continued to search for injured and missing, after a huge section of an eight-story building that housed several garment factories splintered into a pile of concrete.(AP Photo/Kevin Frayer)

Bangladeshi rescue workers and media fall on top of each other in a stampede after the crowd panic when someone shouted a section of building might collapse, at the site of a building that collapsed Wednesday in Savar, near Dhaka, Bangladesh, Friday, April 26, 2013. The death toll reached hundreds of people as rescuers continued to search for injured and missing, after a huge section of an eight-story building that housed several garment factories splintered into a pile of concrete.(AP Photo/Kevin Frayer)

A Bangladeshi garment worker who was pulled alive from the rubble is carried at the site of a building that collapsed Wednesday in Savar, near Dhaka, Bangladesh, Friday, April 26, 2013. Crews bored deeper Friday into the wreckage of a garment-factory building that collapsed two days earlier, hoping for miracle rescues that would prevent the death toll from rising much higher, as angry relatives of the missing clashed with police. (AP Photo/Kevin Frayer)

A Bangladeshi garment worker who soldiers said was pulled alive from the rubble reacts as he walk on his own at the site of a building that collapsed Wednesday in Savar, near Dhaka, Bangladesh, Friday, April 26, 2013. By Friday, the death toll reached hundreds of people as rescuers continued to search for injured and missing, after a huge section of an eight-story building that housed several garment factories splintered into a pile of concrete.(AP Photo/Kevin Frayer)

A Bangladeshi garment worker who soldiers said was pulled alive from the rubble reacts as he walk on his own at the site of a building that collapsed Wednesday in Savar, near Dhaka, Bangladesh, Friday, April 26, 2013. By Friday, the death toll reached hundreds of people as rescuers continued to search for injured and missing, after a huge section of an eight-story building that housed several garment factories splintered into a pile of concrete.(AP Photo/Kevin Frayer)

A Bangladeshi garment worker who was pulled alive from the rubble is wheeled on a stretcher at the site of a building that collapsed Wednesday in Savar, near Dhaka, Bangladesh, Friday, April 26, 2013. The death toll reached hundreds of people as rescuers continued to search for injured and missing, after a huge section of an eight-story building that housed several garment factories splintered into a pile of concrete.(AP Photo/Kevin Frayer)

Bangladeshi soldiers use an earthmover during a rescue operation at the site of a building that collapsed a building collapse in Savar, near Dhaka, Bangladesh, Wednesday, April 24, 2013. An eight-story building housing several garment factories collapsed near Bangladesh's capital on Wednesday, killing dozens of people and trapping many more under a jumbled mess of concrete. Rescuers tried to cut through the debris with earthmovers, drilling machines and their bare hands. (AP Photo/A.M.Ahad)

A Bangladeshi woman cries as they waits for news of relatives trapped in a building that collapsed in Savar, near Dhaka, Bangladesh, Wednesday, April 24, 2013. An eight-story building housing several garment factories collapsed near Bangladesh's capital on Wednesday, killing dozens of people and trapping many more under a jumbled mess of concrete. Rescuers tried to cut through the debris with earthmovers, drilling machines and their bare hands. (AP Photo/A.M.Ahad)

A survivor cries after she was rescued from the site of a building that collapsed in Savar, near Dhaka, Bangladesh, Wednesday, April 24, 2013. An eight-story building housing several garment factories collapsed near Bangladesh's capital on Wednesday, killing dozens of people and trapping many more under a jumbled mess of concrete. Rescuers tried to cut through the debris with earthmovers, drilling machines and their bare hands. (AP Photo/A.M.Ahad)

Rescue workers use clothing to lower down survivors from the site of a building that collapsed in Savar, near Dhaka, Bangladesh, Wednesday, April 24, 2013. An eight-story building housing several garment factories collapsed near Bangladesh's capital on Wednesday, killing dozens of people and trapping many more under a jumbled mess of concrete. Rescuers tried to cut through the debris with earthmovers, drilling machines and their bare hands. (AP Photo/A.M.Ahad)

A crowd gathers to watch rescue work at the site of a building that collapsed in Savar, near Dhaka, Bangladesh, Wednesday, April 24, 2013. An eight-story building housing several garment factories collapsed near Bangladesh's capital on Wednesday, killing dozens of people and trapping many more under a jumbled mess of concrete. Rescuers tried to cut through the debris with earthmovers, drilling machines and their bare hands. (AP Photo/A.M.Ahad)

A Bangladeshi woman injured in a building that collapsed, receives treatment at a hospital in Savar, near Dhaka, Bangladesh, Wednesday, April 24, 2013. An eight-story building housing several garment factories collapsed near Bangladesh's capital on Wednesday, killing dozens of people and trapping many more under a jumbled mess of concrete. Rescuers tried to cut through the debris with earthmovers, drilling machines and their bare hands. (AP Photo/A.M.Ahad)

Bangladeshi rescuers squeeze through a gap to help pull out survivors spotted in the debris of a building that collapsed in Savar, near Dhaka, Bangladesh, Wednesday, April 24, 2013. An eight-story building housing several garment factories collapsed near Bangladesh's capital on Wednesday, killing dozens of people and trapping many more under a jumbled mess of concrete. Rescuers tried to cut through the debris with earthmovers, drilling machines and their bare hands. (AP Photo/A.M.Ahad)

A Bangladeshi woman injured in a building that collapsed, receives treatment at a hospital in Savar, near Dhaka, Bangladesh, Wednesday, April 24, 2013. An eight-story building housing several garment factories collapsed near Bangladesh's capital on Wednesday, killing dozens of people and trapping many more under a jumbled mess of concrete. Rescuers tried to cut through the debris with earthmovers, drilling machines and their bare hands. (AP Photo/A.M.Ahad)

BANGLADESH-BUILDING-COLLAPSE

A Bangladeshi volunteer carries an injured garment worker after an eight-storey building collapsed in Savar, on the outskirts of Dhaka, on April 24, 2013. At least 82 people have died and 700 are injured after a eight-storey building housing several garment factories collapsed on the outskirts of Bangladesh's capital on Wednesday, a doctor said. AFP PHOTO/Munir uz ZAMAN (Photo credit should read MUNIR UZ ZAMAN/AFP/Getty Images)

BANGLADESH-BUILDING-DISASTER

A Bangladeshi victim is treated in a hospital after a building collapse in Savar, on the outskirts of Dhaka, on April 24, 2013. An eight-storey building containing several garment factories collapsed in Bangladesh, killing at least 82 people and further highlighting safety problems in the clothing industry. Armed with concrete cutters and cranes, hundreds of fire service and army rescue workers struggled to find survivors in the mountain of concrete and mangled steel, which resembled the aftermath of an earthquake. AFP PHOTO/ Munir uz ZAMAN (Photo credit should read MUNIR UZ ZAMAN/AFP/Getty Images)

BANGLADESH-BUILDING-DISASTER

Bangladeshi victims are treated in a hospital after a building collapse in Savar, on the outskirts of Dhaka, on April 24, 2013. An eight-storey building containing several garment factories collapsed in Bangladesh, killing at least 82 people and further highlighting safety problems in the clothing industry. Armed with concrete cutters and cranes, hundreds of fire service and army rescue workers struggled to find survivors in the mountain of concrete and mangled steel, which resembled the aftermath of an earthquake. AFP PHOTO/ Munir uz ZAMAN (Photo credit should read MUNIR UZ ZAMAN/AFP/Getty Images)

BANGLADESH-BUILDING-DISASTER

A Bangladeshi victim lies on the floor of a hospital after a building collapse in Savar, on the outskirts of Dhaka, on April 24, 2013. An eight-storey building containing several garment factories collapsed in Bangladesh, killing at least 82 people and further highlighting safety problems in the clothing industry. Armed with concrete cutters and cranes, hundreds of fire service and army rescue workers struggled to find survivors in the mountain of concrete and mangled steel, which resembled the aftermath of an earthquake. AFP PHOTO/ Munir uz ZAMAN (Photo credit should read MUNIR UZ ZAMAN/AFP/Getty Images)

BANGLADESH-BUILDING-DISASTER

A Bangladeshi victim is treated in a hospital after a building collapse in Savar, on the outskirts of Dhaka, on April 24, 2013. An eight-storey building containing several garment factories collapsed in Bangladesh, killing at least 82 people and further highlighting safety problems in the clothing industry. Armed with concrete cutters and cranes, hundreds of fire service and army rescue workers struggled to find survivors in the mountain of concrete and mangled steel, which resembled the aftermath of an earthquake. AFP PHOTO/ Munir uz ZAMAN (Photo credit should read MUNIR UZ ZAMAN/AFP/Getty Images)

BANGLADESH-BUILDING-DISASTER

A Bangladeshi victim is treated in a hospital after a building collapse in Savar, on the outskirts of Dhaka, on April 24, 2013. An eight-storey building containing several garment factories collapsed in Bangladesh, killing at least 82 people and further highlighting safety problems in the clothing industry. Armed with concrete cutters and cranes, hundreds of fire service and army rescue workers struggled to find survivors in the mountain of concrete and mangled steel, which resembled the aftermath of an earthquake. AFP PHOTO/ Munir uz ZAMAN (Photo credit should read MUNIR UZ ZAMAN/AFP/Getty Images)

BANGLADESH-BUILDING-DISASTER

A Bangladeshi victim is carried through a hospital after a building collapse in Savar, on the outskirts of Dhaka, on April 24, 2013. An eight-storey building containing several garment factories collapsed in Bangladesh, killing at least 82 people and further highlighting safety problems in the clothing industry. Armed with concrete cutters and cranes, hundreds of fire service and army rescue workers struggled to find survivors in the mountain of concrete and mangled steel, which resembled the aftermath of an earthquake. AFP PHOTO/ Munir uz ZAMAN (Photo credit should read MUNIR UZ ZAMAN/AFP/Getty Images)

BANGLADESH-BUILDING-DISASTER

Bangladeshi volunteers and workers load dead bodies onto a truck at the site of a building collapse in Savar, on the outskirts of Dhaka, on April 24, 2013. An eight-storey building containing several garment factories collapsed in Bangladesh, killing at least 82 people and further highlighting safety problems in the clothing industry. Armed with concrete cutters and cranes, hundreds of fire service and army rescue workers struggled to find survivors in the mountain of concrete and mangled steel, which resembled the aftermath of an earthquake. AFP PHOTO/ Munir uz ZAMAN (Photo credit should read MUNIR UZ ZAMAN/AFP/Getty Images)

BANGLADESH-BUILDING-DISASTER

A Bangladeshi woman reacts after seeing her relatives dead body at the site of a building collapse in Savar, on the outskirts of Dhaka, on April 24, 2013. An eight-storey building containing several garment factories collapsed in Bangladesh, killing at least 82 people and further highlighting safety problems in the clothing industry. Armed with concrete cutters and cranes, hundreds of fire service and army rescue workers struggled to find survivors in the mountain of concrete and mangled steel, which resembled the aftermath of an earthquake. AFP PHOTO/ Munir uz ZAMAN (Photo credit should read MUNIR UZ ZAMAN/AFP/Getty Images)

BANGLADESH-BUILDING-DISASTER-TEXTILE

A Bangladeshi volunteer stands amid rubble as he assists in rescue operations after an eight-storey building collapsed in Savar, on the outskirts of Dhaka, on April 25, 2013. Survivors cried out to rescuers April 25 from the rubble of a block of garment factories in Bangladesh that collapsed killing 175 people, sparking criticism of their Western clients. AFP PHOTO/Munir uz ZAMAN (Photo credit should read MUNIR UZ ZAMAN/AFP/Getty Images)

BANGLADESH-BUILDING-DISASTER-TEXTILE

Bangladeshi volunteers and rescue workers assist in rescue operations after an eight-storey building collapsed in Savar, on the outskirts of Dhaka, on April 25, 2013. Survivors cried out to rescuers April 25 from the rubble of a block of garment factories in Bangladesh that collapsed killing 175 people, sparking criticism of their Western clients. AFP PHOTO/Munir uz ZAMAN (Photo credit should read MUNIR UZ ZAMAN/AFP/Getty Images)

BANGLADESH-BUILDING-DISASTER-TEXTILE

Bangladeshi volunteers and rescue workers assist in rescue operations after an eight-storey building collapsed in Savar, on the outskirts of Dhaka, on April 25, 2013. Survivors cried out to rescuers April 25 from the rubble of a block of garment factories in Bangladesh that collapsed killing 175 people, sparking criticism of their Western clients. AFP PHOTO/Munir uz ZAMAN (Photo credit should read MUNIR UZ ZAMAN/AFP/Getty Images)

BANGLADESH-BUILDING-DISASTER-TEXTILE

Bangladeshi volunteers and rescue workers assist in rescue operations after an eight-storey building collapsed in Savar, on the outskirts of Dhaka, on April 25, 2013. Survivors cried out to rescuers April 25 from the rubble of a block of garment factories in Bangladesh that collapsed killing 175 people, sparking criticism of their Western clients. AFP PHOTO/Munir uz ZAMAN (Photo credit should read MUNIR UZ ZAMAN/AFP/Getty Images)

BANGLADESH-BUILDING-DISASTER-TEXTILE

Bangladeshi volunteers and rescue workers assist in rescue operations after an eight-storey building collapsed in Savar, on the outskirts of Dhaka, on April 25, 2013. Survivors cried out to rescuers April 25 from the rubble of a block of garment factories in Bangladesh that collapsed killing 175 people, sparking criticism of their Western clients. AFP PHOTO/Munir uz ZAMAN (Photo credit should read MUNIR UZ ZAMAN/AFP/Getty Images)

BANGLADESH-BUILDING-DISASTER-TEXTILE

Bangladeshi firefighters carry the body of a dead garment worker pulled from the rubble after an eight-storey building collapsed in Savar, on the outskirts of Dhaka, on April 25, 2013. Survivors cried out to rescuers April 25 from the rubble of a block of garment factories in Bangladesh that collapsed killing 175 people, sparking criticism of their Western clients. AFP PHOTO/Munir uz ZAMAN (Photo credit should read MUNIR UZ ZAMAN/AFP/Getty Images)

BANGLADESH-BUILDING-DISASTER-TEXTILE

A Bangladeshi woman shows a portrait of her missing daughter in-law, believed trapped in the rubble following the collapse of an an eight-storey building in Savar, on the outskirts of Dhaka, on April 25, 2013. Survivors cried out to rescuers April 25 from the rubble of a block of garment factories in Bangladesh that collapsed killing 175 people, sparking criticism of their Western clients. AFP PHOTO/Munir uz ZAMAN (Photo credit should read MUNIR UZ ZAMAN/AFP/Getty Images)

BANGLADESH-BUILDING-DISASTER-TEXTILE

Bangladeshi volunteers and rescue workers are pictured at the scene after an eight-storey building collapsed in Savar, on the outskirts of Dhaka, on April 25, 2013. Survivors cried out to rescuers April 25 from the rubble of a block of garment factories in Bangladesh that collapsed killing 175 people, sparking criticism of their Western clients. AFP PHOTO/Munir uz ZAMAN (Photo credit should read MUNIR UZ ZAMAN/AFP/Getty Images)

BANGLADESH-BUILDING-DISASTER-TEXTILE

Bangladeshi volunteers and rescue workers are pictured at the scene after an eight-storey building collapsed in Savar, on the outskirts of Dhaka, on April 25, 2013. Survivors cried out to rescuers April 25 from the rubble of a block of garment factories in Bangladesh that collapsed killing 175 people, sparking criticism of their Western clients. AFP PHOTO/Munir uz ZAMAN (Photo credit should read MUNIR UZ ZAMAN/AFP/Getty Images)

BANGLADESH-BUILDING-DISASTER-TEXTILE

Bangladeshi volunteers and rescue workers are pictured at the scene after an eight-storey building collapsed in Savar, on the outskirts of Dhaka, on April 25, 2013. Survivors cried out to rescuers April 25 from the rubble of a block of garment factories in Bangladesh that collapsed killing 175 people, sparking criticism of their Western clients. AFP PHOTO/Munir uz ZAMAN (Photo credit should read MUNIR UZ ZAMAN/AFP/Getty Images)

BANGLADESH-BUILDING-DISASTER-TEXTILE

Volunteers use a length of textile as a slide to move dead victims recovered from the rubble after an eight-storey building collapsed in Savar, on the outskirts of Dhaka, on April 25, 2013. The death toll in the Bangladesh's worst industrial disaster reached 200 people after rescue workers pulled out scores more corpses from the rubble of a collapsed garment factory building. AFP PHOTO/Munir uz ZAMAN (Photo credit should read MUNIR UZ ZAMAN/AFP/Getty Images)

BANGLADESH-BUILDING-DISASTER-TEXTILE

Bangladeshi volunteers and rescue workers are pictured at the scene after an eight-storey building collapsed in Savar, on the outskirts of Dhaka, on April 25, 2013. Survivors cried out to rescuers April 25 from the rubble of a block of garment factories in Bangladesh that collapsed killing 175 people, sparking criticism of their Western clients. AFP PHOTO/Munir uz ZAMAN (Photo credit should read MUNIR UZ ZAMAN/AFP/Getty Images)

BANGLADESH-BUILDING-DISASTER-TEXTILE

Bangladeshi volunteers and rescue workers are pictured at the scene after an eight-storey building collapsed in Savar, on the outskirts of Dhaka, on April 25, 2013. Survivors cried out to rescuers April 25 from the rubble of a block of garment factories in Bangladesh that collapsed killing 175 people, sparking criticism of their Western clients. AFP PHOTO/Munir uz ZAMAN (Photo credit should read MUNIR UZ ZAMAN/AFP/Getty Images)

BANGLADESH-BUILDING-DISASTER-TEXTILE

Bangladeshi volunteers and rescue workers are pictured at the scene after an eight-storey building collapsed in Savar, on the outskirts of Dhaka, on April 25, 2013. Survivors cried out to rescuers April 25 from the rubble of a block of garment factories in Bangladesh that collapsed killing 175 people, sparking criticism of their Western clients. AFP PHOTO/Munir uz ZAMAN (Photo credit should read MUNIR UZ ZAMAN/AFP/Getty Images)

BANGLADESH-BUILDING-DISASTER-TEXTILE

Bodies of garment factory workers are seen amid rubble after an eight-storey building collapsed in Savar, on the outskirts of Dhaka, on April 25, 2013. Survivors cried out to rescuers from the rubble of a block of garment factories in Bangladesh that collapsed killing 175 people, sparking criticism of their Western clients. AFP PHOTO/Munir uz ZAMAN (Photo credit should read MUNIR UZ ZAMAN/AFP/Getty Images)

BANGLADESH-BUILDING-DISASTER-TEXTILE

The body of a garment factory worker is seen amid rubble after an eight-storey building collapsed in Savar, on the outskirts of Dhaka, on April 25, 2013. Survivors cried out to rescuers from the rubble of a block of garment factories in Bangladesh that collapsed killing 175 people, sparking criticism of their Western clients. AFP PHOTO/Munir uz ZAMAN (Photo credit should read MUNIR UZ ZAMAN/AFP/Getty Images)

BANGLADESH-BUILDING-DISASTER-TEXTILE

Bangladeshi firefighters cut a hole through concrete during rescue operations after an eight-storey building collapsed in Savar, on the outskirts of Dhaka, on April 25, 2013. The death toll in the Bangladesh's worst industrial disaster reached 200 people after rescue workers pulled out scores more corpses from the rubble of a collapsed garment factory building. AFP PHOTO/Munir uz ZAMAN (Photo credit should read MUNIR UZ ZAMAN/AFP/Getty Images)

BANGLADESH-BUILDING-DISASTER-TEXTILE

Bangladeshi firefighters use jackhammers to cut through concrete during rescue operations after an eight-storey building collapsed in Savar, on the outskirts of Dhaka, on April 25, 2013. The death toll in the Bangladesh's worst industrial disaster reached 200 people after rescue workers pulled out scores more corpses from the rubble of a collapsed garment factory building. AFP PHOTO/Munir uz ZAMAN (Photo credit should read MUNIR UZ ZAMAN/AFP/Getty Images)

BANGLADESH-BUILDING-DISASTER-TEXTILE

Bangladeshi firefighters carry out a dead victim on a strethcer after an eight-storey building collapsed in Savar, on the outskirts of Dhaka, on April 25, 2013. The death toll in the Bangladesh's worst industrial disaster reached 200 people after rescue workers pulled out scores more corpses from the rubble of a collapsed garment factory building. AFP PHOTO/Munir uz ZAMAN (Photo credit should read MUNIR UZ ZAMAN/AFP/Getty Images)

BANGLADESH-BUILDING-DISASTER-TEXTILE

A Bangladeshi woman (bottom R) reacts as others gather to identify the bodies of relatives killed in the collape of an eight-storey building in Savar, on the outskirts of Dhaka, on April 25, 2013. The death toll in the Bangladesh's worst industrial disaster reached 200 people after rescue workers pulled out scores more corpses from the rubble of a collapsed garment factory building. AFP PHOTO/Munir uz ZAMAN (Photo credit should read MUNIR UZ ZAMAN/AFP/Getty Images)

BANGLADESH-BUILDING-DISASTER-TEXTILE

A Bangladeshi woman reacts after identifying the body of her husband killed in the collape of an eight-storey building in Savar, on the outskirts of Dhaka, on April 25, 2013. The death toll in the Bangladesh's worst industrial disaster reached 200 people after rescue workers pulled out scores more corpses from the rubble of a collapsed garment factory building. AFP PHOTO/Munir uz ZAMAN (Photo credit should read MUNIR UZ ZAMAN/AFP/Getty Images)