The Huffington Post pictures of the day brings you the very best images from around the world chosen by our own photo editors, Elliot Wagland, Matthew Tucker and Tahira Mirza.
We would love to hear your thoughts on the stories of the day - leave a comment at the bottom of the blog.
Follow The Huffington Post picture desk on twitter.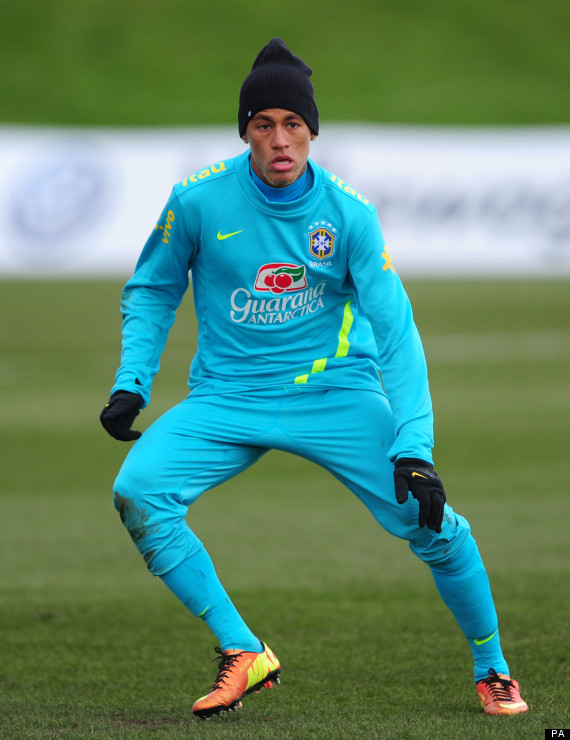 Brazil's Neymar during the training session at The Hive, London as temperatures plummeted again, the weather is something the Brazilian's will have to adapt to.
Loading Slideshow
Brazilian soccer players Ronaldinho, left and teammate Neymar train at Barnet training ground in London, Tuesday, Feb. 5, 2013. Brazil will play England in an international soccer match at Wembley, Wednesday Feb. 6. (AP Photo/Alastair Grant)

Brazilian soccer team manager Luiz Felipe Scolarili gestures as his team train at Barnet training ground in London, Tuesday, Feb. 5, 2013. Brazil will play England in an international soccer match at Wembley, Wednesday Feb. 6. (AP Photo/Alastair Grant)

Soccer - International Friendly - England v Brazil - Brazil Training Session - The Hive

Brazil's Neymar during the training session at The Hive, London.

Soccer - International Friendly - England v Brazil - Brazil Training Session - The Hive

The Brazil squad during the training session at The Hive, London.

Brazilian soccer players Ronaldinho, left and teammate Neymar train at Barnet training ground in London, Tuesday, Feb. 5, 2013. Brazil will play England in an international soccer match at Wembley, Wednesday Feb. 6. (AP Photo/Alastair Grant)

Soccer - International Friendly - England v Brazil - Brazil Training Session - The Hive

Brazil's coach Luiz Felipe Scolari (right) and Neymar during the training session at The Hive, London.

Soccer - International Friendly - England v Brazil - Brazil Training Session - The Hive

Brazil's Neymar during the training session at The Hive, London.

Brazilian soccer manger Luiz Felipe Scolarili gestures as he talks to his player Ronaldinho as the players train at Barnet training ground in London, Tuesday, Feb. 5, 2013. Brazil will play England in an international soccer match at Wembley, Wednesday Feb. 6. (AP Photo/Alastair Grant)

Soccer - International Friendly - England v Brazil - Brazil Training Session - The Hive

Brazil's Ronaldinho (left) during the training session at The Hive, London.

Brazilian soccer manger Luiz Felipe Scolarili gestures as he talks to his player Neymar as the players train at Barnet training ground in London, Tuesday, Feb. 5, 2013. Brazil will play England in an international soccer match at Wembley, Wednesday Feb. 6. (AP Photo/Alastair Grant)

Soccer - International Friendly - England v Brazil - Brazil Training Session - The Hive

Brazil's Neymar (centre) during the training session at The Hive, London.

Brazilian soccer manger Luiz Felipe Scolarili gestures as he talks to his player Neymar as the players train at Barnet training ground in London, Tuesday, Feb. 5, 2013. Brazil will play England in an international soccer match at Wembley, Wednesday Feb. 6. (AP Photo/Alastair Grant)

Soccer - International Friendly - England v Brazil - Brazil Training Session - The Hive

Brazil's Ramires (centre) and David Luiz (right) during the training session at The Hive, London.

Soccer - International Friendly - England v Brazil - Brazil Training Session - The Hive

Brazil's Ronaldinho during the training session at The Hive, London.

Brazilian soccer players who play for the English Premier League soccer team Chelsea from the left David Luiz, Ramires and Oscar train at Barnet training ground in London, Tuesday, Feb. 5, 2013. Brazil will play England in an international soccer match at Wembley, Wednesday Feb. 6. (AP Photo/Alastair Grant)

Soccer - International Friendly - England v Brazil - Brazil Training Session - The Hive

Brazil's Ronaldinho during the training session at The Hive, London.

Soccer - International Friendly - England v Brazil - Brazil Training Session - The Hive

Brazil's coach Luiz Felipe Scolari during the training session at The Hive, London.

Brazilian soccer players Ronaldinho, right, and goalkeeper Julio Cesar speaking at a media conference at Wembley stadium in London, Tuesday, Feb. 5, 2013. Brazil will play England in an international soccer match at Wembley, Wednesday Feb. 6. (AP Photo/Alastair Grant)

Brazilian soccer player Julio Cesar speaking at a media conference at Wembley stadium in London, Tuesday, Feb. 5, 2013. Brazil will play England in an international soccer match at Wembley, Wednesday Feb. 6. (AP Photo/Alastair Grant)

Soccer - International Friendly - England v Brazil - Brazil Press Conference - Wembley Stadium

Brazil's Ronaldinho during a press conference at Wembley Stadium, London.

Brazilian soccer player Ronaldinho speaking at a media conference at Wembley stadium in London, Tuesday, Feb. 5, 2013. Brazil will play England in an international soccer match at Wembley, Wednesday Feb. 6. (AP Photo/Alastair Grant)

Brazilian soccer player Julio Cesar speaking at a media conference at Wembley stadium in London, Tuesday, Feb. 5, 2013. Brazil will play England in an international soccer match at Wembley, Wednesday Feb. 6. (AP Photo/Alastair Grant)

Brazilian soccer player Ronaldinho smiles during a media conference at Wembley stadium in London, Tuesday, Feb. 5, 2013. Brazil will play England in an international soccer match at Wembley, Wednesday Feb. 6. (AP Photo/Alastair Grant)

Soccer - International Friendly - England v Brazil - Brazil Press Conference - Wembley Stadium

Brazil's Ronaldinho during a press conference at Wembley Stadium, London.

Soccer - International Friendly - England v Brazil - Brazil Press Conference - Wembley Stadium

Brazil's Ronaldinho during a press conference at Wembley Stadium, London.

Soccer - International Friendly - England v Brazil - Brazil Press Conference - Wembley Stadium

Brazil's Ronaldinho during a press conference at Wembley Stadium, London.

The manager of the Brazilian soccer team Luiz Felipe Scolarili gestures during a media conference at Wembley stadium in London, Tuesday, Feb. 5, 2013. Brazil will play England in an international soccer match at Wembley, Wednesday Feb. 6. (AP Photo/Alastair Grant)

The manager of the Brazilian soccer team Luiz Felipe Scolarili gestures during a media conference at Wembley stadium in London, Tuesday, Feb. 5, 2013. Brazil will play England in an international soccer match at Wembley, Wednesday Feb. 6. (AP Photo/Alastair Grant)

The manager of the Brazilian soccer team Luiz Felipe Scolari listens to a question during a media conference at Wembley stadium in London, Tuesday, Feb. 5, 2013. Brazil will play England in an international soccer match at Wembley, Wednesday Feb. 6. (AP Photo/Alastair Grant)

The manager of the Brazilian soccer team Luiz Felipe Scolari, right, gestures during a media conference at Wembley stadium in London, Tuesday, Feb. 5, 2013. Brazil will play England in an international soccer match at Wembley, Wednesday Feb. 6. (AP Photo/Alastair Grant)

The manager of the Brazilian soccer team Luiz Felipe Scolarili gestures during a media conference at Wembley stadium in London, Tuesday, Feb. 5, 2013. Brazil will play England in an international soccer match at Wembley, Wednesday Feb. 6. (AP Photo/Alastair Grant)

The manager of the Brazilian soccer team Luiz Felipe Scolari arrives for a media conference at Wembley stadium in London, Tuesday, Feb. 5, 2013. Brazil will play England in an international soccer match at Wembley, Wednesday Feb. 6. (AP Photo/Alastair Grant)