Couples have posed naked, revealing their transplant scars, for a charity campaign urging people to become organ donors.
The campaign Let Love Live On has been launched to coincide with Valentine's Day.
The project, run by charity Live Life Then Give Life, aims to highlight how a donor can transform another person's life.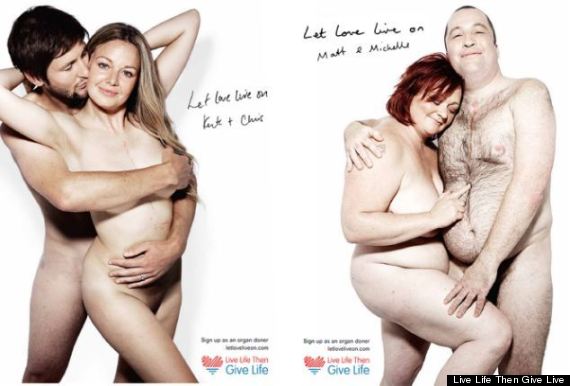 Couples pose intertwined for the campaign
Accompanying the images are a series of videos shot by renowned photographer Rankin, where couples talk through their stories.
Kate and Chris Ball, from Edinburgh, met after Kate had a heart transplant at 19.
"It turns out I had a condition called dilated cardiomyopathy, which is a thickening of the heart muscle," she explains. "I only had to wait eight days for a transplant, so I was very lucky."
She adds: "There's nothing my transplant stops me doing at all. I work full time, travel and do sport."
As the charity's website states:
Each year 1000 people in the UK die waiting for an organ donation. Despite overwhelming support for organ donation in the UK (97% of residents), only a quarter of people have signed up to the Organ Donor Register. Even then, families can veto their final wishes even if they are registered. This happens in 41% of cases where wishes have not been discussed.
LIKE HUFFPOST UK LIFESTYLE ON FACEBOOK | FOLLOW US ON TWITTER
What do you think of these other thought-provoking adverts? Let us know below
100 Controversial Adverts
Levis.

Saatchi and Saatchi's campaign for The Conservative Party ahead of the 1979 general election.

Durex.

Sisley fashion brand.

Sean John's Unforgivable Woman fragrance.

Linford Christie stars in Kleenex's tissue advert.

Wonderbra's infamous advert.

Lynx.

BMW.

BaF's anti-domestic violence ad.

Red Tape menswear fashion brand.

Controversial French anti-smoking advert,

MacDonald's.

QSOL service provider.

NSPCC

A German MacDonald's advert.

Heinz.

Cadbury's.

Miquita Oliver in Women's Aid advert.

Advert for Chicolate chocolate substitute.

Skin Burn, anti-smoking ad

Barnardo's.

Tipalet cigarette advert.

Benetton

TG4 television program entitled 'Paisean Faisean'.

Courage beer.

Budweiser.

Barcardi rum.

Amnesty International

Skyy alcoholic drink.

Amnesty International

Amnesty International

Anti binge-drinking advert

Van Heusen

BMW

Pitney-Bowes Postage Meter

Government anti-drug driving advert

Anti-abortion advert

Advert against verbal abuse

Fabrica

Benson & Hedges

American Apparel

Amnesty International

Post-It

An M&C Saatchi advert for St Matthew's in the City in Aukland, New Zealand.