Downton Abbey's scheming maid Sarah O'Brien is to leave the hit period drama.
Actress Siobhan Finneran said she will not be returning to the show as the nasty screen character, who is maid to Lady Grantham.
Viewers have seen her throughout the first three series but O'Brien will not feature in the fourth series which is now being filmed.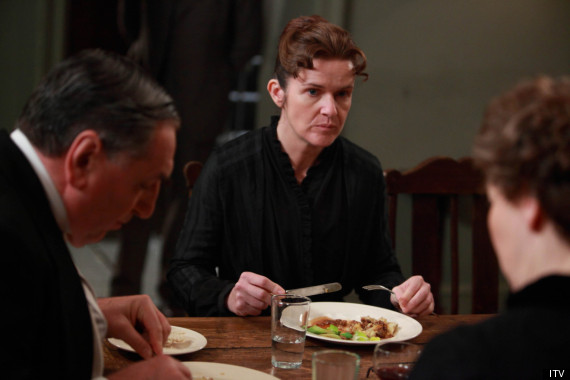 Siobhan - soon to be seen in BBC1's The Syndicate - said she enjoyed playing the part, but she would not be back.
"I'm not doing any more," she revealed. "O'Brien is a thoroughly despicable human being - that was great to play."
During her time in the show she has been involved in a bitter feud with under-butler Thomas Barrow, as well as causing Cora Crawley to miscarry.
A spokeswoman for Downton confirmed O'Brien would not feature in the fourth series, but it is understood the door could be left open for a return.
At Christmas viewers were shocked to see the surprise exit of actor Dan Stevens when Matthew Crawley was killed off in the show's seasonal special.
Siobhan is in the cast of the second series of The Syndicate, playing a nurse who wins millions on the lottery with her colleagues.
The programme will return on BBC1 later this month.
Downton's new footman Alfred Nugent

Lady Mary, Lady Sybil and Anna

Earl Of Grantham, Robert

Alfred Nugent

Mrs Hughes

Mrs Hughes and Mr Carson

Dinner downstairs

Mrs Hughes and O'Brien

Alfred Nugent

Mr Carson

Mr Carson

O'Brien

O'Brien

Tom Branson

Anna Bates and Thomas Barrow

Carson and O'Brien

Daisy

Thomas and Daisy

Alfred Nugent

Robert

Robert

Robert and Carson

Robert and Carson

Lady Edith

Anthony Strallan

Lady Edith and Anthony Strallan

Lady Edith

Anna and Bates

Bates

Anna

Anna

Shirley MacLaine as Martha Levinson

Shirley MacLaine as Martha Levinson

Shirley MacLaine as Martha Levinson

Ever, ever swear: 'It is always better to speak politely, that is with extreme propriety and delicacy, than coarsely, sulkily, or impertinently.' A rule passionate Lady Mary often breaks!