Something unexpected is happening on the Sun, Nasa says:
Nothing.
While all predictions suggest that 2013 should mark the high point of solar activity over a regular 11-year sunspot cycle - the so-called 'Solar Max' - our star is actually in a remarkably quiet mood.
Nasa said that since the start of the year there has been a pronounced lack of major solar flares and other activity which should be seen at this point in the Sun's cycle.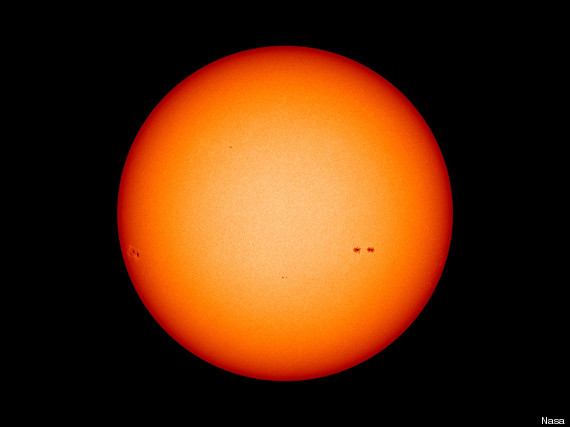 Above: a picture released by Nasa illustrating low solar activity
Nasa said that "sunspot numbers are well below their values from 2011, and strong solar flares have been infrequent."
It went on:
The image above shows the Earth-facing surface of the Sun on February 28, 2013, as observed by the Helioseismic and Magnetic Imager (HMI) on NASA's Solar Dynamics Observatory. HMI observes the solar disk at 6173 Ångstroms, a wavelength designed to study surface oscillations and the magnetic field. HMI observed just a few small sunspots on an otherwise clean face, which is usually riddled with many spots during peak solar activity.
However, there is no reason to panic. Nasa explains in a lengthy and interesting post that the solar cycle is very complex, and can have multiple peaks and troughs over time. It's worth a read if you're interested or terrified.
Meanwhile solar flares are still occurring - one forced the Mars rover Curiosity into safe mode earlier this week - and the current lull is described as a "quiet interlude" rather than a potential source of humanity's ultimate downfall.
Loading Slideshow
MYTH: Solar flares have no effect on Earth.

REALITY: Solar flares can release electromagnetic radiation that's strong enough to disrupt electric power grids, satellites, GPS, and radio communications. Pictured: Coronal mass ejection as viewed by the Solar Dynamics Observatory on June 7, 2011.

MYTH: A solar flare could kill us all.

REALITY: Only a tiny fraction of the energy liberated by a solar flare reaches the Earth, because we're protected by our planet's atmosphere. "We have a very long record that shows that even the strongest flares can't blow out the atmosphere," Antti Pulkkinen, a research scientist at NASA's Goddard Space Flight Center, told CNN. Pictured: A solar eruptive prominence as seen in extreme UV light on March 30, 2010 with Earth superimposed for a sense of scale.

MYTH: Solar flares occur at random.

REALITY: Solar flares follow an 11-year cycle. Pictured: Full-disk images of the sun's lower corona during solar cycle 23, as it progressed from solar minimum to maximum conditions and back to minimum (upper right).

MYTH: 'Aftershocks' are rare.

REALITY: About one in seven flares is followed by an aftershock -- the flare springs back to life, producing an extra surge of ultraviolet radiation. Pictured: Sunspot 1112, crackling with solar flares, spotted by NASA's Solar Dynamics Observatory on October 16, 2010.

MYTH: Solar flares can be seen with the naked eye.

REALITY: To see a solar flare from Earth, you must use a solar telescope. Never stare directly at the sun. What you can see with a naked eye are northern lights, which can be triggered by solar eruptions. Pictured: Northern lights (aurora borealis) over Lake Elora in Minnesota on July 15, 2012.

MYTH: Solar flares were discovered only recently.

REALITY: Solar flares were first observed in 1859 by English astronomer Richard Carrington. Pictured: Sunspots of September 1, 1859 as sketched by Richard Carrington.

MYTH: Solar flares are small compared to other explosions in our solar system.

REALITY: Solar flares are among the biggest explosions in our solar system. "They erupt near sunspots with the force of a hundred million hydrogen bombs," Robert Lin of UC Berkeley's Space Science Lab said in <a href="http://cse.ssl.berkeley.edu/energy/Resources/Living%20With%20a%20Star/------START%20HERE-------/6/solar_f.htm#top">a written statement</a>. Pictured: Solar and Heliospheric Observatory (SOHO) spacecraft image of a solar flare on October 28, 2003.

MYTH: Solar flares can knock satellites from orbit.

REALITY: When satellites do fall out of orbit, it's because Earth's gravity is pulling them down. Pictured: Solar Dynamics Observatory (SDO) image of an M7.9 class solar flare on March 13, 2012.

MYTH: Solar flares produce sunspots.

REALITY: It's actually the other way around. Magnetic fields associated with sunspots -- cool, dark regions of the sun's surface -- can sometimes give rise to solar flares. Pictured: NASA's sun-observing TRACE spacecraft image shows a large sunspot group from September 2000.

MYTH: Solar flares and solar prominences are different names for the same phenomenon.

REALITY: Solar flares and prominences are different. A prominence is a loop of plasma traveling along magnetic field lines. Sometimes this loop collapses back into the sun -- or, if the prominence erupts, a solar flare can result. Pictured: A solar prominence on October 19, 2012, captured by NASA's Solar Dynamics Observatory (SDO).

MYTH: Solar flares and coronal mass ejections are the same thing.

REALITY: Coronal mass ejections are also explosions on the sun--but a different type of explosion. "If a solar flare is a tornado, very intense, very focused, very local, a coronal mass ejection is a hurricane," astronomer Phil Plait told The Huffington Post. Pictured: An X1.4 solar flare associated with a coronal mass ejection on July 12, 2012.