A doctor has challenged reports of a baby in Mississippi being "cured" of HIV.
In an opinion piece for the Wall Street Journal, Mark Siedner points out the news of the "cure" spread throughout the globe ahead of the actual presentation of results at the annual HIV conference in Atlanta.
The original news described the case of a child born with the virus that causes Aids, who is now two-and-a-half, and has been off medication for about a year, with no signs of infection.
The child's mother had had no prenatal care and only discovered she had the virus while in labour.
SEE ALSO: HIV 'Functional Cure' Possible With Early Treatment Of Virus, Scientists Say
Usually doctors give the newborn low doses of medication to prevent HIV from taking root, but the rural hospital did not have the liquid available.
Instead this baby was given a cocktail of three drugs already used to treat HIV within 30 hours of its birth.
The individual was lauded as now being "functionally cured", meaning it is in long-term remission even though there is no guarantee all traces of the virus have disappeared.
But Dr Siedner, who is a postdoctoral fellow in the division of infectious diseases at Massachusetts General Hospital and Harvard Medical School, points out exposure to HIV does not necessarily mean infection.
He wrote: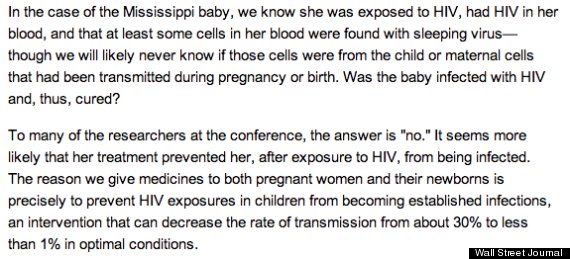 There has only been one other case of a reported cure, when a patient was given a bone marrow transplant from a donor who had a genetic resistance to the virus.
Two million people die of Aids every year. HIV is estimated to have infected 33 million people worldwide.
Initial reports after the announcement quoted Dr Deborah Persaud, a virologist at Johns Hopkins University in Baltimore, telling the conference: "This is a proof of concept that HIV can be potentially curable in infants."
"You could call this about as close to a cure, if not a cure, that we've seen," Dr. Anthony Fauci of the National Institutes of Health told The Associated Press.
Dr Hannah Gay, a pediatric HIV specialist at the University of Mississippi, said in an interview: "I just felt like this baby was at higher-than-normal risk, and deserved our best shot." Dr. Hannah Gay, a pediatric HIV specialist at the University of Mississippi
Stressing prevention is always better than cure, Dr Gay added: "We can't promise to cure babies who are infected. We can promise to prevent the vast majority of transmissions if the moms are tested during every pregnancy."
But as Dr Seidner writes, the case might not be the breakthrough everyone hoped for because "we will likely never know if those cells were from the child or maternal cells that had been transmitted during pregnancy or birth."
@DrJFields

Ivan Campos
Great news for the baby girl cured of her HIV, but it should be noted that this breakthrough applies to children of carriers, not yet a cure
Genevieve Edwards, Director of Health Improvement at Terrence Higgins Trust, said: "In the UK we already have a programme of ante-natal screening for HIV, which means that there are very few babies born with the virus.
"Expectant mothers with HIV are given anti-HIV treatment during pregnancy which together with a low-risk caesarean and no breastfeeding means their babies have a 98% chance of being HIV negative. But this could be of interest where mothers to be are diagnosed with HIV during labour rather than pregnancy.
"The roll-out of anti-retroviral therapy across the developing world has both saved the lives of individuals living with HIV, and also had a real impact on the rates of mother-to-child transmission. In this context, it would seem that success lies in making antenatal testing available and then giving the drugs to the mother to prevent the child getting HIV, rather than hoping the drugs will cure the baby once born HIV positive. But for those babies born with the virus, this may be significant."
10 Important HIV/AIDS Discoveries
Only one quarter of the 1.1 million people with HIV have their condition under control, where "under control" means the virus has been suppressed, according to a report released this summer by the Centers for Disease Control and Prevention. CORRECTION: The first sentence has been reworded to more accurately reflect the number of people with HIV.

Even though two men were, for a time, able to go off antiretrovirals because their HIV had been reduced to undetectable levels after receiving bone marrow transplants, the HIV eventually returned in the men, according to news reports. In 2012, the news of the men's undetectable HIV levels made headlines. The men, who were both HIV positive and taking antiretroviral drugs, had received bone marrow transplants for Hodgkin's lymphoma. They had received the transplants while they were also taking the antiretroviral medication. However, in late 2013, preliminary results showed that the HIV had returned. This slide has been updated to note more recent developments related to the procedure.

New HIV infection rates can be dramatically lowered by making antiretroviral drugs free, a study from Canadian researchers found. The Canadian Press reported on the study, conducted by B.C. Centre for Excellence in HIV-AIDS researchers, which showed that British Columbia -- a province that offers free access to antiretroviral therapy -- had the lowest rate of new HIV infections over a more-than-10-year period, compared with Ontairio and Quebec.

More than half of HIV-infected young people are unaware that they have the virus, according to a Centers for Disease Control and Prevention report. "Given everything we know about HIV and how to prevent it in 30 years of fighting the disease, it's just unacceptable that young people are becoming infected at such high rates," Reuters reported CDC Director Dr. Thomas Frieden saying. The report also showed that for young people, 72 percent of the new HIV infections were in men who have sex with men, while almost 50 percent were in young, African-American males, Reuters reported. These figures are based on 2010 data.

The number of people living with HIV has increased by 18 percent from 2001 to 2011, according to a report released this year from the United Nations Programme on AIDS. An estimated 34.2 million people around the world are living with HIV. The report also showed that deaths from AIDS have dropped, from 2.3 million in 2005-2006 to 1.7 million in 2011, Reuters reported.

According to the same United Nations report, costs for the cheapest UN-recommended antiretroviral therapy drugs have also decreased over the past 10 years, Reuters reported. A year's worth of the drugs used to cost $10,000 in 2000 for one person; now, it costs $100 a year.

The Food and Drug Administration this year officially approved the drug Truvada -- which has been used since 2004 as a treatment for HIV -- to be sold as a preventive measure for people who don't have the infection, but are at high risk for it. The FDA said that the pill should be considered for preventive use not only by gay or bisexual men who are at high risk for HIV, but also heterosexual men and women who may also face HIV risks, the Associated Press reported. Heterosexual men and women make up more than one-fourth of new cases of HIV, and "that's not a portion of the epidemic we want to ignore," the CDC's Dr. Dawn Smith, who was the lead author of the new recommendations, told the Associated Press. The FDA also approved a new drug this year, Stribild, to treat HIV, Reuters reported.

In findings published this year in the journal PLoS Pathogens, scientists from the University of California, Los Angeles found that it's possible to genetically engineer stem cells to attack living HIV-infected cells in mice. While the study was only for "proof-of-principle," it "lays the groundwork for the potential use of this type of an approach in combating HIV infection in infected individuals, in hopes of eradicating the virus from the body," study researcher Dr. Scott G. Kitchen, an assistant professor of medicine at UCLA, said in a statement.

People should be screened for HIV even if they're not at high risk of contracting the infection, according to draft recommendations released just last month by the U.S. Preventive Services Task Force. The recommendations would mean that everyone between the ages of 15 and 65 should be screened for HIV, even if they're not at high risk for it, Reuters reported. "The prior recommendations were for screening high-risk adults and adolescents," Dr. Douglas Owens, a member of the USPSTF task force and a Stanford University medical professor, told Reuters. "The current recommendation is for screening everyone, regardless of their risk."

All HIV patients should be treated immediately with antiretrovirals, according to new guidelines issued this year from a panel of the International Antiviral Society-USA, as reported by TIME. The recommendations are counter to previous guidelines, which said that antiretrovirals should only be used if the CD4 count -- a measure of immune cells in a person's body -- becomes less than 350 cells for every mm3 of blood.