Anthony Costa, part of Blue's ensemble sending feathers flying with their late arrival at 'The Big Reunion', will be feeling more relieved than most by the potential of a healthy pay day.
The singer with a face of a boxer has admitted that he has been further down on his luck than most since the band split in 2005.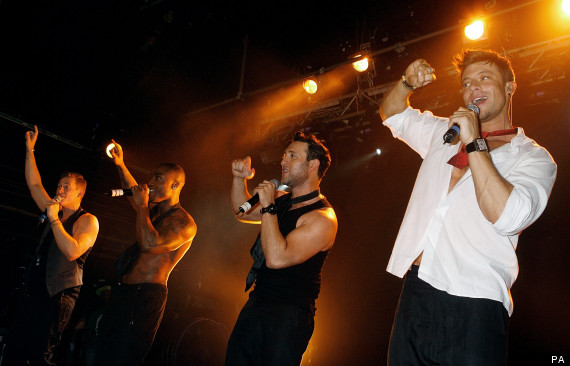 Blue on stage
Once boasting of a £250,000/month paycheck when the band were at their height touring around the world with number ones, 13 million records sold and two Brits to their names, Costa has been surviving on £45 a week in recent times, living back with his parents and sleeping on friends' sofas.
As he put it in the teaser for next week's episode of The Big Reunion, "I went from Anthony Scarface to Derek Trotter."
The Daily Star reveals that Costa has been living voluntarily on an agreed £45/week arrangement to avoid bankruptcy.
And the singer has told the Daily Mail that it was his own fault, his poor bank balance the result of a "champagne lifestyle on lemonade money".
Asked why he didn't turn to his bandmates Lee Ryan, Duncan James and Simon Webbe for help, Costa explained that he "didn't want to bother them. It was my business".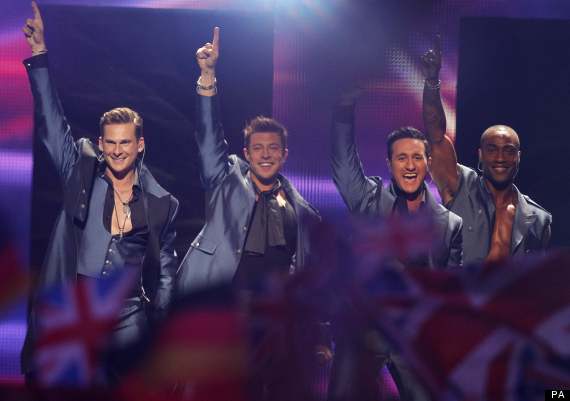 Blue were the UK's Eurovision entry in 2009
Viewers of 'The Big Reunion' this week saw Blue belatedly join the groups reforming for a one-off concert, although it has since been announced that the collective will be going on tour.
Blue also have an album coming out at the end of April, 'Roulette', their first for ten years. They haven't been completely idle in that time, though, with a respectable showing at the Eurovision Song Contest in 2009, where they came eleventh with 'I Can'.
Despite her fortune for her Atomic Kitten days and various relaity TV appearances, Kerry was officially made broke in 2008 when she failed to cough up the final £82,000 of a £417,000 tax bill. A turn as a housemate on 'Celebrity Big Brother' helped her to finally pay off her debts.

The Westlife star and property investor was made bankrupt in June 2012 when the housing market crashed, and left him owing more than €5.5m (£4.45m) to Ulster Bank and Bank of Ireland.

Martine filed for bankruptcy in in 2013, when she amassed debts of £187,000.

When Stephen defaulted on a mortgage payment in 2009, he filed for bankcruptcy claiming he was $2.3m in debt.

The former 'EastEnders' star was made bankrupt by London's High Court in 2009 after he failed to pay a £20,000 tax bill.

Peter lost a reported $20m in 1992 after a failed attempt to crack America.

Biggins reckons that going into voluntary bankruptcy 15 years ago was the 'best thing that ever happened' to him. The star was forced into it after work offers slowed down.

The boxer owed both the US and British governments $17m in taxes, $750,000 to law firms and $300,000 to limo services and became bankrupt in 2004.

He may be a multi-billionaire, but Donald Trump has filed for corporate bankruptcy four times! However, he has never filed for personal bankruptcy.

Neil entered into an individual voluntary arrangement (IVA) after a property scheme in which he invested collapsed, leaving him millions of pounds in debt.

One hit wonder MC Hammer's living beyond his means meant he was $13m in debt and filed for bankruptcy in 1996.
WATCH: Blue performing new material 'Hurt Lovers' from their album 'Roulette'...