Pope Francis broke with protocol at his inauguration and climbed down from his open-topped car to bless a disabled man.
Whilst touring St Peter's Square, the new Pope asked the driver to stop when he spotted the man being held by a his carer in the crowd.
He approached the two visibly moved men an placed his hand on the man's shoulder before kissing his forehead.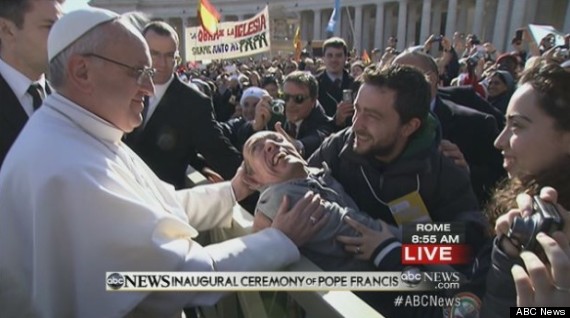 The Pope asked the driver to stop when he spotted the gentleman in the crowd
Up to a million people are believed to have gathered at the Vatican to watch the inauguration of Pope Francis.
He called for protection for the world's poorest people as spoke to the masses in the square.
Pope Francis spoke of a "shaft of light" breaking through the crowds.
@JohnBerman

John Berman
Perhaps the most stunning image of the morning. Pope Francis descends from Popemobile to kiss a disabled man.
http://t.co/pv2dhwZ5rB
"We must protect humanity, especially the poorest, the weakest, the least important, those who are hungry, thirsty, the stranger, those who are naked and in prison," he said.
Delivering his homily in Italian, he sad: "God does not want a house built by men; he wants faithfulness to his plan, and it is God who builds the house, but from living stones."
He appealed to "all those who have positions of responsibility in economic, political and social life, and all men and women of goodwill"
@LaurenAmeliaPR

Lauren Roberts
Despite my apathy with the whole concept of a Pope. If we have to have one, this is how they should behave...
http://t.co/IBmnBQpZzy
SEE ALSO:

PICTURES: Pope Francis Inauguration Mass Held At Vatican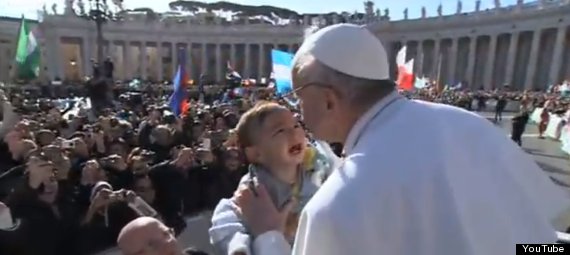 Less enamoured with the attention of the Newly elected Pope was this young man
Mass in St. Peter's Square
Pope Francis waves to crowds as he arrives to his inauguration Mass in St. Peter's Square at the Vatican, Tuesday, March 19, 2013. Pope Francis urged princes, presidents, sheiks and thousands of ordinary people gathered for his installation Mass on Tuesday to protect the environment, the weakest and the poorest, mapping out a clear focus of his priorities as leader of the world's 1.2 billion Catholics. (AP Photo/Oded Balilty)

Pope Francis is greeted by crowds as he arrives in St. Peter's Square for his inauguration Mass at the Vatican, Tuesday, March 19, 2013. (AP Photo/Michael Sohn)

Ecuador's President Rafael Correa applauds Pope Francis passing by, in St. Peter's Square at the Vatican, Tuesday, March 19, 2013. (AP Photo/Andrew Medichini)

Pope Francis kisses a child in St. Peter's Square at the Vatican, Tuesday, March 19, 2013. Pope Francis urged princes, presidents, sheiks and thousands of ordinary people gathered for his installation Mass on Tuesday to protect the environment, the weakest and the poorest, mapping out a clear focus of his priorities as leader of the world's 1.2 billion Catholics. (AP Photo/Riccardo De Luca)

Photo provided by German government shows Pope Francis as he is congratuled by German Chancellor Angela Merkel, center right, after his inaugural Mass at the Vatican, Tuesday, March 19, 2013. Some dozens heads of states and government heads came to Rome to attend the mass. (AP Photo/Bundesregierung, Guido Bergmann)

Pope Francis kisses a child in St. Peter's Square at the Vatican, Tuesday, March 19, 2013. Pope Francis urged princes, presidents, sheiks and thousands of ordinary people gathered for his installation Mass on Tuesday to protect the environment, the weakest and the poorest, mapping out a clear focus of his priorities as leader of the world's 1.2 billion Catholics. (AP Photo/Riccardo De Luca)

VATICAN CITY, VATICAN - MARCH 19: Pope Francis drives through the crowds during the Inauguration Mass for the Pope in St Peter's Square on March 19, 2013 in Vatican City, Vatican. The mass is being held in front of an expected crowd of up to one million pilgrims and faithful who have filled the square and the surrounding streets to see the former Cardinal of Buenos Aires officially take up his role as pontiff. (Photo by Spencer Platt/Getty Images)

Italian cardinal Angelo Sodano (R) puts the Fisherman's Ring, made of gold-plated silver, on a finger of Pope Francis during his grandiose inauguration mass on March 19, 2013 at the Vatican. Pope Francis swept into St Peter's Square on Tuesday to greet throngs of pilgrims before a sumptuous ceremony in which Latin America's first pontiff will receive the formal symbols of papal power. AFP PHOTO / ALBERTO PIZZOLI (Photo credit should read ALBERTO PIZZOLI,ALBERTO PIZZOLI/AFP/Getty Images)

An assistant puts the papal mitre to Pope Francis during his inauguration mass on March 19, 2013 at the Vatican. Pope Francis swept into St Peter's Square on Tuesday to greet throngs of pilgrims before a sumptuous ceremony in which Latin America's first pontiff will receive the formal symbols of papal power. AFP PHOTO / ALBERTO PIZZOLI (Photo credit should read ALBERTO PIZZOLI,ALBERTO PIZZOLI/AFP/Getty Images)

VATICAN CITY, VATICAN - MARCH 19: Pope Francis greets the faithful during the Inauguration Mass for Pope Francis in St Peter's Square on March 19, 2013 in Vatican City, Vatican. The mass was held in front of an estimated crowd of up to one million pilgrims and faithful who have filled the square and the surrounding streets to see the former Cardinal of Buenos Aires officially take up his role as pontiff. Pope Francis' inauguration took place in front of Cardinals and spiritual leaders as well as heads of state from around the world. (Photo by Christopher Furlong/Getty Images)

VATICAN CITY, VATICAN - MARCH 19: Pope Francis greets the faithful during the Inauguration Mass for Pope Francis in St Peter's Square on March 19, 2013 in Vatican City, Vatican. The mass was held in front of an estimated crowd of up to one million pilgrims and faithful who have filled the square and the surrounding streets to see the former Cardinal of Buenos Aires officially take up his role as pontiff. Pope Francis' inauguration took place in front of Cardinals and spiritual leaders as well as heads of state from around the world. (Photo by Christopher Furlong/Getty Images)

VATICAN CITY, VATICAN - MARCH 19: Pope Francis greets the faithful during the Inauguration Mass for Pope Francis in St Peter's Square on March 19, 2013 in Vatican City, Vatican. The mass was held in front of an estimated crowd of up to one million pilgrims and faithful who have filled the square and the surrounding streets to see the former Cardinal of Buenos Aires officially take up his role as pontiff. Pope Francis' inauguration took place in front of Cardinals and spiritual leaders as well as heads of state from around the world. (Photo by Christopher Furlong/Getty Images)

VATICAN CITY, VATICAN - MARCH 19: Pope Francis acknowledges the crowd of faithful as he arrives in St. Peter's Square for his Inauguration Mass on March 19, 2013 in Vatican City, Vatican. The inauguration of Pope Francis is being held in front of an expected crowd of up to one million pilgrims and faithful who have crowded into St Peter's Square and the surrounding streets to see the former Cardinal of Buenos Aires officially take up his position. Pope Francis' inauguration takes place in front his cardinals, spiritual leaders as well as heads of states from around the world and he will now lead an estimated 1.3 billion Catholics. (Photo by Franco Origlia/Getty Images)

Pope Francis holds his hat upon arrival in the papamobile on St Peter's square for his inauguration mass on March 19, 2013 at St peter's square at the Vatican. Pope Francis swept into St Peter's Square on Tuesday to greet throngs of pilgrims before a sumptuous ceremony in which Latin America's first pontiff will receive the formal symbols of papal power. AFP PHOTO / GABRIEL BOUYS (Photo credit should read GABRIEL BOUYS,GABRIEL BOUYS/AFP/Getty Images)

VATICAN CITY, VATICAN - MARCH 19: Pope Francis greets the faithful during the Inauguration Mass for Pope Francis in St Peter's Square on March 19, 2013 in Vatican City, Vatican. The mass was held in front of an estimated crowd of up to one million pilgrims and faithful who have filled the square and the surrounding streets to see the former Cardinal of Buenos Aires officially take up his role as pontiff. Pope Francis' inauguration took place in front of Cardinals and spiritual leaders as well as heads of state from around the world. (Photo by Christopher Furlong/Getty Images)

Pope Francis waves to faithful upon arrival in the papamobile on St Peter's square for his inauguration mass on March 19, 2013 at St peter's square at the Vatican. Pope Francis swept into St Peter's Square on Tuesday to greet throngs of pilgrims before a sumptuous ceremony in which Latin America's first pontiff will receive the formal symbols of papal power. AFP PHOTO / ALBERTO PIZZOLI (Photo credit should read ALBERTO PIZZOLI,ALBERTO PIZZOLI/AFP/Getty Images)

Pope Francis celebrates his installation Mass in St. Peter's Square at the Vatican, Tuesday, March 19, 2013. Pope Francis has urged princes, presidents, sheikhs and thousands of ordinary people gathered for his installation Mass to protect God's creation, the weakest and the poorest of the world. (AP Photo/Riccardo De Luca)

Pope Francis waves to crowds as he arrives to his inauguration Mass in St. Peter's Square at the Vatican, Tuesday, March 19, 2013. Pope Francis urged princes, presidents, sheiks and thousands of ordinary people gathered for his installation Mass on Tuesday to protect the environment, the weakest and the poorest, mapping out a clear focus of his priorities as leader of the world's 1.2 billion Catholics. (AP Photo/Oded Balilty)

Pope Francis waves to crowds as he arrives to his inauguration Mass in St. Peter's Square at the Vatican, Tuesday, March 19, 2013. Pope Francis urged princes, presidents, sheiks and thousands of ordinary people gathered for his installation Mass on Tuesday to protect the environment, the weakest and the poorest, mapping out a clear focus of his priorities as leader of the world's 1.2 billion Catholics. (AP Photo/Oded Balilty)

Pope Francis waves as he arrives in St. Peter's Square for his inauguration Mass at the Vatican, Tuesday, March 19, 2013. (AP Photo/Michael Sohn)

Pope Francis waves to crowds as he arrives to his inauguration Mass in St. Peter's Square at the Vatican, Tuesday, March 19, 2013. Pope Francis urged princes, presidents, sheiks and thousands of ordinary people gathered for his installation Mass on Tuesday to protect the environment, the weakest and the poorest, mapping out a clear focus of his priorities as leader of the world's 1.2 billion Catholics. (AP Photo/Oded Balilty)

Pope Francis waves upon his arrival in St. Peter's Square for his inaugural Mass, at the Vatican, Tuesday, March 19, 2013. (AP Photo/Dmitry Lovetsky)

in St. Peter's Square at the Vatican, Tuesday, March 19, 2013. (AP Photo/Michael Sohn)

Pope Francis waves upon his arrival in St. Peter's Square for his inaugural Mass, at the Vatican, Tuesday, March 19, 2013. (AP Photo/Dmitry Lovetsky)

Pope Francis waves to crowds as he arrives to his inauguration Mass in St. Peter's Square at the Vatican, Tuesday, March 19, 2013. Pope Francis urged princes, presidents, sheiks and thousands of ordinary people gathered for his installation Mass on Tuesday to protect the environment, the weakest and the poorest, mapping out a clear focus of his priorities as leader of the world's 1.2 billion Catholics. (AP Photo/Oded Balilty)

Pope Francis waves as he arrives in St. Peter's Square for his inauguration Mass at the Vatican, Tuesday, March 19, 2013. (AP Photo/Michael Sohn)

Pope Francis waves as he arrives in St. Peter's Square for his inauguration Mass at the Vatican, Tuesday, March 19, 2013. (AP Photo/Michael Sohn)

Pope Francis is greeted by crowds as he arrives in St. Peter's Square for his inauguration Mass at the Vatican, Tuesday, March 19, 2013. (AP Photo/Michael Sohn)

Pope Francis walks past the altar in front of St. Peter's Basilica in St. Peter's Square following his inauguration Mass at the Vatican, Tuesday, March 19, 2013. (AP Photo/Gregorio Borgia)

Pope Francis celebrates his installation Mass in St. Peter's Square at the Vatican, Tuesday, March 19, 2013. Pope Francis has urged princes, presidents, sheikhs and thousands of ordinary people gathered for his installation Mass to protect God's creation, the weakest and the poorest of the world. (AP Photo/Dmitry Lovetsky)

Pope Francis looks out from the alter during his inauguration Mass in St. Peter's Square at the Vatican, Tuesday, March 19, 2013. (AP Photo/Michael Sohn)

U.S. vice-president Joe Biden attends Pope Francis' installation Mass in St. Peter's Square at the Vatican, Tuesday, March 19, 2013. (AP Photo/Riccardo De Luca)

German Chancellor Angela Merkel attends Pope Francis' installation Mass in St. Peter's Square at the Vatican, Tuesday, March 19, 2013. (AP Photo/Riccardo De Luca)

Pope Francis celebrates his installation Mass in St. Peter's Square at the Vatican, Tuesday, March 19, 2013. Pope Francis has urged princes, presidents, sheikhs and thousands of ordinary people gathered for his installation Mass to protect God's creation, the weakest and the poorest of the world. (AP Photo/Andrew Medichini)

Pope Francis celebrates his installation Mass in St. Peter's Square at the Vatican, Tuesday, March 19, 2013. Pope Francis has urged princes, presidents, sheikhs and thousands of ordinary people gathered for his installation Mass to protect God's creation, the weakest and the poorest of the world. (AP Photo/Dmitry Lovetsky)

Pope Francis holds the pastoral staff as he celebrates his inaugural Mass in St. Peter's Square at the Vatican, Tuesday, March 19, 2013. Pope Francis has urged princes, presidents, sheikhs and thousands of ordinary people gathered for his installation Mass to protect God's creation, the weakest and the poorest of the world. (AP Photo/Andrew Medichini)

Pope Francis celebrates Mass during his inauguration in St. Peter's Square at the Vatican, Tuesday, March 19, 2013. (AP Photo/Gregorio Borgia)

Pope Francis is bestowed the Fisherman's Ring by Cardinal Angelo Sodano during his inaugural Mass, in St. Peter's Square at the Vatican, Tuesday, March 19, 2013. (AP Photo/Dmitry Lovetsky)

Pope Francis celebrates his inaugural Mass in St. Peter's Square at the Vatican, Tuesday, March 19, 2013. Pope Francis has officially begun his ministry as the 266th pope, receiving the ring symbolizing the papacy and a wool stole symbolizing his role as shepherd of his 1.2-billion strong flock. (AP Photo/Andrew Medichini)

Pope Francis stands at the steps of St. Peter's Basilica during his inaugural Mass in St. Peter's Square at the Vatican, Tuesday, March 19, 2013. (AP Photo/Gregorio Borgia)

Pope Francis sits at the steps of St. Peter's Basilica during his inaugural Mass in St. Peter's Square at the Vatican, Tuesday, March 19, 2013. (AP Photo/Gregorio Borgia)

Pope Francis reads the gospel during his inaugural Mass in St. Peter's Square at the Vatican, Tuesday, March 19, 2013. (AP Photo/Gregorio Borgia)

Pope Francis celebrates his inaugural Mass in St. Peter's Square at the Vatican, Tuesday, March 19, 2013. Pope Francis has officially begun his ministry as the 266th pope, receiving the ring symbolizing the papacy and a wool stole symbolizing his role as shepherd of his 1.2-billion strong flock. (AP Photo/Andrew Medichini)

Prelates attend Pope Francis' inaugural Mass in St. Peter's Square at the Vatican, Tuesday, March 19, 2013. Pope Francis has officially begun his ministry as the 266th pope, receiving the ring symbolizing the papacy and a wool stole symbolizing his role as shepherd of his 1.2-billion strong flock.. (AP Photo/Andrew Medichini)

Prince Felipe of Spain, center, is flanked by Dutch Prince Willem-Alexander and Princess Letizia as they attend Pope Francis' inaugural Mass in St. Peter's Square at the Vatican, Tuesday, March 19, 2013. Pope Francis has officially begun his ministry as the 266th pope, receiving the ring symbolizing the papacy and a wool stole symbolizing his role as shepherd of his 1.2-billion strong flock. (AP Photo/Gregorio Borgia)

Crowds watch on video monitors as Pope Francis reads the gospel during his inaugural Mass in St. Peter's Square at the Vatican, Tuesday, March 19, 2013. (AP Photo/Michael Sohn)

Pope Francis waves incense around the alter before his inauguration Mass in St. Peter's Square at the Vatican, Tuesday, March 19, 2013. (AP Photo/Gregorio Borgia)

Pope Francis holds his pastoral staff prior to celebrating his inaugural Mass, in St. Peter's Square at the Vatican, Tuesday, March 19, 2013. (AP Photo/Andrew Medichini)

Pope Francis waves incense around the alter before his inauguration Mass in St. Peter's Square at the Vatican, Tuesday, March 19, 2013. (AP Photo/Gregorio Borgia)

Pope Francis, center, celebrates his inaugural Mass in St. Peter's Square at the Vatican, Tuesday, March 19, 2013. (AP Photo/Dmitry Lovetsky)

Pope Francis waves as he arrives for his inauguration Mass in St. Peter's Square at the Vatican, Tuesday, March 19, 2013. (AP Photo/Alessandra Tarantino)

Pope Francis waves as he arrives for his inauguration Mass in St. Peter's Square at the Vatican, Tuesday, March 19, 2013. (AP Photo/Alessandra Tarantino)

Pope Francis is bestowed the Fisherman's Ring by Cardinal Angelo Sodano during his inaugural Mass, in St. Peter's Square at the Vatican, Tuesday, March 19, 2013. (AP Photo/Andrew Medichini)

Pope Francis is bestowed the Fisherman's Ring by Cardinal Angelo Sodano during his inaugural Mass, in St. Peter's Square at the Vatican, Tuesday, March 19, 2013. (AP Photo/Andrew Medichini)

Pope Francis is bestowed the Fisherman's Ring by Cardinal Angelo Sodano during his inaugural Mass, in St. Peter's Square at the Vatican, Tuesday, March 19, 2013. (AP Photo/Andrew Medichini)

Crowds gather in St. Peter's Square for the inauguration Mass for Pope Francis at the Vatican, Tuesday, March 19, 2013. (AP Photo/Michael Sohn)

Faithful fill St. Peter's Square at the Vatican, Tuesday, March 19, 2013. Pope Francis has officially begun his ministry as the 266th pope, receiving the ring symbolizing the papacy and a wool stole symbolizing his role as shepherd of his 1.2-billion strong flock. (AP Photo/Andrew Medichini)

Pope Francis pats a baby as he is driven through the crowd prior to his inaugural Mass, in St. Peter's Square at the Vatican, Tuesday, March 19, 2013. Pope Francis thrilled tens of thousands of people on Tuesday gathered for his installation Mass, taking a long round-about through St. Peter's Square and getting out of his jeep to bless a disabled man in a wheelchair in the crowd. (AP Photo/Andrew Medichini)

Pope Francis waves as he is driven through the crowd prior to his inaugural Mass, in St. Peter's Square at the Vatican, Tuesday, March 19, 2013. Pope Francis thrilled tens of thousands of people on Tuesday gathered for his installation Mass, taking a long round-about through St. Peter's Square and getting out of his jeep to bless a disabled man in a wheelchair in the crowd. (AP Photo/Dmitry Lovetsky)

Pope Francis waves to crowds as he arrives to his inauguration Mass in St. Peter's Square at the Vatican, Tuesday, March 19, 2013. (AP Photo/Gregorio Borgia)

Pope Francis waves to crowds as he arrives to his inauguration Mass in St. Peter's Square at the Vatican, Tuesday, March 19, 2013. (AP Photo/Gregorio Borgia)

Pope Francis waves as he is driven through the crowd in St. Peter's Square for his inaugural Mass, at the Vatican, Tuesday, March 19, 2013. (AP Photo/Andrew Medichini)

Pope Francis waves to crowds as he arrives to his inauguration Mass in St. Peter's Square at the Vatican, Tuesday, March 19, 2013. (AP Photo/Gregorio Borgia)

Pope Francis waves upon his arrival in St. Peter's Square for his inaugural Mass, at the Vatican, Tuesday, March 19, 2013. (AP Photo/Andrew Medichini)

Pope Francis waves upon his arrival in St. Peter's Square for his inaugural Mass, at the Vatican, Tuesday, March 19, 2013. (AP Photo/Andrew Medichini)

Pope Francis waves upon his arrival in St. Peter's Square for his inaugural Mass, at the Vatican, Tuesday, March 19, 2013. (AP Photo/Andrew Medichini)

Pope Francis waves to crowds as he arrives to his inauguration Mass in St. Peter's Square at the Vatican, Tuesday, March 19, 2013. (AP Photo/Gregorio Borgia)

Pope Francis reaches out to touch a child as he arrives to his inauguration Mass in St. Peter's Square at the Vatican, Tuesday, March 19, 2013. (AP Photo/Michael Sohn)

Pope Francis waves to crowds as he arrives to his inauguration Mass in St. Peter's Square at the Vatican, Tuesday, March 19, 2013. (AP Photo/Michael Sohn)

Pope Francis waves upon his arrival in St. Peter's Square for his inaugural Mass, at the Vatican, Tuesday, March 19, 2013. (AP Photo/Andrew Medichini)

Pope Francis waves upon his arrival in St. Peter's Square for his inaugural Mass, at the Vatican, Tuesday, March 19, 2013. (AP Photo/Andrew Medichini)

A prelate stands in between rows of seats prior to the inaugural Mass of Pope Francis, in St. Peter's Square at the Vatican, Tuesday, March 19, 2013. (AP Photo/Andrew Medichini)

European Commission President Jose Manuel Barroso, left, and European Council President Herman Van Rompuy take their seats for the inaugural Mass of Pope Francis, at the Vatican, Tuesday, March 19, 2013. (AP Photo/Andrew Medichini)

Austrian President Heinz Fischer arrives in St. Peter's Square for the inauguration Mass of Pope Francis, at the Vatican, Tuesday, March 19, 2013. (AP Photo/Gregorio Borgia)

Crowds gather in St. Peter's Square for the inauguration of Pope Francis at the Vatican, Tuesday, March 19, 2013. (AP Photo/Gregorio Borgia)

Visitiors wave flags from Germany and Argentina in Vatican square before the inauguration of Pope Francis in St. Peter's Square at the Vatican, Tuesday, March 19, 2013. (AP Photo/Michael Sohn)

Two nuns pass by police officers patrolling St. Peter's Square at the Vatican, Monday, March 18, 2013 a day ahead of the inaugural Mass of Pope Francis. The Vatican released details of the pope's installation Mass on Tuesday as well images of his coat of arms and fisherman's ring. In addition to more than 132 government delegations, the Vatican said 33 Christian delegations will be present, as well as representatives from Jewish, Muslim, Buddhist, Sikh and Jain communities. (AP Photo/Andrew Medichini)

Pope Francis waves to crowds as he arrives to his inauguration Mass in St. Peter's Square at the Vatican, Tuesday, March 19, 2013. (AP Photo/Gregorio Borgia)

Zimbabwean President Robert Mugabe sits in St. Peter's Square to attend Pope Francis' inaugural Mass, at the Vatican, Tuesday, March 19, 2013. (AP Photo/Andrew Medichini)

Pope Francis waves to crowds as he arrives to his inauguration Mass in St. Peter's Square at the Vatican, Tuesday, March 19, 2013. (AP Photo/Alessandra Tarantino)

People wave flags during the inauguration mass of Pope Francis at St Peter's square on March 19, 2013 at the Vatican. World leaders flew in for Pope Francis's inauguration mass in St Peter's Square on Tuesday where Latin America's first pontiff will receive the formal symbols of papal power. AFP PHOTO / VINCENZO PINTO (Photo credit should read VINCENZO PINTO/AFP/Getty Images)

Dutch Prince Alexander, second left, his wife Princess Maxima, left, Prince Felipe of Spain, right, and his wife Princess Letizia stand in St. Peter's Square for Pope Francis inaugural Mass, at the Vatican, Tuesday, March 19, 2013. (AP Photo/Gregorio Borgia)

A young priest punches the air as he reaches his seat in Vatican square for the inauguration of Pope Francis in St. Peter's Square at the Vatican, Tuesday, March 19, 2013. (AP Photo/Gregorio Borgia)

Crowds wait in St. Peter's Square for the inauguration Mass for Pope Francis at the Vatican, Tuesday, March 19, 2013. (AP Photo/Michael Sohn)

Prelates and faithful fill St. Peter's Square to attend Pope Francis installation Mass, at the Vatican, Tuesday, March 19, 2013. Pope Francis has urged princes, presidents, sheikhs and thousands of ordinary people gathered for his installation Mass to protect God's creation, the weakest and the poorest of the world. (AP Photo/Andrew Medichini)

A priest delivers communion to the faithful in St. Peter's Square during the inauguration Mass for Pope Francis at the Vatican, Tuesday, March 19, 2013. (AP Photo/Michael Sohn)

A man waves an Argentine flag in St. Peter's Square at the Vatican, Tuesday, March 19, 2013. Pope Francis has urged princes, presidents, sheikhs and thousands of ordinary people gathered for his installation Mass to protect God's creation, the weakest and the poorest of the world. (AP Photo/Andrew Medichini)

Priests deliver communion under umbrellas to the faithful in St. Peter's Square during the inauguration Mass for Pope Francis at the Vatican, Tuesday, March 19, 2013. (AP Photo/Gregorio Borgia)

Priests deliver communion under umbrellas to the faithful in St. Peter's Square during the inauguration Mass for Pope Francis at the Vatican, Tuesday, March 19, 2013. (AP Photo/Gregorio Borgia)

Priests attend Pope Francis' installation Mass in St. Peter's Square at the Vatican, Tuesday, March 19, 2013. Pope Francis has urged princes, presidents, sheikhs and thousands of ordinary people gathered for his installation Mass to protect God's creation, the weakest and the poorest of the world. (AP Photo/Andrew Medichini)

Priests deliver communion under umbrellas to the faithful in St. Peter's Square during the inauguration Mass for Pope Francis at the Vatican, Tuesday, March 19, 2013. (AP Photo/Michael Sohn)

Faithful gather in St. Peter's Square at the Vatican, Tuesday, March 19, 2013. Pope Francis has urged princes, presidents, sheikhs and thousands of ordinary people gathered for his installation Mass to protect God's creation, the weakest and the poorest of the world. (AP Photo/Dmitry Lovetsky)

Faithful gather in St. Peter's Square at the Vatican, Tuesday, March 19, 2013. Pope Francis has urged princes, presidents, sheikhs and thousands of ordinary people gathered for his installation Mass to protect God's creation, the weakest and the poorest of the world. (AP Photo/Dmitry Lovetsky)

Faithful gather in St. Peter's Square at the Vatican, Tuesday, March 19, 2013. Pope Francis has urged princes, presidents, sheikhs and thousands of ordinary people gathered for his installation Mass to protect God's creation, the weakest and the poorest of the world. (AP Photo/Dmitry Lovetsky)