This rather sinister gloved hand is holding what some claim to be the screen of the hugely anticipated iPad 5.
Its slimmer bezel and lusciously bevelled edges have got the Apple rumour world in a frenzy of speculation as to when the device will be released.
Recent rumours suggested production could start in June ready for release in Autumn.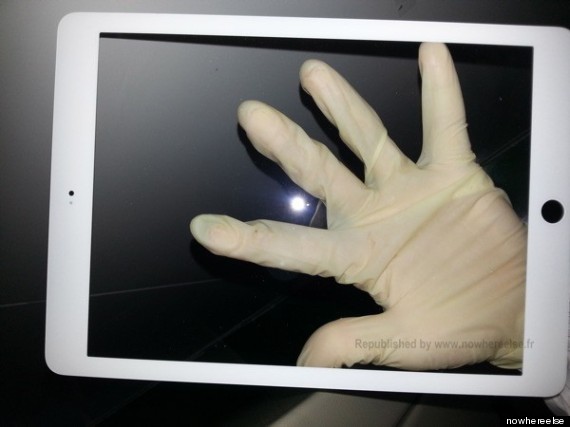 It could just be the iPad Mini case in the hands of a child...
If the picture is genuine then it would seem it raises the tantalising possibility production had already started and release could be very soon.
The shape of the alleged facia would make sense as it follows the design of the iPad Mini and the iPhone 5.
The French folks at Nowhereelse claim the hand in the photo belongs to one of their "moles Chinese".
As ever with any Apple rumours they should be taken with a pinch of salt...
Loading Slideshow
Steve Jobs "Crazy Ones"

This never before aired version of the "Crazy Ones" <a href="http://www.huffingtonpost.com/2011/10/06/steve-jobs-think-different_n_998003.html?ncid=edlinkusaolp00000003" target="_hplink">commercial is narrated by Steve Jobs</a>.

Henry Ford

Print ad from 1981 foreshadowing Apple's use of famous historical figures in their 1990s "Think Different" campaign.

"A Is For Apple"

Print ad from 1977, prior to the launch of Apple's Macintosh.

"1984"

This now critically acclaimed commercial by Ridley Scott, which aired on January 22, 1984 during Super Bowl XVIII, was the world's introduction to the Apple Macintosh Personal Computer.

"Introducing Macintosh"

Print ad from April 1984 explaining the inner workings of the Macintosh.

"Lemmings"

This 1985 commercial was a less successful follow up to "1984." It first aired during Super Bowl XVIV

"The Computer For The Rest Of Us"

"The computer for the rest of us" campaign of the late 1980s continued to build on Apple's brand "by portraying the Mac as embodying the values of righteous outsiderism and rebellion against injustice," <a href="http://www.wired.com/gadgets/mac/commentary/cultofmac/2002/12/56677" target="_hplink">wrote <em>Los Angeles Times</em> columnist Charles Pillar</a>.

"Who Needs A Computer Anyway?"

Little known circa 1989 Apple campaign featuring cartoons from <em>The Simpsons</em> creator Matt Groening.

"What's On Your Powerbook?"

This early 1990s campaign continued to emphasize individuality by having seeming opposites in the same ad both using a Powerbook.

"Crazy Ones"

This ad featuring narration from actor Richard Dreyfuss first aired in 1997 in conjunction with Apple's "Think Different" print campaign.

"Think Different"

This campaign launched September 28th, 1997 and featured photos of visionaries, thinkers, leaders, artists and inventors including Albert Einstein, Bob Dylan, Martin Luther King, Jr., John Lennon, Martha Graham, Muhammad Ali, Alfred Hitchcock, Mahatma Gandhi, Jim Henson, Maria Callas, Picasso and others.

iMac Colors

iMac print ad from the late 1990s.

"Switch"

This campaign launched June 10th, 2002 intended to get people to "switch" to Apple by featuring a series of "real people" explaining they preferred their Mac over PCs.

"Get A Mac"

This is the first ad from the now famous "Get a Mac" campaign. <a href="http://www.adweek.com/adfreak/apples-get-mac-complete-campaign-130552?page=1" target="_hplink">It first aired in May 2006.</a>

"Thanks A Billion"

iPhone print ad from 2009.

"Get A Mac"

A "Get A Mac" spot from October 2009.

"Facetime"

This commercial from 2010 accompanied the launch of iPhone 4 and Facetime, allowing users to video chat from practically anywhere.