Two explosions at the finish line of the Boston Marathon that killed three people and left as many as 140 injured are being probed by the FBI in a "potential terrorist inquiry."
One of those killed in the blast is believed to be an eight-year-old boy.
Horrifying images of injured spectators and blood-splattered pavements were shown as television cameras broadcast footage of the blasts.
At least 17 people are critically injured, with a number needing amputations, reported the BBC.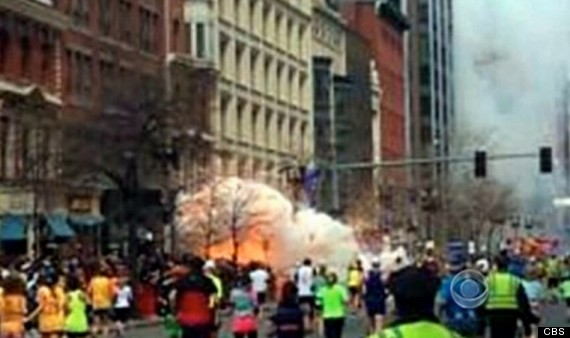 An explosion rips through the finish line at the Boston Marathon
Dr Natalie Stavas, who works at Boston Children's Hospital, told the New York Times how she was nearing the finish line when she felt the blast, which came around three hours after the winners had crossed the finish line.
"The police were trying to keep us back, but I told them that I was a physician and they let me through," she said.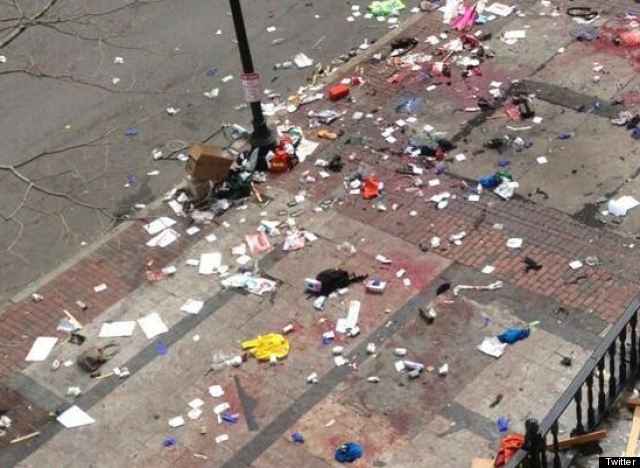 Footage of blood spattered pavements was broadcast
She described the serious injuries of one women she gave CPR to, saying "her legs were pretty much gone."
Stavas said she applied a tourniquet to one man's leg with someone's belt after he had lost his foot. "He was likely in shock," she said. "He was saying, 'I'm OK'"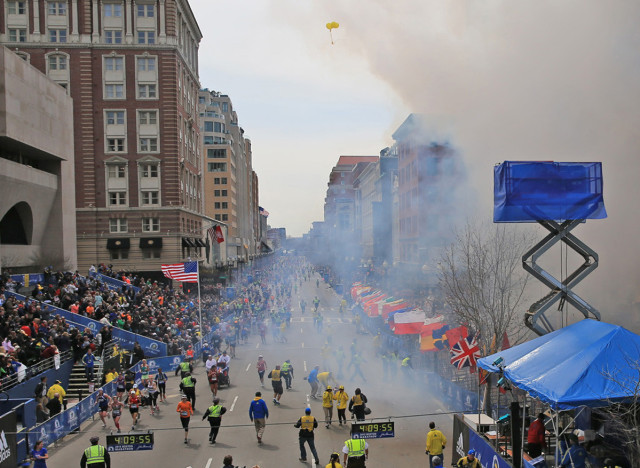 Over 100 people are believed to have been injured
Participants were seen lying on the ground as the two explosions tore through the finish line, sending smoke and debris soaring into the air.
The headquarters for the race was locked down after the blasts and a Boston Marathon spokesman told Reuters that no one would be allowed in or out of the building.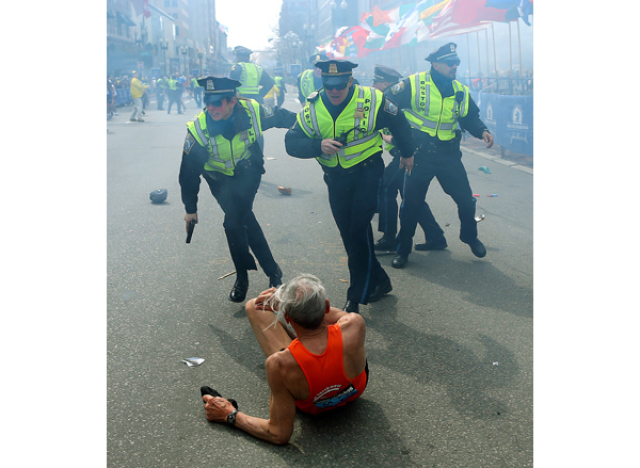 Later at a press conference, Boston police commissioner Ed Davis said there were "simultaneous explosions" that resulted in "multiple casualties".
Davis also said that a third incident had occurred at JFK library in the city but this was later confirmed as being unrelated.
There had been reports of a suspect being held at a city hospital were dismissed by Ed Davis, Boston's Police Commissioner, who told a press conference this morning that no suspect had been arrested.
Other cities soon responded to the events including New York where authorities put anti-terrorism vehicles in place around major landmarks while the White House was reported as receiving extra protection.
Pictures emerged on Twitter showing casualties lying on the pavement on Boylston Street in Boston - the main road through the east coast city - and debris blowing around them.
Another photograph appeared to show participants running down the street at the moment an explosion created a fireball, sending smoke into the air.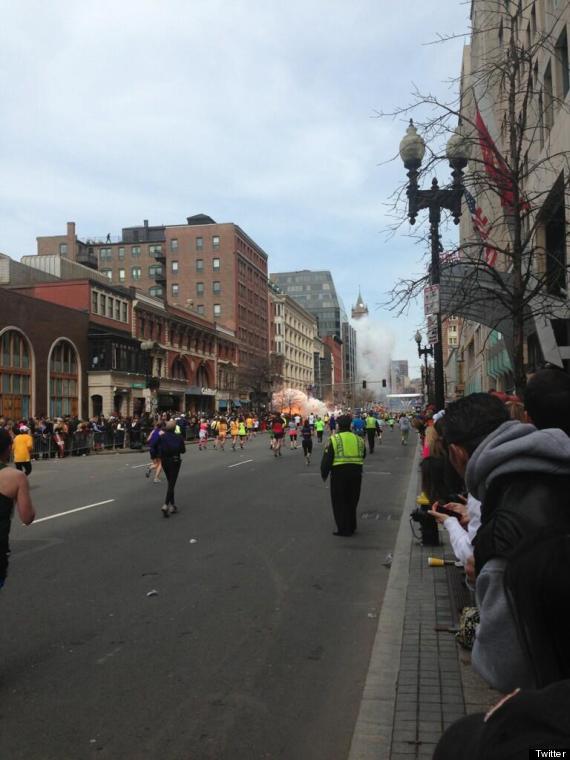 The finishing line was packed with spectators
Massachusetts governor Deval Patrick espressed his horror at the explosions. In a statement he said: "This is a horrific day in Boston. My thoughts and prayers are with those who have been injured. I have been in touch with the President, Mayor Menino and our public safety leaders.
"Our focus is on making sure that the area around Copley Square is safe and secured. I am asking everyone to stay away from Copley Square and let the first responders do their jobs."
It's not clear whether or not there have been any British casualties although a list of competitors on the Boston Marathon website showed that 347 British runners were expected to line up for the race which involved 25,000 participants.
Runner Darren Foy, 40, from Southampton and his wife Sandra and their two children missed the explosions by just 30 minutes after he finished the marathon in three and half hours.
Speaking from the city, the chartered surveyor said: "We were on our way home when we heard something had happened and I was getting messages like 'are you Ok?' which I never get. It's all quite shocking really.
"We got home and we looked at the BBC online and saw there had been explosions but we are OK because I finished in three and a half hours and we were on the bus when it happened.
"We are staying five miles outside and I'm not intending to go back into the city for a few days.
"It's such a soft target. There are hundreds of thousands spectators on the streets and 27,000 runners, so we got off lightly."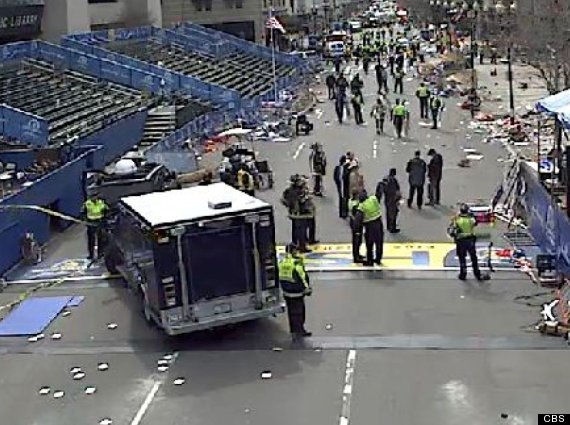 Emergency workers at the scene after the explosions
A Foreign Office spokesman said: "We are aware of the incident and we are trying to gather information."
Foreign secretary William Hague tweeted: "Appalled by news of explosion at Boston marathon. My thoughts are with everyone affected by it and all those waiting for news."
And the British ambassador to the United States added: "Awful news of explosions in Boston. Thoughts are with those injured or killed, and their families. Our team in touch with MA [Massachusetts] authorities."
Shadow foreign secretary Douglas Alexander also expressed his concern via Twitter, saying: "Horrified to hear reports of explosions at the Boston Marathon. My thoughts are with all those affected."
Labour leader Ed Miliband, who taught at Harvard University in Massachusetts, commented: "Appalling news from Boston. All of my thoughts are with the casualties and their families."
With the London Marathon just days away in which thousands of athletes and fun runners will be on the streets of the capital, the Metropolitan Police said it would be looking at security arrangements following the events in Boston.
"A security plan is in place for the London Marathon. We will be reviewing our security arrangements in partnership with London Marathon," said chief superintendant Julia Pendry.
Nick Bitel, London Marathon chief executive, said: "We are deeply saddened and shocked by the news from Boston. Our immediate thoughts are with the people there and their families. It is a very sad day for athletics and for our friends and colleagues in marathon running.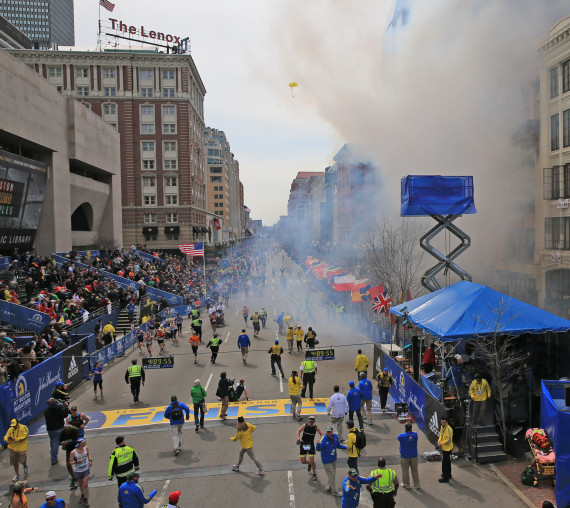 The scene at the finish line immediately after one of the blasts
"Our security plan is developed jointly with the Metropolitan Police and we were in contact with them as soon as we heard the news."
A video of one of the explosions going off shows a bright orange blast and runners falling to the ground.
Footage from the aftermath of the incident shows much confusion with emergency services rushing to help the injured and taking bloodied spectators to a medical tent. Many ambulances could then be seen arriving to rush casualties to hospital.
"There are a lot of people down," said one runner quoted by AP news agency.
ABC Eyewitness News tweeted:
The explosions came around three hours after the winners had crossed the line.
The organisers of the marathon issued a statement on its facebook page, which said: "There were two bombs that exploded near the finish line in today's Boston Marathon. We are working with law enforcement to understand what exactly has happened."
Vice president Joe Biden, who was at a conference on gun control, said: "Apparently there has been a bombing. Our prayers are with those people in Boston who have suffered injuries. I don't know how many there are."
The race was being held on Patriots' Day, celebrated as an official holiday in Massachusetts and Maine, which honours the first military actions - the Battles of Lexington and Concord - against the British at the start of the War of Independence, on 19 April 1775.
There was a 26-second period of silence before the race began to honour the children killed in the Sandy Hook Elementary School shootinng in Newton, Connecticut last year. As runners passed mile 26, they were met by a marker with the Newtown seal in another display of dedication to those who were gunned down in the Connecticut hamlet.
GRAPHIC WARNING: Boston Marathon explosion
04/19/2013 2:30 AM EDT
GLOBE: Bombing Suspect In Custody, Another Remains On The Loose
One marathon suspect has been captured, according to an official with knowledge of the investigation.
Another remains on the loose in Watertown after a firefight with police. Authorities have established a 20-block perimeter as they search for him.
Read more here.
04/19/2013 12:44 AM EDT
Unconfirmed Photo Of Suspect 2 In Boston Marathon Bombing Emerges On Facebook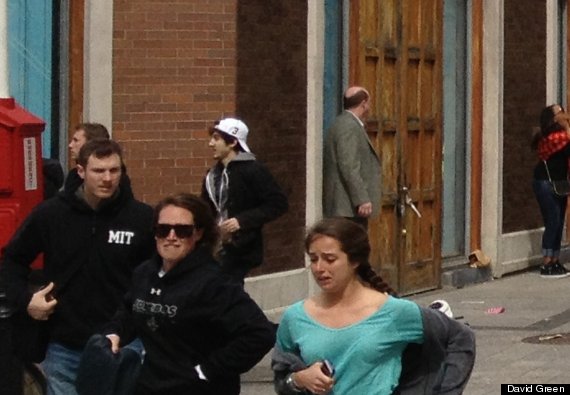 Just hours after the FBI released the first photos of suspects in the Boston Marathon bombing, a new photo of Suspect 2 may have emerged.
David Green, 49, of Jacksonville, Fla., had just completed his first Boston Marathon, when he snapped a picture with his iPhone 4S, taken at 2:50, just after the two blasts ripped through the finish line area, killing three people and injuring more than 180 others.
The FBI has not publicly confirmed this photo as Suspect 2, but Green told the Huffington Post that an agent told him, "this is probably the best we have right now."
The man who appears to be Suspect 2 is wearing a white hat with a "3" on the side as seen in the publicly-released photos.
Read more here.
04/18/2013 10:19 PM EDT
Boston Bombing Victim in Iconic Photo Helped Identify Attackers: Bloomberg
Minutes before the bombs blew up in Boston, Jeff Bauman looked into the eyes of the man who tried to kill him.
Just before 3 p.m. on April 15, Bauman was waiting among the crowd for his girlfriend to cross the finish line at the Boston Marathon. A man wearing a cap, sunglasses and a black jacket over a hooded sweatshirt looked at Jeff, 27, and dropped a bag at his feet, his brother, Chris Bauman, said in an interview.
Read more here.
04/18/2013 9:04 PM EDT
Federal Law Enforcement Says Suspects Stayed To Watch Carnage: CNN Reports
Federal law enforcement official says the 2 suspects stayed at scene to watch the #Boston carnage unfold. on.cnn.com/175CKDq

— CNN Breaking News (@cnnbrk) April 19, 2013
04/18/2013 7:26 PM EDT
Right Wing Journalist Goes Ballistic During Press Conference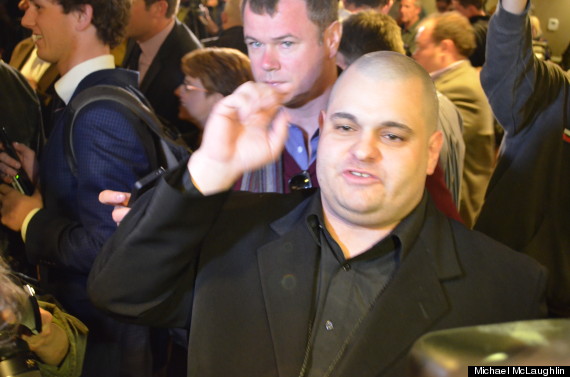 BOSTON -- Moments after the FBI revealed images of two baseball cap-wearing men wanted for questioning about the Boston bombings, the press conference descended into a sideshow.
A journalist from a far-right wing website called Info Wars shouted out a question accusing the government of carrying out the attack that killed three, and maimed or injured 170 others.
FBI Special Agent in Charge Richard Deslauriers ignored the allegation of a government conspiracy from reporter Daniel Bidondi, but the Alex Jones protege did not stop hollering.
"The FBI lies," Bidondi said. "We've got the proof," he said accusing the government of a "false flag" attack in which it staged the blasts and made them appear like the work of terrorists.
Bidondi found himself at the center of an media scrum with cameras and microphones pointed at his face after law enforcement officials left the podium in the Sheraton hotel.
Another reporter ridiculed Bidondi from across the room, telling him to shut up and calling him an asshole.
The excitement quickly dissipated as reporters returned to delivering the news about the official images of the suspects.
Bidondi has been a presence at other press conferences this week related to the bombing investigation.
--Michael McLaughlin / HuffPost Crime
CORRECTION: An earlier version of this story misspelled Bidondi's last name. We regret the error.
04/18/2013 6:46 PM EDT
Facial Recognition Expert Reacts To FBI Photos
Dr. Ralph Gross, a facial recognition expert at Carnegie Mellon University, said the FBI photos of two suspects in the Boston Marathon bombing are likely too grainy to be matched against a driver's license database or Facebook. But he thinks they may be just good enough for someone who knows the individuals to identify them.
"The resolution isn't particularly good. The one that's kind of best is unfortunately a side view -- and in general the face recognition software works best with frontal view," he said.
Research has consistently found, however, that people can spot people they know even in grainy, off-center photographs.
"Humans are actually very good at recognizing people that they are familiar with," Gross said. "Somebody that might know these guys, or might know the way they dress, might certainly be able to recognize them."
The FBI said the men should be considered armed and dangerous, and urged tipsters to call 1-800-CALL-FBI if they believe they have information that could lead to an arrest.
--Matt Sledge
04/18/2013 6:21 PM EDT
Daily News Doctored Photo
The New York Daily News reportedly doctored its front page photograph of the Boston bombings (see update below).
WARNING: LINK GOES TO GRAPHIC PHOTO
04/18/2013 5:37 PM EDT
Hi-Res Image Of People Of Interest

04/18/2013 5:30 PM EDT
FBI Website Down
CNN reports that, because of a flood of traffic, the FBI's site is temporarily down.
SUBSCRIBE TO & FOLLOW UK DAILY BRIEF