When the news came of in the Boston Marathon bomb attack, Britain's sense of sorrow was tinged with sad pragmatism.
Would the runners who had been training for months for the upcoming Virgin London Marathon still choose to take part take part?
But just as the crowd watching the Boston marathon surged to aid the wounded instead of walking away from danger, this weekend runners in London will be choosing to mark the tragedy with inspiring acts of solidarity.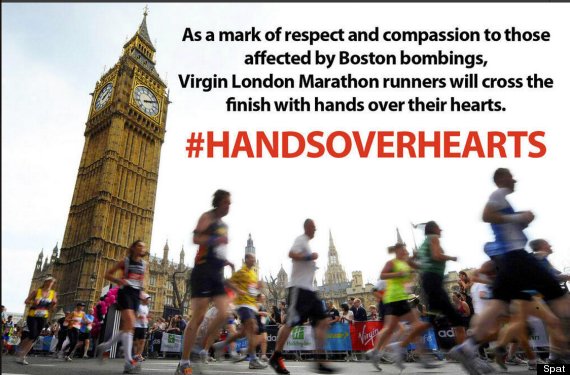 Runners have been circulating the #handsoverheart message on social media
Running organisation Spat, or Social Purpose And Time, began the trend of encouraging runners to race 'for Boston'. The charity, which uses running to try and help young homeless people to get back on track, has been encouraging participants to cross the finish line with their hands on their hearts in memory of those killed and injured in last Monday's attacks.
The hashtag #handsoverhearts has already been tweeted hundreds of times.
Tweets Of Support For #handsoverhearts
RT @VGTalks: Just found out about #handsoverhearts lovely gesture. Ill be doing it Sunday x

@LucyMacnamara I will be joining #handsoverhearts & wearing ribbon for #BostonMarathon. United we run.

RT @JennParrott: Love love love this idea!! RUNNERS UNITE!! #handsoverhearts #londonmarathon

@CwCRunners Can't wait to take part in the #vlm2013 with my fellow runners, I love our community #handsoverhearts http://t.co/d9yDA3LsQX

Thanks to everyone for the well wishes for Sunday. Will be an emotional day but I'm excited to be running in it again. #HandsOverHearts

Why can't we sing our anthem with that much pride and gusto every time it's played? #handsoverhearts

RT @bsbeall: Why can't we sing our anthem with that much pride and gusto every time it's played? #handsoverhearts

@BBCr4today Thought for the day gave me chills #handsoverhearts

#handsoverhearts To all who are running the London Marathon, show that London stands in solidarity with Boston. http://t.co/hKfoupSKwW

Hearing about London Marathon runners putting their #handsoverhearts as they cross the finish line this weekend. It's going to be emotional.

Love all the talk of #LondonMarathon runners putting #handsoverhearts as they cross the finish line as a tribute to our friends in #Boston.
According to Amber Dowell from bereavement care charity Cruse, many of us feel desire to "do something" in the face of a tragedy.
"There can be a sense that, whilst we cannot bring back the person who has died, we want to find positive ways of remembering them."
"A charitable trust or other memorial can be a way of continuing to feel close to the person we have lost, and this closeness can make the pain of grief easier to cope with."
Despite the recent tragic events in Boston, Hannah McBride from North London said she has no doubts about taking part on Sunday.
"In the wake of Boston it's all the more vital we run with our heads held high and with hope in our hearts. We all owe it to those injured in Boston to have the best race day ever.
"I know London will again do the world proud and people will turn out in force to show a united front. I can't wait!" said McBride, who will be raising money for homelessness charity Centrepoint.
Javed Khan, chief executive of Victim Support (who have runners in the marathon), agrees that the reaction to the Boston bombings has been "inspirational".
"The reaction of our nation standing united together to say that life will still go on is very positive."

"Our runners are taking part to raise money for victims affected by this kind of tragedy -– so they can cope, recover and move on with their lives."
Dr Ann Rowland, director of Bereavement services at Child Bereavement UK, adds that the death of a eight-year-old boy in the Boston Marathon terror attack further compounds people's desire to express solidarity.
"The death of any child is against the expected natural order of events and impacts on the immediate family, friends and the school community.
"The wider community is impacted too – often by the horror of imagining the loss of a child within their own family. A natural response is frequently to come together to offer support in a variety of ways through collective silences or fund-raising events."
Here are a selection of inspiring quotes to support runners this weekend..
Inspirational London Marathon Quotes
"I wouldn't say anything is impossible. I think that everything is possible as long as you put your mind to it and put the work and time into it." -- Michael Phelps, gold medalist in swimming in 2008 and 2004 and bronze medalist in 2004

"When anyone tells me I can't do anything, I'm just not listening anymore." -- Florence Griffith-Joyner, gold medalist in athletics in 1988 and silver medalist in 1988 and 1984

"The first thing is to love your sport. Never do it to please someone else. It has to be yours." -- Peggy Fleming, gold medalist in figure skating in 1968

"It's all about the journey, not the outcome." -- Carl Lewis, gold medalist in athletics in 1996, 1992, 1988 and 1984 and silver medalist in 1988

"You have to train your mind like you train your body." -- Bruce Jenner, gold medalist in decathlon in 1976

"He who is not courageous enough to take risks will accomplish nothing in life." -- Muhammad Ali, gold medalist in boxing in 1960

"Each of us has a fire in our hearts for something. It's our goal in life to find it and keep it lit." -- Mary Lou Retton, gold, silver and bronze medalist in gymnastics in 1984

"Nothing can substitute for just plain hard work." -- Andre Agassi, gold medalist in tennis in 1996

"Never underestimate the power of dreams and the influence of the human spirit. We are all the same in this notion: The potential for greatness lives within each of us." -- Wilma Rudolph, gold medalist in athletics in 1960 and bronze medalist in 1956

"You have to believe in yourself when no one else does -- that makes you a winner right there." -- Venus Williams, gold medalist in tennis in 2008 and 2000

"I'm trying to do the best I can. I'm not concerned with tomorrow, but with what goes on today." -- Mark Spitz, gold medalist in swimming in 1972 and 1968 and silver and bronze medalist in 1968

"Focus, discipline, hard work, goal setting and, of course, the thrill of finally achieving your goals. These are all lessons in life." -- Kristi Yamaguchi, gold medalist in figure skating in 1992

"Never put an age limit on your dreams." -- Dara Torres, gold medalist in swimming in 2000, 1992 and 1984, silver medalist in 2008 and 1988 and bronze medalist in 2000 and 1988

"I am building a fire, and everyday I train, I add more fuel. At just the right moment, I light the match." -- Mia Hamm, gold medalist in women's football in 2004 and 1996 and silver medalist in 2000

"I've missed more than 9,000 shots in my career. I've lost almost 300 games. Twenty-six times, I've been trusted to take the game winning shot and missed. I've failed over and over and over again in my life. And that is why I succeed." -- Michael Jordan, gold medalist in basketball in 1992 and 1984