Powerful tornados ripped through Oklahoma, with dozens believed to have been killed in winds of up to 200mph, including at least 20 children at an elementary school.
As many as 26 tornadoes were reported in Oklahoma, Kansas, Illinois and Iowa, according to the National Weather Service, with 91 people confirmed dead in Oklahoma thus far.
The storm laid waste to scores of buildings in Moore, a community of 41,000 people about 10 miles south of Oklahoma City. Street after street lay in ruins, homes were crushed into piles of broken wood and cars and trucks were left crumpled on the roadside. A tornado moves past homes in Moore, Oklahoma A child is pulled from the rubble of the Plaza Towers Elementary School in Moore
The Governor declared a state of emergency in 16 counties and President Barack Obama declared a major disaster area in Oklahoma, pledging his government would provide federal aid in addition to state resources.
Emergency services are still searching the rubble of the devastated Plaza Towers Elementary School, which took a direct hit in the powerful storm, its roof ripped off and walls flattened.
A water pipe is believed to have burst at the school and a number of the children could have drowned after becoming trapped in the debris.
Oklahoma's Lt Gov Todd Lamb told the BBC: "The school was flattened. The walls were pancaked in. There have been some bodies recovered from that school and it's absolutely horrific and devastating."
Worst hit was the town of Moore, street signs disappeared under flying detritus, lights went out, and houses, schools and a hospital were completely obliterated, Reuters reported. Magen Stanley, 5, walks away from her grandparents destroyed home after a tornado hit the area in Oklahoma City
"The whole city looks like a debris field," Glenn Lewis, the mayor of Moore, told NBC.
"It looks like we have lost our hospital. I drove by there a while ago and it's pretty much destroyed," Lewis said.
Brady Williams, from the town of Norman, and his girlfriend drove south to witness the tornado's damage and assist with rescue efforts.
"We soon found ourselves in a neighbourhood that was absolutely devastated by this tornado," he told HuffPost by email. "Nearly every single house was turned into a pile of rubble as far as the eye could see."
SEE ALSO: 'God Answered My Prayers': Pensioner's Beloved Dog Found Alive In Oklahoma Tornado Rubble (VIDEO)
Governor Mary Fallin, speaking to Fox News on Monday night, described her reaction to the tragedy at Plaza Towers Elementary School.
"Your hearts just break for the parents who don't know the answer to the question about whether their child is safe," Fallin said. "I've been through a lot of disasters in Oklahoma, but to see this sight, to see how many areas are devastated, is just absolutely incredible. It's just beyond even expressing words."
She said that five different schools in the area were hit by the tornado.
The tornado, she said, was "by far, probably, the worst I've ever seen." Teachers carry children away from Briarwood Elementary school after a tornado destroyed the school JoAnn Anderson sorts through the rubble of her home after the tornado
The Red Cross is supporting first responders and is providing shelter, food, distributing relief items and clean-up supplies.
"These are dangerous storms and we urge people to monitor the situation closely and be alert for severe weather warnings in their community," said Trevor Riggen, vice president of Disaster Operations and Logistics for the Red Cross.
May 2013 Central U.S. Tornadoes (GRAPHIC IMAGES)
05/23/2013 12:46 PM EDT
Oklahoma Governor: Missing Have Been Accounted For
All people thought missing have been accounted for at this time.

— Governor Mary Fallin (@GovMaryFallin) 2 years ago
05/23/2013 12:43 PM EDT
Oklahoma Governor Posts Update
Updated fatalities, deaths and missing persons:

The 5/20 tornado has lead to:

377 injuries

24 deaths.

— Governor Mary Fallin (@GovMaryFallin) 2 years ago
05/23/2013 6:26 AM EDT
Volunteer Shows Dedication To Helping Tornado Victims, Rescuers
Shaunta Strong has worked 2 days straight. Making sandwiches for victims & first responders. twitter.com/KatyJBlakey/st…

— Katy Blakey (@KatyJBlakey) May 23, 2013
05/23/2013 4:58 AM EDT
Rough Weather Forecast To Hit Tornado-Ravaged Region
Storms with dangerous lightning/small hail/downpours expected near OKC metro through at least 9 am. #okwx

— NWS Norman (@NWSNorman)
05/23/2013 2:05 AM EDT
Okla. Mom Recalls Being In Labor During Tornado
While the Moore Medical Center crumbled around her on Monday afternoon, Shay-la Taylor was in labor with her second baby boy.
The mom-to-be knew about the severe weather watch as she checked into the hospital to be induced at 9 a.m. that morning, but says she wasn't really nervous.
"We're used to tornadoes and sirens," the 25-year-old mom told HuffPost in a phone interview. "If you freaked out every time you heard a siren, you'd have an anxiety attack every May in Oklahoma."
Click here to read the rest of her tale.
--Farah L. Miller
05/23/2013 12:47 AM EDT
Sheriff's Department Offers View Inside Plaza Towers Elementary
Plaza Towers Elementary where 7 children died from the #tornado.We pray their families one day find peace. #okcoso twitter.com/OkCountySherif…

— Oklahoma Co. Sheriff (@OkCountySheriff) May 23, 2013
05/22/2013 11:37 PM EDT
California Cupcakery Holds Fundraising Event For Oklahoma
Sprinkles Cupcakes in Los Angeles plans to donate all of the proceeds from their (ever-popular) Red Velvet cupcake sold on May 22 to support Oklahomans affected by Monday's tornado.
"As a native Oklahoman with my parents and brother still living in Oklahoma City, I am especially heartbroken by this devastating tragedy," Charles Nelson, co-founder of Sprinkles, stated on Facebook.
For more, click here.
--Sasha Bronner
05/22/2013 11:07 PM EDT
PHOTO: Kevin Durant Tours Tornado-Ravaged Moore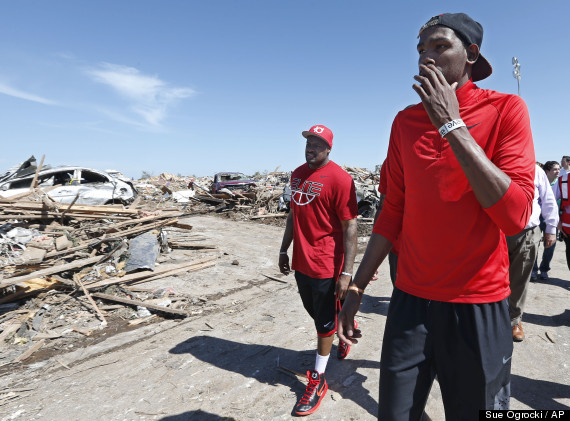 Basketball player Kevin Durant viewed tornado-damaged homes in Moore, Okla., on Wednesday. The Oklahoma City Thunder star also donated $1 million to the American Red Cross for relief efforts. The Thunder later matched the $1 million donation. (Sue Ogrocki / AP)
05/22/2013 10:56 PM EDT
Mail Service Alternatives Offered In Storm-Damaged Areas
The post office branch in Moore, Okla., was one of the thousands of buildings damaged or destroyed by Monday's twister. To help residents impacted by the disaster, the US Postal Service is setting up mail service alternatives in the area, News9.com reported.
Some of the options being offered include held mail, portable post offices and delivery service through an alternative office nearby. Letter carriers will also attempt to deliver mail wherever possible.
Click here for more.
SUBSCRIBE TO & FOLLOW UK DAILY BRIEF