Sam Mendes In Dramatic U-Turn On Next James Bond Film - Skyfall Director WILL Return!
It looks like James Bond will have his 'Skyfall' director, Sam Mendes, at the helm of the next film - currently tagged 'Bond 24' - after all.
The Oscar-winning Brit had initially walked away from the 007 franchise, saying he was too busy, and no doubt thinking he'd done enough with his record-breaking efforts on 'Skyfall' - which broke British box office records, and celebrated the 50th anniversary of Bond in style.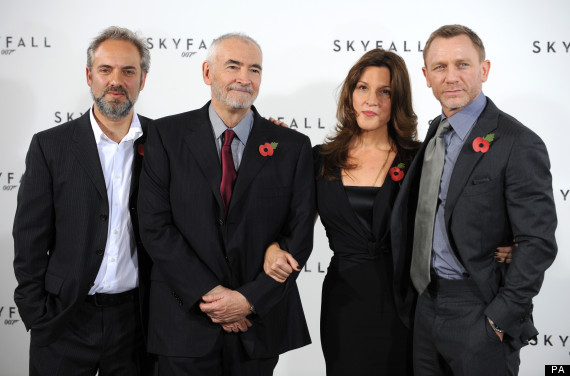 Mendes is much loved by his James Bond team - Michael Wilson, Barbara Broccoli and Daniel Craig
Other names in the frame included Christopher Nolan, an acknowledged master of the intelligent action blockbuster after the Dark Knight trilogy and 'Inception'.
But now the Daily Mail reports that Mendes has been persuaded back for the next film, with star Daniel Craig, and producers Barbara Broccoli and Michael Wilson, all working their charms on Mr Mendes and re-recruiting him for another mission.
Mendes already has a couple of significant projects on his roster. He is steering a huge production of 'Charlie and the Chocolate Factory' onto the West End stage, and will follow this with a stint at the National, directing Simon Russell Beale in 'King Lear'.
LOOK: 224 pictures from the Skyfall word premiere

Berenice Marlohe spills on her shower scene with Daniel Craig

WATCH: Wayne Rooney stars in alternative 'Skyfall' trailer

VOTE: Which actor could replace Daniel Craig as Bond?

LISTEN: Three exclusive tracks from the Skyfall score

VOTE: Is Ursula Andress still the best ever Bond girl?

REVIEW: Something old, something new, a lot of things borrowed

WATCH: Six video interviews from the Skyfall red carpet

VOTE: Who is Bond's best ever villain?
Daniel Craig arriving for the Royal World Premeire of Skyfall at the Royal Albert Hall, London. PRESS ASSOCIATION Photo. Picture date: Tuesday October 23, 2012. See PA story SHOWBIZ Bond. Photo credit should read: Yui Mok/PA Wire

Britain's Camilla, Duchess of Cornwall (R) shakes hands with British actor Daniel Craig (L) as Craig's wife British actress Rachel Weisz (L) at the royal world premiere of the James Bond film 'Skyfall' at the Royal Albert Hall in London on October 23, 2012. AFP PHOTO / POOL / KIRSTY WIGGLESWORTH (Photo credit should read KIRSTY WIGGLESWORTH/AFP/Getty Images)

Britain's Camilla, Duchess of Cornwall (R) meets British actors Daniel Craig (L) and Judi Dench (C) as she arrives with the Prince of Wales to attend the royal world premiere of the James Bond film 'Skyfall' at the Royal Albert Hall in London on October 23, 2012. AFP PHOTO / POOL / KIRSTY WIGGLESWORTH (Photo credit should read KIRSTY WIGGLESWORTH/AFP/Getty Images)

Britain's Prince Charles, Prince of Wales (R) and Camilla, Duchess of Cornwall (2R) meet British actors Daniel Craig (L) and Judi Dench (2L) as they arrive to attend the royal world premiere of the James Bond film 'Skyfall' at the Royal Albert Hall in London on October 23, 2012. AFP PHOTO / POOL / KIRSTY WIGGLESWORTH (Photo credit should read KIRSTY WIGGLESWORTH/AFP/Getty Images)

LONDON, ENGLAND - OCTOBER 23: Prince Charles, Prince of Wales and Camilla, Duchess of Cornwall attend the Royal World Premiere of 'Skyfall' at the Royal Albert Hall on October 23, 2012 in London, England. (Photo by Eamonn McCormack/Getty Images)

LONDON, ENGLAND - OCTOBER 23: Tulisa Contostavlos attends the Royal World Premiere of 'Skyfall' at the Royal Albert Hall on October 23, 2012 in London, England. (Photo by Eamonn McCormack/Getty Images)

LONDON, ENGLAND - OCTOBER 23: Sam Taylor-Johnson and Aaron Taylor-Johnson attend the Royal World Premiere of 'Skyfall' at the Royal Albert Hall on October 23, 2012 in London, England. (Photo by Eamonn McCormack/Getty Images)

LONDON, ENGLAND - OCTOBER 23: Prince Charles, Prince of Wales and Camilla, Duchess of Cornwall attend the Royal World Premiere of 'Skyfall' at the Royal Albert Hall on October 23, 2012 in London, England. (Photo by Eamonn McCormack/Getty Images)

Britain's Prince Charles, Prince of Wales (L) and Camila, Duchess of Cornwall (R), greet members of the crowd as they arrive to attend the royal world premiere of the new James Bond film 'Skyfall' at the Royal Albert Hall in London on October 23, 2012. AFP PHOTO / LEON NEAL (Photo credit should read LEON NEAL/AFP/Getty Images)

LONDON, ENGLAND - OCTOBER 23: Valentino attends the Royal World Premiere of 'Skyfall' at the Royal Albert Hall on October 23, 2012 in London, England. (Photo by Eamonn McCormack/Getty Images)

LONDON, ENGLAND - OCTOBER 23: (L-R) Jade Ellis, Tulisa Contostavlos, Ella Henderson and Lucy Spraggan attend the Royal World Premiere of 'Skyfall' at the Royal Albert Hall on October 23, 2012 in London, England. (Photo by Eamonn McCormack/Getty Images)

LONDON, ENGLAND - OCTOBER 23: (L-R) Jade Ellis, Tulisa Contostavlos, Ella Henderson and Lucy Spraggan attend the Royal World Premiere of 'Skyfall' at the Royal Albert Hall on October 23, 2012 in London, England. (Photo by Eamonn McCormack/Getty Images)

The Prince of Wales and The Duchess of Cornwall meet James Bond actor Daniel Craig (left) and Dame Judi Dench (2nd left) as they arrive for the Royal World Premeire of Skyfall at the Royal Albert Hall, London.

John Logan arriving for the Royal World Premeire of Skyfall at the Royal Albert Hall, London

Christopher Biggins and Neil SInclair arriving for the Royal World Premeire of Skyfall at the Royal Albert Hall, London

Bear and Shara Grylls arriving for the Royal World Premeire of Skyfall at the Royal Albert Hall, London

Kathy Lett and Stephen Fry arriving for the Royal World Premeire of Skyfall at the Royal Albert Hall, London

Sam and Aaron Taylor-Johnson arriving for the Royal World Premeire of Skyfall at the Royal Albert Hall, London

Jordan Stephens and Harley Alexander-Sule from Rizzle Kicks arriving for the Royal World Premeire of Skyfall at the Royal Albert Hall, London

Marvin Humes, Aston Merrygold, Ortise Williams and JB Gill from JLS arriving for the Royal World Premeire of Skyfall at the Royal Albert Hall, London

Maryam D'Abo arriving for the Royal World Premeire of Skyfall at the Royal Albert Hall, London

Naomie Harris arriving for the Royal World Premeire of Skyfall at the Royal Albert Hall, London. PRESS ASSOCIATION Photo. Picture date: Tuesday October 23, 2012. See PA story SHOWBIZ Bond. Photo credit should read: Yui Mok/PA Wire

Emeli Sande and husband Adam arriving for the Royal World Premeire of Skyfall at the Royal Albert Hall, London

(Centre left to right) Ralph Fiennes, Daniel Craig and Berenice Marlohe arriving for the Royal World Premeire of Skyfall at the Royal Albert Hall, London. PRESS ASSOCIATION Photo. Picture date: Tuesday October 23, 2012. See PA story SHOWBIZ Bond. Photo credit should read: Yui Mok/PA Wire

Daniel Craig arriving for the Royal World Premeire of Skyfall at the Royal Albert Hall, London.

Chris Evans and wife Natasha arriving for the Royal World Premeire of Skyfall at the Royal Albert Hall, London

The Prince of Wales and The Duchess of Cornwall arriving for the Royal World Premeire of Skyfall at the Royal Albert Hall, London. PRESS ASSOCIATION Photo. Picture date: Tuesday October 23, 2012. See PA story SHOWBIZ Bond. Photo credit should read: Yui Mok/PA Wire

Tulisa Contastavlos with Lucy Spraggan, Ella Henderson and Jade Ellis arriving for the Royal World Premeire of Skyfall at the Royal Albert Hall, London

Kelly Brook arriving for the Royal World Premeire of Skyfall at the Royal Albert Hall, London

District3 arriving for the Royal World Premeire of Skyfall at the Royal Albert Hall, London

District3 arriving for the Royal World Premeire of Skyfall at the Royal Albert Hall, London

Union J arriving for the Royal World Premeire of Skyfall at the Royal Albert Hall, London

Christopher Maloney, Kyle Sones, James Arthur and Jahmene Douglas arriving for the Royal World Premeire of Skyfall at the Royal Albert Hall, London

Ellie Simmonds arriving for the Royal World Premeire of Skyfall at the Royal Albert Hall, London

Victoria Pendleton arriving for the Royal World Premeire of Skyfall at the Royal Albert Hall, London

Victoria Pendleton arriving for the Royal World Premeire of Skyfall at the Royal Albert Hall, London

Tess Daly arriving for the Royal World Premeire of Skyfall at the Royal Albert Hall, London

Sir David Frost arriving for the Royal World Premeire of Skyfall at the Royal Albert Hall, London

Katie Price arriving for the Royal World Premeire of Skyfall at the Royal Albert Hall, London

His Royal Highness The Prince of Cornwall and the Duchess of Cornwall arriving for the Royal World Premeire of Skyfall at the Royal Albert Hall, London

Bear Grylls arriving for the Royal World Premeire of Skyfall at the Royal Albert Hall, London

Holly Valance arriving for the Royal World Premeire of Skyfall at the Royal Albert Hall, London

Naomi Campbell arriving for the Royal World Premeire of Skyfall at the Royal Albert Hall, London

Tamara Beckwith arriving for the Royal World Premeire of Skyfall at the Royal Albert Hall, London

Minnie Driver arriving for the Royal World Premeire of Skyfall at the Royal Albert Hall, London

Ella Anderson arriving for the Royal World Premeire of Skyfall at the Royal Albert Hall, London

Lucy Spraggan arriving for the Royal World Premeire of Skyfall at the Royal Albert Hall, London

Tulisa Contostavlos arriving for the Royal World Premeire of Skyfall at the Royal Albert Hall, London

Jade Ellis arriving for the Royal World Premeire of Skyfall at the Royal Albert Hall, London

Victoria Pendleton arriving for the Royal World Premeire of Skyfall at the Royal Albert Hall, London

Rylan Clark arriving for the Royal World Premeire of Skyfall at the Royal Albert Hall, London

Jahmene Douglas arriving for the Royal World Premeire of Skyfall at the Royal Albert Hall, London

The Prince of Wales and the Duchess of Conrwall arriving for the Royal World Premeire of Skyfall at the Royal Albert Hall, London. PRESS ASSOCIATION Photo. Picture date: Tuesday October 23, 2012. See PA story SHOWBIZ Bond. Photo credit should read: Dominic Lipinski/PA Wire

Naomi Campbell and Vladislav Doronin arriving for the Royal World Premeire of Skyfall at the Royal Albert Hall, London. PRESS ASSOCIATION Photo. Picture date: Tuesday October 23, 2012. See PA story SHOWBIZ Bond. Photo credit should read: Yui Mok/PA Wire

The Prince of Wales and The Duchess of Cornwall, escorted by film producer Michael G. Wilson (right) as they arrive for the Royal World Premeire of Skyfall at the Royal Albert Hall, London.

Victoria Pendleton arriving for the Royal World Premeire of Skyfall at the Royal Albert Hall, London. PRESS ASSOCIATION Photo. Picture date: Tuesday October 23, 2012. See PA story SHOWBIZ Bond. Photo credit should read: Yui Mok/PA Wire

The Prince of Wales and The Duchess of Cornwall meet James Bond actor Daniel Craig (left) and Dame Judi Dench (2nd left) as they arrive for the Royal World Premeire of Skyfall at the Royal Albert Hall, London.

Victoria Pendleton arriving for the Royal World Premeire of Skyfall at the Royal Albert Hall, London. PRESS ASSOCIATION Photo. Picture date: Tuesday October 23, 2012. See PA story SHOWBIZ Bond. Photo credit should read: Yui Mok/PA Wire

The Prince of Wales talks with James Bond actor Daniel Craig (centre) as Rachel Weisz (left) looks on as they arrive for the Royal World Premeire of Skyfall at the Royal Albert Hall, London.

THe Prince of Wales (right) meets Bond girl Berenice Marlohe as he arrives for the Royal World Premeire of Skyfall at the Royal Albert Hall, London.

The Prince of Wales talks with James Bond actor Daniel Craig (left) as he arrives for the Royal World Premeire of Skyfall at the Royal Albert Hall, London.

The Prince of Wales (right) and The Duchess of Cornwall (2nd right) meet James Bond actor Daniel Craig (left) and Dame Judi Dench (2nd left) as they arrive for the Royal World Premeire of Skyfall at the Royal Albert Hall, London.

The Prince of Wales and The Duchess of Cornwall, escorted by film producer Michael G. Wilson (right) as they arrive for the Royal World Premeire of Skyfall at the Royal Albert Hall, London.

THe Prince of Wales (right) meets Bond girl Berenice Marlohe as he arrives for the Royal World Premeire of Skyfall at the Royal Albert Hall, London.

The Prince of Wales and The Duchess of Cornwall, escorted by film producer Michael G. Wilson (right) as they arrive for the Royal World Premeire of Skyfall at the Royal Albert Hall, London.

Daniel Craig and Berenice Marlohe arriving for the Royal World Premeire of Skyfall at the Royal Albert Hall, London.

Chris Evans and Natasha Shishmanian arriving for the Royal World Premeire of Skyfall at the Royal Albert Hall, London.

The Prince of Wales (right) and The Duchess of Cornwall (2nd right) meet James Bond actor Daniel Craig (left) and Dame Judi Dench (2nd left) as they arrive for the Royal World Premeire of Skyfall at the Royal Albert Hall, London.

The Prince of Wales and The Duchess of Cornwall, escorted by film producer Michael G. Wilson (right) as they arrive for the Royal World Premeire of Skyfall at the Royal Albert Hall, London.

LONDON, ENGLAND - OCTOBER 23: Producer Michael G. Wilson (L) and Prince Charles, Prince of Wales and Camilla, Duchess of Cornwall attend the Royal World Premiere of 'Skyfall' at the Royal Albert Hall on October 23, 2012 in London, England. (Photo by Eamonn McCormack/Getty Images)

British Olympic cyclist Victoria Pendleton poses on the red carpet as she attends the royal world premiere of the new James Bond film 'Skyfall' at the Royal Albert Hall in London on October 23, 2012. AFP PHOTO / LEON NEAL (Photo credit should read LEON NEAL/AFP/Getty Images)

LONDON, ENGLAND - OCTOBER 23: Naomie Harris and Daniel Craig attend the Royal World Premiere of 'Skyfall' at the Royal Albert Hall on October 23, 2012 in London, England. (Photo by Eamonn McCormack/Getty Images)

LONDON, ENGLAND - OCTOBER 23: Naomie Harris and Daniel Craig attend the Royal World Premiere of 'Skyfall' at the Royal Albert Hall on October 23, 2012 in London, England. (Photo by Eamonn McCormack/Getty Images)

British actress Samantha Bond arrives to attend the royal world premiere of the new James Bond film 'Skyfall' at the Royal Albert Hall in London on October 23, 2012. AFP PHOTO / LEON NEAL (Photo credit should read LEON NEAL/AFP/Getty Images)

LONDON, ENGLAND - OCTOBER 23: Naomie Harris and Daniel Craig attend the Royal World Premiere of 'Skyfall' at the Royal Albert Hall on October 23, 2012 in London, England. (Photo by Eamonn McCormack/Getty Images)

LONDON, ENGLAND - OCTOBER 23: Ralph Fiennes, Daniel Craig and Berenice Marlohe attend the Royal World Premiere of 'Skyfall' at the Royal Albert Hall on October 23, 2012 in London, England. (Photo by Eamonn McCormack/Getty Images)

British actors Daniel Craig (R) and Naomie Harris (L) pose together as they arrive to attend the royal world premiere of the new James Bond film 'Skyfall' at the Royal Albert Hall in London on October 23, 2012. AFP PHOTO / LEON NEAL (Photo credit should read LEON NEAL/AFP/Getty Images)

British actors Daniel Craig (R) and Naomie Harris (L) pose together as they arrive to attend the royal world premiere of the new James Bond film 'Skyfall' at the Royal Albert Hall in London on October 23, 2012. AFP PHOTO / LEON NEAL (Photo credit should read LEON NEAL/AFP/Getty Images)

British actors Daniel Craig (R) and Naomie Harris (L) pose together as they arrive to attend the royal world premiere of the new James Bond film 'Skyfall' at the Royal Albert Hall in London on October 23, 2012. AFP PHOTO / LEON NEAL (Photo credit should read LEON NEAL/AFP/Getty Images)

LONDON, ENGLAND - OCTOBER 23: Daniel Craig and Berenice Marlohe attend the Royal World Premiere of 'Skyfall' at the Royal Albert Hall on October 23, 2012 in London, England. (Photo by Eamonn McCormack/Getty Images)

British actors Ralph Fiennes (L) Daniel Craig (C) and French actress Berenice Marlohe (R) pose together as they arrive to attend the royal world premiere of the new James Bond film 'Skyfall' at the Royal Albert Hall in London on October 23, 2012. AFP PHOTO / LEON NEAL (Photo credit should read LEON NEAL/AFP/Getty Images)

British actor Ralph Fiennes arrives to attend the royal world premiere of the new James Bond film 'Skyfall' at the Royal Albert Hall in London on October 23, 2012. AFP PHOTO / LEON NEAL (Photo credit should read LEON NEAL/AFP/Getty Images)

British actor Daniel Craig (L) and French actress Berenice Marlohe (R) arrive to attend the royal world premiere of the new James Bond film 'Skyfall' at the Royal Albert Hall in London on October 23, 2012. AFP PHOTO / CARL COURT (Photo credit should read CARL COURT/AFP/Getty Images)

British actor Daniel Craig (L) and French actress Berenice Marlohe (R) pose together as they arrive to attend the royal world premiere of the new James Bond film 'Skyfall' at the Royal Albert Hall in London on October 23, 2012. AFP PHOTO / LEON NEAL (Photo credit should read LEON NEAL/AFP/Getty Images)

LONDON, ENGLAND - OCTOBER 23: Ralph Fiennes, Daniel Craig and Berenice Marlohe attend the Royal World Premiere of 'Skyfall' at the Royal Albert Hall on October 23, 2012 in London, England. (Photo by Eamonn McCormack/Getty Images)

British actors Ralph Fiennes (L) Daniel Craig (C) and French actress Berenice Marlohe (R) pose together as they arrive to attend the royal world premiere of the new James Bond film 'Skyfall' at the Royal Albert Hall in London on October 23, 2012. AFP PHOTO / LEON NEAL (Photo credit should read LEON NEAL/AFP/Getty Images)

British actors Ralph Fiennes arrives to attend the royal world premiere of the new James Bond film 'Skyfall' at the Royal Albert Hall in London on October 23, 2012. AFP PHOTO / CARL COURT (Photo credit should read CARL COURT/AFP/Getty Images)

Britain's Prince Charles, Prince of Wales (L) and Camila, Duchess of Cornwall (R), greet members of the crowd as they arrive to attend the royal world premiere of the new James Bond film 'Skyfall' at the Royal Albert Hall in London on October 23, 2012. AFP PHOTO / LEON NEAL (Photo credit should read LEON NEAL/AFP/Getty Images)

Britain's Prince Charles, Prince of Wales (L) and Camila, Duchess of Cornwall (R), arrive to attend the royal world premiere of the new James Bond film 'Skyfall' at the Royal Albert Hall in London on October 23, 2012. AFP PHOTO / LEON NEAL (Photo credit should read LEON NEAL/AFP/Getty Images)

LONDON, ENGLAND - OCTOBER 23: Producer Michael G. Wilson (L) and Prince Charles, Prince of Wales and Camilla, Duchess of Cornwall attend the Royal World Premiere of 'Skyfall' at the Royal Albert Hall on October 23, 2012 in London, England. (Photo by Eamonn McCormack/Getty Images)

British model Naomi Campbell (R) arrives with her Russian partner Vladislav Doronin (L) to attend the royal world premiere of the new James Bond film 'Skyfall' at the Royal Albert Hall in London on October 23, 2012. AFP PHOTO / LEON NEAL (Photo credit should read LEON NEAL/AFP/Getty Images)

LONDON, ENGLAND - OCTOBER 23: Prince Charles, Prince of Wales and Camilla, Duchess of Cornwall pose with Producer Barbara Broccoli at the Royal World Premiere of 'Skyfall' at the Royal Albert Hall on October 23, 2012 in London, England. (Photo by Eamonn McCormack/Getty Images)

LONDON, ENGLAND - OCTOBER 23: Prince Charles, Prince of Wales and Camilla, Duchess of Cornwall attend the Royal World Premiere of 'Skyfall' at the Royal Albert Hall on October 23, 2012 in London, England. (Photo by Eamonn McCormack/Getty Images)

Britain's Prince Charles, Prince of Wales (L) and Camila, Duchess of Cornwall (R), greet members of the crowd as they arrive to attend the royal world premiere of the new James Bond film 'Skyfall' at the Royal Albert Hall in London on October 23, 2012. AFP PHOTO / LEON NEAL (Photo credit should read LEON NEAL/AFP/Getty Images)

LONDON, ENGLAND - OCTOBER 23: Prince Charles, Prince of Wales and Camilla, Duchess of Cornwall attend the Royal World Premiere of 'Skyfall' at the Royal Albert Hall on October 23, 2012 in London, England. (Photo by Eamonn McCormack/Getty Images)

British broadcaster Chris Evans (L) arrives with his wife Natasha Shishmanian (R) to attend the royal world premiere of the new James Bond film 'Skyfall' at the Royal Albert Hall in London on October 23, 2012. AFP PHOTO / LEON NEAL (Photo credit should read LEON NEAL/AFP/Getty Images)

British Olympic cyclist Victoria Pendleton poses on the red carpet as she attends the royal world premiere of the new James Bond film 'Skyfall' at the Royal Albert Hall in London on October 23, 2012. AFP PHOTO / LEON NEAL (Photo credit should read LEON NEAL/AFP/Getty Images)

LONDON, ENGLAND - OCTOBER 23: Producer Michael G. Wilson (L) and Prince Charles, Prince of Wales and Camilla, Duchess of Cornwall attend the Royal World Premiere of 'Skyfall' at the Royal Albert Hall on October 23, 2012 in London, England. (Photo by Eamonn McCormack/Getty Images)

Berenice Marlohe arriving for the Royal World Premeire of Skyfall at the Royal Albert Hall, London

Berenice Marlohe arriving for the Royal World Premeire of Skyfall at the Royal Albert Hall, London

Eunice Gayson arriving for the Royal World Premeire of Skyfall at the Royal Albert Hall, London

Christopher Lee and wife Brigit arriving for the Royal World Premeire of Skyfall at the Royal Albert Hall, London

Caterina Murino arriving for the Royal World Premeire of Skyfall at the Royal Albert Hall, London

Writers Neal Purvis and Robert Wade arriving for the Royal World Premeire of Skyfall at the Royal Albert Hall, London

Christopher Lee and wife Brigit arriving for the Royal World Premeire of Skyfall at the Royal Albert Hall, London

Kelly Brook arriving for the Royal World Premeire of Skyfall at the Royal Albert Hall, London

Kelly Brook arriving for the Royal World Premeire of Skyfall at the Royal Albert Hall, London

Sam Mendes arriving for the Royal World Premeire of Skyfall at the Royal Albert Hall, London

Mick Norcroft and The Sugar Hut Honeys arriving for the Royal World Premeire of Skyfall at the Royal Albert Hall, London

Kelly Hoppen and John Gardiner arriving for the Royal World Premeire of Skyfall at the Royal Albert Hall, London

Shirley Eaton arriving for the Royal World Premeire of Skyfall at the Royal Albert Hall, London

Samantha Bond arriving for the Royal World Premeire of Skyfall at the Royal Albert Hall, London

Miranda Hart arriving for the Royal World Premeire of Skyfall at the Royal Albert Hall, London

Helen McCrory arriving for the Royal World Premeire of Skyfall at the Royal Albert Hall, London

Colin Salmon with wife Fiona arriving for the Royal World Premeire of Skyfall at the Royal Albert Hall, London

Tamara Eccleston arriving for the Royal World Premeire of Skyfall at the Royal Albert Hall, London

Tamara Eccleston arriving for the Royal World Premeire of Skyfall at the Royal Albert Hall, London

Ralph Fiennes arriving for the Royal World Premeire of Skyfall at the Royal Albert Hall, London

Daniel Craig and Berenice Marlohe arriving for the Royal World Premeire of Skyfall at the Royal Albert Hall, London

Ralph Fiennes arriving for the Royal World Premeire of Skyfall at the Royal Albert Hall, London

Bear and Shara Grylls arriving for the Royal World Premeire of Skyfall at the Royal Albert Hall, London

Ralph Fiennes arriving for the Royal World Premeire of Skyfall at the Royal Albert Hall, London

Christopher Biggins and Neil SInclair arriving for the Royal World Premeire of Skyfall at the Royal Albert Hall, London

Vernon Kay and Tess Daly arriving for the Royal World Premeire of Skyfall at the Royal Albert Hall, London

Dame Judi Dench arriving for the Royal World Premeire of Skyfall at the Royal Albert Hall, London

Tess Daly arriving for the Royal World Premeire of Skyfall at the Royal Albert Hall, London

John Logan arriving for the Royal World Premeire of Skyfall at the Royal Albert Hall, London

Boris Becker and wife Lilly arriving for the Royal World Premeire of Skyfall at the Royal Albert Hall, London

Kelly Brook arriving for the Royal World Premeire of Skyfall at the Royal Albert Hall, London

Barbara Broccoli arriving for the Royal World Premeire of Skyfall at the Royal Albert Hall, London

Naomie Harris and Daniel Craig arriving for the Royal World Premeire of Skyfall at the Royal Albert Hall, London

Holly Valance arriving for the Royal World Premeire of Skyfall at the Royal Albert Hall, London

US actress Stefanie Powers arrives to attend the royal world premiere of the new James Bond film 'Skyfall' at the Royal Albert Hall in London on October 23, 2012. AFP PHOTO / CARL COURT (Photo credit should read CARL COURT/AFP/Getty Images)

LONDON, ENGLAND - OCTOBER 23: Director Sam Mendes attends the Royal World Premiere of 'Skyfall' at the Royal Albert Hall on October 23, 2012 in London, England. (Photo by Eamonn McCormack/Getty Images)

British director Sam Mendes arrives to attend the royal world premiere of the new James Bond film 'Skyfall' at the Royal Albert Hall in London on October 23, 2012. AFP PHOTO / CARL COURT (Photo credit should read CARL COURT/AFP/Getty Images)

LONDON, ENGLAND - OCTOBER 23: Shirley Eaton attends the Royal World Premiere of 'Skyfall' at the Royal Albert Hall on October 23, 2012 in London, England. (Photo by Eamonn McCormack/Getty Images)

French actress Berenice Marlohe arrives on the red carpet to attend the royal world premiere of the new James Bond film 'Skyfall' at the Royal Albert Hall in London on October 23, 2012. AFP PHOTO / LEON NEAL (Photo credit should read LEON NEAL/AFP/Getty Images)

French actress Berenice Marlohe arrives on the red carpet to attend the royal world premiere of the new James Bond film 'Skyfall' at the Royal Albert Hall in London on October 23, 2012. AFP PHOTO / CARL COURT (Photo credit should read CARL COURT/AFP/Getty Images)

French actress Berenice Marlohe arrives on the red carpet to attend the royal world premiere of the new James Bond film 'Skyfall' at the Royal Albert Hall in London on October 23, 2012. AFP PHOTO / CARL COURT (Photo credit should read CARL COURT/AFP/Getty Images)

French actress Berenice Marlohe arrives on the red carpet to attend the royal world premiere of the new James Bond film 'Skyfall' at the Royal Albert Hall in London on October 23, 2012. AFP PHOTO / CARL COURT (Photo credit should read CARL COURT/AFP/Getty Images)

LONDON, ENGLAND - OCTOBER 23: Dame Judi Dench attends the Royal World Premiere of 'Skyfall' at the Royal Albert Hall on October 23, 2012 in London, England. (Photo by Eamonn McCormack/Getty Images)

LONDON, ENGLAND - OCTOBER 23: Kelly Brook attends the Royal World Premiere of 'Skyfall' at the Royal Albert Hall on October 23, 2012 in London, England. (Photo by Eamonn McCormack/Getty Images)

LONDON, ENGLAND - OCTOBER 23: Kelly Brook attends the Royal World Premiere of 'Skyfall' at the Royal Albert Hall on October 23, 2012 in London, England. (Photo by Eamonn McCormack/Getty Images)

LONDON, ENGLAND - OCTOBER 23: Kelly Brook attends the Royal World Premiere of 'Skyfall' at the Royal Albert Hall on October 23, 2012 in London, England. (Photo by Eamonn McCormack/Getty Images)

LONDON, ENGLAND - OCTOBER 23: Shirley Eaton attends the Royal World Premiere of 'Skyfall' at the Royal Albert Hall on October 23, 2012 in London, England. (Photo by Eamonn McCormack/Getty Images)

LONDON, ENGLAND - OCTOBER 23: Dame Judi Dench attends the Royal World Premiere of 'Skyfall' at the Royal Albert Hall on October 23, 2012 in London, England. (Photo by Eamonn McCormack/Getty Images)

French actress Berenice Marlohe arrives on the red carpet to attend the royal world premiere of the new James Bond film 'Skyfall' at the Royal Albert Hall in London on October 23, 2012. AFP PHOTO / LEON NEAL (Photo credit should read LEON NEAL/AFP/Getty Images)

French actress Berenice Marlohe arrives on the red carpet to attend the royal world premiere of the new James Bond film 'Skyfall' at the Royal Albert Hall in London on October 23, 2012. AFP PHOTO / CARL COURT (Photo credit should read CARL COURT/AFP/Getty Images)

LONDON, ENGLAND - OCTOBER 23: Kelly Brook attends the Royal World Premiere of 'Skyfall' at the Royal Albert Hall on October 23, 2012 in London, England. (Photo by Eamonn McCormack/Getty Images)

LONDON, ENGLAND - OCTOBER 23: Kelly Brook attends the Royal World Premiere of 'Skyfall' at the Royal Albert Hall on October 23, 2012 in London, England. (Photo by Eamonn McCormack/Getty Images)

LONDON, ENGLAND - OCTOBER 23: Stephanie Powers attends the Royal World Premiere of 'Skyfall' at the Royal Albert Hall on October 23, 2012 in London, England. (Photo by Eamonn McCormack/Getty Images)

British actor Ben Whishaw arrives on the red carpet to attend the royal world premiere of the new James Bond film 'Skyfall' at the Royal Albert Hall in London on October 23, 2012. AFP PHOTO / CARL COURT (Photo credit should read CARL COURT/AFP/Getty Images)

LONDON, ENGLAND - OCTOBER 23: Producers Barbara Broccoli and Michael G. Wilson attend the Royal World Premiere of 'Skyfall' at the Royal Albert Hall on October 23, 2012 in London, England. (Photo by Eamonn McCormack/Getty Images)

LONDON, ENGLAND - OCTOBER 23: Kelly Brook attends the Royal World Premiere of 'Skyfall' at the Royal Albert Hall on October 23, 2012 in London, England. (Photo by Eamonn McCormack/Getty Images)

LONDON, ENGLAND - OCTOBER 23: Kelly Brook attends the Royal World Premiere of 'Skyfall' at the Royal Albert Hall on October 23, 2012 in London, England. (Photo by Eamonn McCormack/Getty Images)

French actress Berenice Marlohe arrives on the red carpet to attend the royal world premiere of the new James Bond film 'Skyfall' at the Royal Albert Hall in London on October 23, 2012. AFP PHOTO / LEON NEAL (Photo credit should read LEON NEAL/AFP/Getty Images)

LONDON, ENGLAND - OCTOBER 23: Producers Barbara Broccoli and Michael G. Wilson attend the Royal World Premiere of 'Skyfall' at the Royal Albert Hall on October 23, 2012 in London, England. (Photo by Eamonn McCormack/Getty Images)

LONDON, ENGLAND - OCTOBER 23: Kelly Brook attends the Royal World Premiere of 'Skyfall' at the Royal Albert Hall on October 23, 2012 in London, England. (Photo by Eamonn McCormack/Getty Images)

British actor Christopher Lee arrives on the red carpet to attend the royal world premiere of the new James Bond film 'Skyfall' at the Royal Albert Hall in London on October 23, 2012. AFP PHOTO / CARL COURT (Photo credit should read CARL COURT/AFP/Getty Images)

British actress Judi Dench arrives on the red carpet to attend the royal world premiere of the new James Bond film 'Skyfall' at the Royal Albert Hall in London on October 23, 2012. AFP PHOTO / CARL COURT (Photo credit should read CARL COURT/AFP/Getty Images)

British actress Judi Dench arrives on the red carpet to attend the royal world premiere of the new James Bond film 'Skyfall' at the Royal Albert Hall in London on October 23, 2012. AFP PHOTO / CARL COURT (Photo credit should read CARL COURT/AFP/Getty Images)

LONDON, ENGLAND - OCTOBER 23: Sir Christopher Lee and wife Gitte Lee attend the Royal World Premiere of 'Skyfall' at the Royal Albert Hall on October 23, 2012 in London, England. (Photo by Eamonn McCormack/Getty Images)

British actor Christopher Lee arrives on the red carpet to attend the royal world premiere of the new James Bond film 'Skyfall' at the Royal Albert Hall in London on October 23, 2012. AFP PHOTO / CARL COURT (Photo credit should read CARL COURT/AFP/Getty Images)

LONDON, ENGLAND - OCTOBER 23: Dame Judi Dench attends the Royal World Premiere of 'Skyfall' at the Royal Albert Hall on October 23, 2012 in London, England. (Photo by Eamonn McCormack/Getty Images)

US film producers Barbara Broccoli (L) and Michael G Wilson (R) arrive on the red carpet to attend the royal world premiere of the new James Bond film 'Skyfall' at the Royal Albert Hall in London on October 23, 2012. AFP PHOTO / CARL COURT (Photo credit should read CARL COURT/AFP/Getty Images)

LONDON, ENGLAND - OCTOBER 23: Director Sam Mendes attends the Royal World Premiere of 'Skyfall' at the Royal Albert Hall on October 23, 2012 in London, England. (Photo by Eamonn McCormack/Getty Images)

British actor Christopher Lee arrives on the red carpet to attend the royal world premiere of the new James Bond film 'Skyfall' at the Royal Albert Hall in London on October 23, 2012. AFP PHOTO / CARL COURT (Photo credit should read CARL COURT/AFP/Getty Images)

British director Sam Mendes (C) stands on the red carpet as he arrives to attend the royal world premiere of the new James Bond film 'Skyfall' at the Royal Albert Hall in London on October 23, 2012. AFP PHOTO / LEON NEAL (Photo credit should read LEON NEAL/AFP/Getty Images)

LONDON, ENGLAND - OCTOBER 23: Shirley Eaton attends the Royal World Premiere of 'Skyfall' at the Royal Albert Hall on October 23, 2012 in London, England. (Photo by Eamonn McCormack/Getty Images)

British director Sam Mendes stands on the red carpet as he arrives to attend the royal world premiere of the new James Bond film 'Skyfall' at the Royal Albert Hall in London on October 23, 2012. AFP PHOTO / CARL COURT (Photo credit should read CARL COURT/AFP/Getty Images)

British director Sam Mendes arrives to attend the royal world premiere of the new James Bond film 'Skyfall' at the Royal Albert Hall in London on October 23, 2012. AFP PHOTO / CARL COURT (Photo credit should read CARL COURT/AFP/Getty Images)

LONDON, ENGLAND - OCTOBER 23: Shirley Eaton attends the Royal World Premiere of 'Skyfall' at the Royal Albert Hall on October 23, 2012 in London, England. (Photo by Eamonn McCormack/Getty Images)

Kelly Brook arriving for the Royal World Premeire of Skyfall at the Royal Albert Hall, London

Kelly Brook arriving for the Royal World Premeire of Skyfall at the Royal Albert Hall, London

LONDON, ENGLAND - OCTOBER 23: Kelly Brook attends the Royal World Premiere of 'Skyfall' at the Royal Albert Hall on October 23, 2012 in London, England. (Photo by Eamonn McCormack/Getty Images)

LONDON, ENGLAND - OCTOBER 23: Kelly Brook attends the Royal World Premiere of 'Skyfall' at the Royal Albert Hall on October 23, 2012 in London, England. (Photo by Eamonn McCormack/Getty Images)

LONDON, ENGLAND - OCTOBER 23: Daniel Craig attends the Royal World Premiere of 'Skyfall' at the Royal Albert Hall on October 23, 2012 in London, England. (Photo by Eamonn McCormack/Getty Images)

British actor Daniel Craig arrives on the red carpet to atttend the world royal premiere of the new James Bond film 'Skyfall' at the Royal Albert Hall in London on October 23, 2012. AFP PHOTO / CARL COURT (Photo credit should read CARL COURT/AFP/Getty Images)

Bérénice Marlohe arrives at the world premiere of "Skyfall" at the Royal Albert Hall on Tuesday, Oct. 23, 2012 in London. (Photo by Joel Ryan/Invision/AP)

LONDON, ENGLAND - OCTOBER 23: Daniel Craig attends the Royal World Premiere of 'Skyfall' at the Royal Albert Hall on October 23, 2012 in London, England. (Photo by Eamonn McCormack/Getty Images)

LONDON, ENGLAND - OCTOBER 23: Dame Judi Dench attends the Royal World Premiere of 'Skyfall' at the Royal Albert Hall on October 23, 2012 in London, England. (Photo by Eamonn McCormack/Getty Images)

LONDON, ENGLAND - OCTOBER 23: Ben Whishaw attends the Royal World Premiere of 'Skyfall' at the Royal Albert Hall on October 23, 2012 in London, England. (Photo by Eamonn McCormack/Getty Images)

French actress Berenice Marlohe arrives on the red carpet to attend the royal world premiere of the new James Bond film 'Skyfall' at the Royal Albert Hall in London on October 23, 2012. AFP PHOTO / CARL COURT (Photo credit should read CARL COURT/AFP/Getty Images)

French actress Berenice Marlohe arrives on the red carpet to attend the royal world premiere of the new James Bond film 'Skyfall' at the Royal Albert Hall in London on October 23, 2012. AFP PHOTO / LEON NEAL (Photo credit should read LEON NEAL/AFP/Getty Images)

Naomie Harris arrives at the world premiere of "Skyfall" at the Royal Albert Hall on Tuesday, Oct. 23, 2012 in London. (Photo by Joel Ryan/Invision/AP)

Naomie Harris arrives at the world premiere of "Skyfall" at the Royal Albert Hall on Tuesday, Oct. 23, 2012 in London. (Photo by Joel Ryan/Invision/AP)

Ben Whishaw arrives at the world premiere of "Skyfall" at the Royal Albert Hall on Tuesday, Oct. 23, 2012 in London. (Photo by Joel Ryan/Invision/AP)

Bérénice Marlohe arrives at the world premiere of "Skyfall" at the Royal Albert Hall on Tuesday, Oct. 23, 2012 in London. (Photo by Joel Ryan/Invision/AP)

Javier Bardem arrives at the world premiere of "Skyfall" at the Royal Albert Hall on Tuesday, Oct. 23, 2012 in London. (Photo by Joel Ryan/Invision/AP)

Dame Judi Dench arrives at the world premiere of "Skyfall" at the Royal Albert Hall on Tuesday, Oct. 23, 2012 in London. (Photo by Joel Ryan/Invision/AP)

Spanish actor Javier Bardem arrives on the red carpet to attend the royal world premiere of the new James Bond film 'Skyfall' at the Royal Albert Hall in London on October 23, 2012. AFP PHOTO / CARL COURT (Photo credit should read CARL COURT/AFP/Getty Images)

LONDON, ENGLAND - OCTOBER 23: Javier Bardem attends the Royal World Premiere of 'Skyfall' at the Royal Albert Hall on October 23, 2012 in London, England. (Photo by Eamonn McCormack/Getty Images)

LONDON, ENGLAND - OCTOBER 23: Daniel Craig attends the Royal World Premiere of 'Skyfall' at the Royal Albert Hall on October 23, 2012 in London, England. (Photo by Eamonn McCormack/Getty Images)

British actress Naomie Harris poses on the red carpet as she arrives for the royal world premiere of the new James Bond film 'Skyfall' at the Royal Albert Hall in London on October 23, 2012. AFP PHOTO / CARL COURT (Photo credit should read CARL COURT/AFP/Getty Images)

LONDON, ENGLAND - OCTOBER 23: Naomie Harris attends the Royal World Premiere of 'Skyfall' at the Royal Albert Hall on October 23, 2012 in London, England. (Photo by Eamonn McCormack/Getty Images)

LONDON, ENGLAND - OCTOBER 23: Javier Bardem attends the Royal World Premiere of 'Skyfall' at the Royal Albert Hall on October 23, 2012 in London, England. (Photo by Eamonn McCormack/Getty Images)

British actor Daniel Craig arrives on the red carpet to atttend the world royal premiere of the new James Bond film 'Skyfall' at the Royal Albert Hall in London on October 23, 2012. AFP PHOTO / LEON NEAL (Photo credit should read LEON NEAL/AFP/Getty Images)

LONDON, ENGLAND - OCTOBER 23: Daniel Craig attends the Royal World Premiere of 'Skyfall' at the Royal Albert Hall on October 23, 2012 in London, England. (Photo by Eamonn McCormack/Getty Images)

LONDON, ENGLAND - OCTOBER 23: Javier Bardem attends the Royal World Premiere of 'Skyfall' at the Royal Albert Hall on October 23, 2012 in London, England. (Photo by Eamonn McCormack/Getty Images)

LONDON, ENGLAND - OCTOBER 23: Naomie Harris attends the Royal World Premiere of 'Skyfall' at the Royal Albert Hall on October 23, 2012 in London, England. (Photo by Eamonn McCormack/Getty Images)

LONDON, ENGLAND - OCTOBER 23: Berenice Marlohe attends the Royal World Premiere of 'Skyfall' at the Royal Albert Hall on October 23, 2012 in London, England. (Photo by Eamonn McCormack/Getty Images)

Spanish actor Javier Bardem arrives on the red carpet to atttend the royal world premiere of the new James Bond film 'Skyfall' at the Royal Albert Hall in London on October 23, 2012. AFP PHOTO / CARL COURT (Photo credit should read CARL COURT/AFP/Getty Images)

Spanish actor Javier Bardem arrives on the red carpet to attend the royal world premiere of the new James Bond film 'Skyfall' at the Royal Albert Hall in London on October 23, 2012. AFP PHOTO / CARL COURT (Photo credit should read CARL COURT/AFP/Getty Images)

Ben Whishaw arriving for the Royal World Premeire of Skyfall at the Royal Albert Hall, London

Berenice Marlohe arriving for the Royal World Premeire of Skyfall at the Royal Albert Hall, London

Berenice Marlohe arriving for the Royal World Premeire of Skyfall at the Royal Albert Hall, London

Berenice Marlohe arriving for the Royal World Premeire of Skyfall at the Royal Albert Hall, London

Ben Whishaw arriving for the Royal World Premeire of Skyfall at the Royal Albert Hall, London

Berenice Marlohe arriving for the Royal World Premeire of Skyfall at the Royal Albert Hall, London

LONDON, ENGLAND - OCTOBER 23: Naomie Harris attends the Royal World Premiere of 'Skyfall' at the Royal Albert Hall on October 23, 2012 in London, England. (Photo by Eamonn McCormack/Getty Images)

LONDON, ENGLAND - OCTOBER 23: Daniel Craig attends the Royal World Premiere of 'Skyfall' at the Royal Albert Hall on October 23, 2012 in London, England. (Photo by Eamonn McCormack/Getty Images)

LONDON, ENGLAND - OCTOBER 23: Daniel Craig attends the Royal World Premiere of 'Skyfall' at the Royal Albert Hall on October 23, 2012 in London, England. (Photo by Eamonn McCormack/Getty Images)

Javier Bardem arriving for the Royal World Premeire of Skyfall at the Royal Albert Hall, London

Daniel Craig arriving for the Royal World Premeire of Skyfall at the Royal Albert Hall, London

Naomie Harris arriving for the Royal World Premeire of Skyfall at the Royal Albert Hall, London

Daniel Craig arriving for the Royal World Premeire of Skyfall at the Royal Albert Hall, London

Naomie Harris arriving for the Royal World Premeire of Skyfall at the Royal Albert Hall, London

French actress Berenice Marlohe arrives on the red carpet to attend the royal world premiere of the new James Bond film 'Skyfall' at the Royal Albert Hall in London on October 23, 2012. AFP PHOTO / CARL COURT (Photo credit should read CARL COURT/AFP/Getty Images)

LONDON, ENGLAND - OCTOBER 23: A general view of the red carpet at the Royal World Premiere of 'Skyfall' at the Royal Albert Hall on October 23, 2012 in London, England. (Photo by Eamonn McCormack/Getty Images)

British actress Naomie Harris poses on the red carpet as she arrives for the royal world premiere of the new James Bond film 'Skyfall' at the Royal Albert Hall in London on October 23, 2012. AFP PHOTO / LEON NEAL (Photo credit should read LEON NEAL/AFP/Getty Images)

LONDON, ENGLAND - OCTOBER 23: Kelly Brook attends the Royal World Premiere of 'Skyfall' at the Royal Albert Hall on October 23, 2012 in London, England. (Photo by Eamonn McCormack/Getty Images)

Javier Bardem arriving for the Royal World Premeire of Skyfall at the Royal Albert Hall, London

LONDON, ENGLAND - OCTOBER 23: Kelly Brook attends the Royal World Premiere of 'Skyfall' at the Royal Albert Hall on October 23, 2012 in London, England. (Photo by Eamonn McCormack/Getty Images)

Dame Judi Dench arriving for the Royal World Premeire of Skyfall at the Royal Albert Hall, London

Naomie Harris arriving for the Royal World Premeire of Skyfall at the Royal Albert Hall, London

LONDON, ENGLAND - OCTOBER 23: Javier Bardem attends the Royal World Premiere of 'Skyfall' at the Royal Albert Hall on October 23, 2012 in London, England. (Photo by Eamonn McCormack/Getty Images)

Naomie Harris arriving for the Royal World Premeire of Skyfall at the Royal Albert Hall, London

Naomie Harris arriving for the Royal World Premeire of Skyfall at the Royal Albert Hall, London

Daniel Craig arriving for the Royal World Premeire of Skyfall at the Royal Albert Hall, London

Daniel Craig arriving for the Royal World Premeire of Skyfall at the Royal Albert Hall, London

Daniel Craig arriving for the Royal World Premeire of Skyfall at the Royal Albert Hall, London

Daniel Craig arriving for the Royal World Premeire of Skyfall at the Royal Albert Hall, London

Javier Bardem arriving for the Royal World Premeire of Skyfall at the Royal Albert Hall, London

Naomie Harris arriving for the Royal World Premeire of Skyfall at the Royal Albert Hall, London

LONDON, ENGLAND - OCTOBER 23: Naomie Harris attends the Royal World Premiere of 'Skyfall' at the Royal Albert Hall on October 23, 2012 in London, England. (Photo by Eamonn McCormack/Getty Images)

LONDON, ENGLAND - OCTOBER 23: Ben Whishaw attends the Royal World Premiere of 'Skyfall' at the Royal Albert Hall on October 23, 2012 in London, England. (Photo by Eamonn McCormack/Getty Images)

Berenice Marlohe arriving for the Royal World Premeire of Skyfall at the Royal Albert Hall, London

LONDON, ENGLAND - OCTOBER 23: Javier Bardem attends the Royal World Premiere of 'Skyfall' at the Royal Albert Hall on October 23, 2012 in London, England. (Photo by Eamonn McCormack/Getty Images)

LONDON, ENGLAND - OCTOBER 23: Ben Whishaw attends the Royal World Premiere of 'Skyfall' at the Royal Albert Hall on October 23, 2012 in London, England. (Photo by Eamonn McCormack/Getty Images)

British actress Naomie Harris poses on the red carpet as she arrives for the royal world premiere of the new James Bond film 'Skyfall' at the Royal Albert Hall in London on October 23, 2012. AFP PHOTO / LEON NEAL (Photo credit should read LEON NEAL/AFP/Getty Images)

LONDON, ENGLAND - OCTOBER 23: A general view of the red carpet at the Royal World Premiere of 'Skyfall' at the Royal Albert Hall on October 23, 2012 in London, England. (Photo by Eamonn McCormack/Getty Images)

LONDON, ENGLAND - OCTOBER 23: Naomie Harris attends the Royal World Premiere of 'Skyfall' at the Royal Albert Hall on October 23, 2012 in London, England. (Photo by Eamonn McCormack/Getty Images)

British actress Naomie Harris arrives on the red carpet to atttend the royal world premiere of the new James Bond film 'Skyfall' at the Royal Albert Hall in London on October 23, 2012. AFP PHOTO / CARL COURT (Photo credit should read CARL COURT/AFP/Getty Images)