Apple has announced a radical redesign of iOS for iPhone, iPad and iPod Touch.
But it is the visual changes that will be most obvious for new users. Gone are the textured 'skeumorphic' elements of iOS - such as the green felt Game Centre or the leather look of Calendar. Instead the whole OS is rebuilt on simplistic, clean, minimalist lines.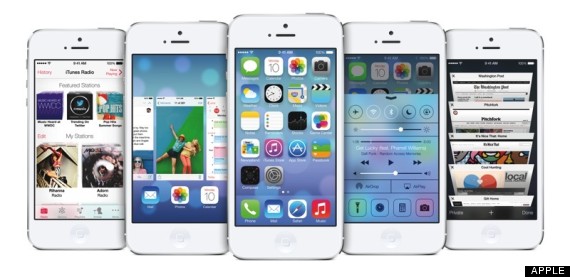 It came as the firm's CEO Tim Cook revealed the company had sold more than 600 million iOS devices and told his
audience that the latest operating system developments were the most significant since the iPhone was launched in 2007.
He said: "The team at Apple has been working incredibly hard on the latest version of iOS and today it is of great thrill that I announce iOS 7.
"iOS7 is the biggest change to iOS since the introduction of the iPhone. It's packed with amazing new features and a stunning new user interface."
The new operating system was showcased in a short video accompanied by an explanation from Sir Jonathan. The designer, known as Jony, said iOS7 offered a "whole new structure" with a "profound and enduring beauty".
iOS 7 will be released in the autumn, and is available in beta immediately.
The new features include:
Mulitasking for every app, so that your apps can run easily in the background of iOS, and new previews of every app you have running
Safari is upgraded and rebuilt, with parental controls, a new tab view and a 'full screen' interface
Control Centre - swipe up from the home screen to access basic settings such as Bluetooth, Airplay, brightness and the camera
Airdrop - an easy way to share files with people around you, or your Mac
Camera - totally redesigned camera app including live photofilters
Photos - the new app can organise your photos automatically into 'moments' based on location and content
Siri - a brand new interface for Siri, a new voice (male and female) and new features including integration with brightness, vague Wikipedia (and Bing) searches, voicemail and Twitter
Car integration - iOS 7 can now work with several car brands and integration searching, Siri and music into your car's interface
App Store - searching by age range, 'Apps near me' searches, automatic updates
Music - new designs for the Now Playing and album view
iTunes Radio - Apple's long-rumoured streaming service was finally announced. Built into the Music app, free (with ads) or ad free with iTunes Match (US only for now)
Activation Lock - now once you wipe your lost device it won't turn back on unless the person with it knows your Apple ID and password
Apple WWDC 2013: In Pictures
SUBSCRIBE AND FOLLOW
Get top stories and blog posts emailed to me each day. Newsletters may offer personalized content or advertisements.
Learn more