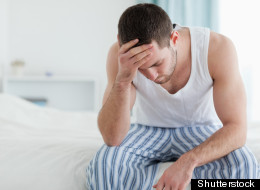 A 44-year-old trucker who claims he was left with an erection lasting eight months has launched a medical malpractice lawsuit.
Daniel Metzgar says the problem was the result of a botched surgical procedure by urologist Dr Thomas J Desperito in 2009, Delaware Online reports.
Metzgar told jurors at New Castle County Superior Court he was unable to ride a motorcycle or dance with his wife because his erection kept getting in the way.
He added: "It's not something you want to bring out at parties and show friends."
The surgery saw the insertion of an implant consisting of inflatable cylinders inside the shaft of the penis, a fluid reservoir under the abdominal wall and a pump inside the scrotum, Medical Daily explains.
Attorneys for Desperito have suggested Metzgar should have realised something was amiss immediately when his "scrotum swelled to the size a volleyball".
Instead they claim he did not report anything problems until months later.
KSDK News reports: "Desperito's attorney, Colleen D. Shields, insisted that four months after the surgery, the urologist told Metzgar the prosthesis had to be removed when the patient complained of an infection and that the erection wasn't going down. Metzgar, according to Shields, didn't do anything for months after that visit."
The prosthesis wasn't removed until August 2010, when tubing from the implant punctured his scrotum, Fox News reports.
Metzgar obtained another implant from a different doctor but is seeking unspecified damages from Desperito, claiming he lost a great deal of sensation as a result of the botched surgery.
Michigan woman Sadie Bell was convicted in April, 2014 of shooting her lover because he didn't 'produce enough ejaculate' when they had sex.

Barbara Hall was involved in a bedroom romp with her boyfriend when he asked her if she had brought PAM cooking spray, which he wanted to use as lubricant. However, Hall thought he was referring to an ex-girlfriend of his named Pam, and she allegedly flew into a jealous rage, punching him repeatedly and heaving objects at his head. Read the whole story here.

Crystal Frantzen allegedly gave Gary Tipton oral sex in a gas station parking lot in order to get a "better deal" on a Cadillac he was selling. Read the whole story here.

Mindi and David Rice were engaging in a three-way with a female friend, but when MIndi noticed David was giving the friend a little too much attention, she allegedly reached for a revolver. The ensuing madness ended with gunfire, SWAT team involvement and a police tasing. Read the whole story here.

Valerie Nile was accused of pulling out several knives after allegedly threatening her neighbors when the threesome she had planned with them never materialized. This incident took place January 2012 in Knox County, Maine. Read our story here. CORRECTION: A previous version of this slide incorrectly states that the incident took place in Knox County, Tenn. It took place in Knox County, Maine.

Talk about a love seat. Gerard Streator was allegedly caught having sex with a couch on the side of the road. Read the whole story here.

Arteesha Donaldson became upset when she lost her "detachable latex penis," cops say, which caused an argument between Donaldson and her girlfriend. The fight allegedly ended with Donaldson chucking at ironing board. Read the whole story here.

Racquel Gonzalez was allegedly none too pleased when her boyfriend orgasmed and she didn't. She allegedly responded by scratching and hitting him, which caused him to call 911. The cops came not a moment too soon. Read the whole story here.

Japanese porn star Uta Kohaku asked her fans on Twitter to donate their sperm as part of an erotic film titled "Semen Collection 2." She received over 100 bottles in less than 10 days. Read more about it here.

Tyshinia Love Brewster was working as a prison guard when she allegedly had sex with one of the inmates at the facility and became pregnant with his baby. Brewster was charged with third-degree rape, since inmates cannot legally give consent. Read the whole story here.

Sukhbir Singh was banned from every single McDonalds restaurant in England after being caught spying on women using toilets at the fast food establishment. Read the whole story here.

Amanda Linscott allegedly pulled a gun on a man while the two were having sex in a moving car. The man punched her in the face, but not before losing control of the vehicle and crashing into a palm tree. Read the whole story here.

Fei Lin told law enforcement officials that men, believed to be jealous lovers of women Lin had bedded, broke into his home at night, cut off his penis, and stole it. Read the whole story here.

S&M aficionado Frankie Santiago was submissive -- until she found out her boyfriend was cheating on her. Santiago allegedly began sending the man a slew of menacing text messages and was charged with stalking, criminal mischief and harassment. Read the whole story here.

A Munich man had to flee to police when a woman he was sleeping with demanded too much sex. He told officials that he and the woman had sex several times, but when he said he was through for the night, she refused to let him leave and insisted they keep doing it. Read the whole story here.

Jeremie Calo and Tiffanie Lynn Barganier were apprehended while allegedly having sex on a restaurant table in full view of other patrons, including children. Calo also allegedly refused to pay his $101 bill, writing the restaurant a check that contained only the word "NO." Read the whole story here.

A Chinese man who cut off his own penis because of frustration at the fact that he didn't have a girlfriend was left in such incredible agony that he decided to cycle to a hospital for treatment. But when he arrived doctors told him they couldn't help him – and ordered him to cycle back home again to get the penis before he could be treated.