Despite being just over three months pregnant with her first child, Zara Phillips has said that will continue to compete in horse riding over the next month.
This news comes despite the fact on Saturday she took part in the Barbury International Horse Trials near Swindon, where she came off her horse. She was said to be "fine". Her spokesman said in The Daily Telegraph that she will carry on competing, and she is currently entered into three events later this month, with rides on six different horses.
As with other royal babies, the media and the public will have an opinion on this. The fact is that despite Zara being an Olympic athlete in the sport, with horse riding, there is a risk of back, spinal, muscular pain, arm and neck injuries.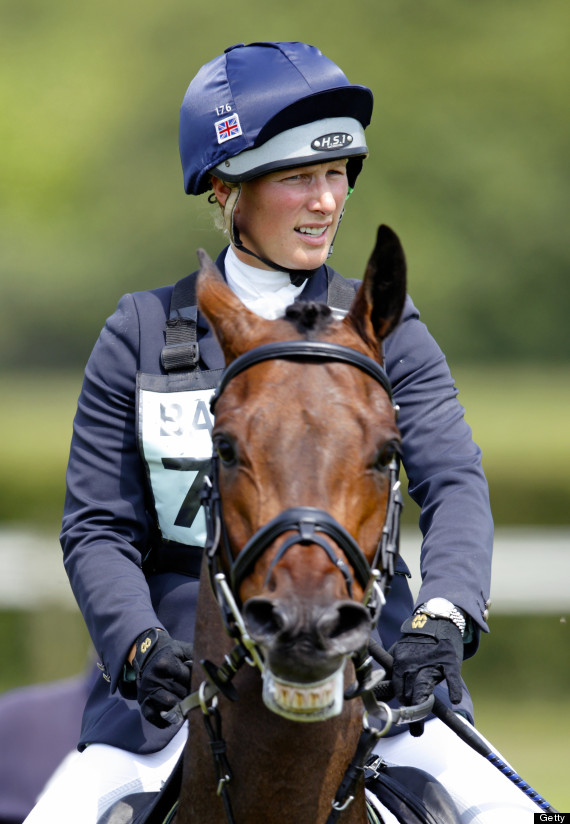 It's a high impact sport, and Bupa's website clearly states that alongside cycling or ice-skating, horse riding should be avoided after the first three months.
"Similarly, if you usually take part in contact sports, such as kickboxing, judo or football, you will need to put these on hold until after your pregnancy because there is a risk of being hit in the abdomen (tummy)."
The NHS also advises against the sport because of the risk of falling.
The National Institute For Health And Care Excellence (NICE) guideline on antenatal care states that "pregnant women should be informed of the potential dangers of certain activities during pregnancy, for example, contact sports, high-impact sports and vigorous racquet sports that may involve the risk of abdominal trauma, falls or excessive joint stress, and scuba diving, which may result in fetal birth defects and fetal decompression disease."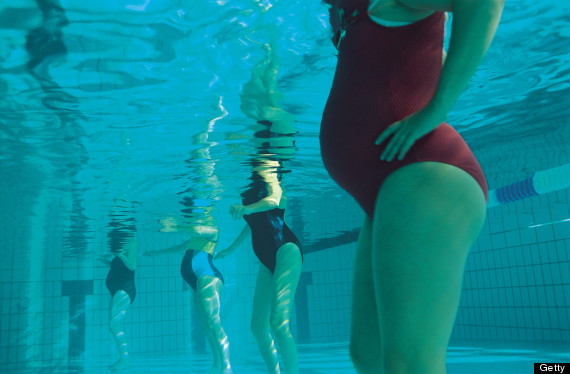 Aqua aerobics is recommended by Bupa
Zara's spokesperson added: "As you can imagine she is following all medical advice from her doctors. She is being sensible about this and is listening to what the doctors are telling her. She couldn't be happier about the baby and would never put her pregnancy in jeopardy."
Ultimately, continuing to ride is a personal choice, but if Zara does want to continue to exercise, the NHS advises pelvic floor exercises. Stomach strengthening exercises are also recommended as these help support the back. Bupa says the jury is still out on yoga and tai chi, but that swimming an aqua aerobics is fine.
FOLLOW HUFFPOST UK LIFESTYLE ON TWITTER | LIKE OUR PAGE ON FACEBOOK
Also on HuffPost:
Loading Slideshow
Superfoods For Pregnancy

Tofu Smoothie

<strong>Benefit To Baby:</strong> Healthy Growth Protein is needed to build and repair cells, and is essential to a baby's development and growth. Red meat and dairy are rich in protein, but they're also high in saturated fats. Balance your diet with fish protein (in all fish products), which also contains essential fatty acids. And don't forget vegetable protein, which includes brown rice, quinoa, chickpeas, lentils, baked beans, pumpkin seeds and cashew nuts. A great alternative protein source, tofu is low in fat and will help balance those blood sugar levels. Add to juice from pomegranate and mixed berries for a sweet drink that also packs a powerful antioxidant punch.

Sunflower Seeds

<strong>Benefit For Mother And Baby:</strong> Boost Energy Levels And Provides Nutrition To Baby Iron is vital for your baby's physical growth and brain development, and helps produce the blood required to supply nutrition to the placenta. Not enough iron, and you can feel tired and be more susceptible to infections. There's also a greater risk of premature birth and your baby having a low birth weight.

Eggs

<strong>Benefit To Baby:</strong> Brain Development Vitamin B6, also known as pyridoxine, helps your body metabolise protein, fats, and carbohydrates. It also helps form new red blood cells, antibodies, and neurotransmitters, and is vital to your baby's developing brain and nervous system.

Pumpkin

<strong>Benefit To Mother:</strong> Helps Constipation Many pregnant women suffer from constipation, which is cause by an influx of hormonal changes that play havoc with the digestive system. It To avoid discomfort and to help regulate your bowels, eating a <a href="http://www.huffingtonpost.co.uk/2011/12/29/banish-that-post-christmas-bloat-high-fibre-foods_n_1174063.html#s578333&title=Spinach" target="_hplink">rich fibre diet</a> will help get things moving, as they help absorb excess acid and gas, help to speed up digestion and empty your stomach faster. Foods like brown rice, dried figs, kidney beans and avocado are all rich sources of fibre. Pumpkins are great as they offer fibre plus it's said to act like a mild laxative.

Yoghurt And Honey

<strong>Benefit To Mother And Baby:</strong> Increases Energy Levels And Bone Building High in calcium (important during pregnancy for building your baby's bones) with a sweet kick from the honey, this treat should tide you over without making you sleepy. Dairy foods provide vitamins A and D, which are essential for bone-building and bone maintenance for you and your baby. They are also a good source of protein.

Figs

<strong>Benefit to Mother:</strong> Eases Heartburn And Water Retention Dried figs are laden with digestive enzymes, which should help you to digest your food and ease those heartburn symptoms. They're also rich in the essential mineral potassium, which helps to maintain the body's fluid balance during pregnancy, which is essential to battling swollen legs, hands and ankles.

Oily Fish

<strong>Benefit To Baby:</strong> Maintains Healthy Nervous System Omega-3 fatty acids are vital for your baby's brain and nervous system, as well as your own mental health. Foods rich in omega-3 include oily fish like fresh tuna, mackerel and sardines, although restrict your intake to twice a week, as too much fish can increase risk of pollutants. Fatty acids help brain development and work to improve its function, so as well as being nutritious, slow-releasing energy snacks, like sesame seeds, which help keep you mentally alert and working well throughout the day.

Ginger

<strong>Benefit To Mother:</strong> Alleviates Morning Sickness Ginger has long been associated with alleviating nausea and has been used as a medicine in Asian, Indian, and Arabic herbal traditions since ancient times. In China, for example, ginger has been used to help digestion and treat stomach upset, diarrhea, and nausea for more than 2,000 years. Ginger biscuits are a good food to nibble on when the nausea starts, or sip on ginger tea or suck on ginger flavoured sweets. Peppermint and mint are also great nausea-relieving agents too.

Sweet Potato

<strong>Benefit To Baby:</strong> Strengthens Bones Sweet potatoes offer a rich source of folic acid, which helps prevent neural tube defects in foetuses. It also protects your unborn baby from spinal cord problems, such as spina bifida. lentils are also a great for increasing your folic acid intake, as one cup provides 358mcg of folic acid, almost the daily requirement of 400mcg. Fruits like strawberries are a great way to get your folic acid, and even tastier if you dip them in chocolate! Scientists in Finland found that eating chocolate when pregnant resulted in happier, livelier babies, but keep your waistline in mind and be conservative when dipping.

Almonds And Apricots

<strong>Benefit To Mother:</strong> Curbs Food Cravings A handful of almonds and apricots will provide you with a sweet kick that's high in protein - this will help to curb cravings as well as keeping you feeling fuller for longer.

Parsnips

<strong>Benefit To Mother:</strong> Protects From Pre-eclampsia Parsnips are a good source of fibre and folate (the natural form of folic acid), as well as providing potassium (associated with a lowering in blood pressure) which is vital for protecting against pre-eclampsia, a condition caused by high blood pressure.