Our beauty battle this week involves two of our favourite Jessicas. As Jessica Biel has been pretty much everywhere on her Total Recall promo tour over the last few days, we had no choice but to feature her. She's up against the lovely Jessica Chastain, who was snapped at a screening of Lawless in New York on Monday.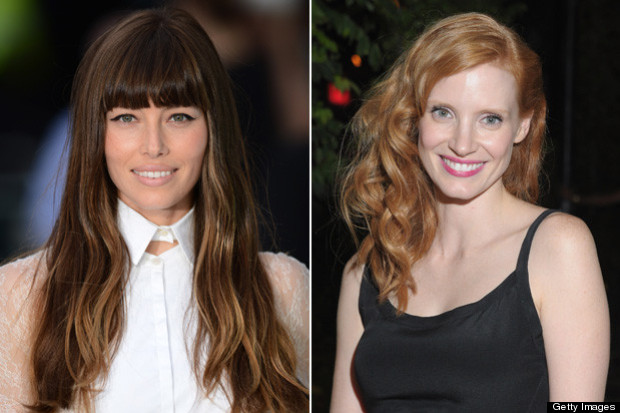 From Valli to Valentino, Biel's has been showing off her impressive, style-savvy wardrobe all week. However, we've also become obsessed with her hair. We have already declared our love for the blunt fringe, but we particularly love this look from the UK premiere last night. Her tresses were naturally tousled and a flick of eyeliner paired with the nude lip colour added a touch of 60s chic to her all-white look.
As for Chastain, she paired her colour-popping lip colour with an equally flawless complexion and perfectly glossy, side-swept curls. Simple, chic and best of all, this look is fun.
So who wins it for you this week? See what our expert beauty blogger has to say below and let us know your thoughts by voting in the poll.
Makeup mole: It's a difficult choice this week - Both Jessica Biel and Jessica Chastain look gorgeous, but in completely different ways. I think Jessica Biel wins it though as she's nailed the modern 60's look. Black matte liner that doesn't look retro, fresh skin with just the right amount of flush and a nude (but not dead-looking) mouth. Of course it doesn't hurt that she has perfect lips, either! Her blunt cut fringe is a nod to the 60's but the slight ombre tone to her hair makes it modern. In short, immaculate red carpet action.
Jessica Chastain looks beautiful as well - that bright pink lip is just lovely against her red hair, and her eyes are understated but defined with a black liner that emphasises her feline green eyes. Gorgeous skin too - pale and with the perfect amount of sheen. I think it's her hair that made this look a runner-up for me, as those curls (whilst beautiful in colour) are a bit bridesmaid in my opinion. Apart from this I love it, but Jessica Biel wins this week from me!
See more of our favourite curly hairstyles in our look book below:
SUBSCRIBE TO & FOLLOW UK STYLE