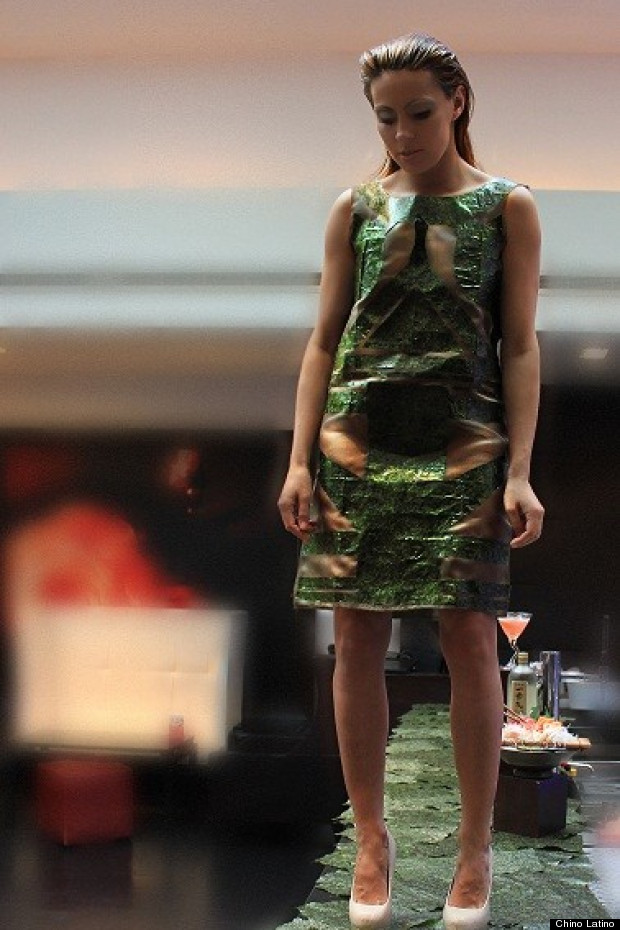 London restaurant Chino Latino has teamed up with Central Saint Martin's graduate George Nemsadze to create the ultimate fusion dish - a dress made from seaweed in honour of London Fashion .
The eyecatching shift dress is constructed from fifty sheets of bright green nori - the seaweed used in making sushi - as well as silk organza to prevent the whole thing from falling apart.
According to Nemsadze, "The beautiful sheen and colour of the nori is very Spring/Summer 2013. We saw earth and jewel tones in Spring/Summer 2012 collections which rolled on through autumn and winter and into Spring/Summer 2013 in several collections.
"Working with the nori, which is traditionally used in sushi, lent itself to a bold, graphical print as the texture of the seaweed paper permitted clean cuts."
We have the following responses:
1. Wearing the dress would make you into a real life sushi roll so that's BRILLIANT.
2. We would probably try to eat it. We ate the decorative sweets out of a Lush bath bomb once. We don't recommend it as they were really soapy. That was a bleak evening for all concerned.
You can go and see the dress on display in the lobby of Chino Latino at Park Plaza Riverbank, London 14-18 September
You know what would go well with a seaweed dress? Red lipstick, that's what:
SUBSCRIBE TO & FOLLOW UK STYLE