From velvet to foil effect polishes, British nail brand Ciate has got nail art trends covered and its caviar manicure (hundreds of tiny beads are applied to add texture to the nails) has become something of a beauty phenomenon.
Brown's Hotel in London's Mayfair is one of the first hotels to offer Ciate manicures and as a caviar nails novice, I went along to give the treatment a try.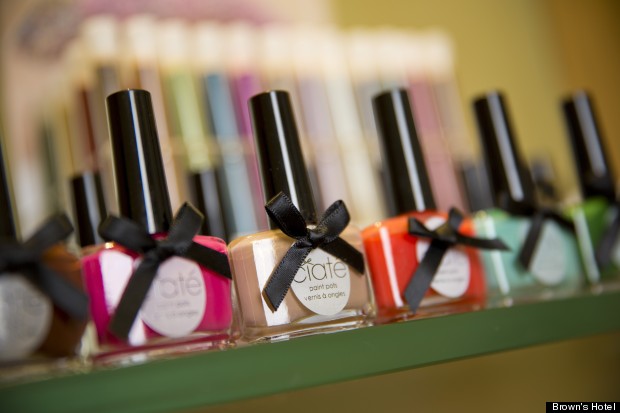 As soon as I sat down, I felt like a kid in a sweet shop. I was presented with a nail colour booklet (like a paint chart, but way more glamorous), a tray of at least 30 different nail polishes and a second tray of test tubes filled with the shiny caviar beads. After toying between neons and neutrals for far too long, I selected a dove grey colour - Pillow Fight - and began the equally exciting process of selecting the caviar beads.
Sensing that I wasn't good at making such important decisions, Shareen, my manicurist, had already started cleaning my nails with another genius invention from Ciate - chocolate scented nail polish remover. And yes, it smelt good enough to eat.
A base coat was applied, followed by two coats of Pillow Fight and a glossy top coat which to my surprise that evening, made my nails glow in the dark. As for the caviar bit - it was far more straightforward than I thought. My visions of Shareen having to apply each bead individually with tweezers were put to rest when she simply sprinkled the silver beads over the wet nail polish and left them to dry.
No matter how much I avoided doing the washing up, the beads started to fall off after a couple of days, but the base colour lasted for at least a week. The verdict? Probably the easiest nail art ever, especially when you've got an expert doing it for you.
The luxury Ciate manicure is £60 for a 60 minute treatment at Brown's Hotel. The caviar nail treatment is an additional £5 for two fingers or £10 for full hands.
MORE!
This Week You Should Try... Ombre Hair
This Week You Should Try... The Gwyneth Paltrow Detox
DIY nail art how to below:
SUBSCRIBE TO & FOLLOW UK STYLE