The president of a top arts university has penned an angry letter to Alexander McQueen's office following an advertisement for an 11 month-long unpaid internship.
Shelly Asquith, the student union president of the University of the Arts London, where McQueen studied, wrote to the late designer's head office accusing the label of "using and abusing" fashion students.
One of the fashion house's studio managers in East London had sent an email to various fashion and design institutions saying they were in "urgent" need of a "talented knitwear student" after their current intern had suddenly left.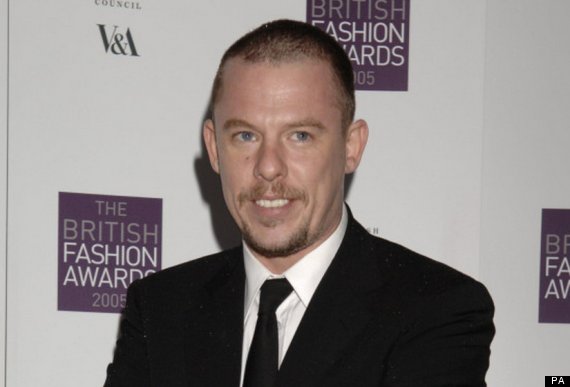 The late Alexander McQueen, who was brought up in a council house in East London
The internship consisted of a six to 11 month-long placement, working nine and a half hour days, five days a week. Candidates were ambiguously told "flexibility is necessary" and travel expenses would be paid, plus a meagre £60 a month in lunch vouchers - which equates to £3 a day.
The fashion giant has since apologised, telling the Huffington Post UK the advertisement was an "error" and not in accordance with its "strict policy" of accepting interns.
As Asquith points out in her letter (which can be read in full at the bottom of this article), a twill-woven jacket in McQueen's latest collection costs £8,930. The fashion student tells the company: "It is a bitter irony that this is almost as much as the amount of fees a student who may have made it is paying in course fees each year. No amount of luxury is worth the slaving away of an unpaid worker.
"That students are spending months creating these pieces of clothing and not seeing any return is downright disgraceful and the label should be ashamed."
A concerned member of staff in one of the universities' career service departments passed the email on to Intern Aware, a group campaigning for fair, paid internships.
Gus Baker, co-director of the organisation, told HuffPost UK: "Unpaid internships are unfair and exclude those who can't afford to work for free. Fashion should be about creativity and expression, and those qualities aren't confined to those whose parents can support them during long periods of unpaid work in places like McQueen. If designers want to get the best quality candidates, and not breach National Minimum Wage law, then they must pay their interns."
Asquith said she chose to write to McQueen "because I keep an eye on opportunities that are design-related as those are the ones our students want us [the union] to promote".
"I found this of particular concern because of the length of time the company is asking someone to work unpaid for. Usually internships are for a couple of weeks or months, which is still illegal of course - but 11 months is extortionate.
"They are also not even offering lunch expenses, but a 'meal voucher', which is just so stingy coming from a high-end fashion label."
Coincidentally, McQueen, who was raised in a council house in Lewisham, was an alumnus of the University of the Arts London.
"The connection made me feel more impassioned to write something," Asquith continued. "He was from a similar background to me and many of our students, who simply cannot afford to do unpaid internships."

"I do think there is an end in sight for unpaid internships, but it relies on organisations like Intern Aware, activists and those who've been exploited exposing the practise, and pushing for the law to be enforced."
A spokesperson for McQueen told HuffPost UK: "The advertisement in question was issued in error and was not in accordance with our HR policy, for which we apologise.
"In line with UK government guidance, Alexander McQueen has a strict policy of only accepting interns where the student is required to complete a placement as part of their higher or further education studies."
Dear McQueen,

I am writing to you with concern regarding the unpaid work placement you recently advertised for unpaid student workers in your knitwear department.


As if studying for a degree in arts and design wasn't a financial burden enough, your email requests students to work for free for up to 11 months in your studio, and all they will receive in return is a meal voucher.


For anyone like myself – with a household income far below the level of debt I rack up each year – it is a daunting prospect to be graduating at a time of mass unemployment and limited investment in the arts. Besides the tens of thousands of pounds worth of debt students are ordinarily graduating with, any creative subject requires a large amount of investment. Students at my college - Central Saint Martins - spend up to thousands of pounds on their final collections and material costs throughout the academic year. Many of them have to work part time to fund their studies. But it is now the very commonplace unpaid internship that has become the latest financial barrier to making it in the fashion world, leaving those from less affluent backgrounds without the ability to break in to the industry.


In your latest collection, a twill-woven jacket costs £8,930. It is a bitter irony that this is almost as much as the amount of fees a student who may have made it is paying in course fees each year. No amount of luxury is worth the slaving away of an unpaid worker. That students are spending months creating these pieces of clothing and not seeing any return is downright disgraceful and the label should be ashamed.


I was shocked when I first learned just how prolific the practise of taking on unpaid interns was in fashion. Big name designers such as yours use and abuse fashion students to pattern, fasten, cut and sew in to the early hours and in some cases even use their original designs uncredited.


The attitude of some is that this is 'just the way it is', but it does not have to be. Students gaining work experience is one thing, but where any person is carrying out work integral to the running of an organisation, they must be paid at least the National Minimum Wage - anything less is a breach of the law. Your advertisement requests a student worker to be 'knitting on a domestic machine and making knitted samples, as well as research, CAD, presentation and organising of the collection.' This clearly meets the definition of 'work'. And it is not as if most labels do not have the money. Fashion contributes £21 billion to the UK economy, and with a revenue of over £40 million, McQueen can certainly afford to pay its staff. After much pressure from InternAware, Stella McCartney, a brand from the same business family last year signed up to pay their interns; clearly your brand is behind on this trend.


Alexander McQueen studied at my own college; he too was from a working class family and broke in to the industry after years as a paid apprentice on Savile Row before enrolling on MA Fashion. He worked hard and was paid for it. Considering his background it is unlikely McQueen would ever have been able to pay his way without a wage - his father was a cab driver and unlikely to have provided him with a trust fund. In fact, in his will the designer asked for part of his fortune to be granted to some of our most hard-up students at CSM. McQueen recognised the financial barriers that exist to make it in the industry: it is a great shame his legacy label is exacerbating them.


University of the Arts London Students' Union
SUBSCRIBE AND FOLLOW
Get top stories and blog posts emailed to me each day. Newsletters may offer personalized content or advertisements.
Learn more