Women For Women International have asked some of the greatest minds and talents in the world to tell them about the food they simply cannot do without.
The recipes come from all types of personalities - including Nelson Mandela, Judi Dench, Christiane Amanpour and Annie Lennox - to highlight one very important cause: celebrating the work of the charity that helps women in war-torn countries.
100% of the profits go directly to help women in need.
With a foreword by Meryl Streep, the recipes in the Share cookbook are varied (great for vegetarians and carnivores alike) and aren't overly fussy.
So, how does Judi make her bread and butter pudding? Read on for three very different recipes:
NELSON MANDELA'S CARANGUEJO RECHEADO (STUFFED CRAB)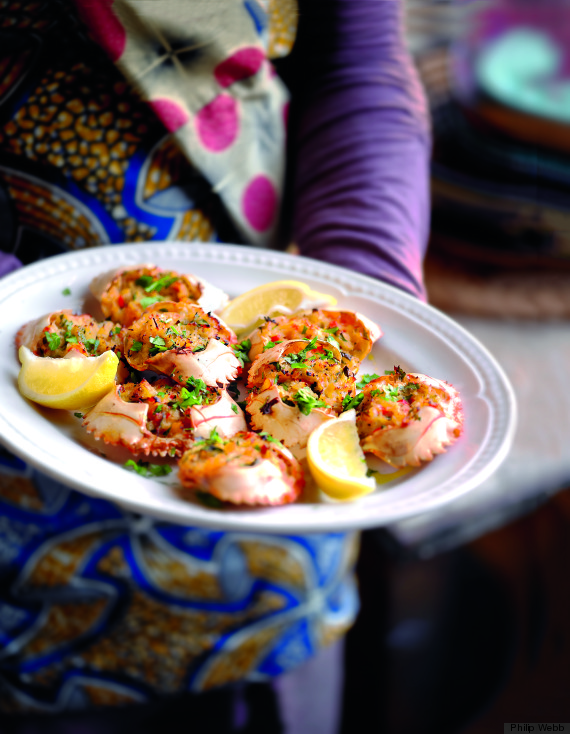 This recipe, one of Nelson Mandela's favourites, was created for him by his chef in Maputo, Esmenia Rafael Gemo.
Preparation: 15 minutes
Cook: 20 minutes
Serves: 4
2kg small crabs, cleaned and steamed
4 slices white bread
1–2 tablespoons of milk (or enough to soak the bread)
2 medium onions, finely chopped
2 tablespoons olive oil
2 garlic cloves, crushed
2 large red chillies (melegueta), finely chopped
1 bay leaf
1 tablespoon lemon juice
2 tablespoons grated Parmesan cheese
1 egg, separated
1 tablespoon finely chopped parsley
Preheat the oven to 140C/gas mark 1. Take the crab meat from inside the shells and cut it into small pieces. Retain the crab shells, as you are going to stuff them.
Soak the bread in the milk.
In a pan, saute the onions over a low heat in the olive oil until soft and then add the garlic, chillies and bay leaf. Increase the heat and add the crab meat and lemon juice and mix well. Remove the bread from the milk and add it to the crab mixture. Once everything is well combined, add the grated cheese and remove the mixture from the heat. Take the mixture from the pan and let it cool. When it is cool, add the egg white and the chopped parsley.
Put the crab mixture into the reserved crab shells and brush with the egg yolk. Place the stuffed crabs in the oven for 15 minutes. Serve hot.
LIVIA FIRTH'S PASTA WITH BROCCOLI, CHILLI AND GARLIC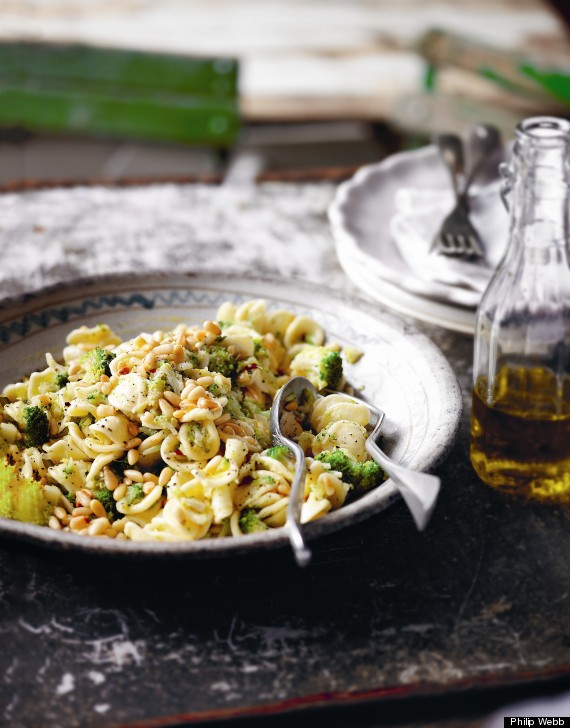 She says: "I love this pasta recipe as it is incredibly easy, fresh and super-healthy. It's perfect for vegetarians, and can easily be varied for non-veggies by substituting the pine nuts with anchovies or by playing with more fresh ingredients as you go along."
Preparation: 5 minutes
Cook: 10 minutes
Serves: 4
2 broccoli heads, cut into florets
100ml extra virgin olive oil, plus 4 tablespoons to serve
5–6 garlic cloves, thinly sliced
1 teaspoon chilli flakes
500g dried orecchiette (or pasta of your choice)
50g pine nuts, toasted
handful of fresh basil leaves
60g Parmesan cheese, grated or shaved
salt and freshly ground black pepper
Bring a large pan of salted water to the boil, add the broccoli and simmer for 3–5 minutes or until tender.
Meanwhile, heat the olive oil in a separate pan and gently cook the garlic and chilli for 2–3 minutes or until the garlic is golden brown. When the broccoli florets are tender, scoop them out of the water with a slotted spoon and add to the pan with the garlic and chilli along with 120ml of the broccoli cooking water, reserving the remaining water. Using the back of a fork, crush the broccoli with the garlic to form a coarse purée.
Return the pan containing the broccoli cooking water to the heat and bring to the boil. Add the pasta and cook according to the packet instructions until al dente. Drain thoroughly and tip into a large serving bowl.
Top with the broccoli purée and drizzle over the additional olive oil. Scatter with the toasted pine nuts and basil leaves. Toss until evenly distributed. Season with freshly ground black pepper and serve with grated or shaved Parmesan cheese.

DAME JUDI DENCH'S BREAD AND BUTTER PUDDING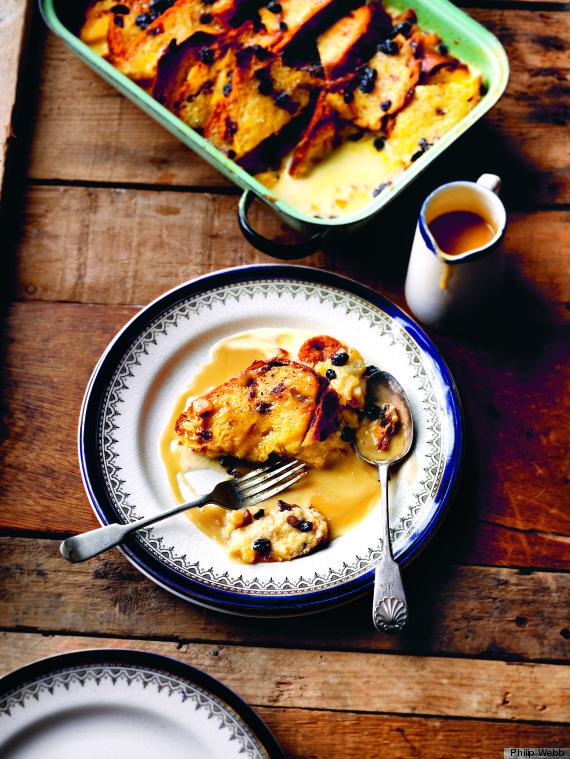 Dame Judi Dench says: "This is delicious and provides the perfect solution for what to do with those Italian cakes you get given at Christmas!

Preparation: 10 minutes
Cook: 40 minutes
Serves: 6–12, depending on portion size!
500g panettone
50g butter, softened, plus extra for greasing
10g candied lemon or orange peel, finely chopped
25g currants or raisins
350ml milk
175ml double cream
grated zest of ½ lemon
50g caster sugar
3 eggs, beaten
grated nutmeg, to taste
Preheat the oven to 180C/gas mark 4. Grease a 1-litre rectangular enamel baking dish.
Slice the panettone into 1½ –2cm slices and butter each slice. Cut the buttered slices into quarters and arrange over the base of the dish to cover. Sprinkle with the candied peel and half the currants or raisins. Arrange another layer of panettone in the dish and sprinkle with the remaining currants or raisins.
Pour the milk and cream into a measuring jug. Stir in the lemon zest and sugar, then add the beaten eggs and stir to combine.
Pour the milk, cream and egg mixture over the panettone. Sprinkle with freshly grated nutmeg. Bake in the oven for 30–40 minutes until just set and browned on top and serve warm. This is especially good with Butterscotch sauce (see below).
Butterscotch sauce
75g light muscovado sugar
150ml double cream
50g butter
Place the sugar in a pan over a medium heat and add 1 tablespoon water.
Heat, stirring, until the sugar has dissolved, then bring to the boil and cook for 5–7 minutes, or until you have a dark caramel.
Whisk in the cream, then the butter. Serve drizzled over the bread and butter pudding (above) with a scoop of cream or ice cream.


Buy Share online here.
Also on HuffPost:
Loading Slideshow
Don't Cook On High

This is very important. Scramble your <a href="http://www.finecooking.com/articles/how-to-make-scrambled-eggs.aspx" target="_blank">eggs on low heat</a>. Sure, it might take longer for them to cook, but it reduces the risk of browning and overcooking. It also gives you more control over the consistency.

Don't Overcook

The trick with scrambled eggs is to know when to take them off the heat. They will continue to cook with residual heat which can dry them out. Take them off the heat when they <a href="http://www.finecooking.com/articles/how-to-make-scrambled-eggs.aspx?pg=0" target="_blank">still look wet</a>, but not runny. If you follow one tip, let it be this one -- it makes all the difference.

Don't Use Old Eggs

Not only do eggs taste best the first week, but they also have porous shells and can easily <a href="http://www.finecooking.com/articles/how-to-make-scrambled-eggs.aspx" target="_blank">absorb odor and lose moisture</a>. The less time they spend in your fridge, the better.

Don't Forget To Stir

For the creamiest eggs, you'll want to stir often. As you stir, you'll <a href="http://www.finecooking.com/articles/how-to-make-scrambled-eggs.aspx" target="_blank">break down the egg curds</a> that are forming making them smaller and softer.

Don't Whip Eggs Too Early

Whisk your eggs just before you plan on adding them to the pan -- and whisk them vigorously. Whisking not only scrambles eggs, but it adds <a href="http://www.bonappetit.com/blogsandforums/blogs/badaily/2011/10/scrambled-eggs-five-things-you.html" target="_blank">air and volume for fluffy eggs</a>.

Don't Add Liquid

We don't care how many years you've been adding milk, cream or water to your eggs, it stops today. Despite whatever type of logic you've attributed to this addition, the truth is that eggs and added liquid will separate during cooking which <a href="http://www.bonappetit.com/blogsandforums/blogs/badaily/2011/10/scrambled-eggs-five-things-you.html" target="_blank">creates wet, overcooked eggs</a>.

Don't Use The Wrong Skillet

Use the <a href="http://live.gourmet.com/2012/01/five-tips-for-egg-cellent-scrambled-eggs/" target="_blank">right size skillet</a> for how many eggs you're cooking. You don't want to use a huge pan for just a couple of eggs or a small pan loaded up with tons of eggs. Generally, an 8 inch skillet works for two eggs -- and so on.

Don't Stop Whisking Too Early

We don't care how tired your arm gets, keep whisking until the eggs are <a href="http://www.dailymail.co.uk/femail/food/article-2198878/Tips-crafty-cook-How-make-perfect-scrambled-eggs.html" target="_blank">completely homogenous</a>.

Don't Season Eggs Early

According to <a href="http://www.noobcook.com/perfect-scrambled-eggs/" target="_blank">Gordon Ramsay</a>, it's best to season your eggs right at the end of cooking. If you season too early the salt can break down the eggs and they can turn watery.