Ricky Gervais is reportedly planning on bringing his most beloved character, David Brent, to the big screen.
In an interview with The Hollywood Reporter, Gervais said his recent revival of his 'The Office' character in web series 'Learn Guitar With David Brent' will be the basis for a film about Brent trying to make it in the music industry.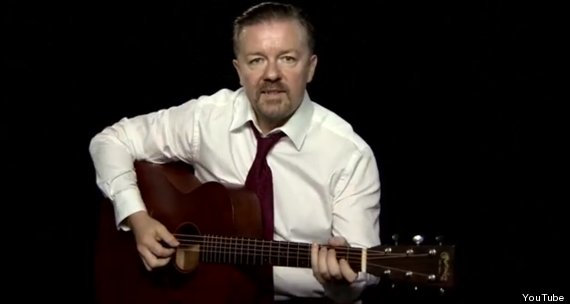 Ricky Gervais as David Brent
The series began as a stunt for charity and will also see him play high-profile charity gigs at the end of this year.
Gervais' current Hollywood projects include his role in 'The Muppets Most Wanted', which comes to UK cinemas in Spring 2014.
The British star plays the dastardly sidekick of Muppet Constantine, the world's number one criminal.
Are you excited about the possibility of a David Brent film? Let us know in the comments below.
10 British Comedians In Hollywood
Clearly Hollywood's idea of the consummate, sexy British rogue, Brand has gone from St Trinian's to modern-day Arthur - via Forgetting Sarah Marshall and Get Him to the Greek.

We tip our hats to Nick Frost, too, of course, but it's Pegg that's really broken out - with roles in the Mission: Impossible - Ghost Protocol and Star Trek, and leading man status in How to Lose Friends & Alienate People.

We first knew him as Staines 'gangsta' Ali G - but now he's Borat, Bruno, The Dictator and the voice of Julien the lemur in Madagascar.

Hollywood loves Monty Python, of course - but with Bond films, Harry Potter movies and A Fish Called Wanda under his belt, Cleese is the Brit who really carved his own Stateside film career.

He broke through with Hollywood hits Night At The Museum and Tropic Thunder, but obviously both of those will be mere blips compared to the film we're really waiting for: Alan Partridge: The Movie. Aha!

No sooner had Wernham Hogg become Dunder Mifflin than the former The 11 O'Clock Show star had written, directed and starred in Cemetery Junction and The Invention Of Lying, bagged a role in Night At The Museum 2 and hosted the Golden Globes.

Gervais's right-hand man and West Country boy done good, Merchant seems to be carving himself a niche as the Obligatory Weird And/Or British Friend (as seen in the Farrelly Brothers comedy Hall Pass and romcom I Give It A Year).

To us, he may always be Blackadder, but to Hollywood, he's the rubberfaced money machine that is Johnny English and Mr Bean. Not forgetting Dexter Hayman in Hot Shots! Part Deux, of course.

His Hollywood breakthrough may have only just happened, but given that Bridesmaids was one of the biggest comedy hits in box office history, we somehow think that Lucas - who also starred in Tim Burton's Alice In Wonderland - has many more big screen roles ahead of him.

OK, so '10' is a whole cast (and crew). But this list wouldn't be complete without The Inbetweeners, who made the most successful British comedy movie in history, grossing over $45m from a film which cost just $3.5m to make. And if it's one thing Hollywood loves, it's that kind of math(s).