It's Kermit, but not as we know him.
'The Muppets Most Wanted' is one of movie-land's most anticipated, and now we have a new teaser trailer to whet our appetites, but something's distinctly amiss.
Because the little green felt fellow with Ricky Gervais below isn't actually our most beloved frog after all, whose biggest challenge is keeping the rest of his Muppet flock in order. It's actually Constantine, the world's number one criminal. And Ricky Gervais is his dastardly sidekick Dominic.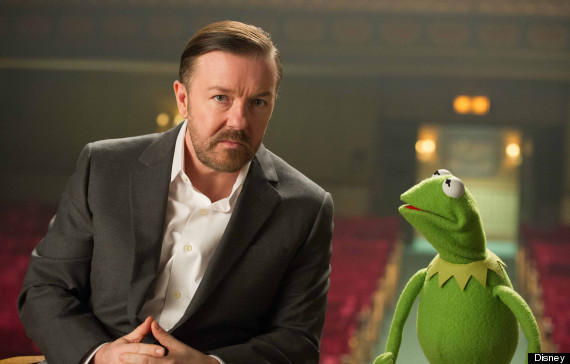 Ricky Gervais with... Constantine, NOT Kermit.
We've seen the Muppets in all sorts of perilous situations, on the high seas, trying to make it on Hollywood Boulevard. But 'Muppets Most Wanted' surely sees them at their most challenged. This time around, their international tour finds them feted from Berlin to London, but finds them unwittingly involved in an international crime caper, headed by Constantine. Confusion will surely reign.
The film also stars Tina Fey as Nadya, a feisty prison guard, and Ty Burrell as Interpol agent Jean Pierre Napoleon.
'The Muppets Most Wanted' comes to UK cinemas in Spring 2014. More new images below...