It's been two months since Kim Kardashian and Kanye West welcomed daughter North West and we haven't even had the sneakiest peek of her - until now that is!
The tot has finally been introduced to the world after Kanye appear on Kim's mum Kris Jenner's chat show, where he showed us the first picture of her.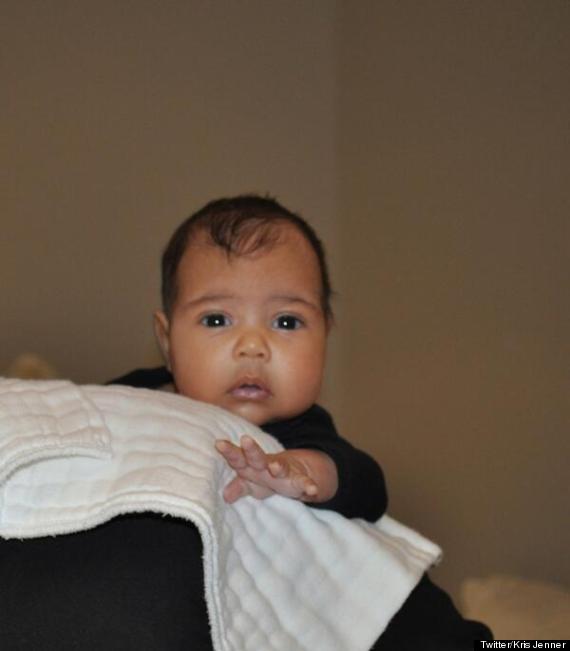 Proud grandmother Kris later tweeted a higher quality version of the snap for us all to coo over.
"Meet North West. #WatchKris," she tweeted.
Altogether now, n'aaawwww.
66 Silly Celebrity Baby Names
Katie Price's daughter.

Mariah Carey and Nick Cannon's twins.

Slash's sons.

Gwyneth Paltrow and Chris Martin's daughter.

Rachel Griffiths' son.

Jason Lee's son.

Beyonce and Jay-Z's daughter.

Gwen Stefani and Gavin Rossdale's son.

Bob Geldof and Paula Yates's daughters.

Paula Yates and Michael Hutchence's daughter.

Peaches Geldof's sons (yes, it runs in the family).

Forest Whitaker and Keisha Nash's children.

Bono and Ali Hewson's daughter.

Not to be outdone: The Edge's daughter.

Kevin Smith's daughter.

Robert Rodriguez's sons (we'll allow the daughter's name, Rhiannon).

Matt Bellamy and Kate Hudson's son.

Courtney Cox and David Arquette's clown daughter.

Steven Spielberg's daughter.

Nick Lachey's son.

Actress Shannyn Sossamon's son.

David Duchovny and Tea Leoni's son. We see what they did there.

Footballer Tommy Williams and Nicola McLean's son.

Brue Willis and Demi Moore's daughters.

Kourtney Kardashian and Scott Disick's daughter.

Song of Korn lead singer Jonathan Davis.

Geri Halliwell's daughter.

Erykah Badu's son and daughters.

Barbara Hershey's son (who then changed his name to Tom when he was nine).

Jamie and Jools Oliver's son and daughters.

Ashlee Simpson and Pete Wentz's son.

Toni Braxton's sons.

Frank Zappa's son and daughters.

Jermaine Jackson's son.

Penn Jilette's daughter.

David and Victoria Beckham's sons and daughter.

Sean Penn and Robin Wright's son.

Alec Baldwin and Kim Basinger's daughter.

Ryan Giggs and Stacey Cooke's daughter.

John Cougar Mellencamp's son.

Brad Pitt and Angelina Jolie's daughter.

Michael Jackson's third child (also known as 'Blanket', because Prince Michael II just isn't silly enough).