Google's Asus-built 2013 Nexus 7 is an HD upgrade to the popular 2012 seven-inch tablet. It is available from Google Play and other retailers starting from £199.
The Pitch:
"Now thinner, lighter, and faster -- Nexus 7 brings you the perfect mix of power and portability and features the world's sharpest 7" tablet screen."
Key Features:
1920 x 1200 IPS screen
Snapdragon S4 Quad-Core 1.Ghx processor
2GB Ram
16GB or 32GB of storage (no SD)
Five megapixel rear camera
Android 4.3 operating system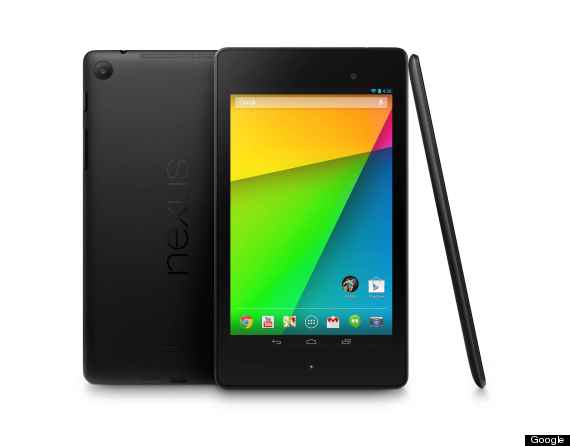 Verdict:
Google's new Nexus 7 is an upgrade in virtually every respect over the 2012 version: it's lighter, thinner, faster, has a great screen and a camera. It's just brilliant value, and if you're in the market for a seven-inch Android device it's a must-buy.
The screen, in particular, is fantastic. It's bright, colourful and at 323ppi the sharpest display available on any tablet - twice the ppi of the iPad Mini. Reading on the new Nexus is particularly great, and still very readable at lower brightness levels. Likewise the sound on the new tablet is much improved over the older one, with new Fraunhofer drivers and better volume from the headphones compared to the 2012 machine.
It's not all great though. For one, the camera is a disappointment. It has a weedy 5-megapixel sensor, with quite poor low-light performance, and produces grainy images. You're not really going to use it very often, but it's an undeniable weakness. Likewise the 3,950 mAh battery is a downgrade over the older machine, since the higher-grade components draw more power. You'll get about nine hours use, which isn't tremendous.
Needless to say the stock version of Android 4.3 performs very well on a seven-inch screen, and lets you do everything that you want to on a mobile device (even if it does lack some of iOS's finesse). Then there's the price - £199 for 16GB and £239 for 32GB. That's unmatchable value. It really is a steal - though if value0 is an issue, you can go cheaper with the £130 Asus MeMO Pad HD 7. Above: the new Nexus 7 (left) versus the old one (right)

The main problem, however, is that we still can't quite figure out when we're supposed to be using it.
Until the (much more expensive) 4G Nexus 7 from O2 arrives later this autumn, the Nexus 7 is still a WiFi-only tablet. And that really makes a crucial difference when the Android tablet ecosystem still lacks so many of the truly killer offline apps available on iOS.
Almost everything you might do offline - writing, drawing, playing games, editing video, messing around with music apps and generally getting work done - is still more difficult on Android. Without Paper by 53, X-Com or IA Writer (all creme-de-la-creme iOS apps), spending a lot of time offline with the Nexus 7 is comparitively less attractive.
Online, it's a different story. The getting-stuff-done side of Android on a seven-inch screen is excellent - and with a screen this good, and with this much space for genuinely useful widgets and news tickers, using the Nexus 7 as an email and reading device on-the-go is ideal. Except given it's WiFi only, you won't be using it as your default device on the move over your phone. And though the 4G version is coming, at £320 it's more expensive than an iPad Mini, which is a better offline device.
What we're saying is that you'll love the Nexus so much you'll want to carry it everywhere you go - but if you're already living a gadget-rich life, you might not use it as much as you'd think.
Make no mistake, though, we love the new Nexus. It's not up there with the iPad Mini in terms of hardware design or apps, but on value and screen quality it's way ahead over anything Apple, Samsung - or even Asus itself - can offer.

Loading Slideshow
iPad Air

The new iPad Air from Apple is an incredible new upgrade to the tablet you know and love. It's far lighter and thinner, has an upgraded processor, <a href="http://www.huffingtonpost.co.uk/2013/11/05/ipad-air-review-4g_n_4217913.html?utm_hp_ref=uk-tech" target="_blank">and in our review we called it nothing short of a "masterpiece"</a>. If you have more than £399 to spend on a tablet, spend it on this.

Google Nexus 7 (2013)

The new Nexus 7 has a higher resolution display (at 323 pixels per inch), a quad-core Snapdragon S4 processor and a thinner bezel on both sides of the screen. It's also the first device to run the new version of Android, 4.3 Jelly Bean, and a 5-megapixel screen at the same bargain-basement price.

iPad Mini With Retina Display

At £319, the iPad Mini with Retina display isn't cheap. But on the other hand, it has the same screen resolution, processor and other internals as the larger iPad Air, but it's also smaller, lighter and cheaper by £80. It's a stunning tablet, and though it's pricier than other 7-inch devices it's got the benefit of Apple's amazing apps selection.

Samsung Note 8.0

<a href="http://gdgt.com/samsung/galaxy/note/8-0/">The Samsung Note 8.0</a> is faintly ridiculous, in that it's technically a phone, and can be used as such when bought in the UK, but you'll look absolutely ridiculous if you try that in public. On the other hand, it's also a quite beautiful and cost-effective device, with a sharp screen, a good processor, a nice suite of S-Pen enabled drawing and note-taking apps. Yes, it's more expensive than an iPad Mini - and it also suffers on battery life. But for the right customer, it's a good choice.

Kindle Fire HDX

The new Kindle Fire HDX tablet comes in both a 7- and 8.9 inch version, and both are tasty upgrades. The 7-inch has a 1920 x 1200 display, a quad-core processor, LTE, all the Amazon services you'd expect plus a new 'Mayday' support service for new users. It starts at £199. The 8.9-inch is pricer at £329, but has an even more impressive 2560x1600 display - and still comes in lighter than an iPad Air.

Nexus 10

The<a href="http://gdgt.com/samsung/nexus/10/" target="_blank"> Samsung-built Nexus 10</a> has an excellent display, runs the latest version of stock Android (which has never been better for tablets) and is less expensive than the iPad - while also being quite a bit lighter. With Google Play's ever improving list of tablet-enabled apps and the availability of many options for watching and consuming media, there is nothing you want to do on a tablet you can't do with this. That said, it suffers from a less-developed app ecosystem, and the design of the machine is far clunkier than you might hope with a thick bezel being a noticeable downside.

Microsoft Surface Pro 2

Microsoft's new Surface Pro runs a full version of Windows 8.1, has an improved kickstand and an excellent display and can do pretty much everything your tablet AND your laptop can do. You're going to pay for it - the device is £719 and up, plus the great keyboard cover is not included in the price. It's also heavy and there's no LTE option. But it's a lovely piece of kit for the right user.

Tesco Hudl

Tesco's Hudl tablet is a budget affair, but it looks as though in terms of the fundamentals - particularly media playback - it's not a terrible choice. <a href="http://www.engadget.com/2013/10/27/tesco-hudl-review/">In a recent review Engadget said</a>: "Despite all of its failings, this meagre slate became our go-to piece of hardware for responding to emails and browsing Twitter. We had it playing movies on Netflix while we worked, and we rocked out to a playlist while cooking dinner. While its original purpose was to coax technophobes into the future, the Hudl is easy to use and, dare we say it, charming."