Harry Styles shows no sign of stopping with his tattoo obsession, unveiling the latest addition to his rapidly growing collection of body art - a giant rose on his left arm.
The One Direction singer had his latest bit of ink work done while in LA on a two-week break from the band, and can be seen showing off the design - which sits beneath his ship tattoo - in a new picture.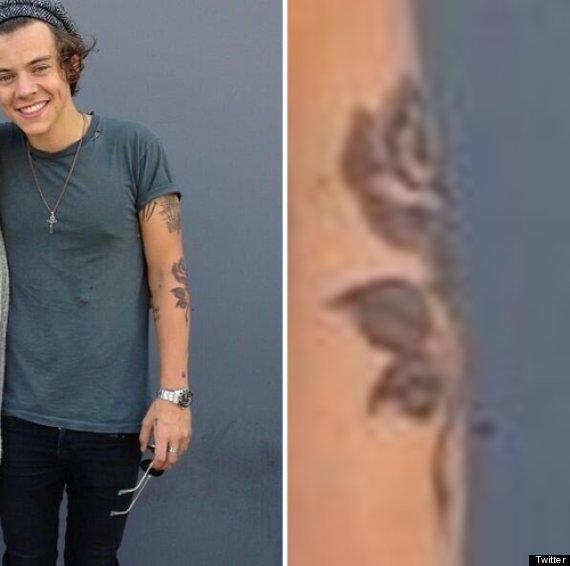 Harry Styles' new tattoo
Harry's latest inking comes despite the fact he has admitted to regretting some of his previous ones.
He described some of them as 'awful' in an interview with We Love Pop magazine last month.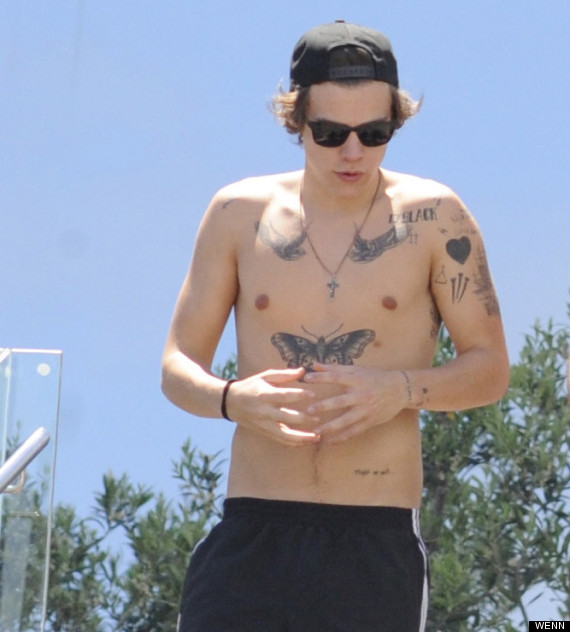 Harry has a large collection of tattoos
"There are some that my friends have done and some that are just awful," he said.
"I regret this one on my wrist here," he added, pointing out a design on his wrist, done by pal Ed Sheeran.
"I regret this. I mean, these are just cr*p!"
Harry is thought to have over 40 (visible) tattoos, including a giant butterfly on his stomach and two swallows on his chest.
Whose Tat Is That? One Direction Special!
Just in case they forget what they do for a living (well, for next year or two at least...), one of the boys got a tattoo of a microphone on their arm. But which one?

Zayn Malik!

Ah, the classic star... but which 1D star does it belong to?

Harry Styles!

One of the band opted for arrows going up his arm, presumably to help with, y'know, pointing at things. But who?

Liam Payne!

'Be true to who you are' says one of One Direction's Arabic neck tattoos...

Zayn Malik!

Presumably copied from a scribble left on his school exercise book, this skateboarding stick man is permanently etched onto the arm of...

Louis Tomlinson!

ZAP! and various other in-jokes adorn the forearm of One Directioner. Yup, it's...

Zayn Malik! (again)

Aw, a pretty bird. But who does it belong to?

Louis Tomlinson!

Ignore the third nipple for a second. We want to know who this theatre faces / bird cage combo belongs to.

Yup, it's: Harry Styles!

Fingers crossed - presumably that the hits keep coming. But whose lucky charm is this?

Zayn Malik, of course!

On the other hand, one of boys are currently tattoo-less, as demonstrated by this baby smooth chin and neck. So, who is the true rebel of One Direction who refuses to get inked...?

Yup. It's Niall Horan.