Let's talk about sex, baby - the good, the bad and the plain ugly. Actually, there isn't a lot of good in there.
From ferret sex to semen ink, you'll soon see what we mean.
And... if anyone spies you reading this article from over your shoulder, just say you are revising for a pub quiz.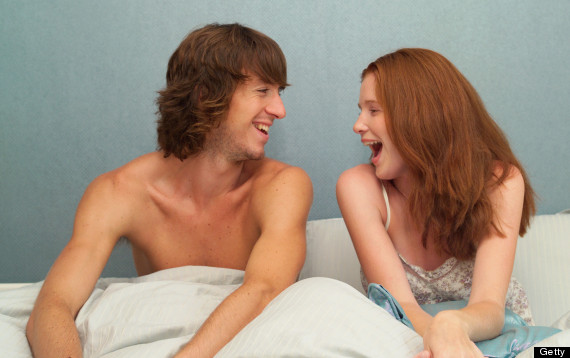 Here are 17 sex facts you'll wish you never heard...
1. One in ten European babies is conceived in an IKEA bed.
2. Alfred Kinsey, author of Sexual Behavior in the Human Male (1948), had a collection of 5 million wasps and could insert a toothbrush into his penis, bristle-end first.
3. British spies stopped using semen as invisible ink because it began to smell if it wasn't fresh.
4. A single sperm contains 37.5 MB of DNA information. One ejaculation represents a data transfer of 15,875 GB, equivalent to the combined capacity of 62 MacBook Pro laptops.
5. Male fruitflies rejected by females drink significantly more alcohol than those that have had a successful encounter.
6. A female ferret will die if she doesn't have sex for a year.
7. Seven Viagra tablets are sold every second.
8. The German for "contraceptive" is Schwangerschaftsverhütungsmittel. By the time you've finished saying it, it's too late.
9. The American Psychiatric Association listed homosexuality as a mental illness until 1973.
10. The best-selling work of fiction of the 15th century was "The Tale of the Two Lovers," an erotic novel by the man who later became Pope Pius II.
11. A single human male produces enough sperm in two weeks to impregnate every fertile woman on the planet.
12. In 2008, archaeologists in Cyprus found a 7th-century curse inscribed on a lead tablet that said, "May your penis hurt when you make love." Nobody knows who made the curse, or why.
13. The founder of match.com, Gary Kremen, lost his girlfriend to a man she met on match.com.
14. Gymnophoria is the sense that someone is mentally undressing you.
15. A female chimpanzee in a fit of passion has the strength of six men.
16. At the 2012 London Olympics, which lasted for 17 days, the athletes were provided with 150,000 free condoms- approximately 15 each.
17. The "G-spot" was nearly called the Whipple Tickle- after Professor Beverley Whipple, who coined the expression that we know today.
List was originally published on HuffPost Books and taken from "1,227 Quite Interesting Facts" [W.W. Norton, $15.95], a collection of difficult to believe yet entirely true miscellanea, assembled by the creators of quiz show "QI."

Loading Slideshow
Helps You Sleep

A little pleasure may go a long way towards a good night's rest. A recent survey of 1,800 women found that over 30 percent of them used sexual release as a natural sedative.

Keeps Your Blood Flowing

According to Dr. Jennifer Berman, co-founder of the Female Sexual Medicine Center at UCLA, orgasms increase your circulation, keeping the blood flowing to your genital area. This in turn keeps your tissue healthy!

It's A Form Of Cardio

Although it can't be considered an alternative to daily exercise, having an orgasm is a cardiovascular activity. "Your heart rate increases, blood pressure increases [and your] respiratory rate increases," says Berman. And because it's akin to running in many physiological respects, your body also releases endorphins. Sounds like a pretty fun way to work your heart out.

Lifts Your Mood

Feeling down in the dumps? An orgasm might be just what you need to pick yourself up. In addition to endorphins, dopamine and oxytocin are also released during orgasm. All three of these hormones have what Berman terms "mood-enhancing effects." In fact, dopamine is the same hormone that's released when individuals use drugs such as cocaine -- or eat something really delicious.

Keeps Your Brain Healthy

Having an orgasm not only works out your heart, but also your head. Barry Komisaruk, Ph.D. <a href="http://www.cosmopolitan.com/sex-love/tips-moves/orgasm-news" target="_hplink">told <em>Cosmopolitan</em></a> that orgasms actually nourish the brain with oxygen. "Functional MRI images show that women's brains utilize much more oxygen during orgasm than usual," Komisaruk says.

It's A Natural Painkiller

One thing that Victorian practitioners may have been onto is that orgasms can work to soothe certain aches and pains -- namely migraines and menstrual cramps. (So now you know what to do next time you have a headache if you don't feel like popping an Excedrin.) According to Berman, the contractions that make up an orgasm can actually work to evacuate blood clots during your period, providing some temporary relief.

It Relieves Stress

Most of our lives are so hectic that it's hard to even imagine being relaxed. However, it turns out that <em>sexual</em> release can double as <em>stress</em> relief. Not only do the hormones help with this task, Berman says that being sexual also gives our minds a break: "When we're stressed out and overextending ourselves, [we're] not being in the moment. Being sexual requires us to focus on one thing only."

Gives You A Healthy Glow

There actually might be something to the idea that we "glow" after sex. The hormone DHEA (dehydroepiandrosterone), which shows <a href="http://www.ivillage.com/secret-health-benefits-sex/4-a-283856" target="_hplink">increased levels during sexual excitement</a>, can actually make your skin healthier.

Aids Your Emotional Health

Last but not least, when you know what it takes to make yourself orgasm, you may increase your emotional confidence and intelligence. "When you understand how your body works and ... [that it] is capable of pleasure on its own, regardless of your partner status, you make much better decisions in relationships," says Logan Levkoff, Ph.D., a sexologist and certified sexuality educator. "You don't look to someone else to legitimize that you're a sexual being."