Katy Perry has revealed she had suicidal thoughts following the breakdown of her marriage to Russell Brand.
The 'Roar' singer - who split from the Brit actor and comedian on New Years' Eve 2011 - wrote about the experience for new song 'By The Grace Of God', which will feature on her forthcoming album, 'Prism'. Katy Perry
"That song is evident of how tough it really was at a certain point," she told Billboard magazine.
"I asked myself, 'Do I want to endure? Should I continue living?'
"All the songs are real-life moments. I can only write autobiographically."
She added: "I tell my fans if they want to know the real truth about stuff, just listen to the songs."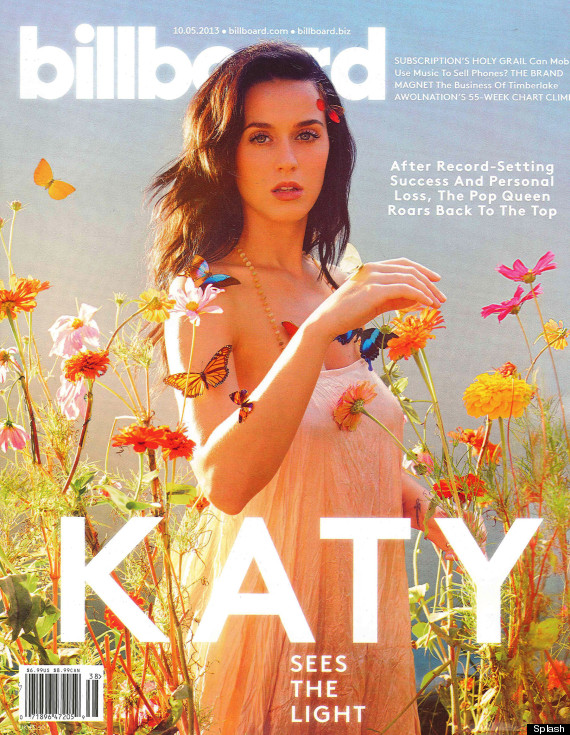 Katy recently received the support of a rock legend for sending a message to her ex husband in her single, 'Roar'.
Fleetwood Mac star Stevie Nicks pronounced herself full of admiration for the song – an undisguised ode to survival.
"My favourite song right now... I'm so proud of her," Nicks told The Huffington Post. "I think that is such a girl power song, and I'm so happy that she's sending out messages to ex-husbands - who needs them?"
Style Evolution: Katy Perry
February 4, 2008. Attending the Betsey Johnson 2008 fashion show during Mercedes-Benz Fashion Week Fall 2008 at The Tent at Bryant Park.

February 10, 2008. Musician Katy Perry attends the EMI party at Dominick's.

May 17, 2008. Katy posing in the press room during Z100's Zootopia at the IZOD Center in East Rutherford.

June 9, 2008. MTV's "TRL" at MTV Studios in New York.

June 14, 2008. Recording artist/actress Katy Perry attends designer Kira Plastinina's United States Launch Party in Los Angeles, California.

June 18, 2008. Katy Perry during the taping of MTV's 'FNMTV' in Hollywood, CA. The show airs Fridays at 8pm on MTV.

July 10, 2008. Katy Perry backstage during the taping of MTV's 'FNMTV' in Hollywood, CA. The show airs Fridays at 8pm on MTV.

June 17, 2008. Katy Perry attends the record release party for "One of the Boys" at Capitol Records on in Los Angeles, California.

July 26, 2008. Singer Katy Perry hosts Travis McCoy's birthday celebration at Country Club in New York City.

29 October 2003. Katy seen at the Mercedes-Benz Shows LA Fashion Week Spring 2004 -Miller Girl by Nicole Miller Backstage and Front Row.

07 June 2006. NYLON Celebrates Its Annual Music Issue With MySpace.com

September 7, 2008. Katy Perry arrives at the 2008 MTV Video Music Awards at Paramount Pictures Studios in Los Angeles, California.

September 17, 2008. Attending the Katy Perry Concert at Fritzclub at the Postbahnhof.

September 29, 2008. Katy Perry arrives at the Patrick Demarchelier's exhibition Party in Paris.

14 November 2004. Katy Perry wearing Andrew Gn Spring 2005 Collection.

11 February 2007. Inside the EMI Post GRAMMY Party.

05 May 2005. At the H.D. Buttercup Inaugural Celebrity Treasure Hunt for Charity and Cinco de Mayo after Party.

20 April 2006. Vanity Fair Presents the 2006 Svedka Erotica Reading Series.

13th January 2006. Korn "See You on the Other Side" Tour Launch Party at Hollywood Forever Cemetery.

Nintendo DS Pre - Launch Party at The Day After - Arrivals.

15 September 2004. Enchanted Garden Party' for Sass & Bide's Spring/Summer 2005 Collection.

January 8, 2009. Katy arrives at VH1's 14th Annual Critics' Choice Awards held at the Santa Monica Civic Auditorium in Santa Monica.

23 February 2004. Katy Perry at Jimmy Choo Oscar Suite.

January 17, 2009. Singer Katy Perry attends the NRJ Music Awards 2009 held at the Palais des Festivals in Cannes.

May 4, 2009. Katy attends "The Model as Muse: Embodying Fashion" Costume Institute Gala at The Metropolitan Museum of Art in New York City.

November 5, 2009. Katy Perry poses for a picture backstage during the 2009 MTV Europe Music Awards held at the O2 Arena in Berlin.

June 6th, 2010. In Universal City, California.

March 27th, 2010. Katy Perry attends Perez Hilton's 'Carn-Evil' Theatrical Freak and Funk 32nd birthday party at Paramount Studios in Los Angeles.

June 7, 2009. in London, England.

1st December 2004. Katy Perry during Chandon at Hollywould Dress Launch Party at Sax Fifth Avenue Beverly Hills in Beverly Hills.

22nd May 2005. Katy Perry during Lush SWAG-Fest 2: Denim, Diamonds and a Do at Lush Beauty Boutique in Beverly Hills.

August 28, 2011. Katy Perry arrives at the 4th Annual House of Hype Music Awards at SLS Hotel in Beverly Hills.

16th November 2006. Nintendo Launches Wii, The Revolutionary Home Video Game Console.