Katy Perry has received the support of a rock legend in her message for ex-husband Russell Brand.
Stevie Nicks, celebrated for her own anthems of expression and strong sentiment, pronounces herself full of admiration for Katy Perry's song 'Roar' – an undisguised ode to survival.
"My favourite song right now... I'm so proud of her," says Nicks. "I think that is such a girl power song, and I'm so happy that she's sending out messages to ex-husbands - who needs them?"
Nicks is in London for the premiere of the documentary 'Stevie Nicks: In Your Dreams', which charts the making of her most recent album, with producer Dave Stewart.
Recording took place in Nicks' own rambling house in California, and she was, at first, reluctant to let the cameras follow her for the best part of a year… until she remembered something about the Travelling Wilburys being filmed together for their own documentary.
"You had Bob Dylan, Tom Petty, Roy Orbison, Jeff Lynne and George Harrison, there they are and you got to be with him. And, in the blink of an eye, two of them are gone. I thought that was stunning.
"And I thought, what if one of them had taken the vain path, thought 'makeup, hair, a drag,' and hadn't have done it, we wouldn't have that. So I felt we should all do that. We should all make our documentaries for our children, for our fans, for our friends, the people that we love."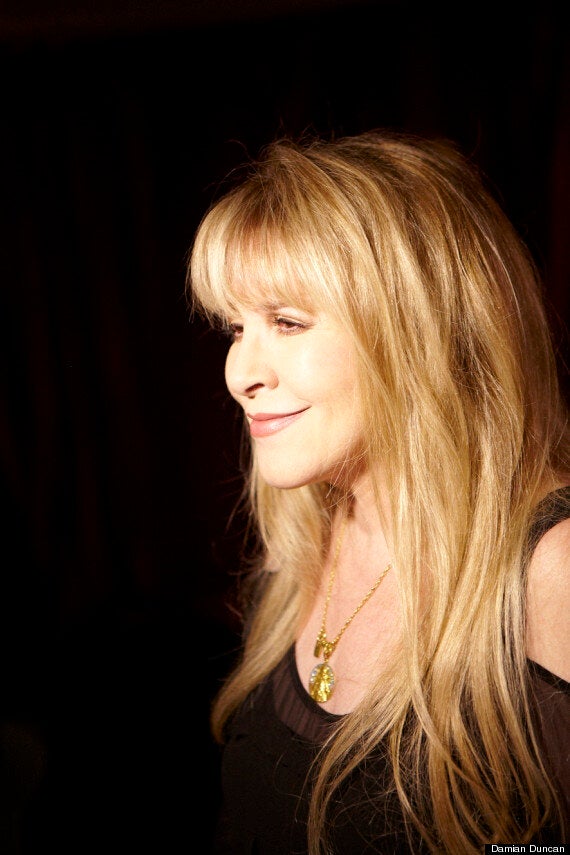 Stevie Nicks was relieved she changed her mind about letting the cameras in
The documentary catches Nicks singing closely with her former musical and romantic partner Lindsey Buckingham, with whom she has a famously chequered relationship, but whom she called upon for a moving duet called 'Soldier's Angel'.
Dave Stewart, also director of the film, confided that this reunion was the most awkward scene to capture on camera, but Nicks was full of praise for her Fleetwood Mac bandmate, whom she says "is the only person who could have done this".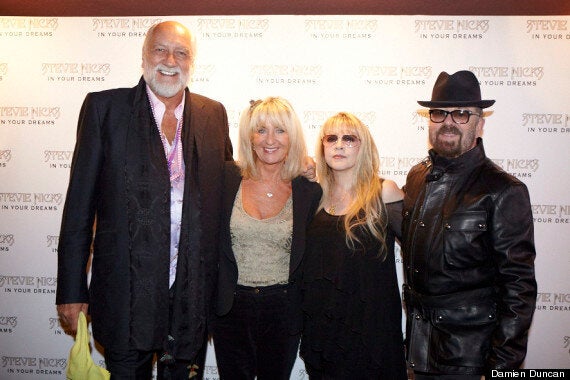 Stevie Nicks and producer Dave Stewart (right) had the support of her Fleetwood Mac bandmates Mick Fleetwood and Christine McVie at the premiere of her film this week
"I sat down with him in 2011," remembers Nicks, "and I said, 'Do you remember when we joined Fleetwood Mac, how cute we were, how sweet, compassionate, funny we were, and we could walk into a room and be so charming and be our own little power couple? We have to go back to being those two people, or we should never do this again.'
"He looked at me and he nodded his head. And he listened to me."
The proof of the pudding is in the reunited Fleetwood Mac, starting the UK leg of their tour this weekend...
"That entire hour and a half that we spoke back in 2011 is on stage every night," says Nicks now warmly. "And he is a different person, and when we walk out on stage hand in hand, he is listening to me."
'Stevie Nicks: In Your Dreams' will be released on DVD in November. The 4CD box set 'Fleetwood Mac: 25 Years – The Chain' is out now.' Watch the trailer for the documentary below...