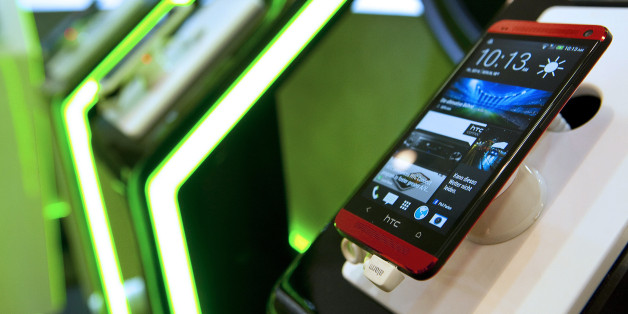 Apple and Samsung missed out on being named 'smartphone of the year' at the T3 awards, after HTC romped home with a victory for its well-received HTC One.
The Taiwanese-made model also won the T3 design award and the phone of the year accolade at a ceremony in London.
It beat the Apple iPhone 5 and the Samsung Galaxy S4 in the phone of the year category, chipping at the dominance held by both technology giants.
However Apple won computer and tablet of the year and Samsung took the brand of the year title, while Sony won digital camera and television of the year.
Michael Acton Smith, who co-founded entertainment company Mind Candy, which created Moshi Monsters toys, was awarded for his outstanding contribution to technology
"From (gadget retailer) Firebox.com, an early adopter of e-commerce, to Perplex City, the groundbreaking multi-media game, his vision and hunger for bigger and better has helped the UK become one of the most exciting countries in the world of tech."

Smith said: "I'm honoured to have received this award from T3. It's been an incredible journey so far and I'm excited and looking forward to what the future brings."
TED curator Chris Anderson, who has racked up hundreds of millions of web video views for speeches by academics and technological experts through his TED Talks series, won the Tech Legend award.
Anderson said: "I'm surprised, delighted and honoured by this news... even if the truth is that the award should go to the large numbers of people around the world who have collectively taken TED from being a small conference to a broader celebration of transformative technologies and ideas."
Here's the full list of winners:
Innovation of the Year -- Google Glass
Computer of the Year -- Apple Mac Book Air 11 Inch
Digital Camera of the Year -- Sony Nex-6
Entertainment Gadget of the Year -- Sky + HD 2TB
Digital Media Service of the Year -- Netflix
Car of the Year -- Audi A8
Headphones of the Year -- Sennheiser CX890i
Fitness Gadget of the Year -- Nike Plus Training Trainer
Tech Personality of the Year -- Jason Bradbury
TV of the Year -- Sony Bravia KD-65X9005A
Tablet of the Year -- Apple iPad Mini
T3 Design Award -- HTC One
Tech Life Product of the Year -- Gopro HD Hero 3
App of the Year -- Xbox Smartglass
Tech Moment of the Year -- Felix Baumgartner
Phone of the Year -- HTC One
Outstanding Contribution to Technology -- Michael Acton Smith
Tech Brand of the Year -- Samsung
T3 Tech Legend -- Chris Anderson
Gadget of the Year -- HTC One
SUBSCRIBE AND FOLLOW
Get top stories and blog posts emailed to me each day. Newsletters may offer personalized content or advertisements.
Learn more