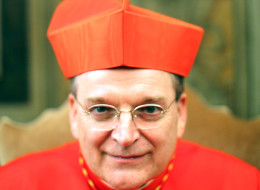 Pope Francis may lead a famously frugal existence, but things are not so thrifty in the big house.
The Pope eschews dinner invitations, preferring to cook his own meals in an apartment he shares with an older priest.
He wears an ordinary priest's robe and rides a bus to work, having given up his chauffeur-driven limousine.
But despite his pleas for church officials to follow his oft-delivered message about solidarity with the poor, splendour abounds.
Take for instant the sartorial tastes of Cardinal Raymond Burke, the chief judge of the Vatican's supreme court.
Our friends at the Global Post have put together this infographic, showing just how splendid we're talking. Around £15,000 to be precise.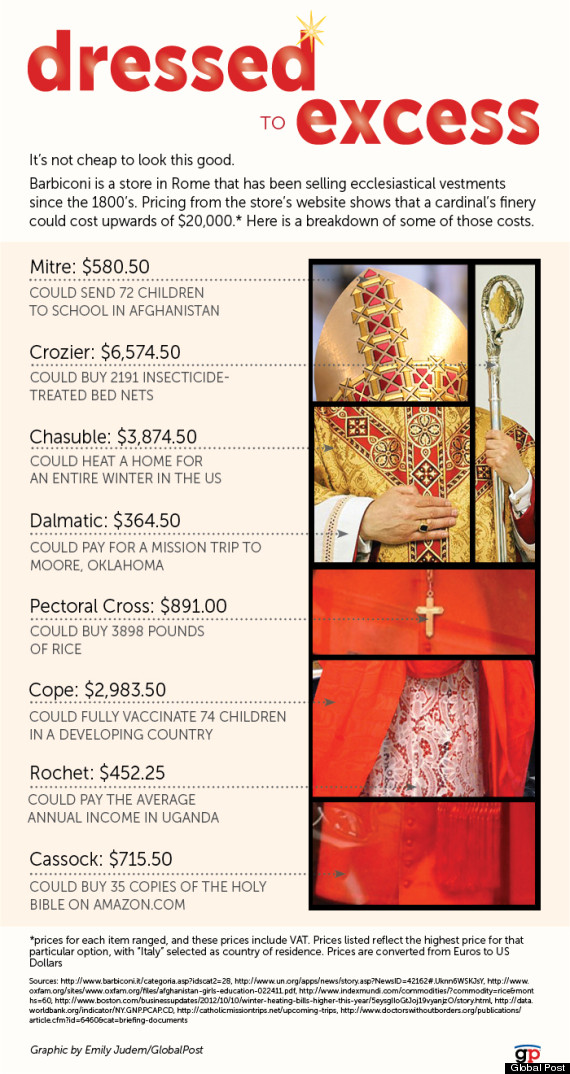 SEE ALSO:
Pope Francis Quotes On The Poor
Throwing food away is like stealing from the tables of the the poor, the hungry! I encourage everyone to reflect on the problem of thrown away and wasted food to identify ways and means that, by seriously addressing this issue, are a vehicle of solidarity and sharing with the needy. Read more

Pope Francis has denounced the global financial system, blasting the "cult of money" that he says is tyrannizing the poor and turning humans into expendable consumer goods. Read more

'Oh, how I would like a poor Church, and for the poor." Read more

Man is not in charge today, money is in charge, money rules. God our Father did not give the task of caring for the earth to money, but to us, to men and women: we have this task! Instead, men and women are sacrificed to the idols of profit and consumption: it is the "culture of waste." On World Environment Day

"Today, and it breaks my heart to say it, finding a homeless person who has died of cold, is not news. Today, the news is scandals, that is news, but the many children who don't have food - that's not news. This is grave. We can't rest easy while things are this way." Read more

Pope Francis waves to faithful upon his arrival at the Pontiff's residence of Castel Gandolfo, near Rome, Sunday July 14, 2013, in a Ford Focus. The down-to-earth Pope called for greater austerity from religious figures last week, saying, "It hurts me when I see a priest or nun with the latest-model car. You can't do this. A car is necessary to do a lot of work, but, please, choose a more humble one. If you like the fancy one, just think about how many children are dying of hunger in the world." The Ford Focus is a compact car with a starting sticker price of just about $16,000. Read more

"A headline that really struck me on the day of the tragedy in Bangladesh was 'Living on 38 euros a month'. That is what the people who died were being paid. This is called slave labour." "Not paying fairly, not giving a job because you are only looking at balance sheets, only looking at how to make a profit. That goes against God!" Read more

"To live charitably means not looking out for our own interests, but carrying the burdens of the weakest and poorest among us."

"We cannot sleep peacefully while babies are dying of hunger and the elderly are without medical assistance."

"There are many people in need in today's world. Am I self-absorbed in my own concerns or am I aware of those who need help?"

"True charity requires courage: let us overcome the fear of getting our hands dirty so as to help those in need."

"The "throw-away" culture produces many bitter fruits, from wasting food to isolating many elderly people."

"If money and material things become the center of our lives, they seize us and make us slaves."

"Let us ask the Lord to give us the gentleness to look upon the poor with understanding and love, devoid of human calculation and fear."

"Take care of God's creation. But above all, take care of people in need."

"To live charitably means not looking out for our own interests, but carrying the burdens of the weakest and poorest among us."

"How marvellous it would be if, at the end of the day, each of us could say: today I have performed an act of charity towards others!"

"My thoughts turn to all who are unemployed, often as a result of a self-centred mindset bent on profit at any cost."

"Prayer, humility, and charity toward all are essential in the Christian life: they are the way to holiness."

"How many kinds of moral and material poverty we face today as a result of denying God and putting so many idols in his place!"

"Consumerism has accustomed us to waste. But throwing food away is like stealing it from the poor and hungry."