On Halloween, when children dress up in their scariest costumes to play trick or treat on their neighbours, they expect to fill their bellies with sweets and chocolate.
But this year, one woman has something a little different up her sleeve. Each trick or treater that she considers to be overweight will be given an 'obesity letter' instead of sweets.
The woman, known only as 'Cheryl', shared her (evil?) plan during an interview with Y94 radio station in Fargo, North Dakota.
She says she wants to "send a message to the parents of kids that are really overweight". But is it really Cheryl's place to comment or should parents take responsibility for their child's weight?
When we asked our readers for their thoughts, they said Cheryl's plan was ridiculous and judgemental. Do you agree?
Let us know on the Facebook post below.
Read the letter in full here: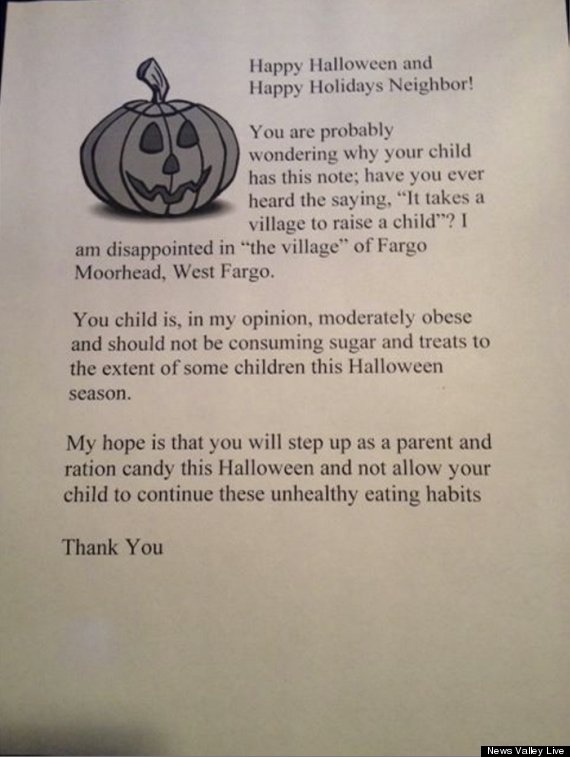 Also on HuffPost:
Loading Slideshow
This lady made her entire family's costumes from scratch, to look like the cast of Labyrinth.

This is what would happen if Buffalo Bill captured Pikachu in his lair.

Pop art inspired!

Made from recycled cups, plates, and utensils.

Edward Scissorhands - let's hope this gets to Johnny Depp.

Damon Lucas transforms into Van Gogh.

Scary twin dolls!

Alice in Wonderland and the White Rabbit.

Last minute, adorable thief costume for couples!