A calendar celebrating disabled bodies is available now.
Undressing Disability aims to promote the bodies of people often ignored and desexualised by society.
The campaign by Enhance the UK also focuses on raising standards in sexual health and sexual awareness for disabled people.
Scroll down for more pictures and the stories behind them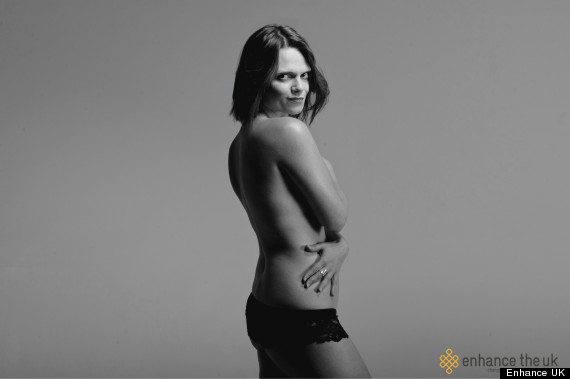 Jennie Williams has hereditary degenerative hearing loss and is a hearing aid user
It features a range of participants with varying disabilities including blindness, deafness, brittle bone disease and cerebral palsy. The calendar is free, though a £6 donation is suggested.
Jennie Williams is the CEO of Enhance the UK and posed for the calendar too.
She told HuffPo UK: "I started the 'Undressing Disability campaign' because all to often disabled people get ignored and desexualised, even 'babied'. They are frequently seen as people who just need looking after and not wanting or capable of having a active healthy sex life and loving relationship.
"The donations received from the calendar will go towards the inclusive sex education and relationships education (SRE) project we are running in collaboration with the leading youth sexual health educators Brook.
"Our aim is to provide relevant and practical SRE to young people and change the way society view sex and disability.
To order your calendar, click here.
Charlotte is 26 and has cerebral palsy, she lives in North London. David is also 26 and from London. He says: "I have the wobbly version of cerebral palsy as well as being partially deaf. I work with a lovely group of other young disabled people to raise disability awareness and help to change the world for the better!"

Kiruna is a successful actress with restricted growth and has long been involved in the disability arts movement. As well as acting, Kiruna also performs stand up comedy and contemporary dance. Kiruna won the lead in Graeae Theatre Company's production of Whiter Than Snow playing a young actress who wanted to break with stereotype and play the role of Snow White but her "big break" came playing La Petite Princess in the hit film, Baz Lurhmann's Moulin Rouge. She has also appeared in the British soap EastEnders as Sandra Fielding, the six part BBC drama series All The Small Things and Cast Offs for Channel 4. Most recently Kiruna has completed The Best Offer starring opposite Geoffrey Rush. Her busy work schedule means she is often travelling between her native Australia and the UK. Comedian and Writer Gareth Berliner has been performing stand-up comedy since 2004, He's gigged across the UK and Internationally, on Radio 4 (Cracking Up!), ensemble at Soho Theatre, The Science Museum, supporting major acts on tour (Tom Stade & Hal Cruttenden ) and even once… in disguise…as Woody Allen! He also MC's and performs sets for clubs and promoters all over the country. In 2012 he performed a new show, Gareth Berliner: An INCH of Integrity at the Adelaide Fringe which was well received. He's also currently working on a new show with his wife, actress and comedian Kiruna (BBC's Lifes to Short / Ch 4's Cast Offs) called, A Little Commitment. He's worked with and for Abnormally Funny People (A Disability comedy ensemble) at a corporate level as well as in their shows at Soho Theatre in London's West-End. He also works with and for Silver Comedy, providing comedy engagement for people with early onset Alzheimer's. Gareth reached the semi-finals of So You Think You're Funny in 2004 and made it into the Hackney Empire New Act of the Year Final in February 2005. In March 2005 he performed internationally for the first time with his debut solo show GUTLESS. After some great reviews he performed the show at The Edinburgh Fringe in 2005 which sold out for its final week after garnering a 4 star review from the Edinburgh Metro and a bit of a buzz. In 2006 he performed his second show at the Edinburgh Fringe, Love…It's Not A Big Enough Word.

In 1998, James woke up one morning and found he had lost his sight in one eye. The sight in his other eye then went six weeks later, leaving him blind. In 2002, James decided to be more proactive about working as a blind person and two years later he attended London Metropolitan University to do a course in dance and drama. This was where he met Jennie Williams and they decided to set up Enhance the UK together. James also appeared in an episode of Casualty on the BBC as a blind ex-soldier and in July 2009 he gained a Level 2 Fitness Instructor Award. James is now one of the only blind fitness instructors in the UK.

'Happy' Mike Hawthorn is profoundly deaf and lives in north London.

Zoe, 33, was studying Sports Science at University of Brighton when a rapid onset of Rheumatoid Arthritis forced her to leave. Within three months she could no longer walk or even stand. She's adapted to life in a wheelchair and now drives again, lives in her own home with 24-hour care, works part time and maintains a very active social life. Fourteen years on she is more confident about her disability and believes overcoming the mental adjustment was harder than the physical. She's looking to study again to become a counsellor.

Mel Bennett is 32 and from Kent. She has Osteogenesis Imperfecta Type 4 (brittle bones)

Jennie is the founder and CEO of Enhance the UK and has worked with a wide variety of disabled people over the last 20 years, including those with learning difficulties and mental health issues. She has a level three qualification in British Sign Language and a great understanding of the deaf community as her father is deaf. She herself has hereditary degenerative hearing loss and is a hearing aid user. Jennie is a passionate campaigner and believes there should be more disability awareness training in schools and inclusive sex education. She believes that everyone has the right to a healthy, active social and sex life, whatever their disability may be.