The editor of The Guardian has been forced to defend his patriotism, after he was bizarrely quizzed by MPs on whether he "loved" his country.
Alan Rusbridger was called to give evidence to MPs on the home affairs committee after his paper published a series of stories, based on leaks from Edward Snowden, revealing the activities of the British and American intelligence agencies.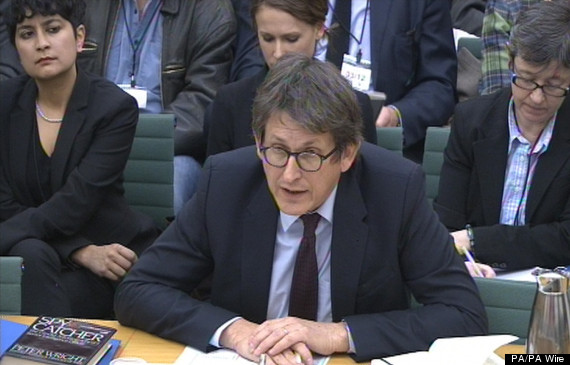 The Guardian editor insisted he was a 'patriot'
David Cameron and British intelligence chiefs have accused The Guardian of damaging national security with its reporting. In November the head of MI6 told MPs Al Qaida and other terrorist groups have been "rubbing their hands with glee" over the information revealed by Snowden.
But Rusbridger insisted The Guardian had behaved responsibly and had acted carefully to protect the identities of intelligence agents. "This is not a rogue newspaper, this is a serious newspaper with long experience," he said.
"It's self evident if the president of the United States calls a review of everything to do with intelligence and that information only came into the public domain through newspapers, it is self evident that newspaper's have done something that oversight has failed to do," he said.
And he said the government had pursued actions, including the detention at Heathrow airport of the partner of journalist Glenn Greenwald, that had been "designed to intimidate" The Guardian.
Rusbridger was also taken aback when Labour MP Keith Vaz, the chairman of the committee, asked: "Do you love this country?"
TOP STORIES OF THE DAY
"Yes, we are patriots," Rusbridger replied. "There are countries, and they are not generally democracies, where the press are not free to write about this and where the security services do tell editors what to write. That's not the country we live in, in Britain, and it's one of the things we love about the country."
Rusbridger also told MPs only 1% of intelligence files leaked by Snowden have been published. He said the US whistleblower handed over 58,000 files to four places - The Guardian, Washington Post, a location in Rio de Janeiro and a location in Germany.
Asked where the remaining files were, he said: "This is an ongoing story we are writing. If you think it's sensible I talk about where the exact files are I can write to you. But I'm not sure that's really sensible to talk about the existence of other files in other bits of the world."
He told MPs his newspaper will not be intimidated by critics of his decision to publish the information contained in top secret documents, hailing the UK's democracy and free press.
"We've been working slowly and responsibly through this material, with some of the best journalists in the world, a hundred contacts with government and agency sources - we will continue to consult them but we're not going to be put off by intimidation but nor are we going to behave recklessly."
Later in the day, Metropolitan Police Assistant Commissioner Cressida Dick told the committee Scotland Yard were investigating material seized from David Miranda, the partner of former Guardian journalist Glenn Greenwald, at Heathrow Airport as it appears possible offences were committed.
But veteran US journalist Carl Bernstein, one of the investigative reporters who exposed the Watergate scandal, has hit out at MPs over their pursuit of The Guardian.
He told Channel 4 News: "The Guardian has done nothing here that can be seen as disclosing national security secrets that would be inimical to the interests of Great Britain or the United States, it hasn't dealt with specific intelligence instructions or anything of the kind, it's about the scope and scale of what our governments are doing and whether or not it's being supervised by the proper authorities.
"And clearly it hasn't been supervised, the intelligence agencies have avoided proper oversight and that's what the Commons really ought to be looking at, not the conduct of the press which, as in Watergate, was a red herring."
SUBSCRIBE AND FOLLOW
Get top stories and blog posts emailed to me each day. Newsletters may offer personalized content or advertisements.
Learn more