Fancy a brand new Xbox One but think £430 is just, well... too cheap?
How about this then.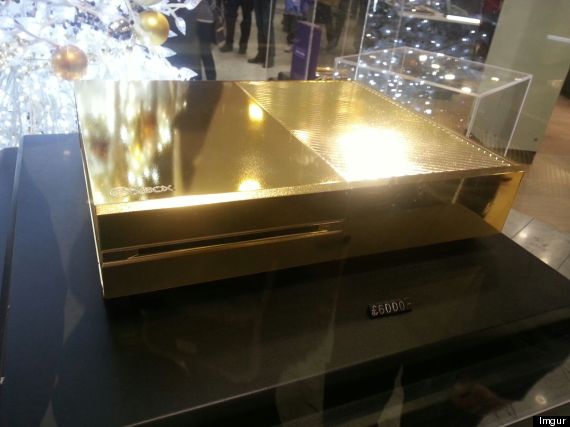 A gold-plated console for a cool and much more wallet-busting £6000.
If it tickles your fancy then head down to Harrods where they will gladly take your surplus cash from you.
And what else do you get for your money? Well, nothing. It's just a regular console underneath.
If you're going to spend £429 on an Xbox One, you may as well chuck in an extra £20 and get a copy of FIFA 14 - which is brilliant - to go along with it. For more details on the package in the box, check out our full review.

REVIEW: Forza 5 is gorgeous, fast, kinetic, not without flaws but ultimately an unmissable launch experience.

You know what to expect from 'Call of Duty' - silly story, big guns, set-piece single player and fast, strategic multiplayer. That's exactly what you get here, except it's never looked better on a console.

A 12-month subscription to Xbox Live Gold costs £32.99, but gets you access to online gaming, all of the decent streaming and media apps, Skype, online video clip sharing and much more. It's great value, and it's going to get better once Microsoft brings its 'Games on Gold' promotion over to the One. Meanwhile, you can use the same subscription on the Xbox 360.

This is the best telly we've ever tested in person, with amazing picture quality and genuinely useful Smart TV features. It's an excellent screen on which to play the Xbox One, and its range of included catch-up apps plugs the gaps in the One's app line-up at launch. The only problem? The price - which is about £1,450 for the 46-inch model.

REVIEW: Yes, we know. It's a game about making homes for tigers and elephants. It's aimed mostly at families and kids, and does feature any guns at all. But it's also extremely fun, entertaining and pleasantly non-threatening. It's a great launch game, in other words.

For another £45 you're getting the chance to play FIFA 14 side-by-side on the couch. If you've got a friend prepared to play you, it should be a no-brainer.

The Xbox One has an included headset, but it's weedy and feels cheap. If you're serious about getting the best sound and voice performance from your console, go for the best pair of Turtle Beaches you can get. At £99 the X04 are a good compromise between price (which can get insane) and performance.

On first boot you might feel obliged to plug your Sky or TV box into the Xbox One's HDMI-input. But while you should definitely make use of that great feature - which lets you jump from live TV to games and back in seconds - you might want to consider keeping your TV where it is and using the input for something else instead. Everything from other consoles to Roku boxes will work, but we recommend an Apple TV. With its Airplay integration, access to iOS photo and home movie apps, and a great range of movie rental services, it's a natural complement to the Xbox One until more apps are released for the console itself. And it's only £99.