Funny lady Sarah Millican has announced she has married fellow comic Gary Delaney.
The comedian took to Twitter to confirm they had tied the knot last weekend, tweeting: "Thrilled to announce that @garydelaney and I got married last weekend. We are loved up and beaming. X"
Thrilled to announce that @garydelaney and I got married last weekend. We are loved up and beaming. X

— Sarah Millican (@SarahMillican75) January 3, 2014
Aaaaah, so are we Sarah, so are we.
Her new hubby also took to Twitter to confirm that 38-year-old Sarah wasn't telling porkies, writing: "It's true. We did."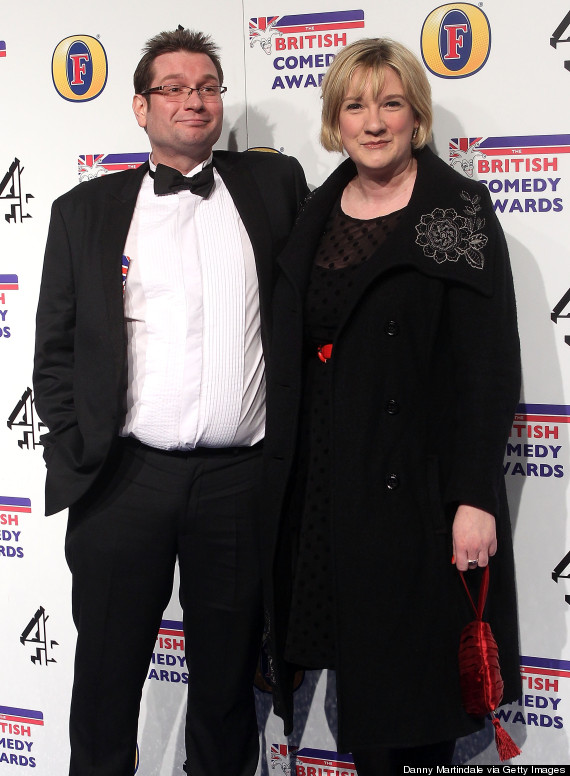 Sarah Millican and Gary Delaney
Last year Sarah joked that she moved in with Gary so he could kill spiders in their house and take the bins out, but ruled out marrying for a second time.
Speaking on 'Alan Carr's Chatty Man', she said: "I moved out of my rented flat that I'd been in for six years and bought a house like an adult.
"It's big stuff, we've been together for seven years. I just got sick of taking the bins out.
"For so long I killed my own spiders and now somebody else kills the spiders."
"I've been married, I've done that. There's no need. He takes the bins out now so what does a bit of paper mean?"
Looks like someone had a change of heart.
Congrats to them both.
Shortest Ever Celeb Marriages
Who? Katy Perry and Russell Brand Married: October 2010 Split: December 2011 Length of Marriage: 14 months Katy revealed she gave up alcohol following her split with the British actor and comedian after suffering 'negative thoughts'. "I was going through a period where a lot of negative thoughts were entering my mind," she said. "Obviously they did not succeed, but I had my confidence kind of beaten down."

Who? Jennifer Lopez and Cris Judd Married: September 2001 Split: June 2002 Length of Marriage: 10 months J-Lo met dancer Cris Judd on the set of her 'Love Don't Cost A Thing' video and the pair got engaged just months after the singer split with Puff Daddy. They married in September 2001 but it was all over less than a year later.

Who? Renée Zellweger and Kenny Chesney Married: May 2005 Split: January 2006 Length of Marriage: 8 months The actress got hitched to Kenny Chesney on the Caribbean island of St. John just four months after they met at a tsunami-relief event. But the marriage was over four months later with Renee citing 'fraud' as the reason for the split, which sparked rumours about his sexuality.

Who? Melanie Sykes and Jack Cockings Married: May 2013 Split: December 2013 Length of Marriage: 7 months The TV presenter and model wed roofer Jack after a whirlwind romance that began with a lot of flirty messages and a few saucy snaps on Twitter. But things soon turned sour and culminated with Mel being arrested and cautioned for assaulting her toyboy hubby in November 2013. The pair officially separated two weeks later.

Who? Drew Barrymore and Tom Green Married: July 2001 Split: December 2001 Length of Marriage: 5 and a half months The 'ET' star's year-long engagement to actor and comedian Tom Green lasted twice as long as their actual marriage. After a summer wedding, divorce papers had been filed by the following Christmas.

Who? Carmen Electra and Dennis Rodman Married: November 1998 Split: March 1999 Length of Marriage: 5 months The US model married the flamboyant former basketball star in a quickie Vegas wedding in 1998. But despite his best attempts to get the marriage annulled after nine days, the couple managed to stick it out for a whole five months.

Who? Bradley Cooper and Jennifer Esposito Married: December 2006 Split: April 2007 Length of Marriage: 4 months Yep, the 'Hangover' star has been married before, although you'd be forgiven for not knowing that given that it only lasted four months.

Who? Pamela Anderson and Kid Rock Married: July 2006 Split: November 2006 Length of Marriage: 4 months Pammie dated rocker Kid Rock on and off for years before they took the plunge and tied the knot in a booze-filled wedding on a yacht in St.-Tropez (the 'Baywatch' star wore a white bikini for the ceremony, natch). But the whirlwind marriage came to an end in November 2006, when the pair literally raced each other to the courthouse to file divorce papers. He beat her to it by 53 minutes.

Who? Lisa Marie Presley and Nicolas Cage Married: August 2002 Split: November 2002 Length of Marriage: 3 months Elvis's daughter married the US actor in a lavish ceremony in Hawaii in August 2002 but he served her divorce papers just three months later, noting that they"shouldn't have been married in the first place." It was her third divorce following her split from second husband, Michael Jackson, which we'd kinda forgotten all about.

Who? Nicky Hilton and Todd Meister Married: August 2004 Split: September 2004 Length of Marriage: 85 days Nicky Hilton married the New York businessman in a quickie Vegas wedding but it was all over before it had even begun when they had the marriage annulled just under three months later.

Who? Kim Kardashian and Kris Humphries Married: August 2011 Split: October 2011 Length of Marriage: 72 days After tying the knot in front of millions of TV viewers, which they sold the TV and photo rights for a whopping $17.9million, the reality star and NBA player split just over two months later. And if your maths isn't up to scratch, it meant they earned around $250K for each day they were married.

Who? Pamela Anderson and Rick Salomon Married: October 2007 Split: December 2007 Length of Marriage: 60 days Pammie married Rick (who you might recall as the other star in the Paris Hilton sex tape) in an impulsive Las Vegas ceremony, which took place during a break between her performance in a magic show. Less than ten weeks later, she had filed for divorce, citing irreconcilable differences.

Who? Drew Barrymore and Jeremy Thomas Married: March 1994 Split: April 1994 Length of Marriage: 30 days And you thought Drew's marriage to Tom Green was short! Drew managed to beat that with her one month marriage to bar owner Jeremy Thomas when she was just 19. The actress found a clairvoyant minister to marry them at 5am at the groom's bar but, perhaps unsurprisingly, it was all over between the pair just a month later.

Who? Britney Spears and Jason Alexander Married: January 2004 Split: January 2004 Length of Marriage: 55 hours Britney's won many awards in her time and she can also add the title of shortest celeb marriage to her, ahem, accolades after her nuptials to her childhood friend Jason Alexander came to an abrupt end after a measly 55 hours following their Vegas wedding.