Lena Dunham's Vogue cover was unveiled earlier this week.
And hot on its heels came accusations that the fashion magazine was 'sizeist' and had deliberately chosen a head shot over a full body picture due to Lena's body shape and size.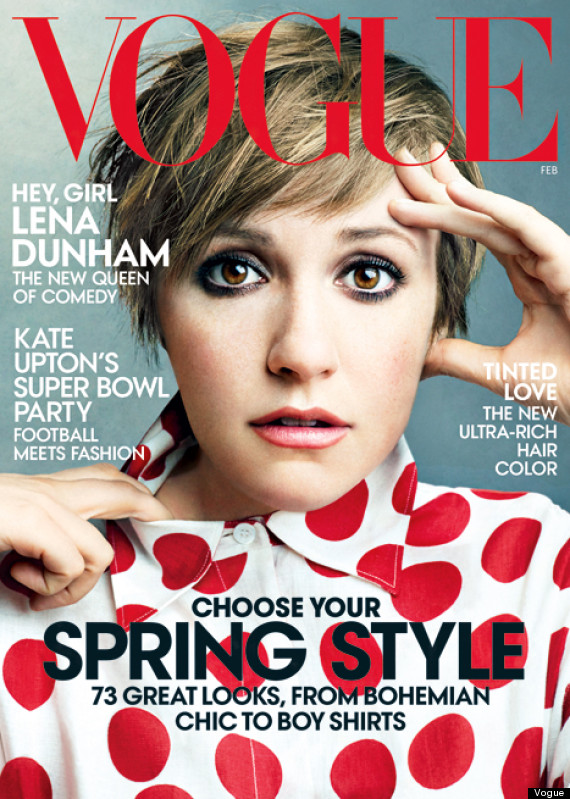 While the image, shot by fashion photographer Annie Leibovitz for the February 2014 issue, is undeniably striking, many 'Girls' fans were left feeling slightly undersold.
No stranger to Lena's body, not an episode of the hit show goes by without a flash of her nipple, pasty thigh or many tattoos.
The star's refreshing attitude to nudity and the female body has been applauded by many, so isn't it a shame that Vogue couldn't follow Lena's lead?
"Surely the whole point of putting someone like Dunham on the cover is to celebrate her more realistic figure, far more relatable than the skinny models they usually feature?," writes The Metro's Alison Lynch.
The star is undoubtedly chuffed with the shoot, which features full-length shots inside the magazine.
Dear @voguemagazine: Thank you. Love, Lena http://t.co/aVMgsewDfr

— Lena Dunham (@lenadunham) January 15, 2014
The MailOnline likened Lena's cover to the recent Elle cover featuring Mindy Kaling and Adele's British Vogue cover in 2012.
But not everyone is hankering after more Lena on the cover.
HuffPost UK Lifestyle editor Poorna Bell, says Lena's body - present on the cover or not - shouldn't be the only thing the media focus on.
"There do seem to be a lot of these outrage stories around stars who feature on fashion covers who are supposedly cropped in such a way that doesn't include their bodies. But the fact is that we're applying a template for models - whose bodies are their commodity - to stars like Mindy Kaling and Lena Dunham, whose claim to fame is their wit, their writing and their TV shows," she says.
"To say that Lena should have a full body shot for the sake of it isn't progressive - it's all about using the best, most powerful shot. That picture is pretty hard to argue with - it's compelling, it draws you in, and you want to know what she has to say - which surely is more important."
What do you make of the cover, let us know in the comments below...
Loading Slideshow
Lady Gaga

After the media focused on her <a href="http://www.usmagazine.com/celebrity-body/news/lady-gaga-shows-off-25-pound-weight-gain-in-tight-outfit-2012229">alleged weight gain</a> in September 2012, Gaga hit back at critics by baring her body in photographs, sharing her struggles with an eating disorder, and inviting her fans to join her in a <a href="http://www.forbes.com/sites/melaniehaiken/2012/09/26/lady-gaga-puts-bulimia-and-body-image-on-the-table-in-a-big-way/">"body revolution."</a>

Adele

Adele says she <a href="http://www.cbsnews.com/8301-504803_162-57376080-10391709/adele-talks-about-her-body-image-and-weight/">tries not to worry</a> about her body image and doesn't want to be a "skinny minnie." "The first thing to do is be happy with yourself and appreciate your body -- only then should you try to change things about yourself."

Rebel Wilson

The actress <a href="https://twitter.com/RebelWilson/status/253324823005118465">took to Twitter</a> to say, "I'm not trying to be hot. I'm just trying to be a good actress and entertain people."

Ashley Judd

After the March 2012 frenzy around Judd's "puffy face," the actress fought back in <a href="http://www.thedailybeast.com/articles/2012/04/09/ashley-judd-slaps-media-in-the-face-for-speculation-over-her-puffy-appearance.html">The Daily Beast</a>, calling the media out for making women's bodies "a source of speculation, ridicule, and invalidation, as if they belong to others."

Allison Tate

Tate's <a href="http://www.huffingtonpost.com/allison-tate/mom-pictures-with-kids_b_1926073.html">essay</a> about body image and motherhood not only broke the Internet; it has sparked a movement of "moms who stay in the picture."

Autumn Whitefield Madrano

On her informed, thoughtful blog <a href="http://www.the-beheld.com/">"The Beheld,"</a> Autumn writes about beauty, body image, appearance and her two -- that's right, <em>two </em>-- mirror fasts.

Kjerstin Gruys

Gruys went on a year-long<a href="http://www.ayearwithoutmirrors.com/"> mirror fast</a> during which she did not study her reflection in mirrors or other reflective surfaces, or look at photographs of herself.

Christina Aguilera

"I am always in support of someone who is willing and comfortable in their own skin enough to embrace it," the singer said in a<a href="http://www.ianslive.in/index.php?param=news/Aguilera_wants_to_empower_women-389922/ENTERTAINMENT/15"> recent interview</a>.

Lena Dunham

At the 2012 New Yorker Festival, the magazine's TV critic, Emily Nussbaum, asked Lena Dunham, producer, creator and star of the hit HBO show "Girls," why <a href="http://www.huffingtonpost.com/2012/10/08/lena-dunham-new-yorker-festival-emily-nussbaum_n_1948596.html?utm_hp_ref=women&ir=Women">Dunham is naked in so many scenes</a>. Dunham responded, "I realized that what was missing in movies for me was the presence of bodies I understood." She said she plans to live until she is 105 and show her thighs every day.

Alexa Chung

Chung <a href="http://fashionista.com/2012/10/alexa-chung-on-her-upcoming-line-and-struggling-with-body-image/2/">responded to critics</a> who suggested that her slight frame made her a bad role model for young women, saying: "Just because I exist in this shape doesn't mean that I'm, like, advocating it."

Stella Boonshoft

The NYU student started the amazing <a href="http://thebodyloveblog.tumblr.com/">Body Love Blog</a>, where she posted this picture of herself and wrote an <a href="http://www.huffingtonpost.com/stella-boonshoft/self-portrait-ask-me-why-_b_1987406.html" target="_hplink">open letter to those who feel entitled to shame others</a> for the size or look of their bodies.

Beth Ditto

This 5-foot-tall, 200-pound singer spoke openly about her weight to <a href="http://www.huffingtonpost.com/2012/11/01/beth-ditto-talks-skinny-privilege-fiancee-body-image_n_2057290.html?utm_hp_ref=women&ir=Women">The Advocate</a>, saying, "I feel sorry ... for people who've had skinny privilege and then have it taken away from them. I have had a lifetime to adjust to seeing how people treat women who aren't their idea of beautiful and therefore aren't their idea of useful, and I had to find ways to become useful to myself."