If like us, your experience of Chinese food extends mainly to takeaways, get stuck into these easy yet nutritious recipes.
From Asian hotpot to sea bass and chilli chicken, try these recipes from Great British Chefs and tell us your favourite dish in the comments below...
Sweet Chilli Chicken With Garlic, Lemon And Coriander (serves 2)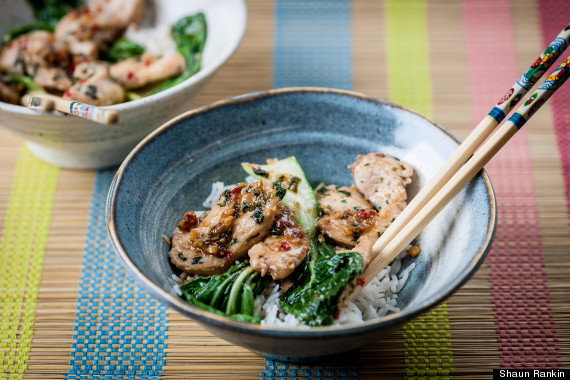 Shaun Rankin
Cooking time: 30 minutes plus 1 hour marinating time
2 skinless chicken breasts
2 tbsp of olive oil
1/2 tsp of fresh ginger, peeled and finely grated
1 tbsp of sweet chilli sauce
3 garlic cloves, peeled and finely grated
1 lemon for zest
zest of 1 lime
1 pinch of salt
1 pinch of pepper
1 tbsp of chopped coriander
1 pak choi
50g of herby green salad
Prepare the chicken breasts by slicing them into strips, before adding to a mixing bowl.
Excluding the pak choi and salad leaves, add all the ingredients to the bowl with the chicken.
Mix well making sure the chicken is fully covered. Leave to marinate for 1 hour.
When ready to cook, place a wok/frying pan over a high heat and carefully add the chicken strips. Do not stir as this allows the chicken to caramelise on the outside.
Once golden, turn over the chicken pieces allowing them to colour equally on the other side, and ensure that they are cooked through.
Add 6 pak choi leaves to the chicken and stir, allowing the leaves to wilt and be coated in the pan juices.
To plate up, divide the chicken and pak choi amongst the plates, drizzle with pan juices and garnish with salad leaves. Serve immediately.
Sea Bass With Chinese Spice (serves 4)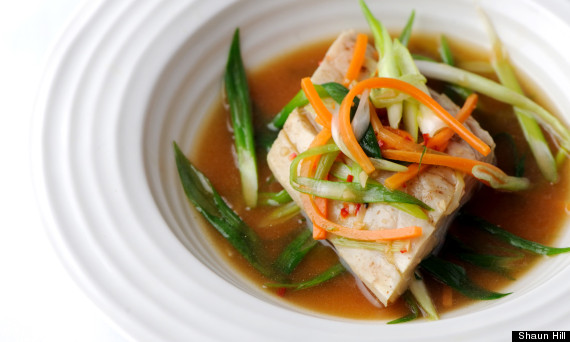 Shaun Hill
Cooking time: 1 hour
Sea bass
6 spring onions, trimmed and finely sliced
6 sea bass fillets
1 tbsp of Chinese five-spice powder
1 carrot, cut into thin strips
sesame oil
salt
Fish sauce
500ml of Fish stock
1 knob of fresh ginger, peeled and finely sliced
1 garlic clove, thinly sliced
1 red chilli, deseeded and chopped
1 tsp of Kikkoman soy sauce
To make the sauce, bring the fish stock with the ginger, garlic, chilli and half the quantity of spring onions to the boil. Once boiling, add the soy sauce.
Prepare the sea bass fillets by removing the skin and place on a tray ready to be steamed. Season well with salt and five spice, before adding strips of spring onion and carrot to the tray.
Drizzle a few drops of sesame oil over the fish, before placing in a steamer for approximately 5-7 minutes, until cooked through.
Divide the fish into shallow bowls. Ladle the hot sauce over the fish and serve immediately.
Asian Hotpot (serves 6)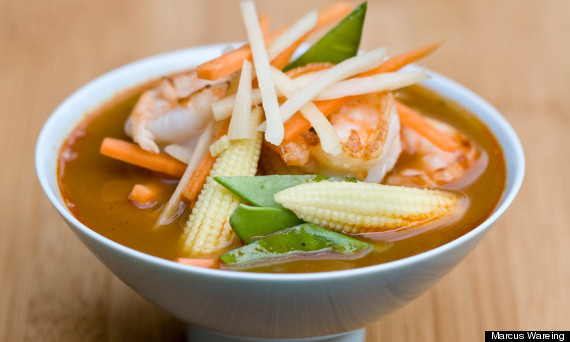 Marcus Wareing
Cooking time: 35 minutes
20 tiger prawns, cooked and peeled
4 tbsp of miso paste
1 tbsp of tomato purée
3 star anise, crushed
1/2 bunch of fresh coriander, leaves chopped and stalks separated
1 lime, juiced
2l of Chicken stock
200g of noodles, cooked
1 tin of water chestnuts, drained and sliced
1 carrot, peeled then ribboned with a peeler
100g of mangetout, halved
100g of baby corn, sliced
50g of pickled ginger, sliced
In a large saucepan, add the miso paste, tomato puree, star anise, fresh coriander, lime juice and chicken stock, and bring to a gentle simmer for approximately 10 minutes.
Using a sieve, strain the liquid into a separate clean saucepan and bring to the boil.
Once boiling, add the prawns and noodles over a lower heat. Heat gently for 2-3 minutes before adding the carrot, mangetout, baby corn, ginger and sliced water chesnuts, heating for another 2-3 minutes.
Pour into serving bowls and garnish with chopped coriander leaves. Finish with a squeeze of fresh lime juice and serve.

Recipe courtesy of Great British Chefs. Visit their site for more Chinese New Year recipes.

Suggest a correction