James Corden bowed out of the Brit Awards last night, after hosting it for a record fifth time.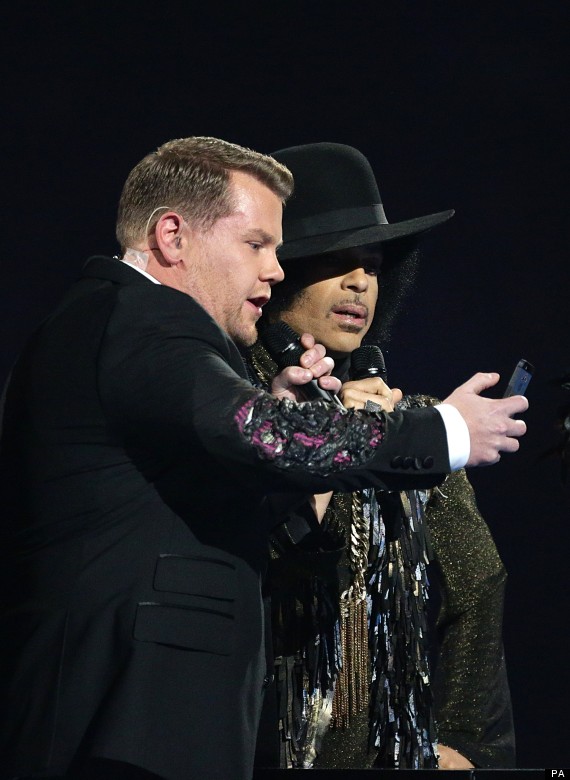 James Corden snuggles up to Prince for a quick selfie
His sometimes awkward antics on the O2 stage - cuddling up to Prince for a selfie that left the Purple One less than impressed, no less - proved once again that it takes a singular person to pull off the trick of hosting the British music industry's biggest night of back-slapping.
No doubt the multi-pronged whammy of bowing to the talents on display, conveying the atmosphere to a live television audience, sharing with the viewers a big broadside wink at all the ego-riddled feathers flying around the room AND keep everything running on time is a lot harder than it looks.
Brits 2014: 9 Memorable Moments
James Corden's selfie with Prince. We bet his Purple Highness hasn't done many of them.

Harry 'Sorry, I Just Went For A Wee' Styles going AWOL in the O2 lavs when One Direction collected their Global Success award

Speaking of the Global Success award, there was only one nomination and therefore only one winner (One Direction) but that still didn't stop guest presenter Rosie Huntington-Whiteley from opening the envelope to 'reveal' the winner. You know, after we'd all been shown a film of 1D in action. Like, durrrrrr.

Lily Allen also couldn't quite get her head around the presenting lark either. After arriving on stage she asked the audience if she should just go straight ahead and announce the winner or read the nominations out first. Honestly, Lil, it REALLY isn't that complicated.

But try telling that to Kate Moss, who appeared to have lost all hand-eye co-ordination as she took to the stage to accept The 'Best Male Solo Artist' award on behalf of David Bowie. Yes Kate, that thing in your left hand is the microphone. You might be needing that.

James Corden and Nick Grimshaw sharing saliva. That is all.

Louis Tomlinson's advice for Justin Bieber: 'Keep strong and keep doing what you're doing''. Okaaaaaaaay.

Beyoncé's performance. Is it wrong that we were a little underwhelmed with her phoned-in performance after her incredible Grammys opener?

Alex Turner's final acceptance speech after the Arctic Monkeys win the 'Best Album' award. Egotistical, unoriginal and toe-curlingly cringeworthy. GET OFF.
Nevertheless, it can't be beyond the organisers to draft in someone with all those talents, plus a requisite intangible but unmistakable quality... a music sensibility that implies this person is likely to have more than Robbie Williams on his or her iPod, and is not just having the names, facts and figures thrown into the engine round the back and pushed down the tube to be spewed out thus... At least Sam Fox had actually made a record.
I'm sure James Corden is a very fine dinner companion, but he's the first to admit he's a scripted comedic actor and writer (now Tony Award-winning) to boot. It's time for someone ready to skid by the seat of their pants in and out of the 02, perhaps without the death threats that accompanied Russell Brand after his MTV hosting stint, but with more than a gay joke about the Radio 1 Breakfast Show host to measure on the Risque Scale the morning after.
And when musing on just what Harry Styles is up to in the toilets is your party piece on live telly, it really is time to pass the baton...
So, who have we got who qualifies to take on the gig? And who gets your vote?
MORE BRITS 2014: