Cancer may have been instrumental in driving the evolution of black skin in early human history, say experts.
New evidence has led scientists to believe that dark skins appeared more than a million years ago to prevent our African ancestors dying from skin cancer.
The change occurred after ancient humans shed most of their body hair and ventured out into the sun-drenched African savannah.
Previously, like present-day chimpanzees, they would have had pale skin under their hair.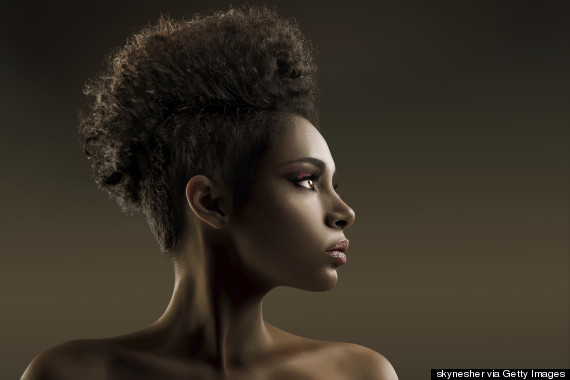 But according to recent findings indicates that the lethal effects of the sun's rays may have exerted powerful selection pressure on early humans between 1.2 and 1.8 million years ago.
Only those individuals with darker, more protected, skin would have escaped dying young from skin cancer and been free to pass their genes onto future generations.
The theory has been rejected up to now because it was thought skin cancer rarely killed people at a young enough age to affect reproduction.
Skin Cancer In African Americans
"The patient doesn't ever think that that bleeding, growing thing that's not healing could possibly be a skin cancer, because black people don't get skin cancer," Jackson says. "And the doctor is probably a) not discussing sun protection with them; b) not doing full skin exams, because you're less likely to get it; and c) not having those same conversations that we often have with the fair-skinned people." Until the medical community catches on, Dr. Jackson suggests you do due diligence in screening yourself. "On your birthday, check out your birthday suit," she says. "Take a look at every crack and crevice -- in your armpit, in your groin, in your butt, everywhere -- and make sure you know what's there." Most people don't get new moles after the age of 25 or 26, Jackson says, so if you're 45 and discover something you've never seen before or a change in a mole you've always had, get it checked out.

"For darker-skinned people, quite the opposite is true. It is more likely to occur where the sun doesn't shine," Jackson says. Think the soles of your feet, the groin area and areas of chronic skin trauma. Patients of color who have had lupus, for example, which often results in lesions on the skin, face an increased risk of developing cancer. The same holds true for those with burn injuries and diabetic ulcers. "Places that are chronically having to heal are at increased risk of developing squamous cell carcinoma," Jackson says, one of three types of skin cancer that, along with melanoma, have been show to be especially dangerous to those with dark skin.

"I had a patient, an African-American woman; I think I was the third dermatologist that she had seen. She had a spot on her temple that was not healing. First someone told her it was eczema. They put on a steroid and it didn't work. Then someone told her that it was ringworm and used a medication for that. Didn't work. Finally I biopsied it and it turned out to be basal cell carcinoma. Somebody else told her it was a curling iron burn, and she doesn't even curl her hair. "The point there is to know what your body does. For example, if you have a bug bite, a scratch or a pimple, you know, as long as you're not picking at it, it should probably heal in a week -- two weeks at most. If it has been a month, two months, if it has healed and now it's starting to bleed for no reason, this is not normal. This is an indication that it needs to be looked at."

"Brown skin does present a slight protection from the sun," Jackson says. "People of color tend to exhibit issues of photo-aging 15 to 20 years later than Caucasian people." The other thing to consider, however, is that genetic makeup is multifactorial. "Everybody really is biracial, tri-racial, quadri-racial," Jackson says. "You have to look at your ethnic background as well. I've had some patients who, even though they may be very darkly complected, they have some Irish in them." A genetic predisposition to skin cancer risk factors could increase your risk, regardless of what you look like. In addition to genetics, immune status also plays a role in how your skin reacts to the sun. "I see a lot more skin cancer, even in my patients of color, in my transplant and HIV and lupus patients, in people who might have asthma and have to be on Prednisone. All of these people are not functioning at 100 percent of their immune status," Jackson says. The medications used to treat these conditions, along with diabetes and hypertension, make people more sun sensitive, she adds. "Even if you are as dark as Seal, but you have high blood pressure or diabetes and you like to garden, not wearing sunscreen is doing you a huge disservice."

"Most people don't apply [sunscreen] everyday, they don't apply the proper product, they don't apply enough of it and they don't reapply," Jackson says. For black men who rock the bald look and women who may be experiencing hair loss or thinning, these bad habits increase your risk of developing skin cancer, Jackson adds. "It is so easy for most people because it's in your moisturizer. Just choose a proper product," she says. By "proper," Jackson means looking for sunscreen labeled "broad spectrum," meaning that it protects against both UVA and UVB rays. Sun-protection factor (SPF) only refers to UVB rays and indicates how much longer you can stay out in the sun before damage starts to occur. Since you'll be spending half the day out of the sun, the SPF isn't as important as making sure you apply enough to begin with. For adults, that means a full shot-glass worth, Jackson says -- and reapply every couple of hours. New FDA guidelines are expected to make it easier to weed out sunscreens designed to truly protect you outdoors and those that are are exaggerated for marketing's sake.

"Age is a factor with everything. The longer you're on this earth, the more likely it is for something to go wrong. But I'm seeing younger and younger patients with skin cancer. "I had a woman, she was 22, one of the biggest skin cancers that we were ever involved in treating. We took off half her nose. She was a runner, she would run outside in Texas heat every day for two hours. "It's cumulative. The number of years you have been sun exposed (or a runner or a boater or a golfer) is indicative of your increased risk of cancer."
But new evidence points to the fact that albino black people from parts of Africa with the highest exposure to ultraviolet radiation from the sun almost all develop skin cancer and die young.
Lead scientist Professor Mel Greaves, director of the Centre for Evolution and Cancer at The Institute of Cancer Research in London, said: "Charles Darwin thought variation in skin colour was of no adaptive value and other investigators have dismissed cancer as a selective force in evolution.
"But the clinical data on people with albinism, particularly in Africa, provide a strong argument that lethal cancers may well have played a major role in early human evolution as an important factor in the development of skin rich in dark pigmentation."
See Also:

Tanning: Photos Show The Shocking Effects Of Sun Damage On The Skin
The research, published in the journal Proceedings of the Royal Society B, shows that at least 80% of people with albinism from African equatorial countries such as Tanzania and Nigeria die from skin cancer before their 30th birthday.
Albinism is an inherited condition marked by a lack of the pigment melanin which colours the skin, hair and eyes.
The trait is also linked to skin cancer in other tropical countries besides Africa with all-year-round sunshine, such as Panama, the researchers point out.
They believe black skin may have had other benefits in addition to protection from cancer, such as preventing damage to sweat glands and preserving folate, which is vital to foetal development.