File this under puerile things to snigger at: A recent Countdown contestant came up with the word "minges" during the afternoon show.
Elli Hanmer submitted her six letter word – which is in the dictionary – but was blown out of the water by her fellow contestant's eight-letter offering.
Viewer Doug Medford, 53, of Cardiff told The Mirror: "I couldn't believe my ears when the contestant came out with 'minges'.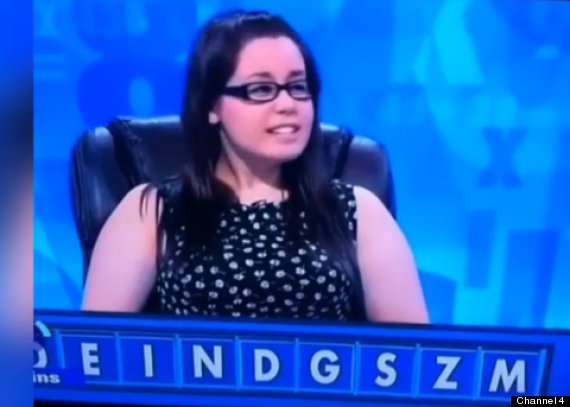 "It's not a word you often hear on TV – especially at three in the afternoon."
(By the way, the New Oxford Dictionary of English defines the word "minge" as: "A woman's pubic hair or genitals.")
It's not the first time an errant 'minge' has turned up on the Channel 4 show.
Countdown at 2:40. #minges

— elli hanmer (@elli_phant) February 24, 2014
Back in April 2007 a contestant also produced "minges."
Other glorious Countdown bloopers throughout the years include "arse", "poo" and "fart".
10 Rude Game Show Moments
In the contestants' defence, at least they didn't come up with this answer - the American public did. And the only thing funnier than that? The fact that the studio audience of Family Feud have to shout it out loud. Titter!

This isn't the first time the six-letter W-word has come up on Countdown, of course. But it's the first time a) it's come up this year, and b) new host Nick 'The Apprentice' Hewer has had to deal with it.

If you were on Wheel Of Fortune, would you try to sneakily say "F**k 'em"? Because this contestant did. High-five!

Not the follow-up to Goodbye, Mr Chips, but a particularly memorable moment of animation-induced hilarity in Catchphrase. If you can tolerate Roy Walker's uncomfortable laughter, of course.

In which student Bright from the University of Manchester Institute of Science and Technology doesn't live up to his name.

As in a round of Jeopardy: if "In the ass" was the answer - what do you think the question was? This 1977 clip from The Newlywed Game (America's version of Mr And Mrs) went down in history - although it never made it to air until many years later, as host Bob Eubank explains.

Men: you may not know how women's minds work. But as this Family Feud contestant proves, we know how yours do.

RIP dear Richard Whiteley. You shall forever be remembered for your awkward pauses, your ferret attack, and your diginity in the face of saying naughty words.

We can't be exactly sure, but as you can tell by her outfit, hairstyle and response to the letters she's turning over, we think this is the moment Carol Vorderman became Officially Saucy. Sadly the clip above ends too soon - watch the full (non-embeddable) version on YouTube here.

And finally: the hilarious, pivotal moment in South Park's episode With Apologies To Jesse Jackson, in which Stan's dad shocks an entire nation on Wheel Of Fortune.