Gone are the days of meeting your future spouse down the local pub, nowadays singles are using weird and wonderful ways to find that special someone.
But if using social media apps such as Tinder to find suitors within a one mile radius may have seemed new age, think again.
Pheromone Parties, a new dating craze where singles literally sniff out their perfect match, have landed fresh off the plane from LA. And frankly, we kind of wish they'd never made it through customs.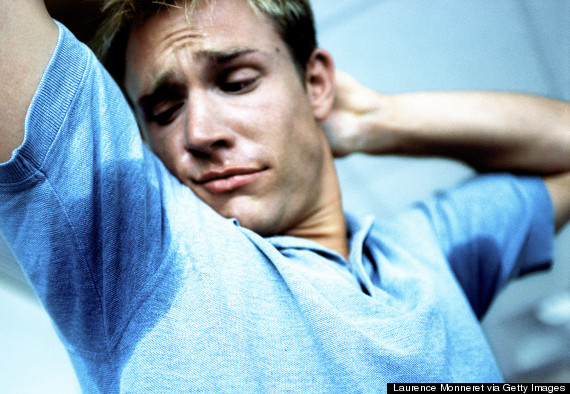 Pheromones are the chemical triggers of sexual attraction in mammals. If you are attracted to someone's pheromones, it is believed to be an indicator that the pair of you will have healthy offspring.
So now Cupid and his (not-so-helpful) helpers have devised a plan: put a bunch of people in a room, make them smell eachother's stinky T-shirts and we can all live happily every after.
Gross.
Call me prudish. But there's something about letting your nose sniff out a new partner, rather than trusting you heart or your eyes that doesn't sit so well with me.
Story continues below...
Tired of meeting people who don't share the gluten-free lifestyle you lead? Then Gluten-Free Singles is just the dating service you've been looking for

For all the people out there who love horses (but not making love to horses) Equestrian Cupid can help you find other singles who share your passion for the majestic four-hoofed creature.

Whether you're a clown by career or a clown by choice, this Clown Dating site will help you find others that share this hysterically fun lifestyle.

Do you live for spicy tastes and hot peppers? Then let Hot Sauce Passions match you with others who share your fiery flare.

Are Amish people even allowed to use computers? Well Amish-Online-Dating is a website that showcases the Amish steps into the 21st century.

Active since 1998, Meet-an-Inmate has been linking free men and women with pen pals and partners that are currently stuck behind bars.

Are you an extremely wealthy person looking to date an equally wealthy person? Then look no further than Millionaire Match so you and your significant other can go have fun with your boats and your fancy parties and whatever else you do with all that cash. Also can we borrow some cash?

Darwin Dating is a site which claims it's for "beautiful people only" implying it's exclusively for the evolutionary superior attractive folk out there...likely causing Charles Darwin to roll over in his grave.

For people who identify sexually with the furry-lifestyle, Furry Mate is the perfect place for you to find your anthropomorphic animal partner.

For all you Sea Captain's out there who are tired of having the ocean as your only mistress... Allow Sea Captain Date to handle of your dating needs while you focus on manning your boat.

If the deciding factor in forming a relationship is whether or not a prospective partner is compatible with your feline companion, then Purrsonals.com is your go-to dating site, and hey, it's already got a pun in the url.

If you're all about the "business in the front, party in the back" hair style then Mullet Passions is the place to be for singles looking for those who love this redneck staple.

If you're an adult baby or just a passionate diaper lover looking for love then Diaper Mates is the dating website for you, ya big baby.

Looking for a female prison pen pal that could potentially turn into a female prison lover? Then Women Behind Bars is perfect for you.

Tired of dating people who don't share your food limitations due to the allergy you've been burdened with? Then Singles with Food Allergies is exactly what you've been searching for.

My Free Implants is a place where wealthy men can donate money for females to get the breast implants they've always dreamed of, with a chance that said females may just want to start a relationship with their knight in shining...money.

Conservative Dating Site puts the FOX in Fox News.

The Ugly Ball is a self-proclaimed dating site for the "aesthetically average" people out there, essentially the polar opposite of Darwin Dating, this site is for those who are willing to admit they're far from gorgeous.

Tired of your mom or dad being single and lonely? Then make a profile for them on My Lonely Parent and introduce them to the spectacular world of online dating!

We get it. Firefighters and military personnel are hot. UniformDating.com
How the party works is simple:
1. Guests are asked to sleep in a cotton t-shirt for 3 nights in a row to capture their odour print and bring this in a ziploc bag to the party.

2. Bags are labelled pink for girls, blue for boys. The bags are assigned a number and only the guest knows what their shirt's number is.

3. Bags are placed on a table. Guests smell the bags at their leisure throughout the party.

4. If a guest finds the smell attractive, they take a picture with the bag. These pictures are projected as a slide show on the wall at the party.

5. If you see a guest you find attractive holding your number, this is the green light to talk to them!

6. At the end of the party, a Facebook album is created and all of the pictures are tagged - so if you missed your match at the party, you can still contact them.
Pheromone Parties are making their European debut in London at Stories bar on Tuesday 25 March 2014, 7.30pm - 11pm.
Stories, 30- 31 Broadway Market, London, E8 4QJ
£6 advance tickets (excl booking fee) or £10 on the door
See Also:

The Dos And Don'ts Of Texting While Dating

Best Tips For Online Dating